My 2011-2012 NBA Regular Season and Post-Season Picks and Awards
December 19, 2011
J. Meric/Getty Images
Eastern Conference
Atlantic Division
New York Knicks (40-26) After starting out the offseason adding Tyson Chandler to an already solid core of Carmelo Anthony and Amare Stoudemire, they are still in need of a point guard after amnestying Chauncey Billups and signing stiffs Baron Davis and Mike Bibby. Neither Davis nor Bibby are a good fit for coach Mike D'Antoni's fast-paced system at their veteran ages.
Until they get a real point guard, they can't take that final step to truly being a contender.
Philadelphia 76ers (36-30) Marreese Speights, Evan Turner and Jrue Holiday prove that over the years this team has quietly assembled a bit of young talent. That youth should benefit teams like this in a shorter offseason and overall with so many back-to-back nights.
Boston Celtics (33-33) The only reason I am even putting them at .500 is because if I didn't people would write, "HA! Not even putting the Celts at .500 shows how little you know about basketball!" I always laugh at these idiots who don't bother to publicize their own predictions and open them up for critique.
I think no team will be hit harder than the ancient Celtics with Kevin Garnett, Ray Allen and Paul Pierce who should struggle out of the gate with the reduced practice and prep time due to the lockout.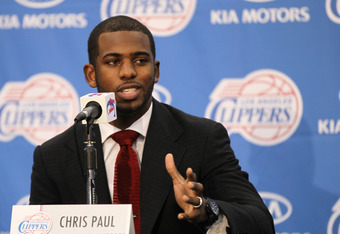 Stephen Dunn/Getty Images
By the time they get it going, it could be too late. Still they aren't going to totally tank as they still have a disproportionate amount of talent on this team—old as it is. Brandon Bass for Glen Davis is a downgrade.
New Jersey Nets (29-37) This season really just hinges on their ability to keep Deron Williams in town and perhaps finally swing a trade for Dwight Howard. If they do that, long term they will be fine. Until then, it's Kris Humphries, Williams, and a whole lot of moving parts.
Toronto Raptors (24-42) I like this team in terms of youth and intrigue as I'm a big Andrea Bargnani fan. The problem is, he really doesn't have a lot of help and he's not going to get it this year as No. 1 pick Jake Valenchuvias is still in Lithuania. With foreign players, you never know if they will ever come over, and even if they do, how their game will translate. For the sake of this small market team, I hope it does but for now, its waiting time.
Central Division
Chicago Bulls (45-21) Carlos Boozer had a bad year. Derrick Rose runs this team as we all know. Taj Gibson is overrated but seems to fit in this offense as does Luol Deng who never gets enough credit.
That's enough about them until the playoffs as that is what really matters.
Indiana Pacers (35-31) I love what this team is doing. David West was a huge signing provided he's healthy. Add him to Darren Collison and Danny Granger and this is kind of a nice little team with Roy Hibbert and Tyler Hansborough adding size.
This is one small market team that continues to defy the economics of the game.
That's good to see.
Milwaukee Bucks (28-38) This is where the drop off in the division really begins. Sure they have Brandon Jennings, but outside of that, not much else. Remember when they traded Corey Maggette for Stephen Jackson in what seems like six years ago? Since they didn't make the playoffs last year, why would they in a shortened season?
Detroit Pistons (23-43) I liked their No. 1 pick of Brandon Knight out of Kentucky because at least it fills a desperate need at point guard. He with Rodney Stuckey could at least generate some interest in watching an otherwise bad and irrelevant team. You have to wonder how much longer GM Joe Dumars keeps his job. Greg Monroe is about the only other bright spot.
Cleveland Cavaliers (15-51) They won 19 games last year in a full season so giving them even 15 here may be a stretch. Still, Kyrie Irving is a good start to rebuild and you can't argue he doesn't fill a hole at point guard. Tristan Thompson is an interesting pick as he really only had a freshman year at Texas on which to evaluate. Personally, I'd have gone with either Enes Kanter or drafted Derrick Williams No. 1 and took Knight here.
Southeast Division
Miami Heat (47-19) The Heat added Shane Battier but lost out on Tyson Chandler. No need to evaluate their other moves as the ESPN hype machine will do that for us, all season long.
Orlando Magic (39-27) Obviously this team only goes as far and as long as Howard is here which isn't expected to be much longer. I loved the Glen Davis for Brandon Bass trade even though it was basically an identical swap of big men.
I've always been a Davis fan is all.
Re-signing Jason Richardson was huge—but bringing in Larry Hughes who took a year off?
Atlanta Hawks (35-31) They have lots of talent in Josh Smith, Marvin Williams and Joe Johnson, but now no veteran point guard that they had in Bibby. Doesn't really matter though, Atlanta doesn't embrace this team and they aren't going to do much anyway.
Come on, did you really expect me to get Tracy McGrady out of the first round?
Washington Wizards (21-47) The Wizards will have to wait at least another year before seeing what they have in top pick, Jan Vesely who's still in the Czech Republic. For now its Andray Blatche, John Wall and JaVale McGee. There is way too much youth on this team who need time to grow and gel together.
Charlotte Bobcats (11-55) I think this could be one of the worst teams in the league if not the worst.
They'll get nothing out of their first-round pick Bismack Biyombo who I doubt will ever show up in the States, but even if he does, he really only got discovered in January while playing for Spain in a league he should have been dominating given his size but he wasn't.
That alarms me.
His upside is Dikembe Mutombo but his downside is any of the failed foreign big men. I'm thinking former Seattle Sonics predictable bust Mouhamed Sene.
I do love their second No. 1 pick—that being UCONN's Kemba Walker, but on a team that already has DJ Augustin, all Walker really does is begin to rebuild an empty bench. What this team really needed was a forward to replace Gerald Wallace, then Walker would have been fine.
Western Conference
Northwest Division
Oklahoma City Thunder (48-18) Everyone loves the Thunder until Russell Westbrook pulls a 1998 Stephon Marbury and leaves town. With his attitude and ball-hogging, I am seeing a lot of parallels. Didn't really lose anyone and given their youth they could be the 1998-1999 Spurs to win it all in a shortened year.
Portland Trailblazers (40-26) They lost Brandon Roy to retirement then recovered as good as could be expected with Jamal Crawford whose role is off the bench. If he's asked to start, I wonder how that will work?
They added the oldest player in the league in Kurt Thomas for center depth now that Greg Oden is unsurprisingly hurt again. Good thing owner Paul Allen has money to burn to keep wasting on Oden who will never be healthy.
Utah Jazz (34-32) I really want to put my Timberwolves here, but they are going to need at least a full season to get it together.  The Jazz still has good size in Kanter, Mehmet Okur and Paul Millsap to go with Andrei Kirilenko who I think many people forget is still in the league.
Many overrate Derrick Favors, but I like Devin Harris who I wonder how many people realize plays here after coming over in the Deron Williams trade?
Minnesota Timberwolves (26-40). I really think they could surprise if Ricky Rubio is as good as they say. Still, while I expect an improvement given even Oklahoma had to go through a 23-win learning season, this is a "get to know" everyone year.
The real key here is the best free-agent signing in team history—coach Rick Adelman—to mentor the young kids. If anyone could make an unexpected run, it's the youth and "not knowing any better" of this very young team.
After they trip out of the gate—2-4—look at the schedule— it could get fun.
Looking to roll the dice?
Pick this team.
The pieces are coming together. If they can just find a center they will be in good shape. I really think second-round pick Malcolm Lee could be not just the best second-rounder in team history, which isn't saying much, but in a couple of years could be a poor man's Tyreke Evans as the team's starting shooting guard.
Denver Nuggets (21-45)
Why below the Wolves?
Their talent is in China in Wilson Chandler, J.R. Smith, Kenyon Martin and Leonis Kliesa. Corey Brewer and Rudy Fernandez acquired late from Dallas aren't exactly an upgrade as Brewer is just a warm body the NBA employs.
Pacific Division
LA Lakers (46-20) Even though they lost out on Chris Paul, they still have more size and talent than most teams, especially in this division where they will rack up wins and thus, cushion.
Make no mistake, however, their window is closing and they are old.
In a normal year, I think they'd be in trouble. Mike Brown can't coach, as we'll soon find out. The only reason I don't have the Clippers here is Paul and Blake Griffin need a year to feel each other out.
LA Clippers (38-28) I expect them to trip a bit—wouldn't exactly call it a "stumble" out of the gate—as newcomers Paul, Chauncey Billups and Caron Butler develop chemistry. Maybe a 4-6 start or something like that.
We are going to find out if its DeAndre Jordan's time and I am worried about a thin bench.
Golden State Warriors (30-36) They always have tons of talent but never utilize it right. In coach Mark Jackson's first year I wouldn't expect much. That and he's never coached on any level.
Klay Thompson to me seems like just another talent on a team that always has it. Not sure where he plays in order to be most productive. Way too many forwards—Dorrell Wright, David Lee and Thompson—not enough spots on this perpetually imbalanced roster that needs more guards.
Phoenix Suns (27-39) They have Steve Nash and not much else. If anyone ever needed to form a "Super Team," it's Nash, who I'd love to see do it in Canada with Toronto. Free agency can't come soon enough for this all-too-loyal All-Star who really should be somewhere else. I say that as an opponent to the "Super Team" concept.
His career is being wasted.
Sacramento Kings (22-44) I am not impressed by the Jimmer Fredette signing. He's too small and just a one-trick pony with that three-point shot.
Too bad small market Sacramento with their glaring holes will have to find out the hard way. I think he's Adam Morrison II. Still, he should sell tickets which is the most important thing for now. With any luck, he could be their Tim Tebow in terms of a cult-like following with a "us vs the NBA" mentality as people discover his incomplete game.
This team really should have been contracted along with New Orleans as long as we were locking out.
Southwest Division
Dallas Mavericks (47-19) The Mavericks lost Butler, Chandler and J.J. Barea to free agency and Corey Brewer and Rudy Fernandez to a trade with Denver. So far they have replaced them with Vince Carter, Delonte West, and Lamar Odom. I have no faith in Carter who failed in Orlando and Phoenix. He's done, but Odom should be a perfect fit.
Memphis Grizzlies (42-24) They re-signed Zach Randolph late last year before the playoff run and Marc Gasol in this offseason.
Nice to see not all small markets lose their stars.
No real impact free-agent signings but they didn't need any—just more experience and chemistry.
Don't forget Rudy Gay should be back and fully healthy.
Houston Rockets (34-32) If Kevin Martin and Luis Scola actually play with this team, they should be fine at least getting to the playoffs where they won't do anything.
I worry about their head coach in Kevin McHale who failed in his only two interim stints with Minnesota.
No real free agent moves, but what else is new?
San Antonio Spurs (33-33)
Too low? 
Just enough for them to miss the playoffs. This is all about proving a point that they are too old and they are going to be one of the teams hurt by the many back-to-backs and three-straight game nights.
No real impact moves for once which is bad when you are this old. They amnestied Richard Jefferson because he didn't do much while there but who replaces his lost production?
They are the Boston Celtics of the West.
New Orleans Hornets (17-49). We could get into the whole Chris Paul trade but others will do that. Like the Wolves, this year is all about recovering from the loss of Paul and fitting the new pieces in.
We could get into the whole "should've been contracted" thing but that's for another day.
Attendance could crash if this team is as bad in a transition year as I think they could be now, facilitating some action—whether that be a relocation or worse.
Coach of the Year
Frank Vogel, Indiana Pacers
MVP
Kevin Durant, Thunder
Rookie of the Year
Ricky Rubio, Wolves
Who is his competition? Brandon Knight? Kyrie Irving?
We all know how weak this draft was.
Defensive player of the Year
Howard, Magic
Sixth man
Crawford, Portland...unless he's starting.
Coaches to get fired
Byron Scott, Cleveland, Stan Van Gundy, Magic, Alvin Gentry, Phoenix and Flip Saunders, Washington
Playoffs
Eastern Conference
No. 1 Miami Heat vs. No. 8 Boston Celtics, Miami in five
No. 2 Chicago Bulls vs. No. 7 Indiana Pacers, Bulls in seven...Remember last year?
No. 3 New York Knicks vs. No. 6 Atlanta Hawks... Knicks in six (Tracy McGrady never gets out of the first round). Easily should be the best first-round series.
No. 4 Philadelphia 76ers vs. No. 5 Orlando Magic, 76ers in six
Eastern Conference Semis
No. 1 Miami Heat vs. No. 4 Philadelphia 76ers, Miami in five
No. 2 Chicago Bulls vs. No. 3 New York Knicks, Bulls in six
Conference Finals
No. 1 Miami Heat vs. No. 2 Chicago Bulls, Bulls in seven
Western Conference
No. 1 Oklahoma City Thunder vs. No. 8 Houston Rockets, OKC in four
No. 2 Dallas Mavericks vs. No. 7 Utah Jazz, Mavericks in six
No. 3 LA Lakers vs. No. 6 LA Clippers, Lakers in seven
No. 4 Memphis Grizzlies vs. No. 5 Portland Trailblazers, Grizzlies in six
Western Conference Semis
No. 1 OKC vs. No. 4 Memphis Grizzlies, OKC in seven
No. 2 Dallas Mavericks vs. No. 3 LA Lakers, Mavericks in five
Western Conference Finals
No. 1 OKC vs. No. 2 Dallas Mavericks, OKC in six
NBA Finals
No. 1 OKC vs. Chicago Bulls, OKC in six
MVP: Durant