Battle LA: Despite Clippers Adding Chris Paul, It's Still Lakers' Town
December 15, 2011
Stephen Dunn/Getty Images
Well, less than 24 hours after the Chris Paul trade was finally completed, the ESPN hype-machine is in full effect. Analyses were done as to who has the better comparable lineup, and the early results actually favor the Los Angeles Clippers, as weird as that sounds.
But I really think it's all quite ridiculous, personally. As someone who hates the Lakers for the arrogance, show-boating, pompous demeanor and elitism of their fan base and swagger, let's not forget that this is, was and always will be a Lakers town.
The NBA titles alone speak for themselves: 17 for the Lakers, 0 for the Clippers, who just happen to share the same NBA arena. If that doesn't convince you, look at the discrepancy in retired numbers and subsequent Hall of Famers for the two clubs; it's not even comparable.
Finally, as exciting as adding Chris Paul is for the Clippers, don't forget that it's potentially only temporary. If this abbreviated season doesn't live up to the hype—and with such short preparation time, its hard to see that happening—it may soon be the Clippers who find themselves flipping him next summer, like the Hornets before him, to the highest bidder.
Additionally, once and if Paul leaves, it would stand to reason that Blake Griffin won't be far behind out the door.
Call me a skeptic, but these are the Clippers who have had basically two good seasons since moving from San Diego in 1984; the same team that served as the perennial doormat we all know them to be. While I hope both players re-sign, I just don't see it happening.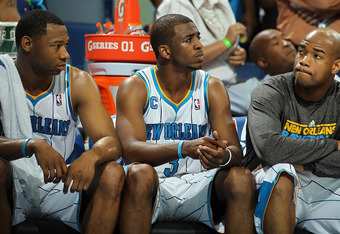 Ronald Martinez/Getty Images
Blocking the Original Laker Deal, a Blessing in Disguise
That is the logic behind some people of the "be careful what you wish for" mentality. I was one of those people applauding commissioner David Stern last week for blocking the original deal that would have sent Paul to the Lakers.
Bravo, Stern.
What some of you fail to realize—it should seem clearer now—is the NBA did what they did not just to prevent another boring "been there, done that" Faker-Laker dynasty, but they saw this as an opportunity to boost another market in LA; they had to strike while the iron was hot, as we don't know how long Griffin will be in town.
More importantly, however, this was about boosting the league-owned Hornets appeal and re-sale value. They had to maximize the return on the Paul investment, and the best way to do that was to make it as attractive as possible to any suitors.
30-plus-year-old Luis Scola, Lamar Odom and Kevin Martin, while talented, are not building pieces.
Sure, the Hornets likely would have made the playoffs in 2011-12, but so what?
So did the Hornets of last season.
This was about creating a long-term optimism, which may keep them in town all-together or off the contraction block. 22-year-old Eric Gordon, 21-year-old Al-Faruoq Aminu and the first-round pick of my Minnesota Timberwolves do that, since it's all but certain to be a lottery pick, and a high one, at that.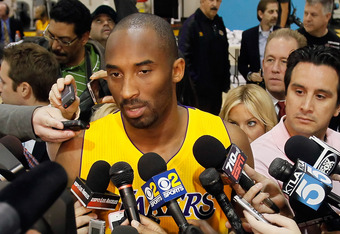 Jeff Gross/Getty Images
People want to criticize the NBA for blocking this deal simply because they own the team; had it been any other team, the deal would have went through.
Duh!
They aren't trying to sell those teams, and once Paul was gone, what incentive was there to even care about the Hornets? Might as well contract them, right?
NBA Wanted To Avoid a Laker Dynasty but May Have Facilitated Another One?
After rumors started that the Clippers, of all teams, might weasel their way into the Lakers' palace and steal their marquee target in Paul, suddenly there were whispers of the backlash of creating another potential super-team in another big market with the LA Clippers.
I'm going to let you in on a few secrets.
1. Given the Clippers history and their ability to attract free agents, no one is ever going to mistake the LA Clippers for a big market team, regardless of which arena they call home. We all know who the real tenant is. Get back to me when both Griffin and Paul re-sign and are able to lure a third premier free agent.
2. Even if that were to happen, the Clippers would probably be hit with some sort of injury bug, or we know that all three superstars can create chemistry on and off the court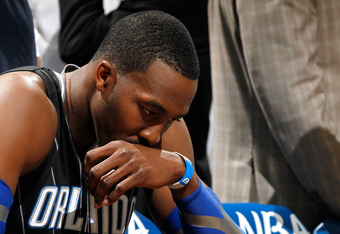 Kevin C. Cox/Getty Images
3. Even if Hell froze over and the Clippers won an NBA title or even three straight and created the beginning of a dynasty, no one is going to mistake them any time soon for the glitzier Lakers. Their success would be met with "What took you so long?" and "It's about time" and "17-3!" from typical gated-community Laker fans. Boo hoo. You should still be in Minneapolis in my book. Time to wear the other shoe for once, spoiled brats.
The bottom line is that they have so much work to do in establishing a real Clipper base that I highly doubt it can be done. And even if it could, the flaky Hollywood crowd would simply jump right back to the Lakers at the first hint of success, given that is their first and real love.
Also, if by some chance this actually does work out for the best with the Clippers, you'll get no complaints out of me, or likely many real NBA fans who have screamed for parity for years.
What are we going to say? "I'm sick and tired of watching the Clippers on TNT!" or "Not another Clippers game on ESPN?!" or "What's the point of even tuning in to the NBA playoffs, we all know the championship runs through L.A....Clipper-land that is!"
This team has suffered for so long and has been the butt of so many jokes in their misery; I'd welcome a title or two. It would be worth it just to see the smug looks on the faces of the Lakers and their former fans.
I'd love nothing more than to see Staples Center become a ghost town except for when the Clippers were hosting, sort of like when Don Mattingly was the only reason to buy a Yankees ticket in the late 80s and early 90s.
I can say all these things because I know they have a zero-percent chance of happening.
If the Clippers actually become a good team, I say good! It is about time, and it could have been worse. It could have been Paul to the Lakers; that would have perpetuated their relevancy even longer.
Now, with any luck, Paul may like the Clippers' side of town so much that he may not even want to be a Laker in two years when he could be eligible.
Punitive Luxury Tax Likely Will Prevent Paul from Ever Being a Laker
In another sweet victory, Paul agreed not to opt out of his contract after next season, potentially giving the Clippers two years to try and put something together. This is huge because 2013 is also the year that the NBA's new punitive luxury tax is going to kick in.
What this means that even if the Lakers wanted to sign Paul, they still could; but, man, they would really have to think long and hard since they were already subject to the tax, even without him, which is one of the reasons they traded Lamar Odom.
With the luxury tax getting even worse in two years, Odom likely would have had to been moved anyway for the Lakers to have any shot at Paul. And even then, it would have been almost impossible to do, since the team will still owe one year and roughly $16 million on Pau Gasol's contract.
So in reality, all we really have are the memories of the trade that never happened and what might have been. And those are the best memories to have if you are as sick of the Lakers' domination as I am.
Lakers fans, it's time for you to feel what the rest of the NBA thinks about you. It's time you feel what it's like to get screwed over or to not always get your way.
Clipper Deal Impacts Dwight Howard, One Way or the Other
Additionally, by preventing Paul from running to the Lakers, it at least temporarily prevents Orlando's Dwight Howard from joining him and Kobe.
With any luck, maybe the big man gets discouraged at the fact that Bryant will be a year older and the Lakers not only don't have a point guard to facilitate offense; plus, they won't have the ability to add anyone of any substance any time soon, again with the tax kicking in.
Maybe he gets shipped to an Eastern conference team like New Jersey, which not only would keep him out of the West (where my Wolves are), but maybe he finds a home in Brooklyn and decides to re-sign, provided they can keep Deron Williams.
Yeah, a Brooklyn Nets-LA Clippers final is really going to get small-market advocates like me upset.
Consider the fact that it would be a breath of fresh air for the NBA that they so desperately need.
But also like the Clippers, the Nets will never own the Big Apple, which is the Knicks' honor and always will be. The Nets winning a title or two isn't going to make anyone forget Madison Square Garden or their history, as overrated as it is.
At least if Howard goes to the Nets, he doesn't go to the Lakers, or the West for that matter, and that alone is worth it. Again, it could have been worse.
Finally, even if he does even up a Laker ,so what? Not only does he tend to be soft when the game is on the line, ala LeBron James, but more importantly, the Lakers may act out of panic now in keeping up with the Clippers and offer the deal they shouldn't be so reluctant to execute. That deal is Gasol, Andrew Bynum and, at the very least, the first-round pick acquired in the Odom deal with Dallas.
Turkoglu's bad contract would again restrict the Lakers' ability to do much beyond Kobe and Howard, which alone shouldn't scare anyone, but in losing two seven-footers in Gasol and Bynum, the Lake-Show would have no depth or size beyond Howard.
Kobe is still good, but he's getting older. And I don't think Howard's addition would be enough to scare anyone, as they'd likely be a second-round team, at best, with the Clippers, Thunder, Dallas and possibly Spurs better than them in their own conference, not speaking of the rest of the league.
Moreover, a tandem of Bynum, Gasol and Jameer Nelson is decent in keeping small-market Orlando relevant in the East. It's a far better alternative than losing Howard for nothing like Shaq fifteen years earlier.
This wouldn't be Shaq II, in that Howard wouldn't be leaving Orlando to go to the Lakers with an 18-year-old Kobe. It would be Howard with a 33-year-old 15-year NBA veteran Bryant with a lot of miles over the years.
That, and I think Head Coach Mike Brown is a joke and a product of LeBron James, who was the real reason for the Cavs good records while he was there.
Impact on the Hornets' Future: Even if They Win the Lottery, so What?
Yes, in the end we should likely thank our lucky stars that the league indeed did own the Hornets, for they did the right thing in blocking the original trade.
As a Wolves fan, I don't even care now if the Hornets now suddenly win the draft lottery with our old pick and take Ohio State's Jared Sullinger or North Carolina's Harrison Barnes or what-have-you.
At least a good player would be going to yet another small-market in order for them to build around and survive.
Plus, have you seen their roster? They now need a forward to replace David West, who went to the small-market Pacers, or an exciting point guard like Duke's Austin Rivers to replace Paul as best he could. Sullinger would fit perfectly, and at the end of the day, let's not forget, it would have been worse, it would have been this super pick to the Clippers to team with Griffin, while Paul goes to the Lakers or Knicks and keeps them relevant.
Now both the Knicks and Lakers have to go back to the drawing board, proving that maybe the NBA lockout really was worth it and that maybe we're beginning to see a changing of the guard, finally.
After all, if the Lakers are mad at Stern and not happy, then I am happy. Not the cake-walk you thought it would be, is it Faker Lakers?
As for any conspiracies next June, if the Hornets win the lottery behind closed doors, should the NBA still own the team, as was discussed on ESPN's Mike and Mike today, again, I say it could have been worse. I hope that player does become a star. At least it's a small market, and I know few fans that would complain if the Western Conference Finals were the New Orleans Hornets vs. the LA Clippers in a few years.
I know I wouldn't.
It could have been business as usual.
References, statistics and information from ESPN, ESPN.com, and wikipedia directly contributed to the content of this article. The views and expressions are that of the writer alone.