Tim Tebow: Why Denver Broncos QB Is Going Prove "Experts" Wrong
November 24, 2011
Doug Pensinger/Getty Images
As Big Syke once rapped on a Tupac song, "All that jealousy and envy coming from my enemies"
Right now, Tim Tebow seems to have a lot of "frenemies."  They like the person and the hate the player.
So, I guess these people really are "player-haters?"
Yes, some people call them haters.  Others call them talk-radio hosts.  Tebow, he calls them "sir" or "ma'am."
Right now, Tebow is the most popular player in the NFL.  He is also the most polarizing—the most beloved, the most hated.
He is the most critiqued, criticized and defended.
Through it all, Tebow handles it with class.  And while Tebow fans may be crazy, I'm going to argue why they aren't crazy for thinking Tebow can make it in this league.
Here are the arguments against Tebow (though, with the absence of evidence, most of them are actually just fables), and here are the rebuttals—which nobody is saying in the popular press.  Luckily, I'm not very popular.  And I can't afford to press my pants. 
No. 1 Argument: Tim Tebow is not sustainable as a running QB.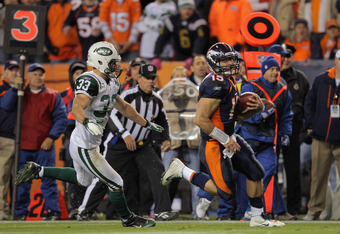 Doug Pensinger/Getty Images
Rebuttal: No QB is sustainable!
Everyone says Tebow's running style will force him to take too much punishment and get him hurt. 
However, in the last two Broncos' games, Tebow hasn't taken a single big hit.  Yet, the classic, pass-first QBs that Denver played—Matt Cassel and Mark Sanchez—were both hurt while standing in the pocket.
Look at Aaron Rodgers.  He is playing better than any quarterback in the league.   Frankly, he may be playing better than any QB of all time.   Nevertheless, Rodgers may be only one more concussion away from an early retirement.  Don't believe me?  Just Google "Aaron Rodgers Concussion" and read what was being said about him at this time last year.
For further proof, look at how Hall of Fame QBs Troy Aikman and Steve Young** were forced into early retirement because of head problems.   Aikman is a classic drop-back passer.  Young was maybe the most mobile QB in history. 
What does this mean? 
That any and all QBs are only one hit away from not being sustainable.
Another apt comparison is in the NHL, where the most skilled player in the league, Sydney Crosby, is on the verge of losing his career to injury.   Anybody can be hurt at any time!
**And isn't it ironic that it was running, scrambling, left-handed and clearly not sustainable Steve Young who first used this phrase "not sustainable" with Tebow?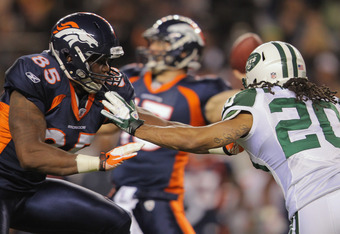 Doug Pensinger/Getty Images
No. 2 Argument: Tim Tebow won't have the safety of the pocket to protect him.
Rebuttal: If the pocket is so safe, why do we keep making all these new rules to protect the QB?
Defensive players used to be able to launch themselves at the QB.  Now we have penalties for roughing the passer.
Bill Romanowski once broke Kerry Collins' jaw with the crown of his helmet while trying to make a sack.  Now we have illegal helmet-to-helmet hits.
Tom Brady (and Carson Palmer, too) once had his knee blown out for an entire season when a defensive player, trying to make a sack, blasted him in the leg.  Now we have the Tom Brady rule to protect quarterbacks' knees.
What is common about all these things?  They are all there to protect QBs in the pocket because they were getting hurt too often. In the pocket.
Gee, sounds like a pretty safe place to me.
At least Tebow has more control how he gets hit and how contact is initiated.**  He won't be blindsided, rolled into or take the majority of the punishment.
**Revis Island looked closed to tourism when Tebow came roaring through his ticket office.  Ole!
No. 3 Argument: Tim Tebow is not sustainable as a passing QB.
Rebuttal: Most QBs aren't!
Tebow needs to improve, no doubt, but remember: Tebow is still a rookie on the field.  He is playing on a run-first team devoid of talent.  He has been told so many times that he can't throw that right now he is playing like he is scared to throw. 
As his reps, his confidence, his small successes and his supporting cast grow, he will only throw the ball better.
No. 4 Argument: The Denver Broncos offensive scheme isn't sustainable.
Rebuttal: No scheme is sustainable!
Even though a QB-option offense has never been tried during the Super Bowl era (and hence, nobody has a shred of evidence it can't work), most pundits argue this scheme won't work.  The first argument, that it will get the QB hurt, I already refuted as being no more likely than any other offense. 
The second argument is that teams will catch up with this scheme once they see it on film.
That's football.
The 46 defense of the Chicago Bears won a championship, yet wasn't sustainable over time (but I'll take it).
The Greatest Show on Turf, St. Louis Rams-style offense won a championship, yet wasn't sustainable over time (but I'll take it).
The Cover 2 defense has evolved into the Tampa Two, the Cover Two Man Under, etc.  It wasn't sustainable over time (but I'll take it).
The West Coast offense of the 1980s 49ers was different than the West Coast offense of the 1990s Broncos, which is different than the West Coast offense of the 2000s Philadelphia Eagles, which is different than…Clearly, it wasn't sustainable over time (but I'll take it).
Mike Shanahan without Elway wasn't sustainable.  Mike Martz without Kurt Warner...Bill Belichick without Tom Brady…Jim Caldwell without Peyton Manning...None of them look all that sustainable (but I will take a one- or two-year run!).
All teams, schemes and players must adapt and innovate on a weekly basis.
No. 5 Argument:  Look at how much the Broncos offense is struggling.
Rebuttal: Most teams struggle to move the ball!
How many teams struggle to move the ball?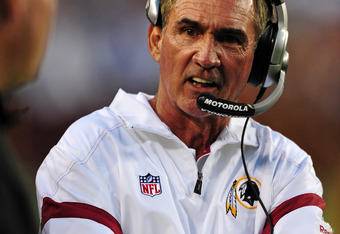 Scott Cunningham/Getty Images
Exactly half of them.  And if you take any team's worst four-game sample, it won't look that much different than the Denver Broncos' current stretch. 
Soon enough, the Broncos offense will gel.  Remember, this offense is being "(re)invented" on the fly.  The personnel, with the exception of Tebow, isn't built for this type of scheme (yet?).   This is a new coaching staff, a new QB and an entirely new offense (to everyone), coming off a summer without offseason training camps. 
We have seen glimpses of creative play design.  The next step is that Denver gets creative with tempo.  Look at the option-based programs in college, which include some of the highest-scoring teams around—they go up-tempo.  And contrary to popular opinion, a school like Oregon is going no-huddle not to pass, but to run the ball. 
If Tebow is at his best in the last two minutes, when the defense is on its heels, why not hurry up the offense the rest of the game?
No. 6 Argument: I'm a traditionalist; I like passing football.
Rebuttal: The NFL has been a passing league for only one decade.
John Elway only threw for more than 4,000 yards just one time.  He never threw for more than 30 touchdowns.  This is the legendary player who is in the top five of almost every relevant QB statistic.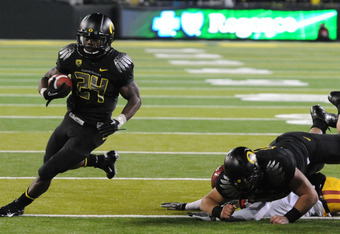 Steve Dykes/Getty Images
Real traditionalists who love "smash-mouth" football should be salivating over the Denver Broncos.
All those former players, like Mark Schlereth, who now act as analysts and lament the lack of toughness in today's NFL—and accuse those (highly protected pocket) QBs of wearing pink skirts—should be jumping for joy about Tim Tebow and the Broncos offense.
At least, jumping as much as an arthritic, former offensive lineman can, for this Broncos offense really is the Four (Bronco) Horsemen of the Apocalypse.  Every play is Three Yards and a Cloud of (Magic-Tebow-Pixie) Dust.
All the people who are concerned about how passing teams like the Packers will hold up in snow weather ought to look at Denver.  This offense is winter-weather football! 
Those early-season passing stats will drop significantly as snowy weather starts hitting games.  The Broncos, meanwhile, will just be getting their running game warmed up.
Think of all the clichés and axioms about football, and you'd be surprised how well the Broncos fit them:
Pound the ball
Smash-mouth football

Own the line of scrimmage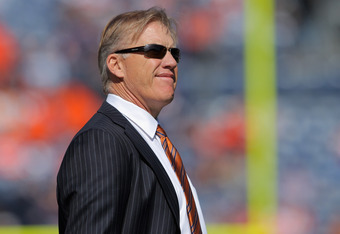 Doug Pensinger/Getty Images
Win the time-of-possession battle
Win the turnover battle
Only three things happen when you throw the ball, and two of them are bad
No. 7 Argument: But can you win a championship with him?
Rebuttal: There are roughly 25 starting QBs you can't win a championship with.
Current NFL QBs who have won championships: Aaron Rodgers (1), Drew Brees (1), Peyton Manning (1), Eli Manning (1), Ben Roethlisberger (2), Tom Brady (3). 
That is everyone who has won a championship.  Interestingly, the only thing keeping these guys from winning more isn't all the other QBs in the league—it's each other.  Eli Manning cost Tom Brady one.  Aaron Rodgers cost Ben Roethlisberger one.  Drew Brees cost Peyton Manning one. 
How many other QBs in the league look like they are sure things to win a championship any time soon?   Not many.
Why, then, should Tebow be singled out for this?
(Oh, and how many of the QBs have won multiple championships in college?  Tebow has.)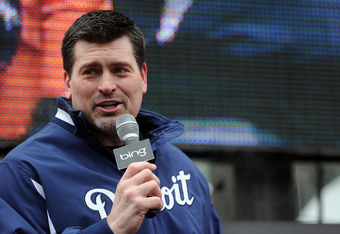 Michael Buckner/Getty Images
All Cris Carter did was catch touchdowns (I'll take it).  All Tebow does is win (I'll take it). 
Tebow is like the Anti-LeBron James.  LeBron has all the tools, but disappears in the moment.  Tebow is lacking some of the traditional quarterbacking tools, but is clutch in the fourth quarter. 
In that way, Tebow is like the Adam Vinatieri of QBs.
No. 8 Argument: Look how bad Tim Tebow looks right now—and it will never get better.
Rebuttal:  Look at Any QB!
Alex Smith looked terrible for seven years.  Look at him now!  (Note: Smith also played for Urban Meyer in college, also ran the spread and has also been criticized for his pocket presence and passing skills.)
Sam Bradford looked great as a rookie.  Look at him now!  Whether it is the team, the coaching (Josh McDamniels, anyone?), he has regressed. 
Carson Palmer was at turns great, then terrible, then retired—look at him now!  Now he is a Raider;  now he is doomed.
Brett Favre went, in reverse order, over his last four years: terrible season, great season, bad season, good season.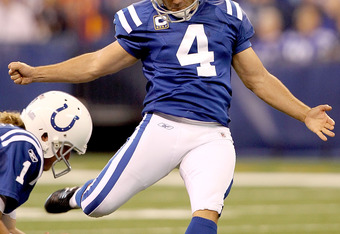 Matthew Stockman/Getty Images
Aaron Rodgers, through his first seven games, had a completion percentage of less than 56 percent and a QB rating under 64. 
As for Tebow, don't confuse a bad team with bad quarterbacking.  Clearly, Tebow needs to complete more passes.  But look how many have been dropped.  Against the Jets, there were two very catchable balls dropped in a row.
Man crush:  Look, I'm practically ready to leave my wife for Eric Decker.  He makes Brady Quinn and Tim Tebow look like a couple of homely bumpkins. 
Anyway—besides being a beautiful man—Decker is having a breakout season.
But would he be such a big contributor in New England?  Would he start in Houston?  Would he even make the team in Green Bay?
How many Broncos offensive players, whether with Tebow or without him, can make the Pro Bowl?  How many All-Pros are there?  How many household names are on the offense? 
None, none, none.
Tebow would look a lot better if he wasn't playing with 4-12 talent.
No. 9 Argument:  John Elway isn't sold on him.
Rebuttal: John Elway is a used-car salesman.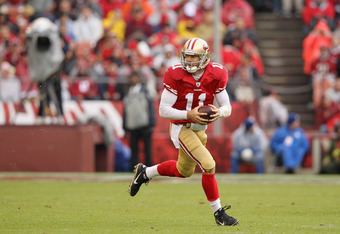 Ezra Shaw/Getty Images
Isn't the recent success of Tim Tebow John Elway's worst nightmare? 
First of all, the last five games make Elway and John Fox look like idiots for saying, "Kyle Orton gives us the best chance to win."
And that makes them look like even bigger idiots for not trading Orton while they could.
Tebow's success makes it impossible to escape from Tebow's failings. How do you bench Tebow during a bad game (knowing he can always bring you back)?  How can you bench Tebow after a few bad games (knowing he is what saved this season)?  How do you draft a new QB?
Fans might riot!
Conspiracy Alert / Nerd Alert: There are some who thought Elway and Fox set Tebow up for failure.  If they were really trying to win "right now," (the argument they made for Kyle Orton starting), why did they trade their best offensive player, WR Brandon Lloyd, on the eve of Tebow first start?  Tebow never got a chance to play with that one Pro Bowler (and an iffy one at that). 
 
Conspiracy Alert / Nerd Alert: Is Elway worried about Tebow breaking his fourth-quarter comeback record? (Tebow's off to a good start, with four in only seven starts.)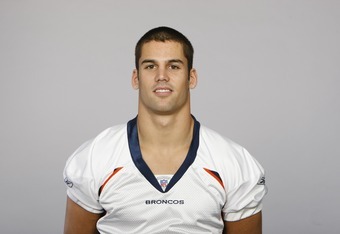 Handout/Getty Images
Conspiracy Alert / Nerd Alert:  Is Elway worried about Tebow taking over ownership of Most Popular Person in Denver? (Tebow is well on his way to supplanting Elway's popularity.) 
Conspiracy Alert / Nerd Alert: Was Elway trying to scuttle the season by putting in Tebow?  Watching him fail, losing a bunch of games, trading Tebow, and then drafting Andrew Luck…only to see Tebow foil those plans by actually winning!
(Speaking of "winning") It's like Major League (the movie with Charlie Sheen).  Elway desperately wants to move Tebow.   Now he can't (at least, not that easily).  Elway thought that when Tebow played, he would fail, and the change would be easy.
Oops. 
Now, Tebow has the chance to prove everyone wrong.  The pundits.  The players.  The vice president of football operations. 
Just about the only person who may end up right here—gasp!—is Josh McDaniels.
Oh, and me.