NFL All-Week 11 Team: Eagles DE Jason Babin, LT Jason Peters Get Nods
Al Bello/Getty Images
Week 11 is in the books, and with it standout performances from NFL superstars and newcomers alike.
While game balls are typically given to skilled position players, the All-Week 11 team honors every position, from the run-stuffing safety to the bulldozing offensive lineman to the block-eating nose tackle.
Here is a look at the standout player of each position from Week 11.
Safeties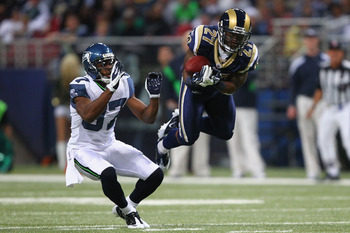 Dilip Vishwanat/Getty Images
Gerald Sensabaugh, Dallas
Sensabaugh was all over the field for the Cowboys on Sunday in Washington. The safety recorded nine total tackles (seven solo) and both forced and recovered a fumble. His forced fumble on the Redskins first drive set up the 'Boys deep in Washington's zone and led to Dallas' first score.
Quintin Mikell, St. Louis
Mikell and the Rams fell hard on Sunday to the Seahawks, but the outcome was no fault of the safety. Mikell forced two turnovers against Seattle with a forced fumble and a pick. His interception came deep in Seattle territory and set up St. Louis' first and only score.
The safety also finished with six tackles (four solo), a tackle for loss and a pass defended.
Linebackers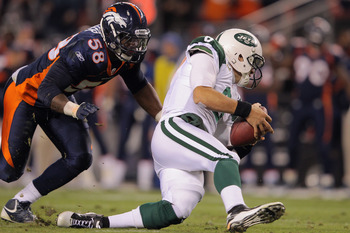 Doug Pensinger/Getty Images
Von Miller, Denver
The Broncos defense was methodical in their complete shutdown of the New York Jets offense on Thursday. Credit the rookie linebacker for playing a huge part in that domination.
With the Jets on the goal line and threatening to score, Miller forced a fumble by ripping the ball from New York running back Bilal Powell's mitts. However, the fumble was ultimately recovered by a Jets offensive lineman for a score.
While that play play didn't bounce Miller's way, the rest of the game seemed to. The linebacker recorded 1.5 sacks, including a huge sack on third down with just :38 left to play to force a 4th-and-long.
His final line read 10 tackles (nine solo), three tackles for a loss, a pass deflected, four quarterback hits, 1.5 sacks and a forced fumble.
London Fletcher, Washington
Call Fletcher the ageless wonder, because even at 36 years old, the Redskins veteran linebacker continues to dominate.
Fletcher was literally all over the field Sunday against Dallas and recorded 16 tackles in the contest and a sack. He also popped Dallas tight end Jason Witten in the third quarter of Sunday's contest at midfield, which lead to a forced and recovered fumble.
Colin McCarthy, Tennessee
The Titans chose a linebacker in the first round in the 2011 NFL Draft, but it was the team's fourth-round selection who made a big splash on Sunday against the Falcons.
The Miami product finished with 10 total tackles and a forced fumble in Week 11. The forced fumble came with Atlanta threatening to score from the Titans 8-yard line and gave Tennessee at least a chance at a comeback attempt.
Defensive Tackles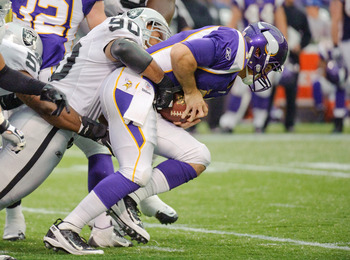 Hannah Foslien/Getty Images
Desmond Bryant and Tommy Kelly, Oakland
What a job the interior of the Raiders front seven did Sunday.
Bryant and Kelly each finished with three tackles, two sacks and a forced turnover—Bryant with a forced fumble and Kelly with an interception.
The Raiders defense knocked Vikings running back Adrian Peterson out early, but still did a beautiful job, even when Peterson was in. In all, the Raiders defense, spearheaded by their defensive tackle duo, held Vikings backs to just 44 rushing yards.
Defensive Ends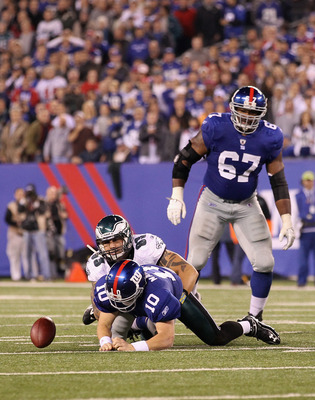 Al Bello/Getty Images
Jason Babin, Philadelphia
Babin played a decent game statistically with three tackles, one sack and one forced fumble.
But the context of that take away is what gets the Eagles end an All-Week 11 team honor.
With the Eagles up 17-10 and the Giants threatening from the Birds' 27 with less than two minutes remaining, Babin ran down New York quarterback Eli Manning from behind. His blind-side smack of Manning forced the ball from the quarterback's grip, and an Eagles recovery guaranteed there would be no fourth-quarter collapse from the Birds in Week 11.
Chris Clemons, Seattle
On Sunday, Seahawks defensive end Chris Clemons played nearly the entire game from behind the St. Louis line of scrimmage.
Clemons led the league in Week 11 with three sacks, two of which were with such force the ball popped out of Rams quarterback Sam Bradford's hands for a fumble.
He harassed Bradford all day and hit the hurler three additional times that did not result in a sack.
Special Teams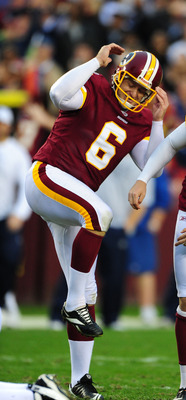 Scott Cunningham/Getty Images
Punter: Sav Rocca, Washington
Rocca twice pinned the Cowboys deep in their own zone. He finished with five punts averaging 48.6 yards, including a 63-yard boot.
Place Kicker: David Rayner, Buffalo
Rayner's two field goals accounted for Buffalo's only offensive points and his 56-yard make was just darned impressive.
Return Man: Julian Edelman, New England
Edelman's 72-yard punt return helped a struggling New England offense put to bed a bad Kansas City team.
Offensive Tackles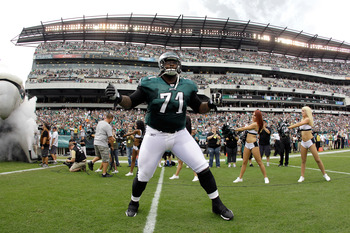 Rob Carr/Getty Images
Jason Peters, Philadelphia
The Giants came into Sunday's contest leading the league in sacks, but the Eagles offensive line did a great job keeping backup quarterback Vince Young on his feet in giving up just one sack.
Credit a lot of that to the Birds' big left tackle, Jason Peters.
Peters not only shut down the left side but again showed his great agility. The lineman pulled out left as a lead blocker for Eagles running back LeSean McCoy in the second quarter, and not only took care of his primary responsibility but also chipped three additional defenders at the second level.
Andre Smith, Cincinnati
Like the Eagles-Giants contest, the Bengals knew coming into Sunday's showdown with Baltimore—ranked second in the league with 29 sacks—that their offensive line would be challenged.
But the Bengals turned away the Ravens and gave up just two sacks to their opposition's highly vaunted pass rush.
Right tackle Smith did a great job turning away the pursuers of Andy Dalton in Week 11, and he even opened up holes on both of running back Cedric Benson's touchdown rushes, each going off Smith's side.
Offensive Guards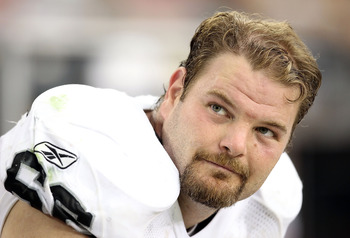 Christian Petersen/Getty Images
Cooper Carlisle, Oakland
Raiders running back Michael Bush ran the ball 30 times on Sunday, but only four of those rushes went up the left side, none of which came in the second half.
Carlisle was a big reason for that. The guard did a nice job pulling and opening up holes for the Raiders' bruising tailback.
Bush's lone touchdown run also went over Carlisle's back.
Ben Grubbs, Baltimore
According to ESPN Stats and Information, "Ray Rice gained 98 of his 104 yards between the tackles on Sunday, including both of his rushing touchdowns. Entering the game, Cincinnati allowed 3.24 yards per rush between the tackles, the fewest in the NFL, and no team had rushed for more than 4.0 yards per carry in any game this season."
Pick who you would like from the interior of the Baltimore line, but Grubbs gets the nod in Week 11 as Rice's 59-yard scamper in the third quarter went right over the guard.
Center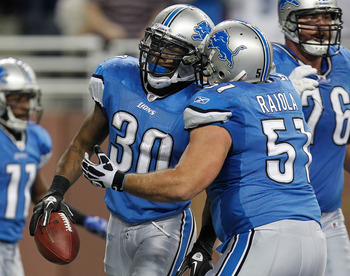 Gregory Shamus/Getty Images
Dominic Raiola, Detroit
The Lions center made his 150th start Sunday, so even from a sentimental standpoint, he's earned a spot on the All-Week 11 squad.
But Raiola did a great job Sunday opening up holes for newcomer/old name Kevin Smith, who exploded for 140 yards on 16 carries.
The bulk of Smith's carries went right up the middle, where Raiola did what he had done for the last 149 games: open holes and dominate defensive players.
Tight Ends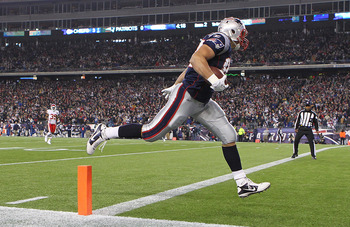 Jim Rogash/Getty Images
Rob Gronkowski, New England
Tom Brady has found a new favorite red-zone target, and Gronkowski lived up to the billing again Monday night, hauling in a touchdown pass from inside the 20.
But the big pass-catcher showed he is more than just a threat from the red zone. Gronkowski hauled in a 52-yard score in the second quarter for what ultimately became the game-winning touchdown.
Gronkowski finished with four catches for 98 yards and two touchdowns.
Jason Witten, Dallas
Witten only hauled in three catches Sunday, but his touchdown score from 59 yards out showed why he is considered one of the better pass-catching tight ends in the game.
Witten not only beat single coverage but split the Redskins safeties and found open ground on his score, a route not too unlike something one would expect from Cardinals pass-catcher Larry Fitzgerald.
Witten's final line read three catches for 85 yards and a score.
Wide Receivers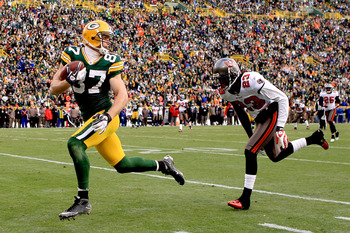 Matthew Stockman/Getty Images
Jordy Nelson, Green Bay
Nelson's final line spoke for itself Sunday: six catches, 123 yards, two touchdowns.
Both of his scores came at vital points in the contest against Tampa Bay. His first half five-yard scoring snag put the Pack up by 11, and his 40-yard touchdown streak down the left sideline inside three minutes remaining put the contest on ice.
Nate Washington, Tennessee
Washington has done a nice job filling in for the injured Kenny Britt, and in Week 11 he continued to impress.
His nine catches for 115 yards and two scores helped keep the overmatched Titans in Sunday's contest against Atlanta.
With rookie quarterback Jake Locker filling in for the injured Matt Hasselbeck, Washington built a nice rapport with the first-year signal caller, who tossed touchdowns to both of the wideouts.
Vincent Jackson, San Diego
Jackson led all receivers in Week 11 with 165 yards receiving. His lone touchdown grab at the start of the third quarter evened the score at 17-all in Chicago before the Bears ultimately pulled away.
Running Backs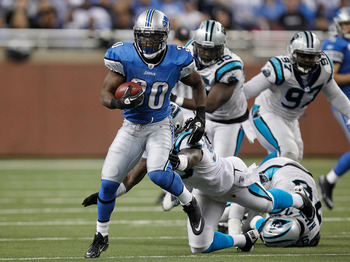 Gregory Shamus/Getty Images
Kevin Smith, Detroit
Wait, what year is this? And how many people actually knew Smith would play Sunday before he exploded against the Panthers?
Smith's 140 yards led all backs in Week 11 and his two scores helped the Lions in a big comeback effort against the floundering Carolina Panthers.
Smith also hauled in four catches for 61 yards and a score.
It remains to be seen how long the Lions can run their No. 1 option from three years ago, but in Week 11, Smith was once again king.
Ray Rice, Baltimore
Fans in Baltimore have been clamoring for Rice to see more touches. In Week 11, they got their wish.
And Rice produced in a big way.
Rice ran for 102 yards and two scores Sunday against what was one of the NFL's best rush defenses in the Cincinnati Bengals. The do-it-all back showed some flash on a 59-yard run and showed his power on two goal-line scores.
Rice also added five catches for 43 yards.
Quarterback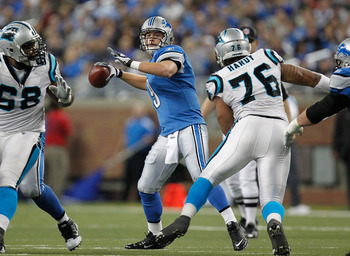 Gregory Shamus/Getty Images
Matthew Stafford, Detroit
A lot of Lions offensive players make the All-Week 11 Team, but that's what happens when an offense explodes for 49 points.
For a while though, it looked like Detroit was about to take the plunge back to mediocrity on Sunday.
Already losers of three of four contests, Detroit fans were no less than nauseated when their Lions fell behind early 24-7. What's worse, Stafford again looked lost while throwing two picks with an injured hand.
But Detroit picked themselves off the turf and turned things around in a big way.
Stafford went on to throw five touchdowns to lead the Lions to yet another come-from-behind victory.
Stafford's final line: 28-36, 352 yards, five touchdowns, two interceptions.
Keep Reading

Philadelphia Eagles: Like this team?