Fantasy Football: An All-Inclusive Guide to QBs
August 26, 2011
Fans and players alike are still digesting what has been a hectic free-agent period following the tenuous labor negotiations that engulfed much of the NFL's summer.
The recent rush in free agency has drastically changed the landscape of a once-familiar gridiron and left us with some very familiar faces in some very new and surprising places.
Most of the NFC, and a large portion of western Pennsylvania, watched as Philadelphia stockpiled talent faster than Pat Riley did in Miami last summer.
Those same western Pennsylvania faithful watched their defending conference champions stand pat, excluding a large internal extension, as big name after big name signed across the league.
New England did what has become the norm in bringing in disgruntled veterans. It could prove to be another career-saving rejuvenation for a talented wide out, as well as an oft-troubled defensive lineman.
Despite talent coming in to Philly (and heading west out of it for that matter), New England playing their old games, Pittsburgh staying true to form, Indianapolis holding their breath and some surprising veteran cuts, there is one constant that has remained: Fantasy drafts are upon us!!!
With that being said, the league's whirlwind free-agency period has left fantasy owners in a tizzy as to what to expect in this upcoming season.
The upcoming weeks are going to be filled with fantasy columns, but look no further than my extensive peek into each fantasy position for the tips and tricks to ensure that you are still adamantly involved in your fantasy leagues come January!
This first article will delve into what is a very key position on any fantasy team, and that is the quarterback position.  
(For the sake of this article, we will be assuming bonus points at yard markers 300, 350, etc. We will also be assuming four or six points for a TD and some reward based on a varying degree of completion numbers.)
The Elite
There are a lot of very good NFL quarterbacks out there. It is the most exclusive and difficult job on the planet. There are only 32 positions and it takes an immense amount of talent to be successful at the position.
There are, however, even fewer very good "fantasy" quarterbacks lining up under center on Sundays.
It is these two concepts that are often mixed up on Draft Day when it comes to selecting a quarterback.
Let us start with the elite of the elite, and for that we need look no further than the AFC South and the Colts signal-caller Peyton Manning.
Manning is one of the few elite players at his position both on the field and on the Internet. His numbers have been staggering his entire career.
While offseason neck surgery has proved to be a minor setback in getting on the field to start the season, do not expect Manning's numbers to suffer once he steps onto the field.
Very few quarterbacks match in a season what Peyton is capable of, which is further testament to his validity as perhaps the best signal-caller of our generation, and maybe history—but that's an argument for another time.
For his career, Manning averages 4,218 yards, 360 completions, 31 TDs, 15 INTs and just under three fumbles per season.
His numbers last season held true to this historic form as he registered a league-high 4,750 yards, 450 completions, 33 TDs and 17 INTs. An important statistic in any league is touchdowns and it is important to note that Manning has never thrown less than 26 touchdowns in a season.
Another important statistic to note is that Manning registered multiple touchdown passes in 13 of the Colts' 16 games last season, and only failed to surpass 200-yards passing in two games.
Statistics tell a big part of the story when analyzing for fantasy purposes, but other intangibles that often go overlooked are things that make Manning even more prevalent among the league's elite.
Things to consider: Manning has never missed a start. Taking this into consideration, he's a safe play every week excluding the bye, which he'd most likely play if he could. Another intangible to consider is that Manning plays on a pass-first team centered around him as the showcase piece. Indianapolis will always look to throw first, which means big numbers for the game's deadliest arm.
The Colts play two difficult games in Weeks 13 and 14, at New England and at Baltimore. Manning, however, has a good track record against a difficult Ravens defense and the Week 13 matchup with New England should prove to be a classic shoot-out as always.
The remainder of the fantasy playoff schedule, Weeks 15 and 16, pit the Colts against division rivals Tennessee and Houston, both games at home. If anyone is seeking clarification of Manning's dominance of division rivals over the years then they simply have not been paying much attention.
Another safe bet in the quarterback field for a big season is Drew Brees
No other quarterback outside of Indianapolis plays as integral a part in his team's success than the New Orleans folk hero.
His five seasons in New Orleans are nothing short of mind boggling from a statistic standpoint, and resemble a video game more than they do real life.
In five seasons Brees has accumulated 22,918 yards (4,584 yards per season), 2,020 completions (404 per season), 155 TDs (31 per season) and 79 INTs (16 per season). Brees is also averaging just above six fumbles per year as well.
To start with, only Peyton Manning has a season on record with more than 400 completions, and that was last season. No other quarterback in the league has a season in which they completed more than 400 balls; to reiterate, Brees has three in the last five seasons.
No other quarterback in the league, aside from Manning, has been able to match Brees' proficiency for touchdowns over such an extended period of time either; again 31 per season in his five years in New Orleans.
Fantasy playoff weeks (NFL Weeks 14,15 and 16) include matchups at Tennessee, at Minnesota and a home game with division rival Atlanta.
Neither Brees nor Manning have daunting schedules this season. Brees, who recorded at least one touchdown pass in every game last year, and Manning, who recorded multiple touchdown passes in 14-of-16 games last season, should be in for monster seasons yet again.
On The Brink
While Manning and Brees have laid claim to the fantasy throne, a triumvirate of quarterbacks are on the brink of joining the league's elite.
We will start with last season's Super Bowl winning quarterback Aaron Rodgers.
People who watched the Green Bay signal-caller play last year knew they were watching something special.
You could see the passion in his eyes, and his ability to throw and keep plays alive with his legs had him playing with a confidence and moxy not seen since the Monsters of the Midway were stampeding to Super Bowl XX.
He oozed confidence and it almost made you hate him, but Rodgers was so masterful on the field that the everyday fan couldn't help but cheer him on.
Rodgers completed 312 passes last season for 3,922 yards, 28 TDs, and 11 INTs. He also rushed for 356 yards and four TDs. (Rodgers only started 15 games last season, missing one due to injury.)
In three seasons as the starter for the Packers, Rodgers is averaging 4,131 yards, 334 completions, 29 TDs, and 10 INTs passing, combined with 293 yards rushing and four TDs per season as well.
Any questions about his sitting the pine for the first few seasons of his career have been nullified by his increasing ability to make plays with his arm on Sundays.
The one thing that could be a hindrance for Rodgers this season is the fact that his team won the Vince Lombardi Trophy last year.
Will there be a Super Bowl hangover?
(The past five Super Bowl-winning quarterbacks had average seasons at best following their team's triumph, with the average season of those five consisting of 3,948 yards, 26 TDs, 16 INTs, and 338 completions.)
Moving east, and away from the land of cheese, another quarterback poised for a breakout season that could put him among the league's elite is the controversial signal-caller of the Philadelphia Eagle's, Michael Vick.
There is no question that Vick shocked the world with his performance in 12 games as the starter last season after Andy Reid handed him the reins.
The big question this year is: Will he continue to evolve?
The answer to that remains to be seen, but I'd be willing to bet the farm, or a high first- or second-round draft pick on it.
Philadelphia has managed to build a wonder team of talent, spearheaded by arguably the most athletic freak the league has ever seen.
Vick has been lauded for his agility and speed, and when drafted out of Virginia Tech with the first-overall selection many moons ago, it was assumed that his legs would always cause more problems for defenders than his arm.
Last year Vick proved that the stereotypical running quarterback can be taught to throw first, run second.
In 12 games, Vick completed 233 passes for 3,018 yards, 21 TDs, and only 6 INTs. He managed to also rush for 676 yards and nine TDs—again in 12 games.
These passing numbers, topped off with a 100.2 QB rating, were career bests for Vick in every category; his nine rushing touchdowns were also a career high.
So, what does this mean for the upcoming season?
Desean Jackson, Jason Avant, Steve Smith and Jeremy Maclin (recent health concerns considered) give Vick the most talented quartet of receivers in the league.
Combined with a backfield highlighted by Lesean McCoy and Ronnie Brown, you have six top caliber weapons that can be utilized at any given point—not even including Vick himself.
McCoy, who led all running backs in receptions last year, is poised for a huge breakout season. As teams will struggle to find ways to contain the speedy receivers, Vick and McCoy will be roaming around behind center.
We haven't even mentioned Brent Celek in the middle of the field, who has shown to be one of the more talented pass-catching tight ends in the game over the past few seasons.
Vick will be a bit of enigma in trying to project just what he is capable of, but with another year out of a cell and in a gym, a core of receivers that can run with anyone, two Pro-Bowl-caliber backs and a set of healthy wheels underneath him, it is a safe bet that Vick is in line for an MVP-type season.
One of the intangibles to consider when drafting this year is the Philly defense. With the offseason acquisitions in the secondary, teams will surely have a difficult time driving down the field on the Eagles, which should leave Philadelphia in prime field position in nearly every game.
The championship weeks for Vick consist of Week 14,15 and 16 matchups at Miami, home against the Jets, and at Dallas.
Last, but certainly not least, is Phillip Rivers.
Rivers, who for his career is averaging 3,903 yards per season, 310 completions, 27 TDs, and 11 INTs, could, would and should be in for a bigger season than last year, when he led the league with 4,710 passing yards on 357 completions with 30 TDs and 13 INTs.
The reason for this, you ask? A healthy Malcolm Floyd, Vincent Jackson and Antonio Gates to start the season gives Rivers three very proficient weapons in a weak AFC West.
Rivers is also the only quarterback in NFL history with three-consecutive seasons of 4,000 passing yards and a QB rating over 100.
Excluding a small drop from his first to second seasons, Rivers has also experienced an increase in his passing yards every year for four-consecutive seasons.
With prolific weapons at both wide receiver and tight end, as well as the lack of a true stand-out feature back, San Diego will look for Rivers to carry them once again for the majority of the season.
No Slouches Themselves
While it would be strongly recommended that no matter your point system you invest in one of the aforementioned quarterbacks, there are still a few ball-slingers out there that could prove to be valuable mid- to late-round pickups.
We will start in New England, not just because of reputation, but because I'm sure there is a select contingent of readers out there having a heart attack as to why I haven't mentioned the face of Ugg boots, Tom Brady.
Brady, whose accolades speak for themselves, has built a Hall-of-Fame career out of winning games. Winning games on Sunday, however, does not translate to winning fantasy games in your league.
Despite being one of the winningest quarterbacks in league history, Brady does not have an overly impressive fantasy resume.
For his career, Brady has averaged 3,851 yards, 29 TDs, 11.5 INTs and 332 completions per season.
His touchdown passes, however, are slightly skewed due to his record-breaking season in 2007.
Brady, in nine full seasons, has only exceeded the 29 touchdown plateau twice. If you remove his season of 50 TDs, as you can't rely on a quarterback to put up those kind of numbers on a regular basis, his average dips to 26 TD-passes per season, which is a far more accurate depiction of his production.
Brady did manage a touchdown pass in every game last year, something his prime counterpart in Indianapolis (Manning) did not manage, as well as 12 games with multiple TDs, but again this was a year out of the norm for the Patriots QB.
In his other eight seasons under center, Brady has only had one season in which he had less than seven games of 0-1 TD passes.
In measuring fantasy consistency, that same counterpart in Indianapolis has never had a season in which he has had under seven games of multiple TD passes, and his career average for games in a season with multiple TD passes sits between nine and 10 (9.5); considering that for numerous years Manning has sat most last games of the season out, you are safe to assume that number would be closer to 10 given an extra game of playing time.
However, as the title of this article states, Brady is no slouch and makes a strong case as a regular fantasy starter.
Last season Brady completed 324 passes for 3,900 yards, 36 TDs (second highest total of his career) and only four INTs.
Easily one of the best seasons for any QB in NFL history.
Brady, however, will see a lot of challenges this seasons with two matchups against the Jets, one with the Giants and Steelers (despite tearing them apart last year, they still are the Steelers), and the much-anticipated matchup with Indianapolis.
Brady's strength as a fantasy player this year lies in the championship weeks with Week 14,15 and 16 matchups at Washington, at Denver and home to Miami.
While there may be five better fantasy QBs, Brady is not a bad mid-round pickup by any means.
Staying in the AFC, another viable starter is the Pittsburgh Steelers' Ben Roethlisberger.
Big Ben, in 12 games last season, completed 240 passes for 3,200 yards, 17 TDs, and only five INTs. Ben, also a threat to scramble, rushed for 176 yards and two TDs.
The offseason acquisition of Jericho Cotchery will provide another weapon to a fast receiving core of Mike Wallace, Antonio Brown, Emanuel Sanders and the tall target that compliments Hines Ward over the middle.
The two-time Super Bowl-winning quarterback was 70 yards and 46 seconds from title No. 3 last year and has shown improvement in his passing every year as Pittsburgh has continued to show more of a pass-first attitude with Ben.
That same chip should be on Ben's shoulders this year. The added motivation of losing on the big stage should prove to motivate the one player whose intangible characteristics make a valid fantasy argument.
Let's not forget he is supported by the best defense in the league. If they stay healthy, especially with the new kickoff rule, the Steelers should consistently find themselves in prime field position.
Ben is also the one fantasy QB with the easiest championship week schedule.
The Steelers play the Bengals in Week 13, then see Week 14,15 and 16 matchups at home against Cleveland, at San Francisco and home to St. Louis.
Rounding out this group of viable every-week starters in fantasy land are Matt and Matt—Ryan and Schaub that is.
We will start in Atlanta with the signal-caller of the No. 1 seed in the NFC last season, Matt Ryan.
Matty-Ice posted 357 completions for 3,705 yards, 28 TDs and 9 INTs.
Ryan has drastically improved every season in the NFL, and with the addition of Julio Jones complimenting Roddy White and Tony Gonzalez, as well as a strong ground game led by Michael Turner and Jason Snelling, the Falcons should have one of, if not the strongest offenses in the NFC.
Ryan has seen an increase in his touchdown passes every season, and as he continues to grow more and more comfortable at the NFL level, that total should continue to climb.
The Falcons play championship week matches in Weeks 14,15, and 16 at Carolina, home to Jacksonville, and at New Orleans (which should prove to be a shootout in what is most leagues championship week).
Schaub, who is averaging 4,500-plus yards and 26.5 TDs over the past two seasons as Houston's starter, has seen drastic increases in both his role and numbers over his four seasons in Houston.
With a target like Andre Johnson, it's hard to imagine Schaub not having another big year, especially with the emergence of the running game and Arian Foster.
While teams key on stopping the Texans' backfield star, Schaub will have countless opportunities deep to Johnson or underneath to numerous receivers that will benefit from the double coverage Johnson is bound to see.
The same things that strengthen Schaub's case, also hinder it in that the emergence of the rushing game is sure to take a bit away from Schaub's numbers.
That being said, even with a 1,600-yard rusher in the backfield, Schaub still posted 4,370 yards, 365 completions, 24 TDs and 12 INTs last year as the Texans showed no inclination that they would take the ball out of their QBs hands.
Schaub has early season matchups at home against Pittsburgh and on the road with Baltimore, but has smooth sailing the rest of the way, including Week 14,15 and 16 matchups at Cincinnati, home to Carolina and at Indianapolis.
Schaub, like Ryan, remains a viable mid- to late-round pick as a weekly fantasy starter; their value should not be taken lightly. These are also great guys to have as backups and potential trade bait should the situation allow for you to consider a second QB in the mid rounds.
Both individuals, however, do not possess the same body of work as the aforementioned QBs, and while their minimal body of work warrants selection, it does not justify selection before any of the previously mentioned QBs.
The Enigmas
Two quarterbacks this season raise curiously strong cases for late-round selection as a "hold-on-to-and-see-what-they-do" kind of pick.
First being Donovan McNabb.
While Washington may not have been the best fit, Minnesota could provide big numbers for one of the more underrated QBs of our generation.
McNabb, whose numbers were always good but not great, will being going to a domed stadium outside of the cold weather he is used to dealing with in the latter part of the season, and will be aided by who many believe to be the league's top back, Adrian Peterson.
With a ground game that will benefit from his presence as much as he will from theirs, the passing game should open up for the Vikings, McNabb and Percy Harvin.
Teams will continue to put an extra guy in the box to stop Peterson and, while still mobile, McNabb should be able to find receivers downfield in one-on-one coverage.
Another guy that is not much of a secret, but perhaps coming out of the gate over-valued, is Kevin Kolb.
Truth is, we have no body of work for Kolb.
Claiming to be the smart one on Draft Day who "steals" him over players like Schaub, Ryan and Roethlisberger in the mid rounds could prove disastrous.
However, if he happens to be around in the late rounds and you are drafting backups, take him.
With both Larry Fitzgerald and Todd Heap to throw to, Kolb has some solid weapons in front of him. His trade value will also be through the roof if he comes out of the gate on fire.
If Kolb happens to come out strong, much like LaDanian Tomlinson did for the Jets last year, you will be able to pass him off for a good mid-round talent acquisition and this only benefits you.
Having weapons is not the problem, utilizing them is where it gets questionable.
Projected Rankings (with last year's stats)

1) Peyton Manning: 450 comp – 4,700 yards – 33 TD – 17 INT
2) Drew Brees: 448 comp – 4,620 yards – 33 TD – 22 INT
3) Aaron Rodgers: 312 comp – 3,922 yards – 28 TD – 11 INT – 356 rush yards – 4 TD
4) Phillip Rivers: 357 comp – 4,710 yards – 30 TD – 13 INT
5) Michael Vick: 233 comp – 3,018 yards – 21 TD – 6 INT – 676 rush yards – 9 TD
6) Tom Brady: 324 comp – 3,900 yards – 36 TD – 4 INT


7) Ben Roethlisberger: 240 comp – 3,200 yards – 17 TD – 5 INT – 176 rush yards – 2 TD
8) Matt Ryan: 357 comp – 3,705 yards – 28 TD - 9 INT
9) Matt Schaub: 365 comp – 4,370 yards – 24 TD – 12 INT
Best and Worst Passing Defenses 2010 (in yards per game)
1)      San Diego – 178                                           32) Houston - 268
2)      Oakland – 189                                               31) Washington - 262
3)      Buffalo – 192                                                 30) New England - 259
4)      New Orleans – 194                                        29) Tennessee - 252
5)      Green Bay – 194                                            28) Jacksonville - 250
6)      New York Jets – 201                                      27) Seattle - 250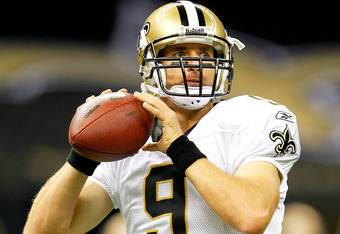 7)      Tampa Bay – 201                                          26) Dallas - 243
8)      Miami – 209                                                   25) Denver - 236
9)      New York Giants – 210                                  24) San Francisco - 231
10)   Minnesota – 210
For my readers: While I only broke down the top nine QBs in this year's fantasy draft class, it is important to do your homework on QBs such as Eli Manning, Sam Bradford, Alex Smith, Kyle Orton, Matt Cassell, Tony Romo and other signal-callers that could prove valuable as backups and bye-week substitutions.
If there is a QB whose season you would like me to break down more in depth, post a comment below and I will respond in a timely fashion with everything you'll need to know about that QB and what you can expect from him this season!