Pittsburgh Steelers 2011: Predicting Every Game of Their Upcoming Schedule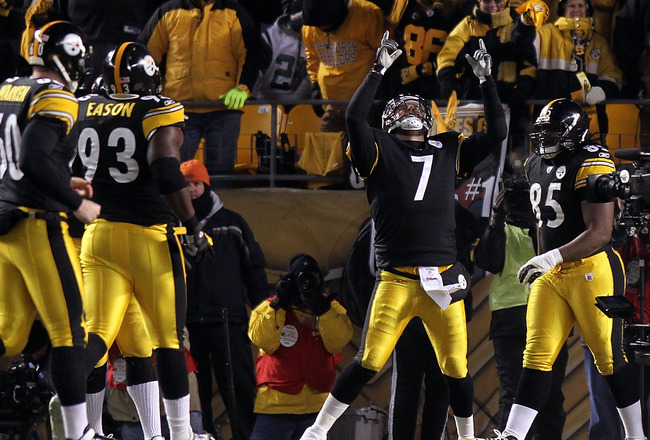 Nick Laham/Getty Images
WHO LOVES BEING A STEELERS FAN?
Like most Steelers fans, I have this everlasting notion that my football team will never lose a football game again. However, the course of a season presents its natural obstacles, and being undefeated rarely lasts through September.
On paper, this team will be favored over its opponents for most weeks of the season. Objectively, a Pittsburgh victory could be argued from the data going into any of these games, machines crunching the attributes of our roster and spitting out victories, almost as though the game were played on an empty Scantron scorecard.
Yet, we all know an undefeated season isn't going to happen, because all games have the human factor and, most importantly, the margin between winning and losing is slim. This list is a challenge in that way, tempering the elitist subjectivity that comes with rooting for a team with six Lombardi Trophies with the reality of some inevitable losses are going to happen.
Every April, two things are certain: taxes will be due and the NFL schedule will be dissected by fans eager to catch their first glimpses of what the new season will deliver. Steelers fans are no different; in fact, our eagerness is only catalyzed by the team's constant success in the Super Bowl era.
Predicting games from week to week is a fool's errand, so attempting to persuade judgments regarding an entire schedule is perfectly irrational.
Let's be honest: how many people had the Kansas City Chiefs winning the AFC West in 2010 that didn't live in Missouri or bleed red? Errrr.....scratch that last part! But you get the point!
In 2009, the Steelers' roster was loaded and they were the defending Super Bowl Champions. A win in Kansas City, as an example, was assured by "experts." Yet, injuries mounted, the regular irregularities of NFL play occurred, and the predictable lack of predictability bit the Steelers, who lost in Arrowhead to an anemic Chiefs squad.
In other words, things just happen for no better reason than "something's gotta," as our words during each new off-season stand in stark contrast to a year earlier.
But, even if for nothing more than the love of the game, prognosticators put on their premature thinking caps and make their irrational, soon to be rendered irrelevant predictions.
Count me in!
This season, with no distinguishable off-season activities through at least June, promises to be worse than usual, as the roster of every team will take on a Mt. Rushmore-sized face lift. The standard six months of the athletic nomad will be reduced to only the chaos of a few frantic days leading up to kickoff.
Yet, that's the beauty of it!
In fact, if what we know about the NFL stays consistent, that will be a terrible sign. No changes definitively means no season, and no season means a lot of irrelevant predictions by every schedule scavenger.
The wonderful element of the NFL is that change gives every season its own unique identity.
Enthusiasts blur those seasons together. An example could be a fan knowing that the 70's were great and the 80's were tougher for Steelers fans.
Fans, on the other hand, know the stories of the seasons like the names of their children.
1989? Noll's last real hurrah!
1992? Cowher Power is born!
1997? Slash leads the Steelers on an improbable run!
1976? The greatest defensive run in history falls just short.
2005? Redemption and "One for the Thumb!"
As A Steelers fan, I see every season as the newest chapter of a remarkable journey, filled with highs and lows, peaks and valleys, rife with heroes and antagonists, and timeless entertainment. The 2011 identity will be forged into this tale of a blue collar city and their Men of Steel.
Will the chapter of 2011 be "Seven Heaven?"
Or will the season serve as the support for last year's installment of "Pack Attack?"
No matter the outcome, the Steelers appear poised to return a formidable line-up. If they're able to maintain their health in balance with experience gained, the sky is truly the limit.
With my premature prognostication cap fitting snugly, I'll attempt to predict the winner of every Steelers game for the coming year, including a few extra premonitions to really cook the crow before I eat it.
It's fine, so long as I don't have to eat Raven.
Sadly, there's little frame of reference for this task. Recent history shows great team success following a losing season, and disappointment following Super Bowl victories.
Since Ben took over at quarterback, losing the Super Bowl has, proudly, been a foreign commodity.
With no barometer to reference, I will attempt to get my finger on the pulse of the proud Pittsburgh franchise.
Week 1: at Baltimore Ravens
Bloodbath. Brawl. Ben.
That's the "B" that puts Pittsburgh over the top in "Big, Bad" Baltimore.
In a popular segment called "Jacked Up!" on NFL Network, Michael Irvin replays the hardest hits of each weekend, and the journalists on the set scream the words in unison with him.
The top 10 "whacks!" get shown. This is a series predicated on physicality, tailor-made for segments like "Jacked Up!"
Ward vs. Reed. Suggs vs. Ben.
Heath Miller's neck snapping backward on a violent helmet-to-helmet collision that didn't even draw a flag in last year's Sunday Night contest.
It's not just physical, it's a fight!
This year, I expect an extra dose of physicality from an unlikely source.
The return to health of the offensive line will result in the Steelers' highest scoring season of the Roethlisberger era.
The beef in front of Ben could possibly see Maurkice Pouncey, Willie Colon, Max Starks and Flozell Adams, or some combination. The Steelers have proven the ability to adapt to overcome injuries, but a healthy O-line would really allow Pittsburgh's offense the bedrock of balance that could make it deadly.
I expect the Steelers to control the tempo of the game by making key plays at decisive moments. In most of their games, the Ravens have ran with modest success, but it'll be up to Joe Flacco to make the crucial plays on pivotal third downs. If he makes them, the Ravens will win the opener, but buoyed by successful hogs and speedy receivers, I think it is Ben who will be all of the "rave" come Monday.
Prediction: The Tomlin era has seen great Steelers performances on opening day. It's a testament to his ability to focus the team for new seasons. The Ravens will out-gain the Steelers and win the time of possession battle...and LOSE.
Why? With their last huge game fresh in their minds, the Steelers will pay attention to detail and have ZERO turnovers.
SCORE: STEELERS 17, RAVENS 16 (1-0)
PREDICTION: Ben escapes, nose intact.
Week 2: vs. Seattle Seahawks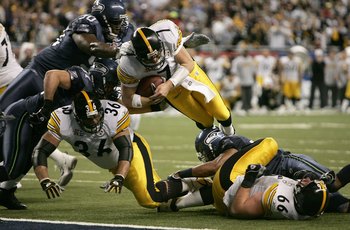 Jonathan Daniel/Getty Images
The referees didn't throw the interception immediately following an ill-time holding penalty.
They didn't miss two field goals.
They didn't botch clock management.
....and they didn't throw a lollipop interception with an opportunity to take a 21-3 lead either.
They did, however, correctly call offensive pass interference. The regularity of an infraction (or penalty for that infraction) does not negate the violation.
They also correctly called the Roethlisberger touchdown run, the tip of the ball grazing the imaginary plane that runs up from the goal line as Ben is descending to the turf. Critics mention that he pushed the ball over after he hit the turf, dismissing the notion to all who are aware that they know anything about football.
What Roethlisberger did whilie he was on the ground (epifany forthcoming for many)...had nothing to do with the call or the play!
Lots of tears and excuses couldn't erase one key fact.
The Steelers, for their quarterback's struggles, found a way to win Super Bowl XL and the Seahawks, responding to adversity with the heart of a baby kangaroo, hopped around and complained like incessant amateurs, belly-aching as though porcupines were in their pouches.
All of the whining could not erase the perfect execution of the game's defining play, a reverse pass from Antwaan Randle El to Hines Ward. It could not muddy Ben's savvy on a key second quarter situation, not running past the line of scrimmage to allow Ward an opportunity a play at the football near the end zone.
Yet, this isn't about that game. Or is it?
Let's face it. The rain in Seattle has not been the only precipitation falling since February 2000. Puddles of tears put smirks on the faces of the Nation, and the first meeting after the game resulted in a 21-0 shutout.
PREDICTION: Seattle will not score a touchdown, and they will not eclipse 10 points.
I guess my hunch is that this is statement game number, following a 21-0 shutout of Seattle at Heinz Field in 2007.
I often state that the NFC West is so bad that any AFC team (any of them, name them all) would win at least 9 games from playing in the division. I mean that. Likewise, in any other division, the Seahawks would have a 5-11 team, capable of the big upset if a juggernaut were to let its guard down.
Yet, with all of the boo-hoo'ing since Super Bowl XL, the Steelers have no reason to look the other way.
Make no mistake, the Seahawks have a myriad of talent. They displayed great potential in a win over the Saints this past January, followed by competent play in Chicago.
This, though, is the perfect buzz saw.
The team that calls Lombardi no. 5 the asterisk is stopping over for lunch on opening day at Heinz Field. Time to feed.
Referees apologizing four years later? Pathetic.
SCORE: STEELERS 30, SEAHAWKS 6 (2-0)
Week 3: at Indianapolis Colts
I'm a proud Steelers fan, but I'm also able to step away from the fandom and take an objective stance.
Let me be clear. The Steelers can never make it easy. Also, when they play poorly, it is often on the road following a decisive home victory.
Naturally, there are exceptions. Pittsburgh is a great team.
Sunday Night Football in Indianapolis is tailor-made for the Steelers' first loss. It simply falls into that "gut feeling" category that Steelers fans can sense when the team becomes a bit apathetic and starts coming at opponents at 99 percent.
I look forward to the health of our offensive line, but Dwight Freeney at the defensive end scares me enough without the dome crowd drowning out our offensive signals.
Communication will be key: I see Ben and the offense really trying to get Mendenhall into this game.
I think the Steelers' best bet to beat the Colts is a bit unlike their playoff win in 2006, where Ben and the offense came out throwing. A big, physical back like Mendenhall needs some carries to get into the game.
PREDICTION: Mendenhall will run for over 100-plus yards, but the Steelers offense will fail to put the game away with an opportunity to win in the fourth quarter. Manning will have the ball under center with an opportunity to win.
Instead of the sixth sense, I'll call it the Steeler sense; I expect a game where Pittsburgh controls the tempo, yet misses a few key opportunities to finish drives.
And, against Peyton Manning, that can cost. Let's just hope he over-analyzes par normal and allows a few nifty blitz schemes to break up his rhythm, ala January 2007. In fact, Manning has only an 85.9 career quarterback rating against the Steelers, pedestrian by his standards and largely buoyed by three touchdowns in 2008 at Heinz Field.
SCORE: STEELERS 24, COLTS 27 (2-1)
Week 4: at Houston Texans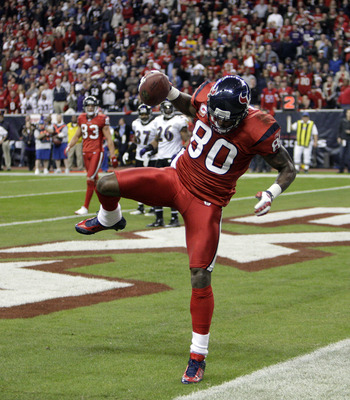 Bob Levey/Getty Images
The worst pass defense in the league (32nd in 2010) matches against the receiver who had the most yards per catch in that same span.
The Houston front line will need to get to Roethlisberger to prevent receivers from breaking their routes against a porous secondary. That's much easier said than done!
If that sounds like a mismatch, it is. Yet, not all will be lost in Houston.
Andre Johnson is a retriever at receiver; the guy will go up and catch almost anything.
Matt Schaub has proven himself as a fine NFL starter, nearly throwing for 500 yards against the Redskins and achieving over 300 yards passing in four of his final five games in 2010.
Nevertheless, a large part of Houston's deadly attack is predicated on an ability to "foster" offensive balance, and Arian Foster rushed for over 1,600 yards. Having to honor both offensive phases, defenses struggled to keep the Texans attack in check.
Even without the balance, Schaub is able to utilize his weapons and make plays. Just ask the Ravens, who saw the quarterback throw 62 passes during a Monday Night game in Houston last season. Of important note, Baltimore won in overtime, forcing an ill-advised pass from Schaub, who was under pressure.
Where I predicted Peyton to pull through in Week 3, I have to give the significant edge to the Steelers offensive hogs to control the ball, their speedy pass catchers to get open downfield, and their defense to shut down Arian Foster and force some mistakes in the Houston passing game.
PREDICTION: As Foster is unable to run the football (less than 60 yards), Schaub will throw at least 40 passes. Two or more will be intercepted, causing a close game to become a late blowout.
SCORE: STEELERS 34, TEXANS 17 (3-1)
Week 5: vs. Tennesee Titans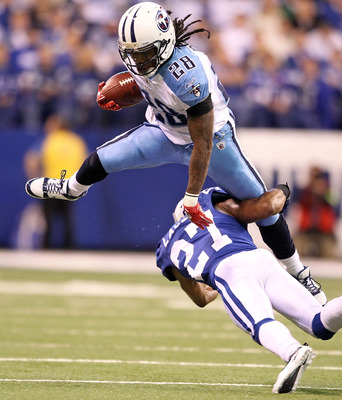 Andy Lyons/Getty Images
On NFL opening night in 2009, a Pittsburgh crowd was electrified as it welcomed home its defending champion Pittsburgh Steelers. Adding to the anticipation of a fine evening was the opponent.
The Titans had always been a nuisance to the Steelers, from Steve McNair fourth quarter touchdown passes to a bend-but-don't-break defensive style. Jeff Fisher always had the team ready to play, and they entered Heinz Field as the defending top seed from the recent AFC playoffs.
Roethlisberger diced a shake Tennessee secondary, though the score (13-10) would not indicate his successes, completing 33-of-43 passes and moving the ball with regularity.
Times have changed. The Titans are in the midst of changes inside of the headsets and behind the center. It remains to be seen if promising rookie quarterback Jake Locker or veteran Kerry Collins will be the starting quarterback, but I'd bet on the latter.
PREDICTION: Jay Locker will start at quarterback for the Titans. He will be sacked more than any other quarterback on the Steelers schedule in 2011.
Evidence can be found on both sides of the "let him start/ let him watch" argument, but I believe there's no better preparation for the NFL than playing in it. Nothing can replace the grass stains and kicks to the shins like true NFL competition, and if new head coach Mike Munchak is going to remain in Nashville as long as his predecessor, it will be for the fine play of Locker.
A lot will ride on Chris Johnson's shoulders. Last year's game in Tennessee showcased just how quickly Johnson can burst to the outside (touchdown run negated by penalty), but equally on display was the prowess of Pittsburgh's defensive front at stuffing the run.
PREDICTION: Chris Johnson will enter the contest with over 500 yards rushing, facing subpar run defenses in Jacksonville, Denver, and Cleveland in the early weeks.
With towels twirling and ketchup bottles tipping, I expect Ben and the offense to capitalize on a huge passing day and opportune field position.
SCORE: STEELERS 27, TITANS 10 (4-1)
Week 6: vs. Jacksonville Jaguars
Sometimes gaging NFL games goes beyond (or perhaps not so far as) the x's and o's. Team's fan bases have their finger on the pulse; they know when their team tends to step up. And, though they talk confidently during the week, they have this funny little notion in the back of their conscience that things are about to go awry.
Looking ahead at 2011, this strikes me as simply "one of those games..."
I could break down the matchup and take the Steelers down the board. Except for one issue: how this rivalry works.
No team has been more pesky to the Steelers (not named the Patriots) than the Jaguars, who were supposed to be Pittsburgh's doormat in the AFC Central division back in 1995. Against all expectations, Jacksonville catapulted out of the gate, beating the Steelers in their inaugural season and playing in two AFC Championship games in their first five seasons of existence.
Today's Jags are on the verge of the playoffs, yet teeter dangerously close to the edge of the cliff.
David Garrard is a competent starter who protects the ball well and showcases surprising mobility. A great deal of his production results both directly and indirectly from the man known as "Pocket Hercules."
Maurice Jones-Drew is a dynamite talent who Steelers fans know too well. His 198 all-purpose yards and two touchdowns ended Pittsburgh's 2007 season, a 31-29 home loss to Jacksonville.
It's this simple: stop Jones-Drew, stop the Jaguars. Let him run, and it'll be a long day.
My instincts tell me to expect a long afternoon. Jacksonville is always ready to play against Pittsburgh.
It doesn't matter how good we are.
It doesn't matter how good they are.
The Jaguars will be in every game against us that they shouldn't be—if they have any statistical edge, fate will intervene and snatch the game away from the Steelers.
This rivalry is the anti-Ravens. The Ravens are a team that has been built on physicality, toughness and great defense. They've had spark plugs added to their offense. Yet, they can't beat Pittsburgh.
Jacksonville's defense is a poor man's version of their first decade in the league, and their bread and butter rests on an OUTSTANDING player under six-feet tall. Yet, they always snatch wins from the Steelers.
At 4-1, Pittsburgh will welcome road Jacksonville to Heinz Field.
PREDICTION: The Steelers need a reality check that the Jaguars will give them, despite a solid game on both sides of the ball.
SCORE: STEELERS 20 JAGUARS 23 (4-2)
Week 7: at Arizona Cardinals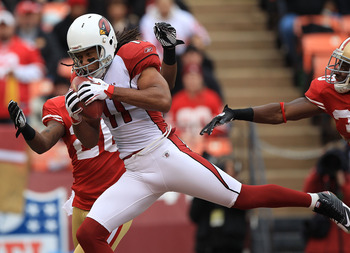 Jed Jacobsohn/Getty Images
I foresee the Steelers playing one of their finest games of the season in Arizona, dispelling the notion that somehow Whisenhunt will use familiarity as a crutch against them.
Looking at Arizona, it seems likely to me that Ken Whisenhunt is going to bring in a veteran quarterback to throw to the great Larry Fitzgerald (at least early in the season). The name Kevin Kolb has been tossed around, but it remains to be seen what direction the franchise will choose.
Either way, their supreme weakness is at quarterback, pathetic given the talent at receiver even with the loss of Boldin. The team's defense was mediocre, but the offense's anemia took center stage in a Monday Night game last season against San Francisco.
The passing was arrhythmic to the point of embarrassment!
All of the slicing and dicing of this franchise aside, they were 3-2 to start the post-Warner era (how good was that guy?) before falling apart in November. A 2-9 finish was highlighted by a 27-26 win over Dallas that showed the Cards still had some heart left in them.
Whisenhunt will have this team more than prepared despite deficiencies.
Half of the media will talk about the impending blowout.
The other half of Pittsburgh's beat writers will predict the doom and gloom of a trap game against an old coach.
Doesn't anybody think Ben wants to win this game, too? He'll be ready, but....
PREDICTION: The Steelers offense will gain over 350 yards, but a pesky Cardinals red zone defense will keep them out of the endzone on most drives.
PREDICTION: Arizona's offense will be held under 200 total yards, over 40% of the total belonging to Larry Fitzgerald.
SCORE: STEELERS 26, CARDINALS 10 (5-2)
Week 8: vs. New England Patriots
Everyone has had that morning where they wake up with a headache due to morning breath that is so foul it could kill a mosquito. You brush your teeth twice—or even three times—just to assure that the hint of mint you are tasting lasts until you can get a pack of gum or some Altoids for your work station.
Tom Brady and the Patriots always leave a bad taste in the mouths of every Steelers fan.
They're garlic, and we're apparently the vampires. Typically, a vampire is a mysterious and powerful figure but, in this case, New England tends to take us to task as though we're merely the walking dead.
In 2001, when that inexperienced kid, with the name that was way too common for any long-term success, showed up in Pittsburgh, it was a given that the Steelers were going to the Super Bowl. Heinz Field was hosting the AFC Championship Game in its inaugural season, the Patriots were NFL bottom-feeders under Bill Belichick just a year prior, and the kid hadn't seen a defense like ours in his short career as a starter.
In truth, Brady played mistake-free, but he never looked poised enough in that game to eventually lead the Patriots to the Super Bowl. He left the game with an injury, and the crowd applauded as Drew Bledsoe came into the game. Sure, Tom was fresh and Bledsoe was a statue, but I knew the experienced quarterback would have something to prove.
Bledsoe didn't play his finest game either (and he tried to throw the Lamar Hunt Trophy into Joey Porter's chest in the second half), but he played well enough in his first couple of drives to give his team a lead they would not relinquish. I'd have rather played the kid.
Little did the fans know that the guy with his leg in the wrap on the sideline would be the bane of the franchise's existence for 10-plus seasons.
There's always a new reason the Steelers will beat the Patriots:
- They destroyed them earlier that season. Our lone win against Brady ended a 21-game winning streak at Heinz Field.
- They lacked a running game. (Most of Brady's career.)
- Their key contributors left the franchise (2006).
- They had a young, inexperienced defense (2010).
Yet, every time, simple or difficult, Brady made the key play at the end of the game if he hadn't shredded the Steelers defense to a point where contention was lost.
The most frustrating element of the one-sided "rivalry" is that Brady, the NFL's best player, isn't just a Lex Luthor to our Men of Steel or Darth Vader to our Luke Skywalker.
He's a different villain every time, doing it in whatever new, unexpected way the situation warrants.
In 2001, it was simple game management, prior to his injury.
2002 began with Brady's onslaught of the Steelers secondary, and the team's defensive backs looked pedestrian all season. They never recovered from New England's exposure of the scheme's weaknesses, getting burnt throughout the year, even into the playoffs by Kelly Holcomb.
2004 saw the Steelers get to Brady, giving fans that glimmer of hope that he was human. What went unnoticed were his stats. In an awful game, he threw two touchdowns and led his offense to 20 points at Heinz Field, an irregular feat.
The playoffs saw the team killed by Brady's play-faking and misdirections, as the quarterback compiled a perfect quarterback rating.
2005 saw a 12-for-12 fourth quarter from the famed signal-caller, a comeback 23-20 victory for the Patriots.
Yada, yada, yada. Anthony Smith guarantees a Steelers victory during the Patriots undefeated regular season of 2007. Brady destroys him.
For Steelers fans, it's the same damn story every time. The Patriots mask their weaknesses long enough to allow their quarterback to play out of his skull and break Western Pennsylvanian hearts.
PREDICTION: More of the same: Brady's hair blowing in the breeze during pre-game, as he looks up with a lady-warming GQ smile, before placing his helmet about his lion mane and feasting.
SCORE: STEELERS 29 PATRIOTS 34 (5-3)
Week 9: vs. Baltimore Ravens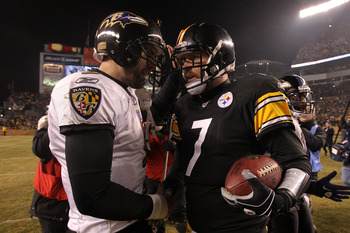 Nick Laham/Getty Images
In a scheduling oddity, the Steelers will wrap their regular season series versus the Ravens before playing either of their division opponents from the Buckeye State.
As clutch as Ben Roethlisberger has been in stealing AFC North titles from the Ravens in Baltimore, leading two devastating last minute touchdown drives (once from 92-yards, the other aided by the defense) before a stunned Maryland crowd.
While Joe Flacco led the Ravens to a last-minute comeback win over the Steelers at Heinz Field last season, his offense was inconsistent, neglecting to take advantage of opportunities that a depleted Pittsburgh team afforded him.
The game in Baltimore saw a sack strip by elite safety Troy Polamalu essentially set up the division-clinching score. In the playoffs, his interception early in the second quarter after the Steelers gained momentum, allowed the game to be tied, 21-21. Earlier in his career, an interception to Troy Polamalu and fumble picked up by Lamar Woodley allowed games that Baltimore had opportunity to win to tilt in Pittsburgh's favor.
Simply, Heinz Field has been a house of horrors for the young quarterback, much like a former division rival who had tremens while dreaming about Rod Woodson. (How've ya' been, Vinny?)
The Ravens defense can keep almost any opponent in check.
The offense is rife with talent that needs to be properly utilized. How many teams have a Ray Rice, accompanied by a top 5 tight end, and the physicality at receiver of an Anquan Boldin? Yet, for his big arm, Flacco's squad strikes fear in the hearts of nobody.
In a make or break season for the maturity of their young leader, Baltimore will see on display their future. Can this guy lead them back to the top of the pack?
By that logic and dependent on the standings, one could surmise that this will be the biggest game of the biggest season of young Joe Flacco's career.
PREDICTION: James Harrison will play a huge role in keeping the horror of "Heinz" alive in Flacco's heart.
SCORE: STEELERS 20, RAVENS 13 (6-3)
Week 10: at Cincinnati Bengals (Week 11: BYE)
The Bengals, a franchise created on emotions of anger and spite, are far from the day of Ken Andersen and Paul Brown. Lost are Sam Wyche, Boomer Esiason and dreams of a title in "The Jungle."
Today's "Bungles," a nickname ascribed by the wonderful color announcer Myron Cope, are an on-again, off-again franchise that can't handle success.
Like a timid kitten that desperately wants cat claws, they taste a small drop of blood and get hungry. When they realize the fight that comes from the bounty, they shy away, only to return when more free-pickings (usually a last place schedule) are available.
Even with his struggles, the Bengals fielding Carson Palmer scared me, as he often found ways to break down the Steelers defense and pull out victories that the team didn't deserve.
How many times have the Steelers dominated in Cincinnati, only to miss the jugular and ask, "what happened?" In fact, the Steelers have blown a 10-plus point lead during a game only twice in the last 10 seasons, both times in Cincinnati. They nearly wasted a 20-point lead last season. This year, I don't think any paranoia stemming from prior visits is necessary.
The current Bengals give life to the phrase "more than one way to skin a cat." With so many weaknesses, they're completely beatable.
Their strength in 2010 was their secondary (which says something!), but a very good cover corner in Jonathan Joseph is a free agent and I predict he will leave Ohio. While he missed games last season, it will be important for Cincinnati to find a comparable replacement as they can ill-afford to compromise their most productive unit.
Carson Palmer has demanded a trade, and the Bengals are an organization rife with internal turmoil.
Bengals? Just yuck.
PREDICTION: Rashard Mendenhall will have his finest rushing game of the season (most yards), Ben's quarterback rating will eclipse 100, and the Steelers back-ups will see action by the start of the fourth quarter.
PREDICTION: Like Jerry Glanville's fate after losing to Chuck Noll in the 1990 Wild Card playoffs, this will either be Marvin Lewis's last game or the one that seals his fate in the eyes of the front office.
SCORE: STEELERS 34, BENGALS 10
Week 12: at Kansas City Chiefs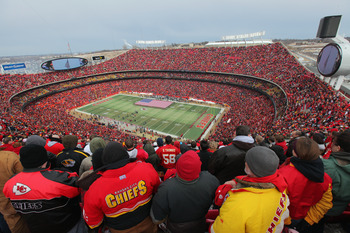 Doug Pensinger/Getty Images
With memories of a 2009 upset at Arrowhead Stadium fresh in their memory banks, the Steelers will not overlook the Kansas City Chiefs in 2011.
Bill Cowher's Steelers teams had great success on the road against the Chiefs, the obvious exception being an overtime loss to the Joe Montana-led squad of 1993.
Mike Tomlin should look to continue this trend with the current roster. Arrowhead Stadium is a difficult environment, unanimously observed as one of the most challenging venues for the opposing team.
While a road test in Kansas City will be a litmus test, I think the pH indicator will read a perfect "7" for the Chiefs.
By perfect "7," I mean neutral.
The Chiefs showed great talent and promise in 2010. They're not to be taken lightly.
Their secondary is one of the league's finest. Todd Haley and the Chiefs drafted tremendously well, a promising sign for the future. Safeties Eric Berry and Kendrick Lewis played beyond their experience as rookies.
Jamaal Charles was a game-breaker, evidenced by the lone offense in the Chiefs' playoff against Baltimore.
There are negatives, and that is my first: the lack of a deep passing game must be addressed. Against great run defenses, the Chiefs offense is at risk of self-destructing without help. Dwayne Bowe caught 15 touchdowns, but every other receiver combined for three. That is not enough of a universal threat for Matt Cassell to lead Kansas City deep into January.
Also, their defense was radically inconsistent. They gave up 49 points to Denver, and surrendered 6 in their follow-up meeting. The Colts struggled to find the endzone against the Chiefs, but their rivals in Oakland tore made huge plays in a season sweep.
Chiefs fans insist they've turned the corner, and they would love the 2010 season to be duplicated. The only issue is that a more difficult schedule promises some growing pains, and the NFC West is the North's buffet in 2011.
PREDICTION: Ben will not throw for 200 yards and Mendenhall will not attain 100 yards rushing. Yet, the Steelers will win by forcing Cassell into mistakes and by being patient.
The danger of the Chiefs is their design. Discipline will be the key for a victory at Arrowhead. Taking the lead and forcing Kansas to change its game is crucial.
SCORE: STEELERS 24, CHIEFS 13 (8-3)
Week 13: vs. Cincinnati Bengals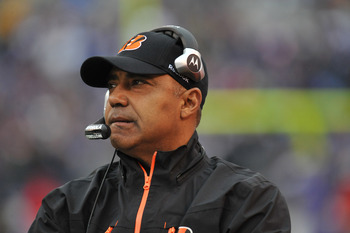 Will Marvin Lewis still be on the sidelines when Cincy visit Steel Town?
Larry French/Getty Images
The Bengals were the worst team of the 1990's, tallying zero winning seasons from 1991-2004.
To put the potential for atrociousness on display, I will boldly proclaim that without a major overhaul- a sort of 1999 Rams type of jack-in-the-box pop- the Bengals may see their worst club of the past 20 seasons in 2011.
No quarterback, though they may have found the next Palmer to Johnson (he was Johnson when he was great) combination in Andy Dalton and A.J. Green.
Nevertheless, it would be a huge youth movement in Cincinnati, and Marvin Lewis likely can't afford the patience he had in 2004. For long-term franchise success, it may be best for these two young talents to get their cleats muddy, but when it comes to the Bungles, your guess is as good as mine.
By this point, I question if Marvin Lewis is the coach of the team, which may be largely dependent Mike Brown's loyalty to a coach that has ultimately improved the franchise by leaps and bounds from its pitiful status of the 90's.
Either way, there are a lot of questions in Bengal-ville, and it appears the success of Cincinnati will have to stem from players who need a great deal of NFL experience.
They'll get it, and perhaps someday they'll look back at their comeuppance in the Steel City as a learning experience.
PREDICTION: The Bengals offense will not achieve 10 first downs.
PREDICTION: The game will mark the Steelers' largest blowout of an opponent in 2011.
SCORE: STEELERS 31, BENGALS 0 (9-3)
Week 14: vs. Cleveland Browns
Gregory Shamus/Getty Images
With a soft schedule, a few commanding victories over quality opponents under their belt, an acclaimed running back, a promising signal-caller, a profound cornerback, and a new front office, expectations in Cleveland are rapidly elevating!
A dark horse pick by many to win nine or more games, the 2011 Browns and new head coach Pat Shurmur are excited to start the new campaign.
Optimism should be high in Cleveland. Mike Holmgren has succeeded at every NFL location he's graced, from San Francisco to Seattle. (Does anybody remember where he was in the middle of all that?)
The strength of the squad is clearly its secondary, which made Tom Brady and Drew Brees, of all quarterbacks, look silly in decisive wins over Super Bowl favorites.
Colt McCoy showed flashed of brilliance at quarterback, especially during his first three games, a 2-1 stint that included the Patriots, Saints, and Steelers. Even in a loss at Pittsburgh, he displayed an aplomb that most rookies don't naturally demonstrate.
The most exciting player is Peyton Hillis, whose excellent play has earned him the cover spot on the annual Madden football video game franchise. Playing in a city that is allegedly already cursed, perhaps the mathematical rule of double-negatives will take effect, with the combination of two curses leading to a positive outcome.
If Cleveland is going to have a winning record, meet these high expectations from select cells of the NFL fanbase, and ultimately achieve the pride of the original franchise, it will start in two key areas.
The defensive front is mediocre. And Colt McCoy has nobody to target with the football.
Holmgren, an offensive mastermind who has instituted potent schemes at every location, will put great care toward the second concern.
However, unless the Browns defensive front can hold a bit more stout, the Steelers will continue to run the ball and hit Cleveland with devastating play-action passes. If you look back at their trips to Heinz Field dating back to 2007, there has been a back-breaking touchdown pass of of play-action in every game.
Pittsburgh has decimated the Browns defense with the approach, and the only time it didn't work was the 2009 game in Cleveland; Pittsburgh struggled to run the ball.
The equation is simple for the Cleveland front line: can you stop Rashard Mendenhall and, thus, contain Ben Roethlisberger?
Yet, all of this will not matter if Colt McCoy has no weapons at receiver.
PREDICTION: Mike Wallace will be the AFC Offensive Player of the Week
SCORE: STEELERS 30, BROWNS 13 (10-3)
Week 15: at San Francisco 49ers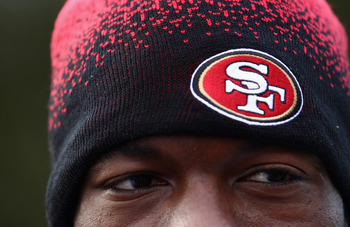 Julian Finney/Getty Images
The Steelers fan in me wants this game so badly, if only to wipe any smug smirk off of the face of the prince Jim Harbaugh. Some utterly biased Steelers demon remains in my soul from his days as Captain Comeback in Indianapolis.
I'm fairly certain that his brother being the head man in Baltimore doesn't afford the other Harbuagh any affection from the Steelers faithful.
Earlier, I mentioned that Pittsburgh occassionally gets a bit too "big for its britches," and a Steelers team with its back to the wall is a squad that I like post-December.
A weak second half of the 2011 schedule is the clear advantage that Pittsburgh has coming into the new season. If the schedule is played in full, it's absolutely possible, if not plausible, that the team will enter the playoffs with a great deal of momentum.
The term "trap game" has always annoyed me, but Pittsburgh fans know the event. Two teams take the field, pop pads, and run their plays with their talent, and the team that scores the most points wins. There is no booby-trap lurking at the 30-yard line. You win or you lose.
Instead of calling it a "trap game," I will call it the "obligatory wake-up call." Complacent with success, the Steelers performance will suffer, and it happens almost annually. (Whether fans want to admit it or not!)
2010- Losing at home to the Jets for the first time in franchise history.
2008- Losing at Tennessee in a battle for home-field advantage in the AFC.
2005- A three-game losing skid nearly costs the Steelers the postseason.
I'm sure if it were examined far enough back, a season would be found without a speed bump, but the modern day Steelers need their annual "wake-up call" to ensure they enter the playoffs with a point to make.
On paper, the San Francisco 49ers seem like a very beatable team for the Steelers, and they are! And who knows what the circumstances will be in actuality come Christmas week out in California.
For the purpose of my projections, my gut tells me that I'm going to be annoyed.
Every season, the Steelers by some clandestine law have to completely give away a perfectly winnable game that seems to be going entirely their way; this is my selection for the "Here 'ya go!" game.
The 49ers underachieved greatly in 2011; coach Jim Harbaugh has great talent out by the bay, specifically his defensive front, anchored by the superb Patrick Willis.
I can see the headlines as plain as day: "Fool's Gold? (insert starting quarterback here) Leads 49ers to Upset Win over Steelers."
PREDICTION: The Steelers will lose one of these December games, and everybody will overreact. In fact, the loss will be exactly what the team needs to focus on their play during the games ahead, ala 2008.
SCORE: STEELERS 19, 49ERS 20
Week 16: vs. St. Louis Rams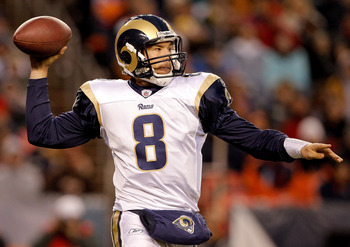 Justin Edmonds/Getty Images
The Rams are full of surprises.
From their sudden championship in '99, the "Greatest Show on Turf" slowly eroded, but nobody expected the decline to be so severe as a 1-15 campaign in 2009.
The franchise seemed in disarray, and experts pointed to years of bad management as the key for their squalor.
Suddenly, the 2010 Rams sprung from the gates. They were not the bottom-dwellers that everybody had been projecting for years to come.
The improvement resulted from a role reversal from the championship era, as the team's success was the result of vastly improved defensive results. Steve Spagnuolo, who was the coordinator that rushed Tom Brady into turn during the Giants upset of the Patriots, made his first task as head coach the improvement of the defense, and the focus was obvious.
In his second season as coach, the Rams improved from dead last to 2nd in overall defense, including 2nd on third-down, a critical stat for any team desiring achievement.
Was this upheaval the result of the paltry divison that St. Louis played? Possibly, but the numbers weren't modest, and St. Louis fields a respectable defense.
The offense is smoke and mirrors, and the Steelers defense should have no difficulty in handling it. Their large numbers came primarily from their overachieving defense giving the ball back to the offense time and time again. Yet, in terms of rushing yards per attempt and Sam Bradford's yards per pass, the Rams are an anemic crew who have to slowly "matriculate their way down the field." (Hank Straham would spin in his grave getting this crew "matriculating.")
If steady improvement is the mark of Spagnuolo's coaching tenure, the Rams may be a year off of any serious contention.
Coming home and playing a team from a climate-controlled environment in December should assist the Steelers.
These aren't the old Rams, so expecting a shootout would be incredibly off-base.
SCORE: STEELERS 24, RAMS 9
Week 17: at Cleveland Browns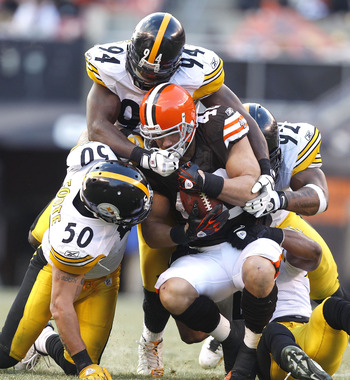 Matt Sullivan/Getty Images
There's a simple formula in this rivalry. The Cleveland Browns don't want to start or finish their season against Pittsburgh.
Anytime the Steelers play the "new age" (post-1996) Browns during the first week or last two weeks of the season, the results are—in the most courteous of terms—lopsided.
1999- Steelers win, 43-0
2001- Steelers win, 28-7
2005- Steelers win, 41-0
2007- Steelers win, 34-7
2008- Steelers win, 31-0
2010- Steelers win, 41-9
Who am I to change a good trend?
PREDICTION: The Browns, despite beliefs to the contrary, will not be in playoff contention in this game. BUT- they will be playing, at worst, for a .500 record.
My prediction for the final score is the average score of the games that are listed:
SCORE: STEELERS 38, BROWNS 3 (12-4)
REAL SCORE: STEELERS 23, BROWNS 17
Keep Reading

Pittsburgh Steelers: Like this team?