NFC Power Rankings: Week 15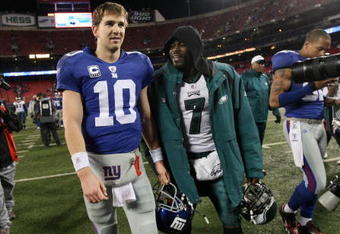 Nick Laham/Getty Images
Tier 1 (The Elite)
1. Saints (13-0)
After another close call, one could argue that this team is closer to the second tier of NFC teams than they are to the elite. But 13-0 speaks for itself, and we all saw what they did to the Patriots, Giants, Eagles, and many others. This is still the odds on favorite in the NFC. (Last Week: 1)


Tier 2 (In The Playoffs)

2. Vikings (11-2)
After a concerning loss to the volatile Arizona Cardinals, the Vikings had one of their best wins of the season, beating a quality Bengals team. It's also a good sign that Adrian Peterson got back on the horse, running for 97 yards and two touchdowns. (2)
3. Packers (9-4)
They almost gave it away at the end, but their win against the Bears basically locks up the wild card. The offensive line is healthy again, and while Aaron Rodgers didn't have a huge game, they ran the ball much better. They have now won five straight, and while games at Pittsburgh and Arizona are tough, they'll be 10-6 at worst. That should be good enough to make the playoffs. (4)


4. Eagles (9-4)
How good is this offense? Are they an elite group? Maybe. They sure did put on a show Sunday night, even without Jeremy Maclin. But their big play ability puts them in a class with the Vikings and maybe just below the Saints and Cardinals in terms of NFC offense. The only problem is, with the way their defense played against a good but not great Giants offense, they are going to need all the points they can get if they want to make a deep run in the playoffs. (5)
5. Cardinals (8-5)
I still think the Cardinals are good enough to beat anyone in the NFC, but there needs to be repercussions for their seven-turnover game on Monday night. Their offense can be as good as anyone's, but they obviously need to play more consistently than they have. Still, they had some awful games down the stretch last year, so it would be foolish to count them out. (6)


Tier 3 (In The Hunt)

6. Cowboys (8-5)
It's happening again. The Cowboys will not have a winning December after losing to a great Chargers team. Now they must beat the Saints if they want to maintain control over their own destiny. Their game against the Eagles could be huge, or they could get lucky and face a team resting their players for the playoffs. But for now, the Cowboys need to worry about beating the unbeaten Saints. (7)
7. Giants (7-6)
Their defense just can't stop anyone. Eli Manning and the offense looked great, besides the five fumbles, but all 38 points were meaningless because the defense couldn't cover anyone. Unless things change drastically over the last three games, the Giants will have an opening at defensive coordinator. The Giants now need to win out and hope the Cowboys lose to the Saints, Redskins, or Eagles. (6)


Tier 4 (Life Support)

8. 49ers (6-7)
The defense played ridiculous, shutting down the Cardinals' offense and creating seven turnovers. The offense can be great at times, but Alex Smith needs to play consistently. But with a healthy Frank Gore and some other young offensive weapons, this is a team that can be very dangerous next year. (9)


9. Falcons (6-7)
I was impressed with how they played the Saints, but let's be honest: This team is not making the playoffs. Without Matt Ryan and Michael Turner, this team is just not very good. (8)


Tier 5 (Playing For Pride)

10. Redskins (4-9)
This team could easily be 7-6 if they had only held on to some late leads (they lost three games in a row by respective scores one, three, and three(in OT)). I would not want to play this team right now if I were in the playoff hunt. (12)
11. Panthers (5-8)
They lost, but they played the Patriots tough. For teams in this tier, playing good teams tough is all you can ask. (11)
12. Seahawks (5-8)
Just an ugly performance against the Texans. I've been calling for the Seahawks to rebuild all year, and for the sake of their fans, I really hope they consider it. (12)
13. Bears (5-8)
They hung around with the Packers, but an ugly interception broke their back. It continues a season long theme for the Bears: Jay Cutler's inconsistencies. Heading into the 2010 season, Cutler will be a huge question mark. That's not what Bears fans envisioned when they made the trade for their franchise quarterback. (13)
Tier 6 (In The Hunt...For No. 1 Pick)
Instead of wasting anyone's time with sarcastic jabs at these bottom dwellers, I'll just state their latest results.
14. Lions (2-11)
Lost 48-3 at the Ravens. (14)
15. Buccaneers (1-12)
Lost 26-3 to the Jets. (15)

16. Rams (1-12)
Lost 47-7 at the Titans. (16)
This article is
What is the duplicate article?
Why is this article offensive?
Where is this article plagiarized from?
Why is this article poorly edited?

New York Giants: Like this team?