NFL Power Rankings: Week 10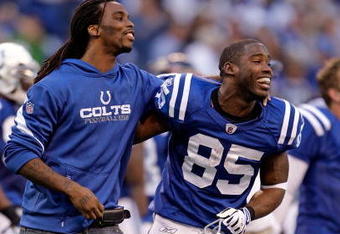 Andy Lyons/Getty Images
In my Week 10 Power Rankings last year , only one team was undefeated, and just three teams had one loss, or fewer. At the midway point this season, there are two perfect squads, and five organizations with no more than one win. Parity no longer reigns in the 2009 version of the NFL. Let's sort it all out.
1. (1) New Orleans Saints (8-0)
For the third straight week, the Saints trailed after the first quarter, only to come back to win the game. New Orleans shouldn't trail at all in its next two contests at St. Louis, and Tampa Bay, before the big showdown at home with the Patriots on Nov. 30.
2. (2) Indianapolis Colts (8-0)
The last three games between the Colts and Texans have been decided by a combined 13 points, but Indy has won them all.
3. (4) New England Patriots (6-2)
After giving up 216 yards on the ground, the first time these two division rivals met last year, the Pats held the Fins to just 66 rushing yards in their second meeting of 2008, so it should've been no surprise that New England was able to overcome the Wildcat once again to beat Miami on Sunday.
4. (5) Cincinnati Bengals (6-2)
Cedric Benson is the first player to run for at least 100 yards against Baltimore twice in one year since Jerome Bettis did it for the Steelers in 1997.
5. (6) Pittsburgh Steelers (6-2)
Ben Roethlisberger leads the league in completion percentage at 70.6.
6. (7) Minnesota Vikings (7-1)
The schedule makers gave the Vikes a gift, lining up three home games after their bye week.
7. (3) Denver Broncos (6-2)
The Broncos could only muster 27 rushing yards in their loss to the Steelers.
8. (13) Dallas Cowboys (6-2)
The Cowboys needed to prove they could beat a winning team on the road, and they did just that on Sunday night, defeating the Eagles, 20-16.
9. (8) Baltimore Ravens (4-4)
The Ravens' four losses have come to three teams that are a combined 19-5.
10. (9) Philadelphia Eagles (5-3)
It should be another fun week in the City of Brotherly Love for Andy Reid, who will get killed for kicking a field goal instead of going for it on fourth down with his team down seven late in the fourth quarter.
11. (11) Arizona Cardinals (5-3)
The Cardinals have won five consecutive true road games (the Super Bowl doesn't count).
12. (14) Atlanta Falcons (5-3)
The Falcons, on the other hand, prefer home cooking. They've now come out on top in seven straight contests at the Georgia Dome.
13. (10) Green Bay Packers (4-4)
Intently watching the fourth quarter of the Packers game, because I had them as one of my team two teams in my double elimination knockout pool, I realized that the offensive line isn't entirely to blame for Aaron Rodgers' league-leading 37 sacks. The quarterback refuses to throw the ball.
14. (16) San Diego Chargers (5-3)
Philip Rivers won the battle of 2004 Draft picks over Eli Manning, as the Chargers QB led an 80-yard touchdown drive to shock the Giants with 21 seconds left.
15. (12) New York Giants (5-4)
Only the Lions are on a worse losing streak than the G-Men.
16. (15) Chicago Bears (4-4)
The Bears had no answer for Kurt Warner, and Larry Fitzgerald.
17. (17) Miami Dolphins (3-5)
The Dolphins are 1-5 against teams not named the Jets.
18. (18) New York Jets (4-4)
Speaking of which, Gang Green had a week off before hosting a must-win game against the Jags.
19. (19) Houston Texans (5-4)
The Ryan Moats era in Houston may be over after two weeks. Following his 23 carries for 126 yards and three touchdowns against the Bills' last-ranked rush defense, the running back picked up just 38 yards on 16 attempts against the more formidable Colts.
20. (20) Buffalo Bills (3-5)
Following their bye, the Bills are back on the road, where they've won two straight.
21. (21) Carolina Panthers (3-5)
The Panthers remain undefeated this year (1-0) when Jake Delhomme throws more touchdowns than interceptions, after the quarterback failed to get the ball into the end zone against the Saints.
22. (26) Tennessee Titans (2-6)
Vince Young hasn't been outstanding, but one thing he's doing better than Kerry Collins is handing the ball off to Chris Johnson. The running back averaged only 15.8 carries over the first six weeks (all losses), but is getting 24.5 attempts during back-to-back victories.
23. (22) San Francisco 49ers (3-5)
The previous three losses were understandable, but falling at home to a one-win Tennessee team will be hard to bounce back from.
24. (23) Seattle Seahawks (3-5)
The 'Haws are 3-2 when Matt Hasselbeck is healthy enough to start.
25. (24) Oakland Raiders (2-6)
In a game of very little importance, the Raiders host the Chiefs this Sunday.
26. (25) Jacksonville Jaguars (4-4)
The Jags are the lowest ranked four-win team, because their victories have come over teams that are a combined 9-24.
27. (27) Cleveland Browns (1-7)
ESPN must be thrilled about its upcoming Browns/Ravens Monday Night game.
28. (28) Kansas City Chiefs (1-7)
I can't see Larry Johnson's release having any effect on the Chiefs one way or the other.
29. (29) Washington Redskins (2-6)
Clinton Portis' concussion is about the last thing the 'Skins needed right now.
30. (32) Tampa Bay Bucs (1-7)
The Josh Freeman era has started well in Tampa Bay.
31. (30) St. Louis Rams (1-7)
We could see a three-touchdown spread in the Rams/Saints game this week.
32. (31) Detroit Lions (1-7)
Welcome back to the bottom. For the second time this season, the Lions have the longest losing streak in the NFL.
Follow me on Twitter at JordanHarrison .
Jordan Schwartz is Bleacher Report's New York Yankees Community Leader. His book "Memoirs of the Unaccomplished Man" is available at amazon.com, barnesandnoble.com, and authorhouse.com.
Jordan can be reached at jordanschwartz2003@yahoo.com
This article is
What is the duplicate article?
Why is this article offensive?
Where is this article plagiarized from?
Why is this article poorly edited?

Indianapolis Colts: Like this team?