.The Chicago Bulls can lose Derrick Rose. They can soldier on without Nikola Mirotic. They can be just fine without Joakim Noah. They can win without Pau Gasol.
They cannot survive without Jimmy Butler.
On the heels of a gut-wrenching 115-110 loss to the Denver Nuggets at the Pepsi Center on Friday night, the Bulls may have to find room for survival without their best player.
Butler left the game late in the second quarter after he came crashing down on his right leg at the tail end of a drive toward the basket. He was in visible pain:
As it would turn out, he actually injured his left knee—the same left knee that caused him to miss Chicago's Feb. 3 tilt against the Sacramento Kings. He could be seen hopping around on his right leg, as if this was just another mid-game hiccup—as if this was no big deal, per Tim Bontemps of the Washington Post:
Jimmy Butler is a bad ass mother. Fingers crossed that he's OK, but that was unbelievable seeing him try to stay in that game.

— Tim Bontemps (@TimBontemps) February 6, 2016
Unable to stay in the game, Butler exited the court in a wheelchair, a sight that was hardly encouraging:
Soon after, the Bulls brought word that Butler suffered a left knee sprain and would not return. That's not ideal, but all his ligaments are intact, according to ESPN.com's Nick Friedell, and his spirits were relatively high, all things considered:
Butler actually had a good sense of humor as he limped into locker room telling staff, "Ya'll get me the Forrest Gump knee brace."

— Nick Friedell (@NickFriedell) February 6, 2016
Indeed, this could have been worse. Much worse. Something could have been torn. Butler could have been ruled out for the season on site.
But he is still injured, and as Chicago's head coach Fred Hoiberg cautioned, per Friedell, there's no guarantee he returns anytime soon:
Hoiberg says Bulls need to be ready to play without Butler for a while no matter what.

— Nick Friedell (@NickFriedell) February 6, 2016
This implies there is something the Bulls can do to be ready, when, really, there isn't a damn thing they can do to prepare themselves for life without Butler. They needed all of his 19 points, five assists and two steals in the first half just to trade leads with the Nuggets. What are they supposed to without him?
There are times when Butler, Chicago's lone All-Star, isn't even enough. The Bulls have lost six of their last nine games and 10 of 15 overall. They are now sixth in the Eastern Conference, fewer than four games separates them from the lottery.
In years past, before Butler was around, the Bulls would turn to Derrick Rose at a time like this, and he came up big in the second half, piling on 17 points and four assists. But his returns to superstar form have proved to be flashes in the pan. He is less than a shell of himself. Chicago is almost seven points better per 100 possessions when he's on the bench compared to when he's in the lineup, and he's shooting a lower percentage inside the paint than Stephen Curry is from 24-plus feet.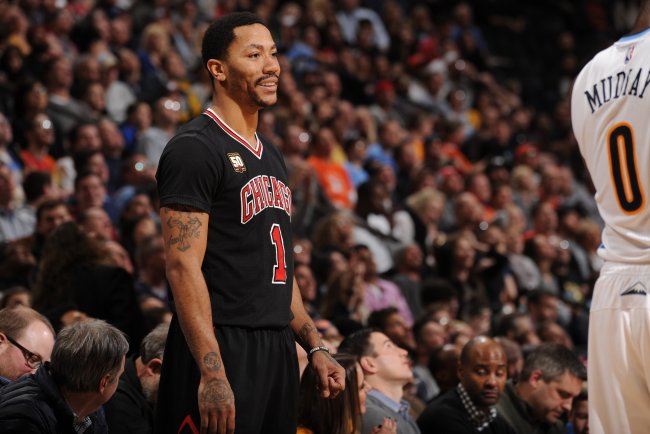 Bart Young/Getty Images
The 2013-14, MVP-hopeful version of Noah isn't walking through that door, either. He is done for the season after undergoing shoulder surgery and was having the worst year of his career before being shelved.
Gasol, who didn't play against Denver, is 35. Mirotic is out after having an appendectomy. Bobby Portis is a rookie.
There is only Butler for the Bulls, and it showed in the way they collapsed during the fourth quarter, allowing the Nuggets to pump in points, inexplicably bending at a time when they needed to present a resilient front:
Nuggets outscore Bulls 42-21 in the 4th quarter. This was a meltdown of epic proportions -- even for the Bulls.

— Nick Friedell (@NickFriedell) February 6, 2016
Now, Chicago is statistically better without Butler, but you're fooling yourself if, in this case, you think that means anything. He ranks in the top five in total minutes played. The Bulls have spent just 580 total minutes without him on the hardwood, the fewest of any player on the team. They have no idea how to function without him.
And the schedule won't be doing them any favors.
After traveling to face the Minnesota Timberwolves and Charlotte Hornets, the Bulls play the Atlanta Hawks before All-Star Weekend. Coming out of the midseason break, four of their first seven matchups are versus projected playoff teams, two of which are against the Eastern Conference-leading Cleveland Cavaliers and Toronto Raptors.
To be anything more than a ceremonial first- or second-round exit, more than a steppingstone for another team's postseason success, the Bulls need Butler. He is the player they cannot lose—the one and only cornerstone they cannot, and will not, survive without.
Blake Griffin Who?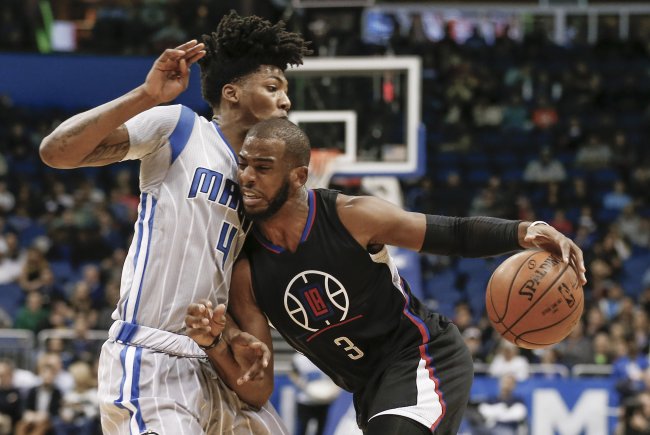 Reinhold Matay-USA TODAY Sports
Another game without the injured Blake Griffin, another win for the Los Angeles Clippers. They toppled the Orlando Magic 107-93 to open their four-game road trip.
Chris Paul did Chris Paul things, tallying 21 points, six assists and four steals and posting a game-high plus-24. He also did one non-Chris Paul thing, per Dan Woike of the Orange County Register:
Something you don't see often: Chris Paul, besieged with turnovers, asking to be taken out of a game.

— Dan Woike (@DanWoikeSports) February 6, 2016
J.J. Redick scored 20 points and put down another four three-pointers, while DeAndre Jordan notched his 30th double-double of the season with 12 points and 18 rebounds.
The Clippers are now 16-4 without Griffin. But don't worry. That doesn't mean he's going to meander his way into trade rumors.
(Googles "Blake Griffin trade rumors.")
Actually, never mind.
Orlando, meanwhile, has lost 15 of its last 17 games and is now contending for a bottom-three record in the Eastern Conference. This is not ideal.
It seems the Magic need to make a trade of some sort—maybe for, like, Griffin or something. (I'll show myself out.)
Hassan Whiteside Is Bigger Than You, And He Knows It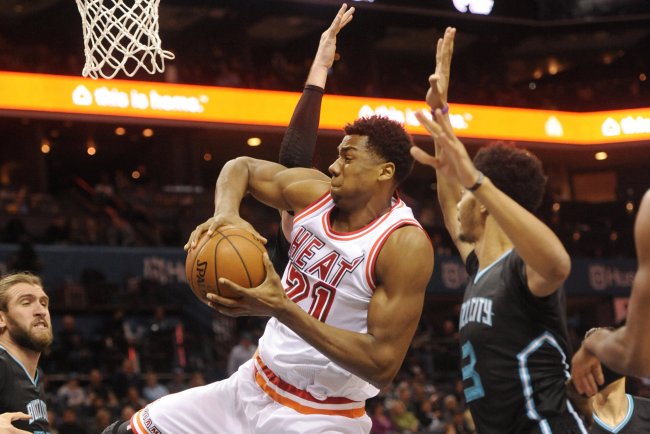 Sam Sharpe-USA TODAY Sports
Hassan Whiteside stole the show in the Miami Heat's 98-95 victory over the Charlotte Hornets.
Yes, the Heat used a 31-point fourth quarter, during which they shot 56 percent from the floor, to complete the come-from-behind victory. And sure, Dwyane Wade went for 22 points, five assists and two steals on an impressive 11-of-20 shooting.
But this was Whiteside's game. He finished with 10 points, 10 rebounds and 10 blocks. Yes, 10 blocks—including this monster:
Is this impressive? I feel like it's impressive.
Oh my god, it's so impressive, per ESPN's Stats & Info:
Triple-Doubles With Blocks - Last 3 Seasons
Hassan Whiteside 4
Rest of NBA 0

— ESPN Stats & Info (@ESPNStatsInfo) February 6, 2016
Miami has now won six of its last seven games and is starting to make us believe again. Whiteside is now, well, still really, really ridiculously big.
Al Horford, Paul Millsap Go Boom in Atlanta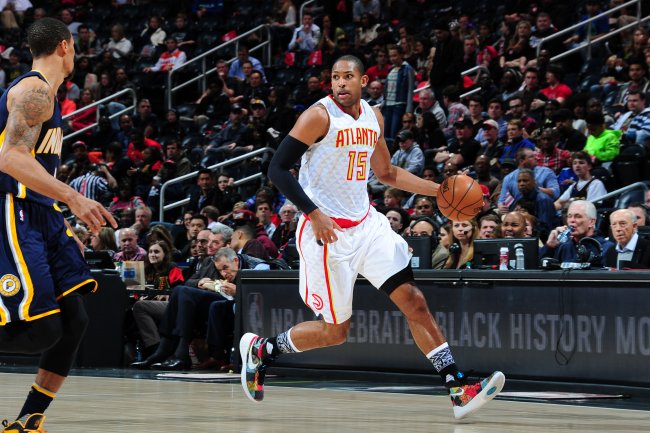 Scott Cunningham/Getty Images
Something became clear during the Hawks' 102-96 win over the Indiana Pacers.
These Al Horford and Paul Millsap dudes are pretty good. And seldom do we talk about how good. They are the best frontcourt pairing in the entire Eastern Conference, and it isn't even remotely close.
Millsap waged his usual destruction, putting in 24 points on a tidy 10-of-14 shooting. He also swiped a pair of steals and sent back four shots.
Horford exploded for 21 points, seven rebounds, a ridiculous six assists and one holy-crud-did-that-just-happen driving slam:
Paul George was not to be outdone, though.
He pumped in 31 points to go along with nine rebounds and six assists. Three of his points came as follows:
Do not try that at home, kids. And do not try that during crunch time, J.R. Smith.
Lavoy Allen was also sneaky spectacular for Indiana. He joined Monta Ellis and George as the only Pacers with a positive plus/minus, and his box score reads like a fairytale: 13 points, 14 rebounds, two assists and one block.
Rookie Myles Turner was once again impressive (12 points, seven rebounds, one block), but the Pacers couldn't generate enough stops down the stretch. The Hawks shot nearly 53 percent in the fourth quarter, including 75 percent in the final five minutes.
Indiana now has a two-game hold on the East's final playoff slot, a cushion that's nowhere near large enough to stave off any late-season streaks the Hornets or Washington Wizards may have planned.

John Wall Throws a Party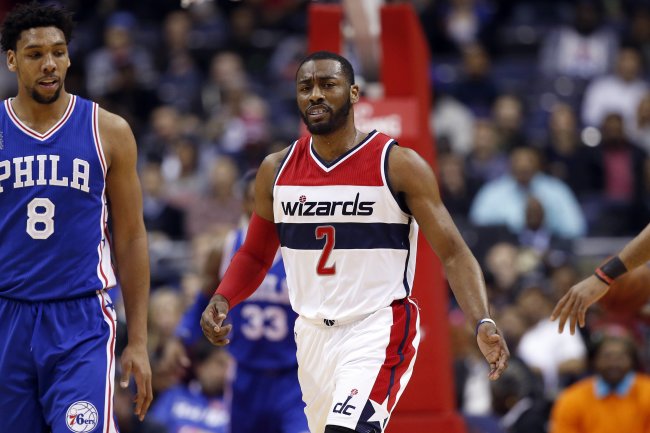 Alex Brandon/Associated Press
John Wall's sorry he's not sorry.
He unloaded on the Philadelphia 76ers, recording his fourth career triple-double in the Wizards' 106-94 win. He did a little bit of everything, as his 18 points, 13 rebounds, 10 assists and two steals would suggest. He even went full rim protector at one point:
Does this mean what we think it means?
As SB Nation's Bullets Forever's blog confirmed, it most definitely does:
John Wall is not of this earth

— Bullets Forever (@BulletsForever) February 6, 2016
Bradley Beal and Marcin Gortat were both lucky enough to join in on the fun. Beal shot 10-of-16 from the floor, pouring in 22 points; Gortat also went 10-of-16 from the field en route to amassing 21 points, 13 rebounds and three assists.
On the Philadelphia side, just two players scored in double figures. Ish Smith (22 points, five assists, three steals) was one of them, because duh. Isaiah Canaan was the other, because, well, he decided to catch fire from the perimeter, draining four of his eight three-point attempts.
The Sixers actually ended up a plus-nine from three-point land. But they killed themselves in the paint. Restricted area notwithstanding, they shot 4-of-16 inside the free-throw line. It wasn't pretty.
Wall's triple-double, however, was art in motion.
Another Tale of Almost in New York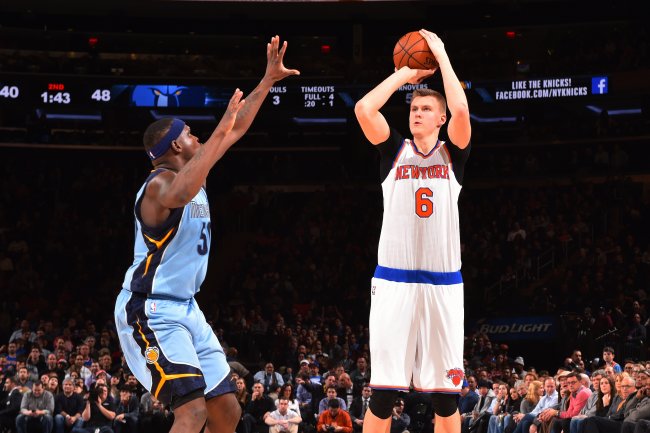 Jesse D. Garrabrant/Getty Images
Remember that time the New York Knicks didn't look wholly incompetent during the first half?
They don't, either.
After trailing the Detroit Pistons by as many as 27 points in the first half Thursday night, the Carmelo Anthony-less Knicks laid another offensive egg Friday in their 91-85 loss to the Memphis Grizzlies. They shot sub-37 percent through the first two periods and went into the locker down 10.
It looked like another barnburner-in-the-making. But then the Knicks came storming back—or rather, the Grizzlies played down to their level.
Though they still shot under 40 percent for the game, the Knicks had the ball, down by two, with a chance to tie Memphis in the final 30 seconds. What happened next is pretty predictable, as NBA writer Jason Concepcion explained:
the afflalo cycle:

misses early contributing to a knicks deficit

gets hot mid-game to get the team close

misses the clutch shot

repeat

— ☕netw3rk (@netw3rk) February 6, 2016
Correct: Arron Afflalo missed a potential game-tying jumper. He was 4-of-15 from the floor on the night, and while he drilled two big triples, the Knicks could have gone a different route in the 11th hour. As Posting and Toasting's Joseph Flynn summed up in four words:
GIVE

IT

TO

KRISTAPS

— Joseph Flynn (@ChinaJoeFlynn) February 6, 2016
Kristaps Porzingis. Yes, him. New York's 20-year-old prodigy. After getting just two shots in the first half, he bombed atomically in the latter two periods, collecting 14 points, five rebounds and six blocks through the final two frames alone.
And yet the Knicks somehow found it smart to get Porzingis just one shot in the final five minutes, because that obviously makes perfect sense.
In other news, Jeff Green led the way for Memphis with 16 points. The Grizzlies have won five in a row and nine of their last 10. And get this: They're within striking distance (three games) of a top-four playoff spot.
Grizz gonna Grizz.
Avery Bradley for President
Ken Blaze-USA TODAY Sports
Cleveland led the Boston Celtics by as many as 15 points Friday night. And it wasn't enough.
Boston mounted an unbelievable fourth-quarter comeback, torching Cleveland's defense for 39 points and grinding out a 104-103 win on the back of Avery Bradley's game-winning dagger:
Dang.
That was Bradley's fourth made trey of the evening, and it capped off what was an otherwise unremarkable night for him.
Isaiah Thomas, Evan Turner and Tyler Zeller were the ones who fueled Boston's fourth-quarter detonation. They combined to score 29 of the Celtics' 39 points through the closing 12 minutes and totaled 57 between them on the night. They set the stage for Bradley's heroic three-pointer.
Speaking of three-pointers: LeBron James still isn't making his looks from downtown count. He was 0-of-5 from long range, is shooting well south of 30 percent from deep for the season and, per ESPN Stats & Info, hasn't converted a three-ball in roughly forever:
LeBron James is now 0-for-18 on 3-pointers in his last 6 games.

— ESPN Stats & Info (@ESPNStatsInfo) February 6, 2016
James' overall performance was just bizarre. He ended up with 30 points, 12 of which came from the foul line. He grabbed seven rebounds, dished four assists and forced two steals but committed six turnovers.
Kyrie Irving and J.R. Smith were the only Cavaliers who ever got going on offense. Irving handed out six dimes, Smith buried five of his 10 attempts from distance and they combined to score 39 points.
If there's a bright side to this loss, it's that Kevin Love is OK. He hit the floor with an apparent knee injury that was later deemed a bruised left thigh, per ESPN.com's Dave McMenamin. Love is optimistic he won't miss much, if any, time:
Kevin Love says "hopefully I'll be able to go" Saturday vs. NOP. Described it as a "dead leg." Will ice/stim overnight.

— Dave McMenamin (@mcten) February 6, 2016
Now, about the Cavaliers blowing a four-point lead in the final seven seconds...They should probably address that.
Spurs Are Still the Spurs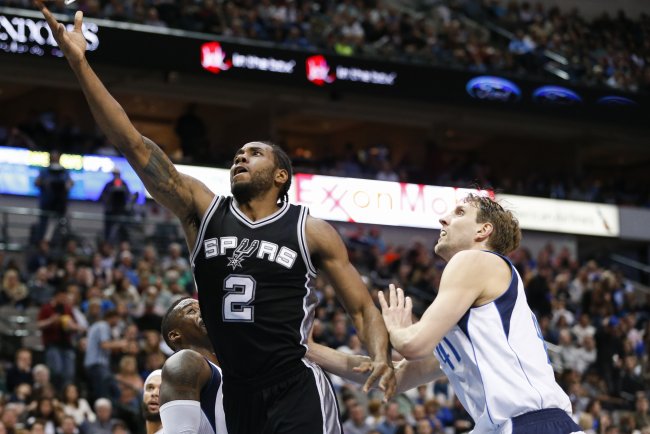 Jim Cowsert/Associated Press
No Tim Duncan? No Manu Ginobili?
No problem.
Not for the San Antonio Spurs. They picked apart the Dallas Mavericks, putting the game out of reach in the first quarter and waltzing their way toward a 116-90 drubbing of a Western Conference playoff foe.
Thirteen Spurs received playing time, and 13 Spurs scored. Kawhi Leonard dropped 23 points in less than 27 minutes. Patty Mills scored more points (16) than he played minutes (15). LaMarcus Aldridge compiled 14 points, 10 rebounds, two assists, two steals and two blocks in under 30 minutes of burn, because why not?
San Antonio improved to 42-8 on the season and, as Jordan Howenstine of the Spurs' public relations crew pointed out, is officially good at basketball:
Highest point differentials through 50 games NBA history:
1. 2015-16 Spurs +679
2. 71-72 Bucks +659
3. 70-71 Bucks +649
4. 71-72 Lakers +636

— Jordan Howenstine (@AirlessJordan) February 6, 2016
Nikola Jokic Update
Here is your nightly, and totally necessary, update on Nuggets rookie Nikola Jokic, courtesy of Kenneth Faried and Bleacher Report's Adam Fromal:
Faried on Jokic: "He's going to be phenomenal. I can't wait 'til we're talking about him in the All-Star Game."

— Adam Fromal (@fromal09) February 6, 2016
If this reads at all ridiculous, you clearly haven't seen Jokic play. He is the truth—the actual truth, not Paul Pierce. Jokic had 14 points, 12 rebounds and two blocks Friday.
Coach Pop Wants More Questions
Never, in the history of post-quarter interviews, has Spurs head coach Gregg Popovich expressed interest in answering more questions than he has to.

That changed Friday:
No, you have not entered the twilight zone. This is still real life. I think. Maybe.
Who knows anymore.
Stats courtesy of Basketball-Reference.com and NBA.com and are accurate leading into games on Feb. 5 unless otherwise cited.

Dan Favale covers the NBA for Bleacher Report. Follow him on Twitter @danfavale.