3 New England Patriots Who Will Steal Starting Spots in Training Camp
August 6, 2014

USA TODAY Sports
Though jobs are ultimately won and lost in preseason games, training camp practices can provide a hint as to which players are ascending up (or descending down) the depth chart.  For the New England Patriots, the first two weeks of practices have created movement at a few positions of interest even if nothing is yet solidified.
In today's era of increasing specialization, dubbing someone a "starter" is becoming a misnomer.  The players discussed below were expected contributors this season, and their mention is a reflection of how those expectations have grown.  Perhaps they will line up on the first play from scrimmage and earn the antiquated starter label, but that is not the point of this exercise.
Instead, these are players who could earn the right to stay on the field regardless of personnel package, a far more important distinction.  Based on reports from Foxborough and the recent joint practices with Washington, expect this trio to seize increased roles in 2014.
Logan Ryan

Michael Dwyer/Associated Press
After Logan Ryan's stellar rookie campaign, Patriots fans have pined for more of him.  Though it was unclear what role Ryan would occupy in a loaded secondary, the first two weeks of training camp have shed some light on that uncertainty:
While Ryan's brief track record does not warrant an automatic place in the lineup, he would likely see more playing time at cornerback rather than safety.  Though speculation of a Ryan-Devin McCourty safety tandem ran rampant throughout the spring, New England's first official depth chart listed Duron Harmon at safety, per Boston.com's (and our own) Erik Frenz.
Even with Harmon at safety and perennial Belichick favorite Kyle Arrington in the slot, Ryan's versatility should earn him snaps in the fall, either as a sub-package fixture or a top injury replacement at multiple positions. 
As Boston.com's Jeremy Gottlieb relayed after Thursday morning's practice, Ryan has expressed a willingness to serve as a proverbial super-utility infielder if need be: "I feel comfortable anywhere in the secondary. I've played it all. They've asked me to do a lot and I really take that as a compliment. I feel like I can be at my best at any of those spots."
Ryan may still end up at safety on clear passing downs if the Patriots choose to play three-corner packages, as they did at times last season.  Nevertheless, Ryan's early-down snaps are more likely to come at outside corner.  Although his size (5'11", 195 lbs) and agility might suggest a potential slot specialist, last year's numbers speak to the contrary:
Logan Ryan Slot vs. Outside Stats
Slot
Outside
Snaps
128
244
Targets
25
28
Receptions
16
11
Yards
212
160
TDs
2
1
INTs
1
4
QB Rating
100.8
31.0
Cover Snaps/Target
5.1
8.7
Yards/Cover Snap
1.66
0.66
Cover Snaps/Reception
8.0
22.2
via Pro Football Focus
While the relatively small sample size prevents us from making any sweeping long-term conclusions about where Ryan belongs, the numbers scream in one direction.  Some of those numbers are buoyed by his high interception total outside.  But for reference, among corners who played at least 50 percent of their team's snaps last year, only Richard Sherman and Darrelle Revis would have bested Ryan in any of the three advanced stat categories.
In breaking down the film, Ryan has some undeniably playable traits outside.  Much like Alfonzo Dennard, against whom he is competing for the right corner spot, Ryan has shown a willingness to jam and cover with a physical edge against larger receivers.  His hand usage is consistently stellar, and when he redirects receivers off their desired stems, positive results tend to follow:
Source: NFL Game Rewind
That pick-six against the New York Jets is perhaps the most recognizable example from last year, but he also impressed against the 6'3" Eric Decker in the regular-season meeting against Denver.  On that windy November night, Ryan conceded just one reception for four yards on four targets.
Still, even with plenty of encouraging tape, I felt a little uneasy about the prospect of Ryan playing outside full time.  Unfortunately, while there is no way for me to quantify the expected regression, a few fortunate breaks jumped out when re-watching Ryan's play.
When Ryan got beat, it resulted mostly from his size limitations.  This manifested itself most painfully in the AFC Championship Game, when he gave up seven receptions on nine targets for 99 yards.  However, there were also instances where he was simply outmuscled for position despite identifying the ball well ahead of its arrival:
Source: NFL Game Rewind
That incompletion to Decker resulted in an errant throw from Peyton Manning, and a similar play occurred in Week 14 against the Cleveland Browns.  Ryan did everything perfectly up until playing the ball, when Greg Little simply leaped over him to make the catch.  Fortunately, Jason Campbell's throw led Little out of bounds, allowing Ryan to narrowly avert disaster:
Source: NFL Game Rewind
But considering that we're reviewing Ryan's rookie year, these are nitpicks on the larger scale.  Ryan is not a physically perfect corner—if he were, someone would have picked him before the third round—but even if regression kicks in, he will not turn into a replacement-level pumpkin. 
Last year's encouraging signs outweighed the negatives, and based on early rumblings from 2014, Ryan has earned a chance to bear greater responsibility on defense.

Michael Dwyer/Associated Press
Praising Kenbrell Thompkins seems to elicit yawns at best and indignant vitriol at worst.  But fans do not determine the depth chart (something that is fortuitous on many levels), and according to CSNNE.com's Phil Perry, head coach Bill Belichick has been effusive in praising Thompkins' progress:
Kenbrell is a lot better football player than he was a year ago and he came in and he had a real good camp last year. He impressed us, even starting back in the spring. He earned that starting position with his good play and his consistency. But this year, he's way past that.

Experience has a lot to do with it. His offseason work also has a lot to do with it. He knows what to expect. He has a much better understanding so he can play with more confidence, more aggressiveness, just generally play faster because of the knowledge of our offense and the expectations and the experience that he's gained. He's having another good camp this year. He's off to a good start, but way considerably ahead of last year, as he should be, as all second-year players should be.
And lest you think that Belichick's laudatory remarks are isolated, cornerback Brandon Browner also noticed Thompkins' greatest strength, namely his route-running:
It's undeniably suboptimal if Thompkins must become an indispensable centerpiece of the passing game, as he was at the beginning of 2013.  However, in a Patriots offense that has increasingly become committee-oriented both on the ground and through the air, Thompkins' emergence as a reliable secondary option could make him an important cog in the overall machine.
At the moment, Tom Brady and Co. are mostly an inside-out passing outfit.  The idea is to constrict defenses with endless slants and digs to Julian Edelman and Danny Amendola or seam passes to Rob Gronkowski, all with the idea of baiting safeties and linebackers into jumping these concepts.  Eventually, there should be juicy one-on-ones available outside the numbers and vertically.
Most expected Aaron Dobson to fulfill that role in 2014, but the second-year receiver still has yet to participate in any offseason activities while recovering from foot surgery.  Most of the hoopla surrounding Dobson stemmed from an impressive small sample-size showing as a deep threat in 2013.  However, the numbers suggest that Thompkins was actually the superior option of the two:
2013 Deep Passing Stats, Thompkins vs. Dobson
Thompkins
Dobson
Deep Targets (20+ yds.)
14
15
Receptions
5
2
Drops
0
3
Yards
150
101
Catchable
5
5
TDs
1
1
Catch Rate
35.7%
13.3%
via Pro Football Focus
For reference, that deep-ball catch rate would have ranked tied for 13th in the league with Antonio Brown.  Of course, the "small sample size" caveat applies to Thompkins as well, but it is incorrect to suggest that he showed fewer glimpses than Dobson last season.
The difference between the two arrives in the form of physical disparities, which is why one was a second-rounder while the other went undrafted.  Thompkins cannot match Dobson's size or easy strider speed, but his savvy allows him to win through other methods.
Good route-runners are often pigeonholed as slot or possession receivers whereas deep threats are supposed to be one-dimensional burners, a la Mike Wallace.  But winning at the line creates leverage, which leads to separation.  On this play, a quick head fake had Jabari Greer leaning inside, allowing Thompkins to pull away outside.  The play failed because an underthrown ball from Brady forced Thompkins to slow down, allowing Greer to recover and "earn" a pass deflection: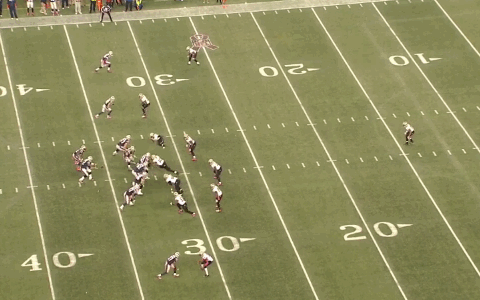 Source: NFL Game Rewind
When Brady does deliver the deep ball accurately, Thompkins has produced positive results.  His leaping ability and body control, both important traits for outside receivers, are underrated:
Source: NFL Game Rewind
There are obviously issues that likely cap Thompkins' ceiling at that of a solid No. 3 receiver.  He will need to exhibit better durability this year after a hip injury essentially caused him to disappear after Week 11.  Many fans will also bemoan his drops, but in truth, all four came in the first four weeks of the season, so sustainability is more important than improvement in that department.
However, a healthy Thompkins has made himself a favorite of both Belichick and Brady, likely resulting in greater early season looks.  Dobson overcame a slow offseason in 2013 to emerge as an important target before his foot injury, and he may do so again this season.  But if Thompkins has truly elevated his game as much as observers suggest, Dobson will have a higher bar to clear in 2014.
Josh Kline

Charles Krupa/Associated Press
The interior offensive line battle has thus far presented a smorgasbord of uninspiring veterans and unproven youngsters.  While waiting for someone to emerge from the pack, an intriguing combination at center and right guard recently emerged in practice, per Paul Perillo of Patriots Football Weekly:
Dan Connolly's $4.1 million cap hit for this season essentially forces him to win a starting job.  But with a glut of potential guards and a dearth at center following Bryan Stork's injury, ESPNBoston.com's Mike Reiss opined that Connolly could benefit from moving back to the position he started at in 2011:
It's easy to forget, but Connolly was re-signed by the team in 2012 with the intention that he would be playing center, but when veteran right guard Brian Waters didn't report, it led to a shuffle up front that moved Connolly to that spot for the past two seasons. "I came into it with center in mind," Connolly said of 2012. I've wondered if Connolly's $3 million salary might be too rich for the Patriots, especially with second-year guard Josh Kline coming on strong. But the picture changes if Connolly is ultimately viewed as the best fit at center, a tough-to-fill position that he played at a high level in 2011.
Both Reiss and Perillo mentioned Josh Kline in conjunction with Connolly, revealing a potential regular-season starting combination.  An undrafted rookie in 2013, Kline spent most of the season on the practice squad before receiving a November call-up.  Of his 115 offensive snaps last season, 101 came in Weeks 15 and 16, when the Pats shuffled their line in reaction to Nate Solder's concussion.
Considering the circumstances, Kline handled himself quite well, demonstrating skills that belie a polished run-blocker with some potential (though also limitations) in pass protection.  He graded out at minus-1.7 overall; considering the circumstances, a near-average performance was certainly acceptable.
Kline's issues in pass protection are not necessarily back-breaking.  Guards are often shielded because they frequently double-team a single rusher or pull in the event of a play-action pass.  However, in the instances when Kline was isolated one-on-one, he had issues creating leverage.  Rather than bending at the knees and maintaining a strong base, Kline (No. 67) would concede pressures by being too upright and thus losing all forward momentum:
Source: NFL Game Rewind
However, in the run game, where he can drive rather than drop-step, Kline's surprising power was evident.  Against the Baltimore Ravens, Kline routinely demonstrated textbook technique on New England's outside zone runs, using the defender's aggressiveness to drive him outside to create a cutback lane.  Here, his work against Chris Canty was primarily responsible for a big gain from LeGarrette Blount:
Source: NFL Game Rewind
Though Kline is not the most fluid athlete, his intelligence in identifying his assignments is an asset.  From Connolly to Stephen Neal and Russ Hochstein, the Patriots have produced quality interior starters from players whose intelligence and grittiness outweighs their physical limitations.
It's early, but Kline could represent the next unheralded gem on the line.  This play embodied that potential—while Philip Wheeler's superior agility appeared set to blow up the run, Kline recovered and used his strength to flatten Wheeler and clear the gap.  As a result, Blount gained about seven extra yards on the play:
Source: NFL Game Rewind
Kline may not be a particularly glamorous option, and his short track record will likely create anxiety among Pats fans.  Many would like to see Marcus Cannon get an extended starting look after he excelled in Sebastian Vollmer's stead at right tackle last season.  However, Cannon's worst game of 2013 (minus-4.3 overall, Week 6 vs. Saints) came at right guard, and he has yet to prove that he is a viable starter on the interior.
That same doubt applies to Kline as well, but unlike Cannon, he is not splitting his time between tackle and guard.  Sixth-rounder Jon Halapio is too raw to start this year while incumbent center Ryan Wendell is limited to a single position.
For now, the veteran defaults likely sit at the top of the depth chart.  However, with Kline's solid 2013 cameo and his strong start to camp, economics and projection could eventually tilt the playing field in his favor.
*All stats via Pro Football Focus (subscription required).