Will Healthy Jonathan Stewart, DeAngelo Williams Be NFL's Best Backfield Duo?
July 19, 2014

Chuck Burton/Associated Press
There may not be a better 1-2 combination at the running back position in recent years than Jonathan Stewart and DeAngelo Williams of the Carolina Panthers.
Stewart and Williams were the identity of the Panthers offense before quarterback Cam Newton was drafted with the first overall pick in 2011. In fact, if Williams hadn't missed 10 games during the 2010 season, the Panthers may never have finished with the worst record in the league and been in a position to select Newton.
Before the 2010 season, Stewart and Williams together compiled 484 touches rushing and receiving for 2,641 total yards and 18 overall touchdowns in 2009. They combined to average 5.5 yards per carry and 8.3 yards per reception even though Williams, the proven starter, missed three games during the regular season.
That was when both both players were in their primes.  
Injury to Williams and the lack of a viable passing attack took away the duo's ability to produce in 2010, before Newton's arrival completely altered the team's philosophy. Not only did Newton immediately open up the passing offense, he became a primary option as a runner also.
Furthermore, Stewart would miss significant time in each of the 2012 and 2013 seasons, while Mike Tolbert's arrival in 2012 made for an even more crowded backfield. Not since 2009 have Stewart and Williams dominated the NFL, and it's hard to predict a rebound after four full seasons of hindered production.
However, there are reasons to expect Williams and Stewart to return to the spotlight this year.
The Panthers have lost their top three receivers from last year. Steve Smith, Brandon LaFell and Ted Ginn Jr. had a combined 149 receptions for 1,928 yards and 14 touchdowns last year. Left tackle Jordan Gross decided to retire at 33 years of age after starting all but one regular-season game since Newton was drafted.
Without even considering the respective talent of their replacements, that kind of upheaval for an offense with a relatively young quarterback is a major problem.
Even for more experienced quarterbacks, it isn't easy to simply create new rhythm with a brand new cast of receivers and trust a brand new blindside protector. When you add in the fact that Newton is dealing with his own injury issues this offseason, the team's passing offense has a bleak outlook this year.
All of those developments suggest that the focus of the Carolina offense will shift back to the running back position.
There is no question that Williams and Stewart are the two most talented backs on the Panthers roster, but nobody knows if either will be fully healthy next season. At the very least, both should be healthy entering camp. 
Williams has been relatively healthy since missing time in 2010. He missed just one regular season game in 2013. Stewart struggled with an ankle injury last year before suffering a torn MCL to end his season. Both of those issues appear to be behind him, so now he needs to prove his durability on the field.
Stewart isn't the kind of player who needs 200 touches in a season to be an impact player. Before his last two injury-hit seasons, he averaged 5.4 yards per carry and 4.3 yards per carry on 320 total rushes.
Last year, Stewart's productivity wasn't impressive. He averaged 3.8 yards per carry and his struggles were highlighted by a 14-carry, 39-yard performance against the Tampa Bay Buccaneers in Week 13. Stewart finished the year with 48 carries for 180 yards and seven receptions for 44 yards.
In spite of the statistical production, Stewart's performances on the field were encouraging.
NFL.com
He showed comfort with the football as his vision and decisiveness behind the line of scrimmage didn't appear to be affected by any lingering concerns over his health. Along with that comfort, Stewart also showed the quickness and acceleration that had previously made him such a dangerous runner.
The 27-year-old may not have been at 100 percent effectiveness, but his poor statistical output was primarily a result of how well the defenses played him when he was on the field.

NFL.com
Against the Buccaneers when he averaged 3.8 yards per carry, he regularly had nowhere to go and created many of his yards by breaking tackles and aggressively finishing off runs. His offensive line was simply overwhelmed that day.
By Pro Football Focus' measure (subscription required), Stewart broke 11 tackles on running plays in 2013. Six of those 11 came against the Buccaneers.
Breaking tackles is an aspect of Stewart's game that is notable, but he primarily builds his success on his quickness and explosiveness in space. Before last season, Stewart averaged a 20-plus-yard play once every 24 touches during his career.
In 2013, he didn't have a 20-plus-yard play, but he did show off his explosiveness on a couple of occasions.
NFL.com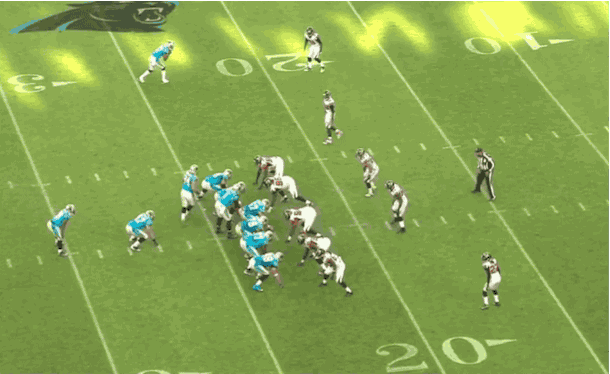 NFL.com
The concern about Stewart's ability to be a high-quality complementary piece for the Panthers rushing attack isn't significant. Even if Stewart isn't available to play, a committee of Newton, Mike Tolbert and maybe even Kenjon Barner or Tyler Gaffney should be able to replace his impact.
But the real concern over whether Stewart and Williams can reemerge as a dominant duo lies with an aging Williams. A 31-year-old starting running back is a rare commodity in recent times. Since the 2005 season, only two running backs 31 years of age or older by the end of the season had more than 300 carries in a single season. More significantly, only 12 have had more than 200 carries during that time.
Only six backs have had 1,000-yard rushing seasons since 2005 and none of those have come since Ricky Williams and Thomas Jones in 2009.
History is against Williams and his 1,543 career touches since the 2006 season. On 201 touches last year, Williams was impressive. He averaged 4.2 yards per carry and showed off power and a consistent burst, but he is definitely at the stage of his career when most backs abruptly lose their ability to perform on a weekly basis.
Williams' case isn't aided by how he finished the 2013 season.
He appeared to be peaking at the right time when he had two very impressive performances against the New Orleans Saints and New York Jets in Weeks 14 and 15, respectively. Williams had 28 carries for 133 yards in those two games. The Jets game stood out in particular because Rex Ryan's team boasted the second-best run defense in the NFL last year.
However, Williams couldn't sustain his peak-level play.
In the Panthers' final three games of the year, he had 27 total carries for 113 yards. While the 4.2 average might be impressive on its own, that number is skewed by a 43-yard run against the Saints.
Without that run, Williams averaged 2.7 yards per carry to close out last year.
Williams obviously deserves credit for that run, but the result of the play sounds a lot more impressive than what the back was actually asked to do while executing it. The defensive formation and poor reads by two Saint defenders stood out more than what Williams' running skills did.
The Saints blitz from the left side of the offense, while the Panthers run over right guard. The left outside linebacker shoots the gap between the right guard and the center, making it easy for the Panthers right guard to sweep him out of the play.
When the Saints middle linebacker recognizes the running play, he runs blindly into the right side of the Panthers offensive line. Meanwhile, Roman Harper, one of the least athletic of NFL safeties, commits to the outside and is unable to recover as Williams blows past.
For this big play to happen, Williams needed to be patient at the line of scrimmage before making an easy read to run down the middle of the field. He didn't have to break any tackles, make any difficult cuts or sophisticated reads and he didn't need to outrun a defender who was in a decent position.
At this stage of his career, Williams is a reliable back who will run with aggressiveness and discipline, but he's not a back who will intimidate opposing defenses or mask the inefficiencies of his offensive line.
Being a reliable back at this stage of his career is a very impressive feat. Most 31-year-old running backs are desperately trying to cling to roster spots. However, being reliable doesn't make you worthy of inclusion in one the NFL's best running back duos.
At the moment, the best running backs in the NFL are, in no particular order, Marshawn Lynch, Adrian Peterson, Jamaal Charles, LeSean McCoy, Arian Foster, Alfred Morris, Matt Forte and Eddie Lacy. Of those backs, Lynch, McCoy, Charles and Lacy all have a quality complementary back or two behind or alongside them to discount any claim of supremacy the Panthers running back tandem might think of making.
When you look past the very best backs in the NFL, you still find very talented running back combinations.
The Detroit Lions have Reggie Bush and Joique Bell. The Pittsburgh Steelers have LeVeon Bell and LeGarrette Blount. The Buffalo Bills have C.J. Spiller and Fred Jackson/Bryce Brown. The San Diego Chargers have Ryan Mathews and Donald Brown/Danny Woodhead. The Dallas Cowboys have DeMarco Murray and Lance Dunbar/Joseph Randle.
This kind of analysis is relative. Right now the NFL doesn't have many high-quality feature backs who can carry the ball 300 times per season without tiring and losing consistency, but it does have a large number of very talented running back duos.
The Panthers' running back tandem of Williams and Stewart could be very good in 2014, but it's unlikely to return to what it was in 2009.