Can Jordan Matthews, Josh Huff Cause Eagles Fans to Forget About DeSean Jackson?
May 17, 2014

Michael Perez/Associated Press
No single man can replace what the Philadelphia Eagles lost when they released three-time Pro Bowl wide receiver DeSean Jackson earlier this offseason. Coming off his best season as a pro, Jackson was peaking at the age of 27 and is clearly one of the most lethal playmakers in the game, both as a pass-catcher and as a returner. 
But in order to help fill Jackson's shoes, Howie Roseman and Chip Kelly used two of their top three picks in the 2014 NFL draft on receivers who possess the ability and experience to contribute early. Second-round selection Jordan Matthews and third-rounder Josh Huff could both be counted on to contribute from the get-go, and they'll have to deliver if Philadelphia's speedy, efficient offense is going to somehow get better in 2014.
Can Matthews and Huff replace Jackson?
 
Matthews has the measurables and the resume

Jason DeCrow/Associated Press
The thing about Matthews—and this probably isn't a coincidence, considering the reportedly strained relationship between Kelly and Jackson, per Eliot Shorr-Parks of NJ.com—is that you really couldn't find a receiver who has less in common with Jackson. He's his antithesis. 
Immediately, Matthews should serve as an upgrade over Jason Avant. But even at his full potential, he'll always be a very different player than Jackson was in Philly. 
For starters, he spends a lot of his time in the slot. More than 70 percent of Jackson's snaps in 2013 came outside, and that number was actually closer to 85 or 90 percent in previous seasons. But unlike the 5'10", 170-pound Jackson, Matthews uses his 6'3" frame to make big catches in traffic. 

DraftBreakdown.com
DraftBreakdown.com
DraftBreakdown.com
This is Kelly on Matthews' future in the slot, per NJ.com's Matt Lombardo: 
We're probably going to start him inside. If we've got Jerry Maclin on one side and (Riley Cooper) on the other side and throw him inside, and he has experience. So I think the kind of thing that would separate him from some other people is he does have experience.
And Kelly on his ability to make tough grabs, also per Lombardo:
The one thing he does is catch the ball in traffic. He made an unbelievable amount of contested catches. You know, he's got such a wing span and will go up and get it, and can play both inside and outside.
That likely means the Eagles will look to him often in the red zone. A big target in the end zone is something they've lacked in recent years, especially before Riley Cooper emerged in 2013. Now, Matthews becomes the second-tallest receiver on the roster (unless Ifeanyi Momah sneaks in there). 
The Eagles used three receivers about 75 percent of the time last year, so if Matthews can become a reliable option inside or outside, they won't have to limit themselves in 2014. Plus, he's proven he can deliver as an X or Z receiver, too:
DraftBreakdown.com
Unlike Jackson, Matthews lacks top-notch speed, but his 4.46-second 40-yard dash at the combine still ranked 12th among receivers who took part, per NFL.com. He's known for his big hands and his presence on routes into the seam, but the guy has still shown the ability to break big plays using his legs.
DraftBreakdown.com
There's one other important way in which Matthews is a bizarro Jackson: He has what appears to be a pristine track record off the field. By all indications, the kid has his head on his shoulders after coming away from Vanderbilt with his degree—something Kelly admits is important.
A nice anecdote from Lombardo: 
During his pre-draft visit with the Eagles, the 6-foot-3, 205-pound Matthews brought a notebook full of observations both of his own game and of questions about the Eagles' system. Prior to the Senior Bowl, he requested game tape of the cornerbacks he would be lining up against.
Matthews is coming off a 112-catch, 1,477-yard season, leading college football's strongest conference in both categories. On paper, there's little reason to believe he can't do his part in filling the shoes worn by Jackson. 
Huff has the Jackson feel

Don Ryan/Associated Press
Like Matthews, Huff is a college grad with a good reputation coming off a monster statistical season in his senior year in a big-time conference. But the similarities between those two stop there. 
In reality, Huff is a lot more like Jackson. He's 5'11" and explosive, he can return kicks and is more versatile. And while Matthews is a little stiff and lacks the ability to make guys miss, Huff has a very unique combination of shiftiness and stoutness. He weighs 35 pounds more than Jackson and almost as much as Matthews, who is four inches taller. 
Huff is an Oregon kid who already knows Kelly and his offense, which is a huge advantage entering Year 1. 
He's got a playmaker feel to him, both as a return man...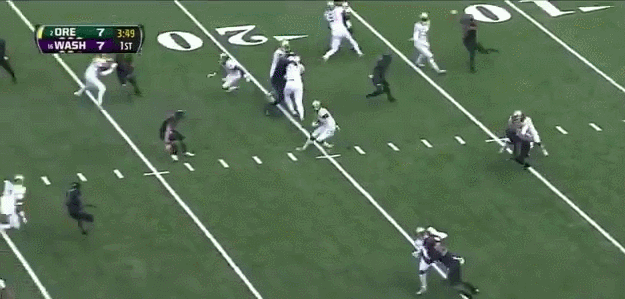 DraftBreakdown.com
And on a fairly consistent basis as a slot receiver...
DraftBreakdown.com
And you can also put him outside, or in the backfield as part of your option offense...
DraftBreakdown.com
He's a tremendous blocker for a 22-year-old who lacks size...
DraftBreakdown.com
And he's much stronger than he looks...
DraftBreakdown.com
You can see how high Huff's ceiling could be, especially within the right offense. With Kelly on his side, the sky's the limit for a guy like this. 
But both have some work to do
Any other year, Matthews is probably a first-round pick and Huff goes a round earlier. This was a deep draft for receivers, which worked out well for the Eagles. Still, both players have flaws that kept them out of the first round.
Huff is frustratingly inconsistent and drops a lot of passes.
DraftBreakdown.com
DraftBreakdown.com
And while Matthews is a more polished player, his hands have been criticized as well. He could use some more bulk and isn't especially fast or agile.
The general belief is that both will have trouble becoming No. 1 options. Longer odds have been defied, but realistic expectations are that they'll both turn into starters, not necessarily stars.   
The good news is, it's not all on them
Don't forget about Darren Sproles and Jeremy Maclin. Neither took a snap in an Eagles uniform last year, and both are expected to play key roles this season. 
Since 2011, Sproles has more catches, yards and touchdowns than any other back in football, and it's not even close. And assuming his knee holds up, Maclin, who had 857 yards and seven touchdowns in 2012, should be expected to eat up the majority of catches Jackson is leaving behind.
Plus, at tight end, Zach Ertz should only be better in his sophomore season, and Brent Celek is a reliable guy to have as that torch is passed to the 2013 second-round pick. 
So the reality is they'll be replacing Jackson with a whole bunch of small and large pieces. That isn't ideal, since they don't get to count those pieces as only one player among the 11 allowed on the field at a time, but if Sproles can come through, Maclin can stay healthy, Ertz can keep improving and Matthews and Huff can deliver, there's a good chance the Eagles will be saying good riddance to Jackson by the time January arrives.