The Kansas City Chiefs recently lost defensive end and former first-round pick Tyson Jackson to the Atlanta Falcons, as Jackson signed a five-year, $25 million contract within the first few hours of free agency.
Just this past offseason, former Chiefs general manager Scott Pioli, who selected Jackson with the No. 3 overall pick back in 2009, was hired to the Falcons front office and reunited with his old pal, Falcons general manager Thomas Dimitroff.
With Jackson now gone, the Chiefs had a hole to fill along the defensive line.
It didn't take long for the Chiefs to make a move as they signed 26-year-old former Oakland Raiders defensive end Vance Walker to a three-year contract.
A source tells me the #Chiefs have signed Vance Walker to a three-year deal worth a maximum of $13 million, with $3.75 million guaranteed.

— Terez A. Paylor (@TerezPaylor) March 14, 2014
The 6'2" 305-pound Walker has played in 73 games throughout his five-year career, including 63 of the last 64. He's missed just one game over the past four seasons after playing the first four years of his career with the Falcons and spending last season with the Raiders.
Walker has 119 tackles and eight sacks in his five seasons, including a career-high 40 tackles last season and tying a career best with three sacks.
After swapping Walker for Jackson, it's obvious the Chiefs are trying to bolster their pass rush heading into 2014.
Kansas City Chiefs Defensive Ends vs. Walker, Poe - Pass Rush

| | | | |
| --- | --- | --- | --- |
| Player | Snaps | Hurries | Ratio |
| Mike Devito | 446 | 11 | 40/1 |
| Tyson Jackson | 509 | 8 | 63/1 |
| Allen Bailey | 453 | 19 | 24/1 |
| Jaye Howard | 49 | 2 | 25/1 |
| Mike Catapano | 94 | 6 | 16/1 |
| TOTALS | 1,551 | 46 | 34/1 |
| Vance Walker | 791 | 32 | 24/1 |
| Dontari Poe | 1004 | 28 | 36/1 |
Credit: Pro Football Focus
Walker brings something to the table they weren't getting from Jackson: pressures and hurries from the defensive end position.
Jackson recorded a pressure on just one out of every 64 plays, compared to every 24 for Walker. That's with Walker playing 282 more snaps over the course of the season as well.
While Jackson is known as a great run-stuffing defensive end, the Chiefs know that playing in a division with Philip Rivers and Peyton Manning means there's going to be an emphasis put on having to shut down high-powered passing attacks.
The easiest way to do that has always been and will always be with pressure.
Strictly from a numbers and analytics standpoint, the Chiefs have drastically improved their ability to get pressure on the quarterback by bringing in Walker to take over for Jackson.
Who is Vance Walker?
Walker was selected in the seventh round of the 2009 NFL draft out of Georgia Tech by the Atlanta Falcons.
There was no shortage of talent on that Georgia Tech squad, yet Walker seemed to be overshadowed according to some, via Dave-Te' Thomas of CBSSports.com.
With teammates such as Michael Johnson, Darryl Richard and Derrick Morgan, Walker did not appear in the headlines often, but Vance Walker gets plenty of credit for the defensive success of the Yellow Jackets from the Georgia Tech coaching staff. The hard worker was the anchor of the line.
According to that same article, Walker established himself as a leader among his talented peers back in college.
Walker has been called the hardest worker on the team. He motivates others with his work ethic and is a "take charge" type in the trenches.
In his rookie year for the Falcons back in 2009, Walker picked up 13 tackles in 10 games.
He's steadily improved those numbers each of the last four seasons.
Vance Walker's career numbers

| | | | | |
| --- | --- | --- | --- | --- |
| Year | Team | Games | Tackles | Sacks |
| 2013 | Oakland Raiders | 15 | 40 | 3.0 |
| 2012 | Atlanta Falcons | 16 | 32 | 3.0 |
| 2011 | Atlanta Falcons | 16 | 18 | 2.0 |
| 2010 | Atlanta Falcons | 16 | 16 | 0 |
| 2009 | Atlanta Falcons | 10 | 13 | 0 |
| Total | | 73 | 119 | 8 |
NFL.com
More than the numbers, Walker provides scheme versatility for a Chiefs defense that's in dire need of some more pass rush from players besides linebackers Justin Houston and Tamba Hali.
Replacing Tyson Jackson
While it may not have been a player-for-player trade, Walker will step in and take many of the snaps Jackson had for the Chiefs last season.
Replacing an $11M gtd player with a comparable/slight upgrade $3.75M gtd player is getting surplus value. Like it. #Chiefs

— Louis Riddick (@LRiddickESPN) March 15, 2014
The fact that Walker costs considerably less than Jackson plays a part in determining the value of this move for the Chiefs.
If we go off last year's numbers, Walker played considerably more snaps than Jackson as well. If those numbers hold true, you're getting more production in the pass-rush department and more snaps overall for less money.
That doesn't take into account scheme and other variables which could affect snap counts, but the Chiefs ranked 22nd in the NFL against the run last year.
That's with Jackson, a well known run-stuffer.
So the Chiefs decided if they had to err, they'd err on the side of pass-rushing ability over the expensive run-stuffing defensive end.
But while it's seen as him coming in this offseason for Jackson, Walker's versatility will also see him compete for snaps with Allen Bailey and Mike Catapano next season.
In this screenshot you can see one of the alignments for the Chiefs' 2-3-6 Dime defense against the Broncos.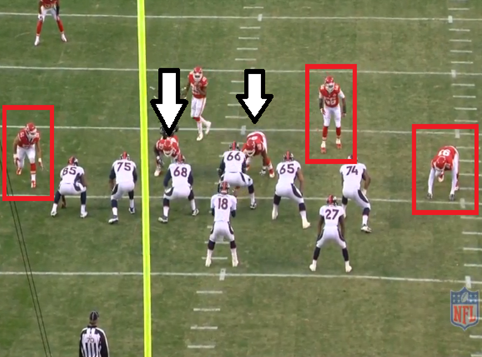 Credit: NFL Rewind—BJ Kissel
Allen Bailey (left) and Dontari Poe (right) are the two down-defensive tackles with Frank Zombo (wide left on screen), Derrick Johnson (shaded outside right guard) and Hali (shaded wide right on screen) as the three linebackers.
Eric Berry is just one of six defensive backs on the field for the Chiefs, and he's sitting in the box as the curl/flat defender on the strong side of the formation.
As the NFL becomes more pass-happy, these defensive alignments are becoming much more common for NFL teams. The more teams try and spread you out, the more athletes you need on the field who can cover space.
Vance Walker's agent, @a3_Tommy: "He felt like could play alongside Dontari Poe and be productive in that defense."

— Terez A. Paylor (@TerezPaylor) March 14, 2014
Walker's pass-rushing ability would make him a likely candidate for some snaps in these nickel and dime situations when the Chiefs take a defensive lineman off the field. He could give Poe a break on some plays, or he'll take some snaps from Bailey in this personnel grouping.
Either way, the Chiefs are going to use his ability to put pressure on the quarterback in as many ways as possible.
Film room
After watching some film on Walker there are three things that really stand out about his abilities.
Normally when you hear about a player being a pass-rushing defensive tackle you automatically think he's a liability against the run.
The Chiefs saw that for years with Wallace Gilberry.
But Walker has the ability to play all along the defensive line, showing the savvy to display the finer points of playing against the run in traffic, the strength to anchor and create leverage against the run and the burst to beat offensive linemen off the snap.
These three skills are the basic necessities of a starting NFL defensive lineman, and Walker displays the ability to do all three.
Savvy against the run
In this play against the Chiefs from last season, Walker displays a high football IQ by understanding his responsibilities and a finer detail of playing along the defensive line.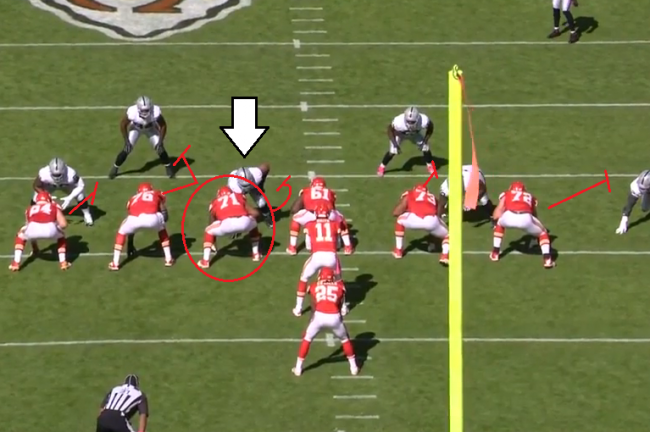 Credit: NFL Rewind—BJ Kissel
This running play is set to create a lane for running back Jamaal Charles right through the Chiefs' right guard, Jon Asamoah.
It's up to the Chiefs' left guard, Jeff Allen, to get across the face of Walker and seal the inside part of the lane for Charles.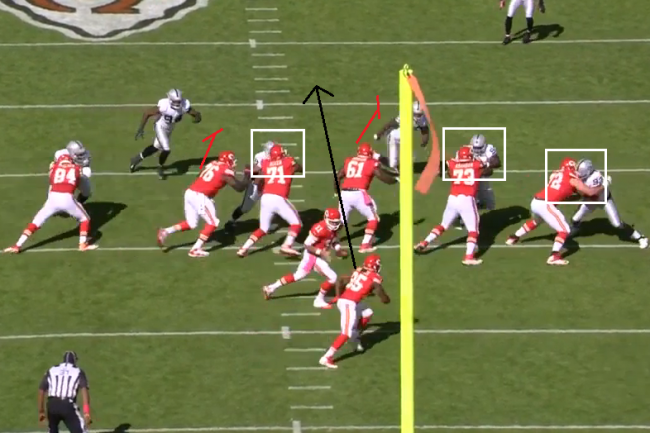 Credit: NFL Rewind—BJ Kissel
As you can see in the photo above, both the right guard and right tackle attack the inside shoulder of their guy, which sets up the lane right up the middle.
Rodney Hudson, the center, heads to the second level to seal off the lane down the field and possibly give the Chiefs a big gain on the play.
Allen struggles to get to the inside shoulder of Walker, who by now knows what Allen is attempting to do.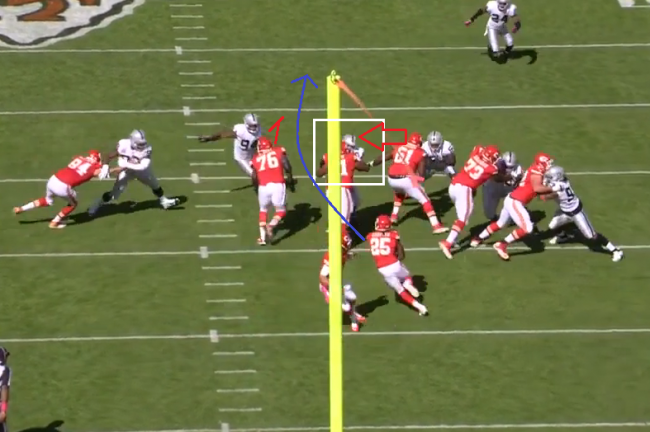 Credit: NFL Rewind—BJ Kissel
The key part of the play right here is how Walker flashed his helmet over the right shoulder of Allen (red arrow), which is Charles' key on where he's going to cut back.
It's a trick defensive linemen use to get running backs to commit to the wrong lane. As good as Charles is running the ball, Walker played him very well on this play.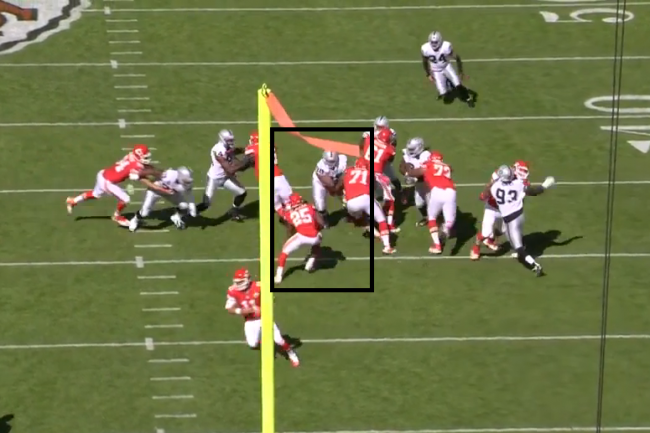 Credit: NFL Rewind—BJ Kissel
As soon as Charles makes his move up the field to the outside shoulder of Walker, opposite of where he just flashed his helmet, there's Walker just sitting there waiting for him after he shed the block of Allen.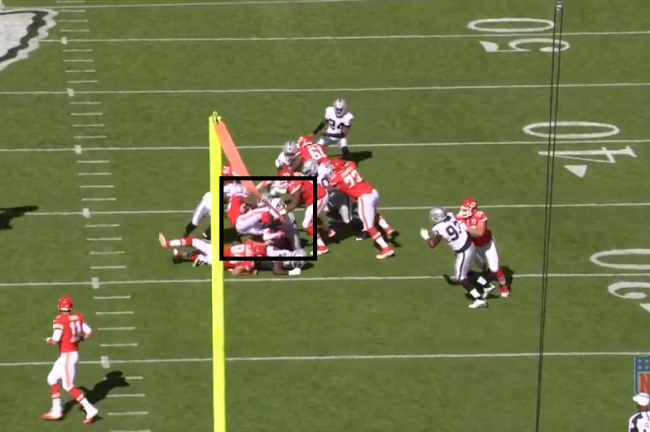 Credit: NFL Rewind—BJ Kissel
Walker finished the play and makes the tackle on a minimal gain for Charles.
The display of Walker flashing his helmet over Allen's inside shoulder is a great example of how defensive linemen are supposed to play against the run.
It's a savvy play from what some could incorrectly believe is just a pass-rushing specialist only.
Anchor and leverage
In this play below you'll see Walker take on a double-team, fight off the block and eventually assist in the tackle of the running back behind the line of scrimmage.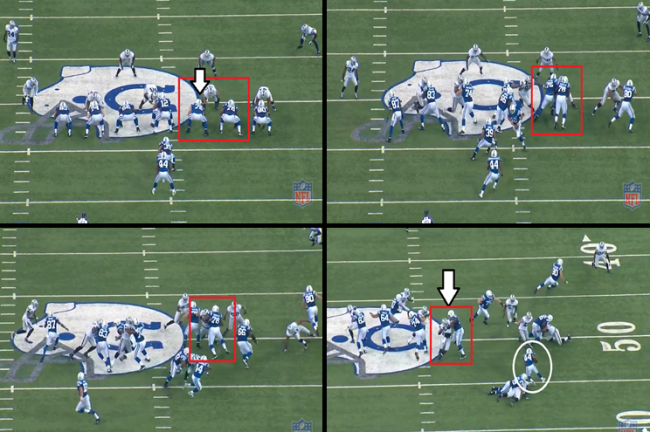 Credit: NFL Rewind—BJ Kissel
As you can see in the two middle screenshots, Walker established leverage upon engagement with the offensive lineman at initial contact.
There's no way he wouldn't have been driven backward had he not been underneath the offensive lineman with correct hand placement. He anchors and maintains his ground before fighting off the block and getting in on the play.
It's also important to notice the two arrows on the first and last screenshot.
Where Walker initially lined up before the snap and where he fought through the block are very close to one another; therefore, he wasn't fighting down the line of scrimmage to get away from the double-team. He took it on, anchored and fought through while maintaining his area, which allowed him to be in on this tackle.
Quickness off the snap
This next play displays the quickness Walker possesses but also demonstrates how his quickness and ability to fire off the ball would make offensive coordinators second-guess certain play designs.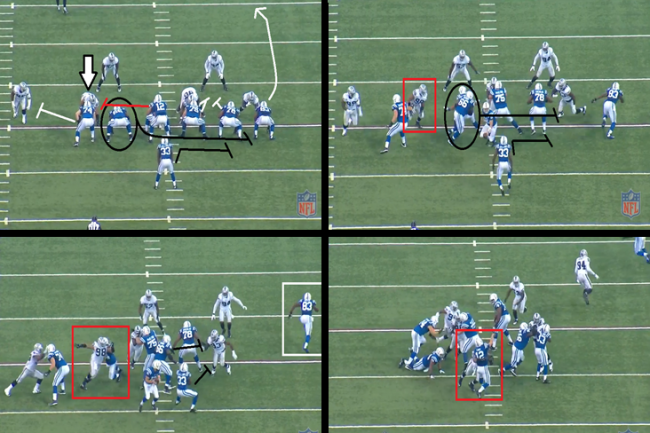 Credit: NFL Rewind—BJ Kissel
On this play-action pass, Walker is the responsibility of the center to kick-out and block.
The Colts slide their left tackle to the outside to pick up the linebacker while pulling the left guard to give the impression of a running play.
The left guard pulling around and the running back, after he sells the play action, are responsible for the other defensive end.
This play design puts a whole lot of pressure on the center to be able to slide out and pick up that block, and it's borderline shoving it in Walker's face they'd even attempt this block.
It's a bad play design if the defensive end has any quickness to him at all. Unfortunately for the Colts, Walker is pretty quick off the ball.
That's not really a secret either, which makes the play design all that more confusing.
Which player would you rather have on the Chiefs with his existing contract?
According to Pro Football Focus (subscription required), Walker may have had just three sacks last season, but his 32 quarterback pressures put him at No. 5 among defensive tackles and nose tackles.
Although it worked out for the Colts in a touchdown pass to the tight end, the shot Andrew Luck took from Walker immediately after releasing that ball might have the offensive coordinator second-guessing that play call again.
Walker showed NFL teams you cannot get cute with your play action if it means giving him a half-count advantage on getting to the quarterback.
The Chiefs needed this kind of addition to their defensive front seven, and Walker's versatility will mesh well with Poe and DeVito.
While Walker may not be the best at his position in the NFL, he's versatile and brings something to the table the Chiefs were desperately needing.
Their pass rush was improved, and they didn't have to completely sell out by getting a player who was a liability against the run.
All in all, Walker is a solid signing for the Chiefs and should contribute immediately in both their base and nickel/dime defenses.