With a 7-15 start to the season, the Orlando Magic hardly look like a playoff candidate at first (or even second) glance. However, a weak Eastern Conference may allow them to sneak back into the picture. What do they have to change to turn this young season around, you ask?
Not that much, actually.
Let's make one thing crystal clear, right from the start. If the Magic were in the Western Conference, this article would focus on next season already. But due to a lack of depth in the Eastern Conference, they are still alive and kicking.
Barely alive and frantically kicking, but still.
The Minnesota Timberwolves were the last .500 team that made the playoffs in the Western Conference—that was in the lockout-shortened 1998-99 season. Since then, not having a winning record in the West equaled early holidays, while an astonishing 20 teams sitting at .500 or below made the playoffs in the East.
Heck, even having a winning record often wasn't enough. Just ask the Golden State Warriors of 2007-08, who had to watch despite a 48-34 record that would have placed them fourth in the East.
Actually, each of the last six seasons saw a team from the Western Conference sitting outside the playoff bubble despite a winning regular-season record. The current season standings promise more of the same drama.
Having established that the East has been notoriously weak for about a decade now, let's take a closer look at what Orlando can do to increase its chances for a playoff spot.
The Magic have a lot of potential, but how can they improve right here, right now?
(All statistics, unless noted otherwise, were taken from www.nba.com and www.basketball-reference.com.)
Limit Turnovers
It sounds simple enough. Every coach preaches it on every level of the game.
Do not turn the ball over!
The Magic find themselves in trouble time and time again by committing unforced errors. They are in the bottom quarter for turnover ratio. Not only does that have a huge impact on their offensive efficiency (where they rank 24th)—it also means they give opponents more opportunities to score.
But that's what happens when you play with only one true point guard.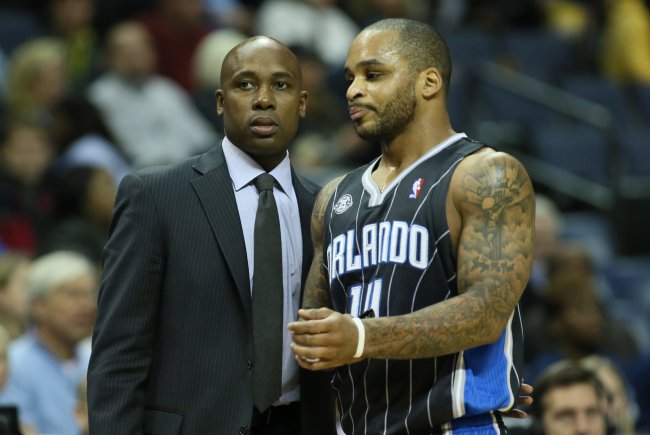 Nelson Chenault-USA TODAY Sports
Jameer Nelson, despite being in a shooting slump, does a decent job commanding the court and draws from nine years of experience in the pros. However his backup, Ronnie Price, doesn't seem to be involved in the game and often looks out of place.
It's difficult when your coach doesn't trust you.
Price rarely gets to handle the ball. When Nelson is out of the game, Victor Oladipo brings the ball. And the rookie's ball-handling skills have been suspect so far, to say the least. That spells trouble, especially when Nelson gets injured (as we saw some games ago).
It is not surprising that a rookie who played as a shooting guard and averaged more turnovers than assists in his college career is somewhat overwhelmed being pushed into the PG position in the NBA.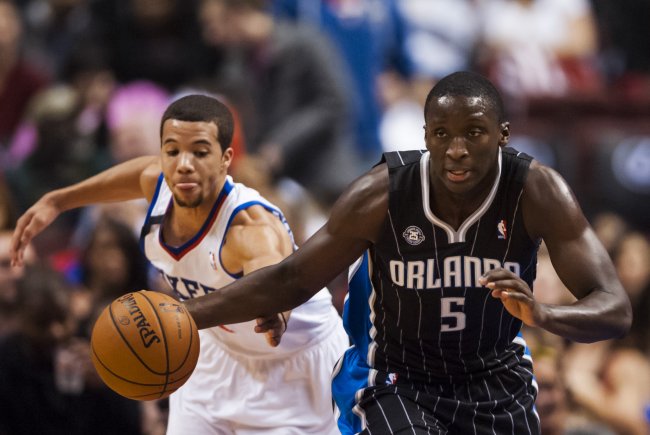 Howard Smith-USA TODAY Sports
Eventually the Magic would like to see a cutting, slashing point guard who can do it all, including dishing it to his teammates for an open shot when driving to the hoop and drawing the defense in.
But this takes time.
If Orlando wants to reach the playoffs this season, the team must be aware that Oladipo cannot be rushed into this role. There is a lot he has to learn, but currently his learning curve affects the team record.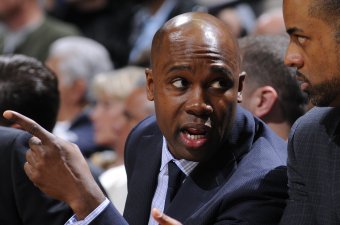 D. Clarke Evans/Getty Images
If Jacque Vaughn doesn't trust Price to handle the ball, the Magic need to find someone—anyone—else, via trade or free agency (they still have a mid-level exception and bi-annual exception). Trading will actually prove to be difficult, with Hedo Turkoglu's contract eating up $12 million of the salary cap.
Or Vaughn may, you know, use his nominal backup point guard as actual backup point guard.
Price doesn't need to be spectacular. He doesn't even need to be good. As long as he can take care of the ball and relieve some pressure from Oladipo, he can help his team.
Play the Team Game
Orlando's contests are sometimes reminiscent of pickup games. A lot of isolation, a lot of pick-and-rolls and a lot of simple post-up plays. When it works, go with it.
A 7-15 record indicates it doesn't work.
The team needs more movement away from the ball. Set screens, execute cuts, spread the floor and pass the ball until the defense makes a mistake on a rotation and you get a wide-open shot.
Right now, Orlando's offense looks stale and very predictable on the few set plays it attempts. A lot of the time they are not executed properly and end up as broken plays. That's when panic mode kicks in, and the player with the ball goes one-on-three, trying to score.
Did I mention turnovers earlier on?
Go Inside
The Orlando Magic rank a dismal 26th when it comes to scoring inside the paint.
They are not a team brimming with big bruisers. The two they do have, Glen Davis and Jason Maxiell, have a tendency to take mid-range jumpers instead of banging bodies inside.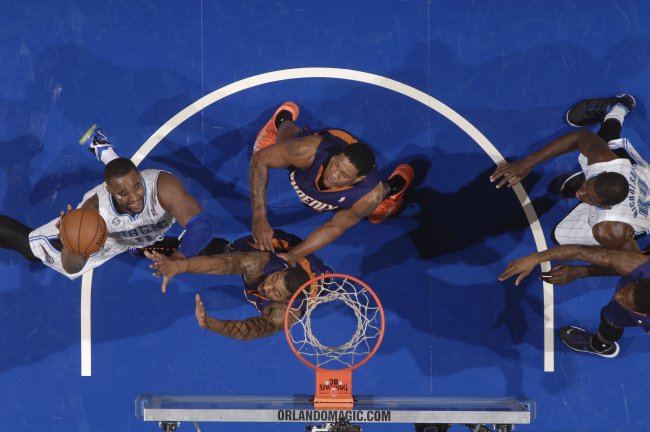 Fernando Medina/Getty Images
Admittedly, Davis has a nice stroke and even made a three-pointer to force overtime in their last meeting with the Philadelphia 76ers. After Wednesday night's game, he is 2-of-2 from downtown. But that also means he is often out of position for offensive rebounds.
Maxiell sinks less than 36 percent of his shots from outside the paint and nearly 60 percent inside. Going where it hurts doesn't only result in a higher shooting percentage for him but for others as well.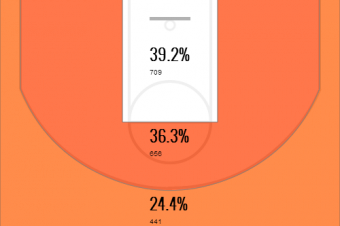 Vorped.com
When the defense has to focus on defending the paint, outside shooters get open. Wide open.
Having their big guys inside the paint should also take care of the poor offensive rebounding, where they rank 27th. And offensive boards lead to easy second-chance points.
There is a reason why Nikola Vucevic averages a double-double so far and finishes on over 54 percent of his attempts from the field. He makes full use of the three seconds he is allowed in the paint.
Being aggressive inside will also result in more free-throw attempts per game. Another area that needs improving.
Run, Run, Run
To be efficient, the Magic need to apply pressure on defense and turn it into easy points. So far, they only score 10.5 points per game on fast breaks, ranking 24th. They rank 12th in steals per game—yet only a horrid 29th in fast-break efficiency.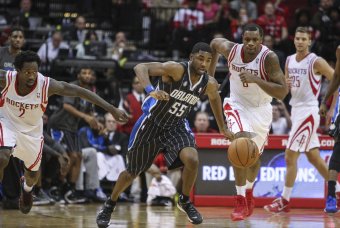 Troy Taormina-USA TODAY Sports
Every team likes easy points. That holds true even more for young teams. Steal the ball, run full speed, get an easy breakaway basket.
Rinse and repeat.
Steal the ball, run full speed, get an easy breakaway basket.
(No, you are not seeing double, and I am not drunk at the keyboard. This was purely for emphasis.)
What Must Stay the Same?
As I mentioned early on in this article: Orlando actually doesn't have to change a whole lot in order to become a playoff candidate, unlikely as it may seem at the moment.
Do you think the Orlando Magic can still make the playoffs?
There are a lot of positive aspects.
Arron Afflalo plays at an all-star level. Jameer Nelson is a quiet, but efficient, leader. Victor Oladipo seems to mature before our very eyes with each game. Glen Davis seems to have found his game again after his injury. Nikola Vucevic is averaging a double-double and making it look easy. Andrew Nicholson plays efficiently inside the paint and at the perimeter.
If players like Maurice Harkless, Jason Maxiell, E'Twaun Moore and Ronnie Price can get comfortable with their roles on this team (and are being used properly), the Magic have a decent roster.
And decent, as we know, equals "good" in the East.