In his brief time with the Los Angeles Lakers, Jordan Hill has become a fan favorite—and it's easy to see why.
There aren't very many players in the league who play with as much relentless energy as Hill does. He goes after every rebound—often jumping two or three more times than the man he is contesting the board with in order to corral it—and manufactures extra possessions for the Lakers through sheer effort and will.
After seeing limited action early on, Mike D'Antoni finally unleashed the beast and inserted Hill into the starting lineup.
Hill responded by averaging 18.8 points and 12 rebounds in 31 minutes a game over his first four starts.
He's struggled recently, however, and after a 1-for-9 shooting performance in Brooklyn D'Antoni has sawed his minutes in half. The Lakers' boss has even dismissed Hill back to the bench in favor of the illustrious Robert Sacre the last two games.
This season is the first extended look the Lakers and their fans have gotten of the young big man. Here's how he's impacted the team on the whole so far.
The Good
Hustle, hustle and more hustle. Hill gets after it.
For a long time the Lakers have employed big men who are plodders, even as the rest of the league has shifted to dynamic, athletic frontcourts.
Hill is of that modern breed, capable of going toe-to-toe with the Andre Drummonds and DeAndre Jordans of the world from an athletic standpoint.
The Arizona product is having the best season of his career. His career-best 20.1 PER is tops on the Lakers and ranks seventh at his position, per ESPN.com, ahead of guys like Roy Hibbert, Chris Bosh and Joakim Noah.
The biggest reason for the gaudy efficiency rating is his superb rebounding.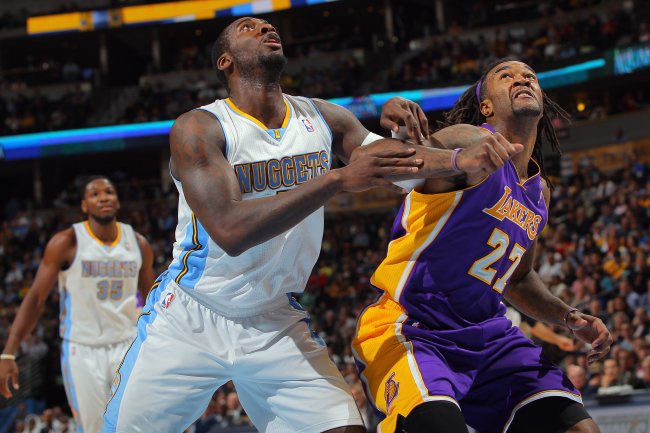 Doug Pensinger/Getty Images
According to NBA.com, Hill is second in the NBA in offensive rebound rate and trails only Drummond and Dwight Howard in total rebound rate.
As a team, the Lakers grab a higher percentage of rebounds overall when Hill is on the court.
Hill has also blossomed as an interior defender. NBA.com's new player tracking data shows that Hill is 12th in the league in opponent field goal percentage allowed when within five feet of both the basket and the player taking the shot (among players who defend at least five such shots per game and have played at least 15 games).
He holds opponents to a lower field-goal percentage while protecting the rim than Howard or Serge Ibaka.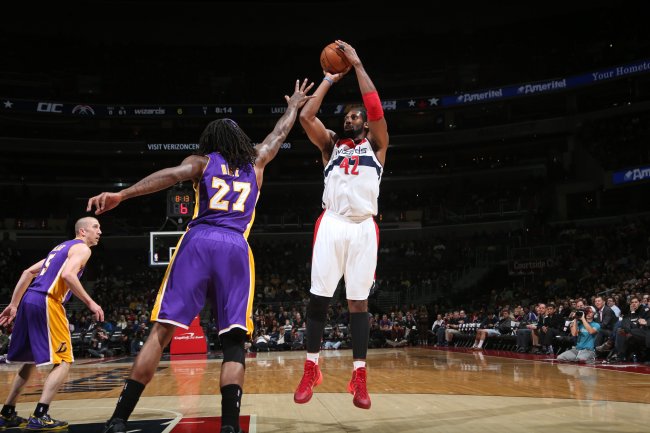 Ned Dishman/Getty Images
Offensively, Hill functions as an impeccable finisher on pick-and-rolls, cuts and offensive rebound opportunities.
Hill is shooting 68.6 percent out of pick-and-roll situations. His 1.15 points per possession when finishing plays as the roll man ranks 13th in the entire league, per MySynergySports (search "Jordan Hill").
The Bad
Despite all the positive attributes Hill brings to the table, the Lakers haven't succeeded when he has been on the floor.
According to the new stats site NBA Wowy, the Lakers score 106.5 points per possessions with Hill on the court, but give up 109.7 points per 100 possessions.
That doesn't jibe with the rest of the instant-energy bench crew—Jordan Farmar, Nick Young, Xavier Henry and Shawne Williams—all of whom sport positive net ratings.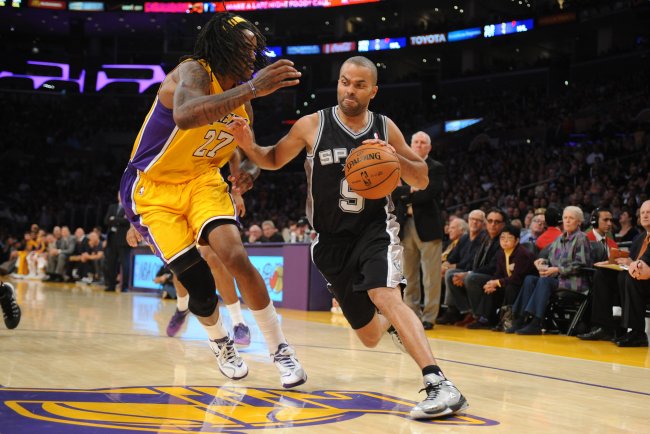 Noah Graham/Getty Images
Look closer and you'll see that L.A.'s overall level of play slips when Hill is out there.
Even though he is an excellent rebounder, the Lakers snag a lower percentage of defensive boards with Hill on the floor and allow more second chance points.
And although Hill has proven himself to be a capable rim protector, he is often caught out of position and is therefore unable to affect shots around the hoop.
Because of that, opponents attempt five percent more of their shots in the restricted area when Hill is in the game and convert a higher rate of those juicy attempts, per NBA.com.
Hill tries to stay near the paint whenever possible, but doing so leaves him vulnerable to bigs capable of stretching the floor. The man he's responsible for guarding is scoring 1.19 points per possession on spot-up chances while connecting on 50 percent of those attempts, according to MySynergySports.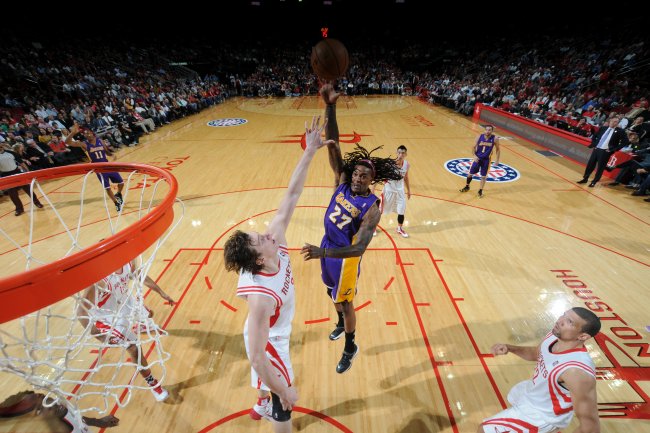 Bill Baptist/Getty Images
On offense, Hill still can't do anything except finish around the basket. MySynergySports shows that Hill is shooting just 33 percent from the field when attempting to score out of a post-up.
He also cannot provide any spacing when playing alongside another big man. Hill has made only three field goals all year when spotting up away from the hoop, one of those an ugly (but memorable) bank job in the fourth quarter of L.A.'s opening night win against the Clippers.
That's a big reason why the Lakers have been coldcocked by their opponents to the tune of 12.1 points per 100 possessions when those two share the court, per NBA.com.
The Verdict
Credit D'Antoni for seeing that the Hill-Gasol pairing wasn't working and moving Hill back to the bench.
However, slashing Hill's playing time in half isn't such a good idea. Hill has been L.A.'s best big man so far this season. His energy is infectious and his elite rebounding simply cannot be replaced. There's a reason he's leading the team in win shares, according to Basketball-Reference.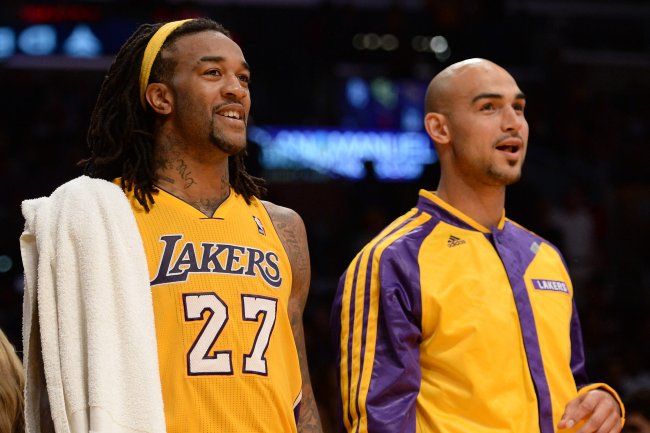 Harry How/Getty Images
He's young and still improving. Plus, Hill is in a contract year and the Lakers have to determine exactly what they have in him. And for that he needs minutes.
Hill should see 25-30 minutes a night even as a reserve. Stick him with the rest of the Lakers' killer bench mob and turn him loose. It's one of the most fun units to watch in all of basketball.
Stats are accurate as of December 9