49ers vs. Rams: Breaking Down San Francisco's Game Plan
November 29, 2013

Scott Rovak-USA TODAY Sports
Crushing their NFC West rival in Week 4, the San Francisco 49ers were able to use the St. Louis Rams as a springboard to launch a five-game winning streak in which the team had a point differential of plus-113. It was the highlight stretch of their season to date, and one they'd like to best.
Nine weeks later, San Francisco will get its shot. The 49ers are fresh off a road victory over Washington, and with only five games left in the regular season, San Francisco can still theoretically win out, finish on a high note and best position itself for the postseason. 
But it won't come easy—the 49ers second matchup of the season versus St. Louis was always going to be the tougher of the two, even though the Niners will kickoff at home. This young Rams team is getting better, with players growing into themselves and playing more unified football, despite losing starting quarterback Sam Bradford.
This is a challenging football team because it's difficult to pinpoint and take away its strengths. It sure isn't the play from the pocket.
The Niners must be prepared in all three phases of the game if they're hoping to pull out a second-straight victory. Coordinators Greg Roman, Vic Fangio and Brad Seeley all need to have their ducks in a row, putting forth watertight game plans versus a familiar opponent.
Any exposure on any one of their units, and it could mean the game.
Checking in for our weekly game plan, let's talk matchups, strengths and weaknesses, and players the 49ers need to spotlight in Sunday's showdown.
Contain the Wily Tavon Austin

Pat Lovell-USA TODAY Sports
Look, if the Rams are going to light up the scoreboard versus San Francisco, this is how they're going to attempt to do it.
Coaches make it a point to get the ball to their most explosive players, and rookie speed-star Tavon Austin certainly qualifies. Despite not having NFL experience, he continues to get touches, epitomizing this theory through and through.
In the process, he has led his team in total touchdowns this season through 11 games, returning one, rushing for one and hauling in four.
With his blazing speed and quick-cut ability, he is a dagger in the heart of the opposing team, threatening to score every time he has possession. Even though it hasn't been the best-ever debut for a top-10 drafted receiver, the rookie is still just two receptions behind veteran tight end Jared Cook for the team lead (35).

h/t NFL Game Rewind
This is a guy that can jettison downfield and get behind the defense, or he'll take a bubble screen 60 yards to the house. Technique and anticipation by the 49ers defensive backfield will be more important than anything in this one. And with Austin being the marquee receiver they have to look out for, he'll get two sets of eyes.
The Niners have been known to bracket the opposing team's prime receiver, rolling coverage to the side of the field he's playing.
Cornerbacks Tramaine Brock and Carlos Rogers are going to have their one-on-ones with Austin, but it is Eric Reid and Donte Whitner over the top that will be fundamental chess pieces when it comes to stopping the big play.
They'll be tasked with not letting the St. Louis flyer get behind them, while playing down toward the front of his route.
With one of the corners and a safety over the top, quarterback Kellen Clemens won't feel safe making that throw and Austin is not the physical type to power through the defense and make that catch. This is how the 49ers will limit his targets, his touches and ultimately how many opportunities he has to break one.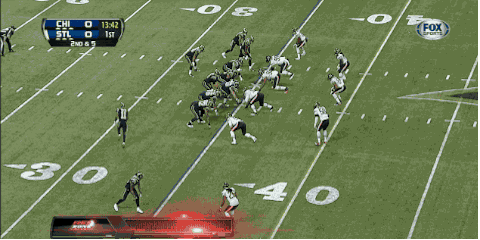 h/t Bleacher Report
Austin is also living up to his billing as the all-purpose spark plug, rushing seven times for 85 yards and a touchdown, averaging 12.1 yards on the ground this year.
Not a lot of carries, but his averages are bonkers, even if you compare them to some of the league's best running quarterbacks.
His stat-line also says he is going to score once every eight touches.
San Francisco's linebackers are going to have to deal with this unique rushing option by the Rams. For them, it's going to be about angles. They've got to respect his speed and stop-and-start ability, being careful not to over-pursue or undershoot him. This is also where film study pays dividends.
Not being a running back, the 49ers can get a gauge on when Austin is running the football by looking at St. Louis' tendencies this season. When and where Austin lines up in the backfield, as well as when he motions across the formation all matters here. With how quick a player he is, the Niners defenders need to have a read on him before the ball is snapped.
That being said, they also have to be wary of ghost motion by Austin, which is when he comes across the formation but does not receive the handoff. Teams like to run play-action and take a shot down the field with that sort of thing, and if the defense bites, that could be all she wrote.
Offensively, Tavon Austin is a logistical nightmare to prepare for.
His matchup versus 49ers gunner C.J. Spillman on the return team will be something else to watch as well. So far this season, San Francisco has done a solid job bottling up the return game, thwarting efforts by Patrick Peterson, Darius Reynaud, Keshawn Martin, Darren Sproles, Ted Ginn Jr., and Austin himself in Week 4.
Those guys are going to have to run clean alleys and emphasize wrapping up
Favor the Run Over the Pass
In three campaigns running under the new regime, San Francisco has found a great deal of success rushing the football versus 4-3 defenses and that "wide nine" look, where opposing defensive lines pin their ears back and rush the quarterback (the St. Louis Rams, Detroit Lions and Philadelphia Eagles to name a few).
Sharing a division, the 49ers understand exactly how the Rams front is built, in that they've clearly valued speed to get after the passer over, say, power, size and strength to stop the run. That being the case, they've proven to be susceptible to 25-30 attempts on the ground by powerful runners that finish strong.
It's their kryptonite. 
That makes this a prime matchup for 49ers star tailback Frank Gore.
The team's ageless wonder has been a top-10 rusher for a good part of the year, coming into Week 13 with 779 yards and seven touchdowns under his belt. A large chunk of that total came at the Edward Jones Dome, where Gore had his best game of the 2013 season, carrying the rock 20 times for 153 yards on the ground and a touchdown.
He was finding cutback lanes on nearly every rep, and the defense could not bring him down once he got behind the defensive line. 
In fact, this became a bit of an issue for the division rivals. Gore is averaging 102.6 yards per game versus the Rams in the past three matchups, punching the ball in the end zone every time. So, not only do they struggle to stop the run over the length of the field, but it also doesn't get any better in scoring situations.
St. Louis has let up a total of 12 rushing touchdowns this year, which is the fourth-most in the NFL.
There are 21 teams that haven't allowed double-digit rushing touchdowns this year, and there are plenty of worse teams out there. One of the bigger issues for them is, once you get beyond linebacker James Laurinaitis, who else out there on the Rams defense can tackle?
With their proclivity for bringing in playmaking defenders, there are a lot of light-bodied players on that side of the ball, and they've been out-muscled. They've sacrificed fundamental tacklers by doing so. The Niners need to expose that philosophy for what it is and pound it with Gore and Co. 
Offensively, this game has to be about using power rushing to engineer long drives and set up the pass.
Ensure the Integrity of the Pocket

Jeff Curry-USA TODAY Sports
As we mentioned, with the way this defensive front has been constructed, there has been a clear emphasis on pass-rush ability.
Speed rushers Chris Long and Robert Quinn are a formidable duo on the edges, accounting for 19.5 sacks in 11 games played. Few 4-3 teams in the league have a combo of defensive ends that good, that balanced and that productive.
The team's leader is solo tackles, Alec Ogletree, has also gotten noticed this year, blowing up plays as the team's left outside linebacker. His three forced fumbles and constant presence around the ball makes him a concern this week, as the rookie appears to be hitting his stride.
All that being said, if the 49ers are going to zero in on someone, it's Robert Quinn. The third-year pro is having a career breakthrough. He is the premier pass-rusher to look out for, racking up 13 sacks of his own in 2013 (3.0 in his last two games). He ranks second in the NFL in sacks, only behind Robert Mathis.
His initial burst is second to none, as he possesses the type of speed around the edge that you just don't see every day.
But alas, he is no match for 49ers Pro Bowl left tackle Joe Staley.
Staley pitched a shutout versus the all-star pass rusher the last time the two saw each other, and it resulted in Quinn's worst performance of the season, according to the metrics at Pro Football Focus (-2.3). It was the only negative performance by Quinn in 10 games played all year.
Staley's athleticism and impeccable footwork allows him to match up well with Quinn, whereas the beefier blindside protectors get torched.
Frank Gore also has to function as the team's go-to pass protector, particularly on third-down. No excuses otherwise. He is the best in the game at this, having been ranked as the NFL's top blocking back for the duration of the season.
If Quinn or Long manage to get by, Gore has to be there as the last line of defense.
Hey, Throw to Michael Crabtree
Following last week's win, coach Jim Harbaugh confirmed that the team's No. 1 wide receiver, Michael Crabtree, would return to the lineup versus the St. Louis Rams, via Janie McCauley of the Associated Press. This played out accordingly through the week as Crabtree was activated and given a place on the depth chart, following his Achilles tear in May.
After practicing again this week, the coaches even feel confident in his ability to get involved in on Sunday.
With the weekend now upon us, Crabtree is officially listed as the third receiver behind starters Anquan Boldin and Mario Manningham, per the team's website. Offensive coordinator Greg Roman later confirmed that Crab would be weaned back into the lineup, not playing all of the snaps in his season debut.

Cary Edmondson-USA TODAY Sports
But this is just fine—he doesn't have to.
Crabtree can effective in a spot role, whether he's being targeted or hogging coverage so someone else can get free.
It is also a fitting situation that'll be the No. 3, likely pitting him in the slot.
Per Jeff Deeney of Pro Football Focus, 49ers passers had a 150.4 QB rating when targeting Crabtree in the slot in 2012. This season, the offense has been going with three wide receivers on 22.7 percent of offensive snaps.
There will be plenty of chances to get him the ball.
Since it'll be about quality, not quantity, the 49ers have to make it count and get Crabtree on the field on third-down situations and in the red zone. Staying on the field and scoring touchdowns instead of field goals will make all the difference. Those contributions will help Crabtree re-acclimate and get his confidence up with a few valuable plays here and there.
Miscellaneous 

Matthew Emmons-USA TODAY Sports
Blitz Inside: The Rams aren't quite as strong in the middle of their O-line as they are on the perimeter. Guard Chris Williams has a minus-10.9 overall grade from Pro Football Focus this season, struggling mostly in pass protection. Being on the left side, the 49ers would be wise to stunt Aldon Smith, allowing him to twist inside. The

ILBs

can also have their opportunities to rush.
Throw to the Backs: As we discussed, the Rams defense has had difficulties here and there when it comes to containing skilled runners. Another way San Francisco can take advantage is by throwing to their backs in space and challenging the defense to make open-field tackles. Relief men

LaMichael

James and Kendall Hunter can get involved this way, which is what the team is trying to do.
Win the Turnover Margin: This is always important, largely because division games are always a toss up. The Rams have won two straight over the Indianapolis Colts and Chicago Bears, dropping 80 points and only allowing 29. So, St. Louis is capable of the upset. The Niners can do themselves a favor by taking care of the football on offense and aggressively attacking it on defense.
Statistics courtesy of ESPN.com and Jeff Deeney of Pro Football Focus. Screen grab courtesy of NFL.com Game Rewind (subscription required).