Denver Broncos: Why Is Peyton Manning Struggling to Throw Deep?
Use your ← → (arrow) keys to browse more stories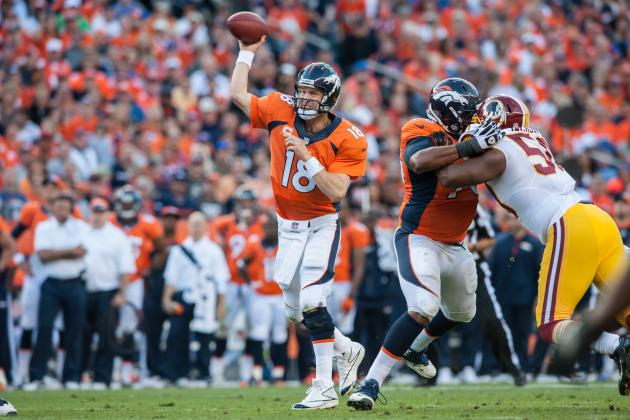 (Photo by Dustin Bradford/Getty Images)

Peyton Manning is arguably the best quarterback to ever play in the NFL. In 2013 he is certainly playing like the best quarterback in the game today. He's setting (or extending) records each week, and he has led the Broncos to a 7-1 record so far this year.
Manning is on a record pace to throw 58 touchdowns in 2013. He only needs to average 260.1 yards passing per game over the rest of the year to throw for over 5,000 yards for the first time in his career. Through eight games Manning has thrown more touchdowns (29) than Broncos legend John Elway did during his best season (27).
His 2,919 yards passing are the most through eight games in NFL history. His 29 touchdowns to this point are second-most in NFL history behind Tom Brady (30) in 2007. The Broncos have scored 343 points so far in 2013 (42.9 per game average), the most by any team through eight games in NFL history.
The Broncos are on an incredible run. Their 45-21 win over the Washington Redskins in Week 8 was their 11th straight game of scoring 30 or more points. That mark is good for the third-longest streak in NFL history.
Against the Redskins, Manning threw for four touchdowns for the 26th time in his career, extending an NFL record. However, in the game versus Washington an old question came back to the forefront: Why is Manning struggling to throw deep?
Last season many questioned whether or not Manning's arm strength would ever be the same after four neck procedures cost him the 2011 season. Manning worked incredibly hard to get back in action and played well in his first year with the Broncos. However, in the playoff game against the Ravens (in the bitter cold) Manning's arm looked off, and the arm strength questions came up again.
This offseason I was immediately impressed with Manning's zip and velocity on his passes at minicamp. I asked Eric Decker and Demaryius Thomas if his arm looked stronger this year than it was last year and both agreed that it did. When I asked Manning about it he didn't really give an answer, but highlighted how his timing and chemistry were better with his receivers this year.
When the public finally got to see Manning in training camp and the preseason all the talk about his arm strength was gone. It was clear that he looked sharper and his passes were tighter than in 2012.
Throughout the season Manning has been solid when throwing over 15 yards downfield.
| | | |
| --- | --- | --- |
| Manning 15 or more yards | First Seven Games | Week 8 |
| Completion Percentage | 50% | 12.5% |
| Yards Per Attempt | 14.7 | 2.0 |
| Touchdown to Interceptions | 6-2 | 0-2 |
| Off Target Percentage | 26% | 50% |
Against the Redskins, Manning didn't look like himself. He completed only one of eight attempts of at least 15 yards downfield. He only threw for 16 yards and two interceptions on such throws. Manning over or underthrew four of his eight attempts of that distance. This number was much higher than his 26 percent average on deep throws through the first seven games of the year.
The Broncos had to adjust to Manning's deep problems, and they did so in the fourth quarter. Their 31 points in the fourth quarter set a franchise record.
The team turned to the skill position players to make yards after short catches. The Broncos receivers gained 224 yards after the catch in Week 8, their second-highest total of the season. The team had 171 of those yards in the second half.
Denver turned two screen passes into touchdowns against the Redskins. They gained a total of 73 yards after the catch on those plays.
The Broncos got the win, and they scored a bunch of points like they always do. So how much of a concern is this deep passing problem?
Four of Manning's six interceptions this year have been on throws of at least 15 yards downfield. It's clearly a problem for Manning, but the reason why is unclear.
I went back and watched every pass Manning has thrown over 15 yards this year. NFL scouts that I talk to call a pass play of over 15 yards an explosive play.
Let's examine the explosive plays from the passing game to determine what the problem is.
Week 1 versus Baltimore
To open the season the Broncos had 11 explosive plays from their passing game against the Ravens. Five of those plays saw the ball travel at least 15 yards through the air.
This 28-yard touchdown throw to Andre "Bubba" Caldwell is right on the mark.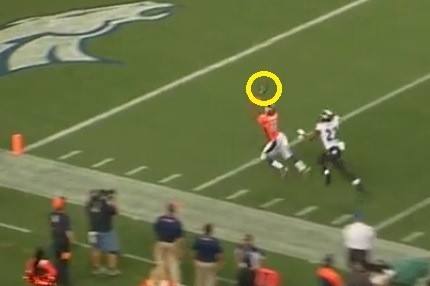 Here's another perfect deep throw. The ball travels around 34 yards in the air and winds up in the hands of Demaryius Thomas for the touchdown.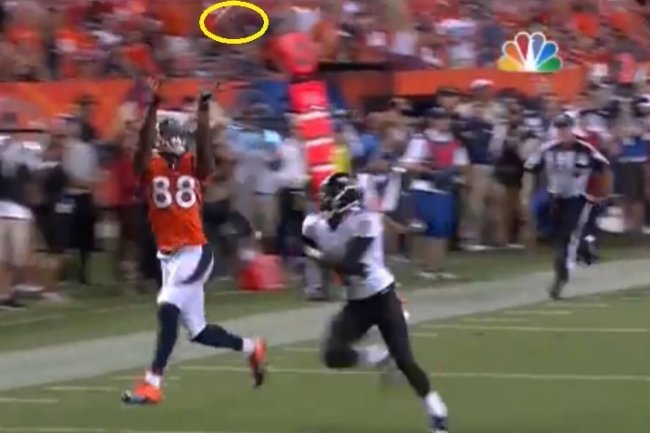 The Broncos protected Manning well, and he responded with seven touchdown passes.
Week 2 at New York
The Broncos traveled to play the Giants in Week 2. The team had five explosive plays through the passing game. However, only one of those plays saw a pass that traveled over 15 yards in the air. Manning also had three incomplete deep attempts. Two were on the money and one fell short.
Here we see an incomplete pass to Demaryius Thomas that is right on his hands. This pass traveled 25 yards in the air and was perfectly placed.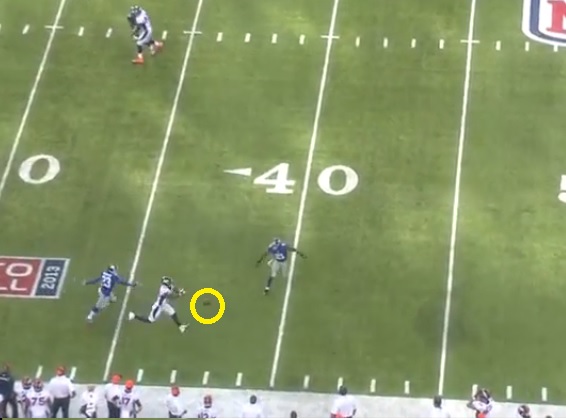 This next picture shows a 20-yard completion to Wes Welker. The pass traveled about 25 yards in the air here.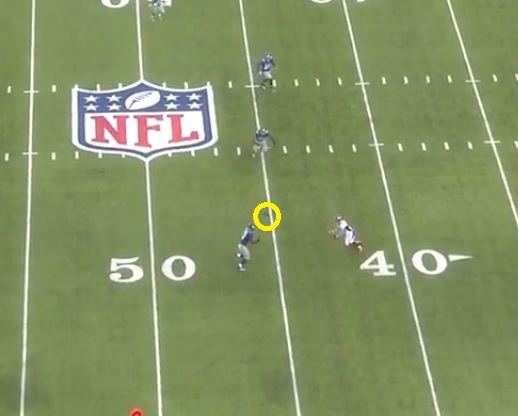 Week 3 versus Oakland
The Broncos were at home against the Raiders in Week 3. The team had six explosive plays in the passing game. Three of those plays saw the ball travel at least 15 yards in the air. One of those passes (a 32-yard completion to Welker) was wobbly over the middle of the field. Manning also had two incomplete passes on deep attempts.
Here we see Manning split double coverage to get a 22-yard completion to Demaryius Thomas. The pass traveled around 25 yards through the air. Manning showed incredible touch and pass placement here.
Week 4 versus Philadelphia
The Broncos stayed at home and played the Eagles in Week 4. They had four explosive plays in the passing game. Two of those plays saw the ball travel at least 15 yards in the air. Manning had two incompletions on deep targets. One of the explosive plays (on a short pass) saw the ball wobble.
Here Manning hits Decker in stride for a 52-yard gain. This might be his best deep pass of the year. The ball traveled around 50 yards in the air on this play.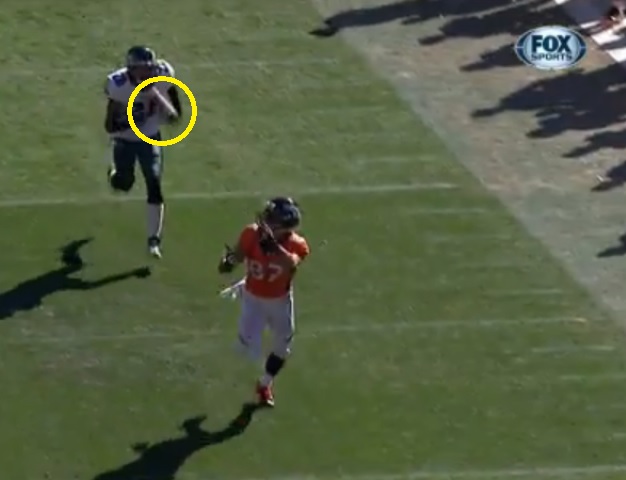 Week 5 at Dallas
Denver took their show on the road against the Cowboys in Week 5. The passing game provided 11 explosive plays, but only one of those plays saw the ball travel 15 or more yards through the air.
Manning had four incomplete passes on deep targets against the Cowboys. Two of those incompletions were overthrown, while one was underthrown. One pass (a 40-yard gain to Demaryius Thomas) was wobbly even though it was a shorter throw.
This is a picture of the wide open pocket around Manning on an explosive play to Decker. This play was a 57-yard gain for the Broncos and the pass traveled about 40 yards through the air.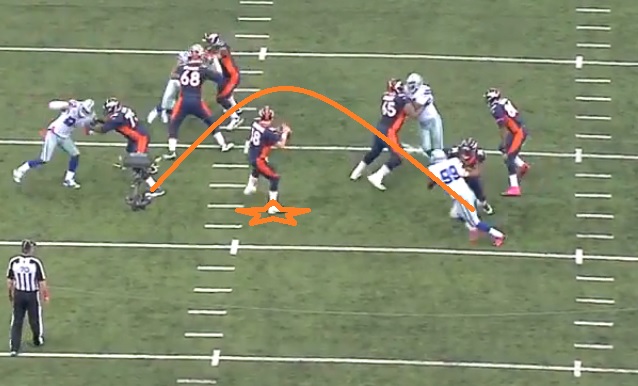 Week 6 versus Jacksonville
The Broncos returned home to play the Jaguars in Week 6. The offense had six explosive plays from their passing game. Three of those plays saw passes that traveled 15 or more yards through the air. Manning had three incompletions on deep targets that day with two of those being overthrown.
Here is another explosive play from Manning to Demaryius Thomas The pass was good for a 31-yard gain, but was a bit high traveling around 25 yards through the air.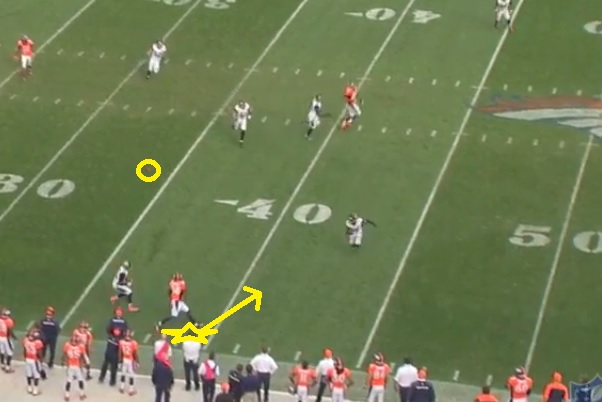 The Jaguars game was the contest where Manning got bashed after a few throws. This is where his ankle problems likely started.
Week 7 at Indianapolis
Manning returned to his old stomping grounds to face the Colts in Week 7. The Broncos produced nine explosive plays through the passing game. Manning also had nine incompletions on deep targets with three of those passes hanging in the air too long.
Below is one of Manning's nine incompletions on a deep target. Colts linebacker Pat Angerer comes on a delayed blitz and pushes left guard Zane Beadles toward Manning. This pass traveled 35 yards in the air but was off target for Demaryius Thomas.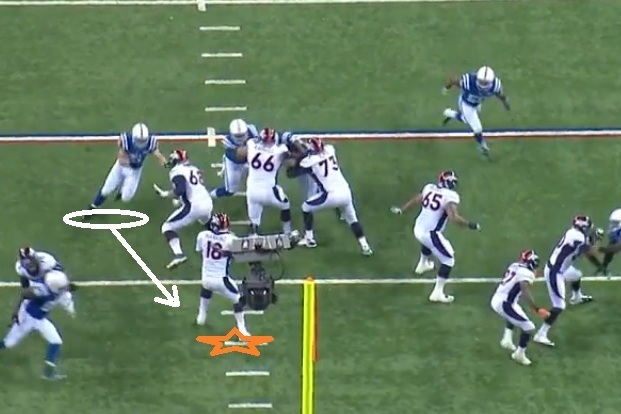 Manning may have completed this throw had he been able to properly step into his throw. The Colts game was the Broncos first loss of the season. Manning was under pressure early and often against his old team.
Week 8 versus Washington
The Broncos wanted to get back on the winning track, and they did just that coming home to play the Redskins in Week 8. The offense generated seven explosive plays, but only one of them came off a pass that traveled over 15 yards through the air. Manning threw two interceptions, marking the same amount of picks he's thrown on deep targets all season long.
Seven passes fell incomplete on deep targets. Here we have one of those incompletions down the left sideline to Eric Decker.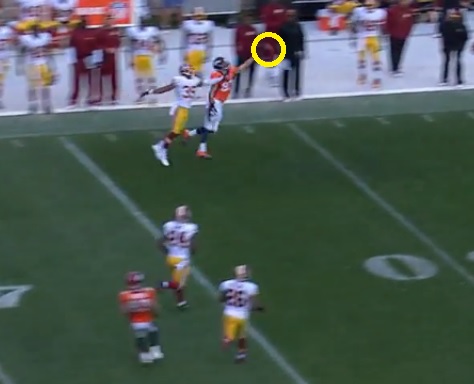 Manning was facing extra pressure all day from the Redskins, but on this play had a clean pocket. Broncos wide receivers were facing press coverage all day long and kept looking for pass interference flags that weren't thrown.
Summary
The first thing that stands out here is the lack of adequate pass protection over the last few weeks. Manning has to get better protection in order to be a better deep passer. Defenses are realizing that if they play back against Manning they're going to get torched. Instead, opponents are now blitzing Manning more in hopes of disrupting the offense.
The Broncos can counter this with short passes. Screen passes and draw plays are the best way to slow down a pass rush. Expect more of that moving forward for the Broncos.
The next thing that stands out is the inability to beat physical coverage. Demaryius Thomas should be able to wrestle away any contested catch, yet it was DeAngelo Hall who got the best of him in Week 8. All receivers will need to do a better job fighting for catches instead of looking for flags after the play.
The final thing to note is Manning's arm itself. I don't believe arm strength (in terms of distance) is the actual problem. I've seen Manning overthrow several receivers on deep targets from minicamp, to training camp and through the regular season. Even in the game against the Redskins he was still challenging the defense deep and throwing into double teams.
Scouts always talk about how accuracy and pass placement come down to two things: velocity and proper footwork.
Throwing with proper velocity means getting proper spin on the ball, allowing it to rise and fall into the receiver's hands. A quarterback must know when to throw with touch and when to throw with zip.
Throwing a tight spiral requires grip. If there's any concern with Manning it's not arm strength, it's the grip he can get on the ball. This is the reason why I consider the weather to be an important factor in the Broncos' postseason success. If the weather is cold, Manning will have trouble gripping the football just like he did against the Ravens last year.
Manning already has great footwork. However, he can't step into his throws if the pass rush is getting to him. This goes back to the pass protection issues highlighted earlier.
We've seen Manning struggle throwing deep at times this season. The Broncos may begin to put him on a "pitch count" to save some wear and tear on that arm. In 2010 Manning had a career-high 680 passing attempts. However, in the second half of that season he had fewer passing attempts.
The Broncos may also start to emphasize the ground game because of the way defenses have started playing them. This could lead to an increased role for guys like Knowshon Moreno, Montee Ball and C.J. Anderson.
Defensive coordinators lose a lot of sleep trying to figure out how to stop this high-powered offense. We've seen a change in the blueprint for defenses when facing the Broncos. Now we'll see how the Broncos continue to counteract those moves.
All quotes and injury/practice observations obtained firsthand. Record information provided via email from the Denver Broncos.