Cincinnati Bengals 2013 Schedule: Win-Loss Predictions for Every Game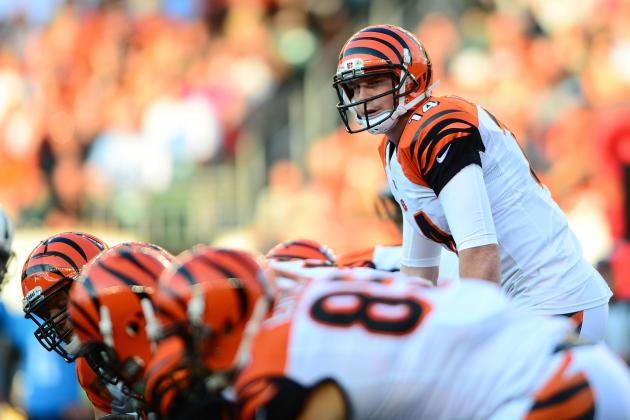 Andrew Weber-USA TODAY Sports

The Cincinnati Bengals enter the 2013 season armed with consecutive playoff appearances and looking to not only notch a third consecutive postseason berth, but also to pick up the franchise's first playoff victory since 1990.
2012 saw the Bengals finish second in the AFC North with a 10-6 record before the young team bowed out of the playoffs in the first round against the Houston Texans for the second straight year.
With the new generation of Bengals having another year of experience, things are on the upswing in Cincinnati.
Here is the team's official 2013 schedule:
In the following slideshow we will predict the outcome of each of the 16 games listed above. Let's take a look.
Begin Slideshow

»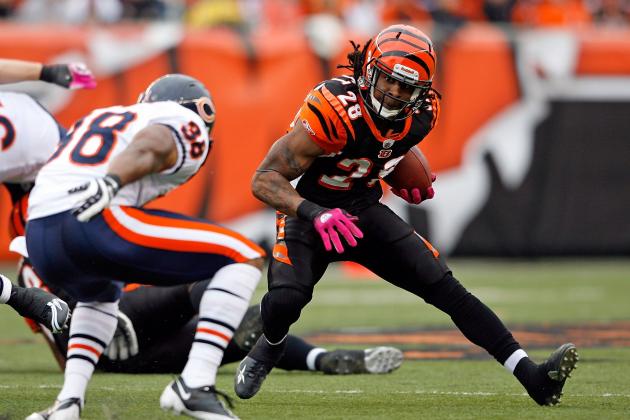 Andy Lyons/Getty Images

It's tough to start any season on the road, but Cincinnati has a favorable matchup here at Soldier Field against the Chicago Bears in Week 1.
Chicago is currently learning a new offense under the guidance of new head coach Marc Trestman and could be a bit sloppy to start the season. That's bad news for Chicago against a Bengals team touting a returning top defense and an offense undergoing no changes except assimilating more weapons into the scheme.
Road openers are tough, but Cincinnati will slip by.
PREDICTION: Bengals 23, Bears 20 (1-0)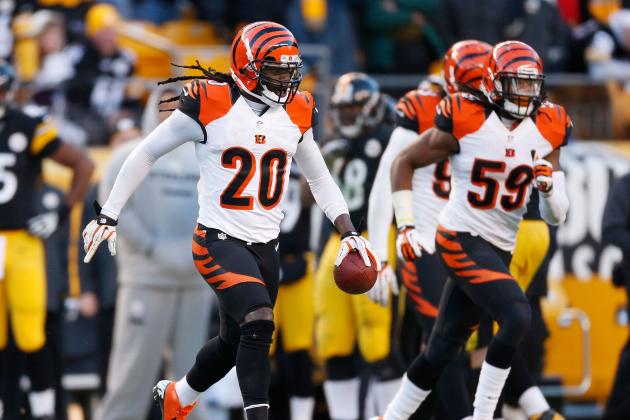 Gregory Shamus/Getty Images

Cincinnati returns home to welcome the Pittsburgh Steelers to town in Week 2 action after notching a big win on the road to start the season.
Much has been said about the downfall of the Steelers as the team gets older (don't we hear that every year?), but things are not as bad as they seem in Pittsburgh.
The funny thing about the rivalry here is that the road team always seems to emerge victorious. Both teams have been solid on the road in the past when facing each other, and that was how things played out in 2012.
Expect more of the same here with the under-the-radar Steelers pulling off the upset.
PREDICTION: Steelers 17, Bengals 14 (1-1)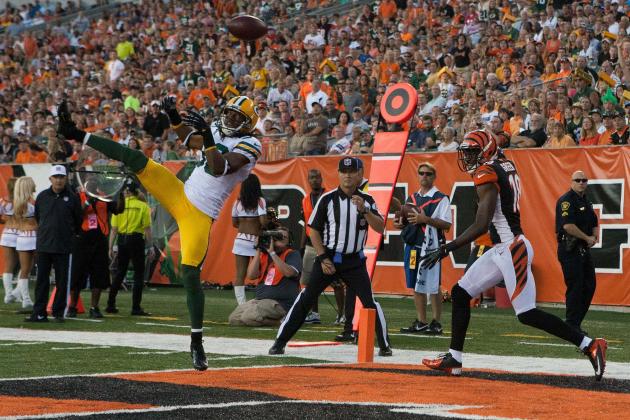 Rob Leifheit-USA TODAY Sports

One of the fun things about the Bengals' 2013 season is that fans will get to see some unfamiliar faces as Cincinnati is scheduled to take on the NFC North.
Week 3 sees the elite Aaron Rodgers come to town with his high-flying offense in what is sure to be a sellout.
Cincinnati is credited often for having an elite defense, and rightfully so, but if Rodgers is able to get rid of the ball quickly, the Bengals will not be able to keep up in a shootout.
The outcome of this game will be decided on the defensive line if Cincinnati can get to the quarterback quickly. Rodgers is used to dealing with Ndamukong Suh and Jared Allen twice a year, so that should not be a major issue.
PREDICTION: Packers 30, Bengals 17 (1-2)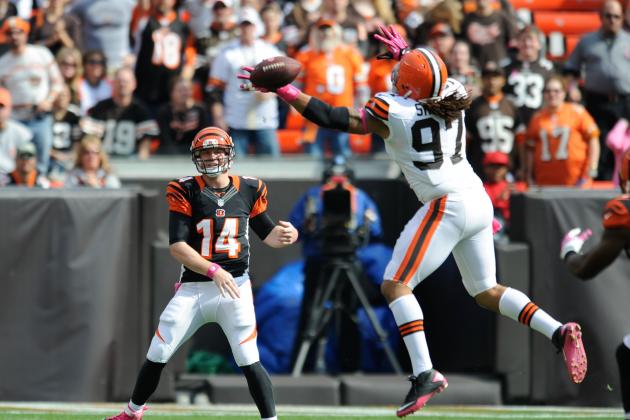 David Richard-USA TODAY Sports

Don't look now, but the Cleveland Browns are legit. Brandon Weeden is poised to take the next step and has two sound weapons in tight end Jordan Cameron and receiver Josh Gordon. There's also a guy named Trent Richardson, who is a top-five running back when healthy.
The defense is undergoing a change but should be solid as always with Desmond Bryant in the trenches.
Don't expect to see a repeat of 2012 where one team scored over 30 in each matchup. This is going to be a defensive battle all the way, and it's hard to bet against the new-look Browns at home in front of that rabid fanbase.
PREDICTION: Browns 17, Bengals 13 (1-3)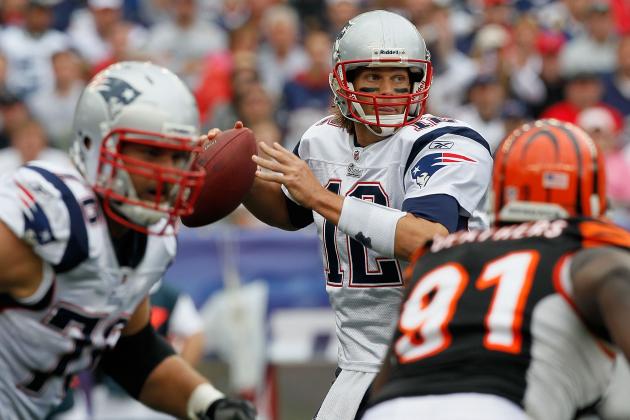 Jim Rogash/Getty Images

Here's another game that is sure to sell out in Cincinnati when Tom Brady (and probably Tim Tebow) come to town in Week 5.
Brady last saw the Bengals in 2010 and torched the defense for 258 yards and three scores in a 38-24 victory. Expect a similar result here as Cincinnati won't easily be able to put pressure on Brady.
The downfall of the Pats after losing some key offensive weapons has been much exaggerated. In case you forgot, Brady creates his own weapons out of nothing. The Bengals cannot keep up in a shootout.
PREDICTION: Patriots 27, Bengals 20 (1-4)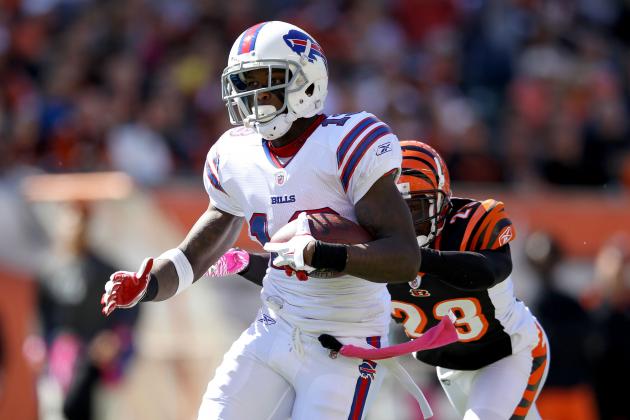 Andy Lyons/Getty Images

Bengals quarterback Andy Dalton met the Buffalo Bills for the first time in his rookie season and threw for just under 300 yards while tossing one touchdown to two interceptions as the Bengals squeaked by via a field goal.
This time the two teams meet in Buffalo, but Dalton is a much better player and has more toys to play with.
Buffalo will be starting veteran Kevin Kolb or rookie E.J. Manuel, both of whom will have a very hard time moving the ball against Mike Zimmer's elite defense. C.J. Spiller is a special player, but a running back alone can't get it done against Cincinnati.
PREDICTION: Bengals 30, Bills 14 (2-4)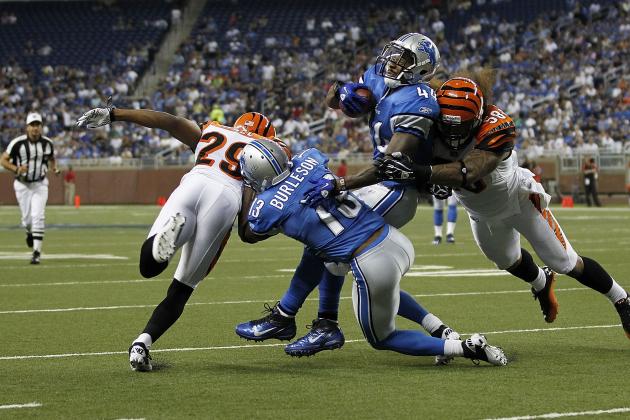 Leon Halip/Getty Images

The Bengals defense last had to deal with Detroit Lions wide receiver Calvin Johnson back in 2009. A lot has changed since then—except Megatron's elite level of play.
Johnson snagged six receptions for 123 yards and a touchdown in the contest, but Detroit wound up losing anyway.
Expect more of the same here.
Not to knock anyone on the roster, but there is not a Bengals player who can touch Johnson in coverage. Let him get his yards and focus on shutting down other weapons like Reggie Bush, and Cincinnati should escape with the win.
PREDICTION: Bengals 27, Lions 17 (3-4)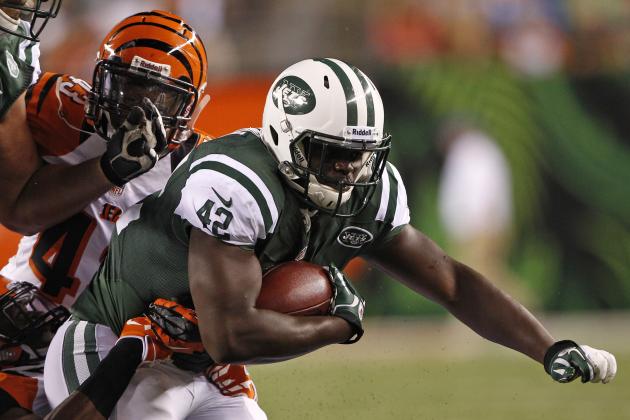 Frank Victores-USA TODAY Sports

What is there to say about the New York Jets? Mark Sanchez may come into Cincinnati as the starter, and that's comparable to having a bye week at this point.
Rookie Geno Smith is a bit of an unknown, but there are too many rebuilding pieces for the Jets on both sides of the football.
Expect both Cincinnati's offensive and defensive units to have a big day. The lone surprise? A.J. Green is going to find it very, very difficult to get open against Antonio Cromartie.
PREDICTION: Bengals 35, Jets 10 (4-4)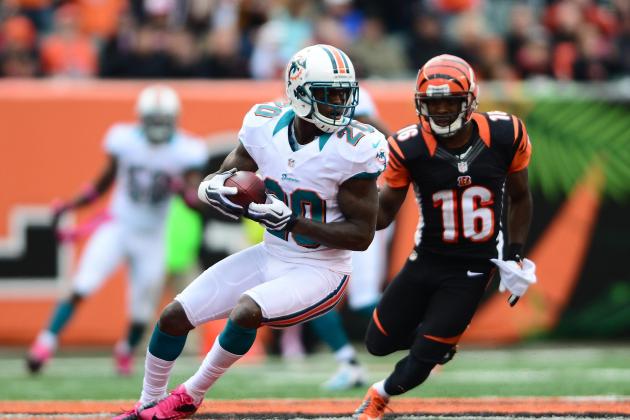 Andrew Weber-USA TODAY Sports

It is easy to write off the Miami Dolphins as a team the Bengals should be able to overcome, but you would have thought that last season with the a rookie quarterback leading Miami, no?
Instead, rookie quarterback Ryan Tannehill threw for 223 yards and the Bengals had no answer to Miami's ground game as Miami waltzed out of Cincinnati with the win.
Miami is an even better team in 2013. Tannehill is continuing to develop and has a shiny new weapon in Mike Wallace, a foe the Bengals are sure to be familiar with. Add in lots of new defensive pieces and the Dolphins are going to give Cincinnati some serious issues once again.
PREDICTION: Dolphins 21, Bengals 17 (4-5)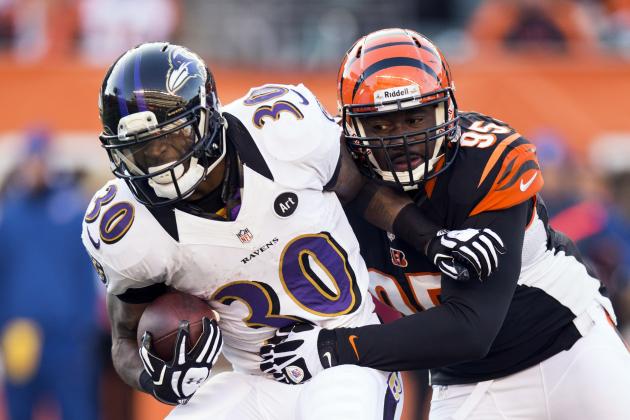 USA TODAY Sports

Here is where things start to get interesting for Cincinnati. Baltimore is heralded as a team on the decline, but not everything is what it seems for the defending Super Bowl champs.
In fact, the Ravens may be improved on the defensive side of the ball now that older, slower vets like Ed Reed and Ray Lewis have moved on to other teams (be it football or broadcast).
Cincinnati has not won in Baltimore since 2009. This Bengals squad has yet to show up when it matters most as it continues to mature, and Week 10 won't be the day either after an emotionally taxing defeat at the hands of Miami.
PREDICTION: Ravens 17, Bengals 10 (4-6)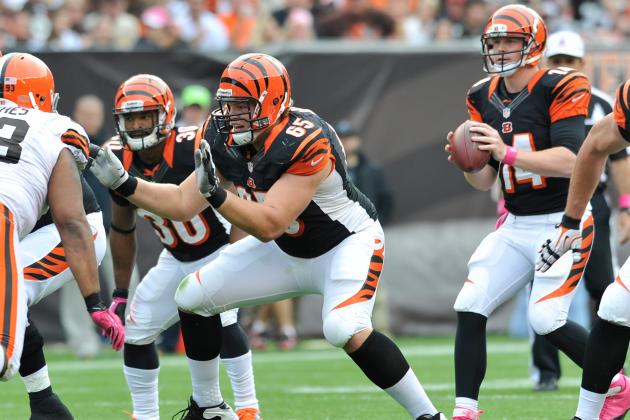 David Richard-USA TODAY Sports

If there is one fact about the Battle for Ohio in recent years, it's that Andy Dalton has a thing for it. Over the course of two contests last year alone, Dalton threw for 699 yards and six touchdowns.
Yet Cincinnati only split with the Browns.
With the Bengals having lost earlier in the season to Cleveland in what has been an up-and-down year, this game could see both teams potentially jockeying for position within the division.
Cincinnati comes out on top behind the arm of Dalton. Were we to say this more often, the team wouldn't be under .500, but it's just not something you can guarantee.
PREDICTION: Bengals 24, Browns 13. (5-6)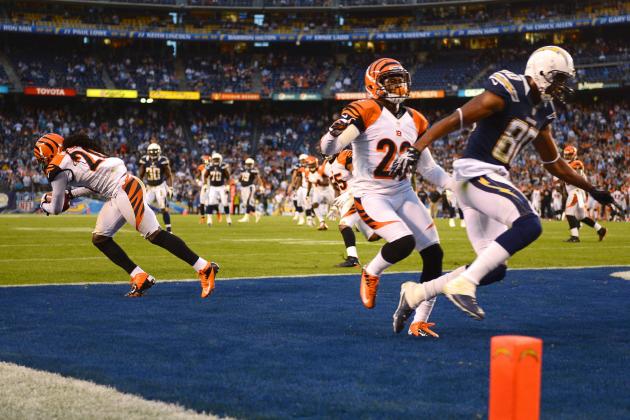 Jake Roth-USA TODAY Sports

For the second year in a row the Bengals must travel to San Diego to take on the Chargers, this time in Week 12. Last year in Week 13 action the Bengals hardly escaped with a 20-13 win after a mediocre performance.
Fortunately for Cincinnati, the Chargers are actually worse for wear in 2013. Elite guard Louis Vasquez is gone and linebacker Melvin Ingram is out for the year, as is No. 1 receiver Danario Alexander, whom the team waived.
By this point in the season the Chargers won't have a lot of fight left. Cincinnati in a rout.
PREDICTION: Bengals 42, Chargers 13 (6-6)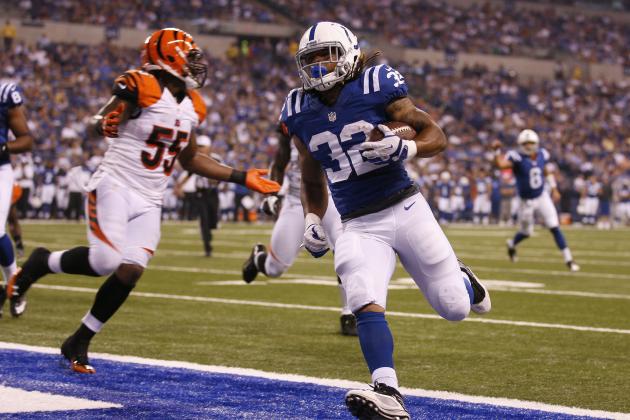 Mark Zerof-USA TODAY Sports

Andy Dalton and the Bengals managed to luck out in 2011 by not having to go against Peyton Manning, instead taking advantage of a Curtis Painter (stop laughing)-led team en route to a 27-17 victory.
Dalton and Co. have seen their luck (sorry, it was there) run out now that Andrew Luck is steering the ship for the Colts.
Luck is poised to take the next step, and the coaching staff made a smart move picking up running back Ahmad Bradshaw. The defense is still a bit rough around the edges, but expect this one to come down to the wire.
Luck wills the offense to a victory on the final drive.
PREDICTION: Colts 24, Bengals 23 (6-7)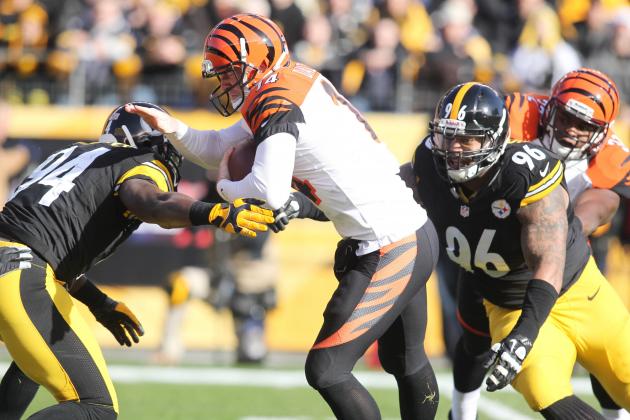 USA TODAY Sports

As we stated earlier, the victor in this matchup usually goes to the road team. By default, the Bengals should go into Week 15 at Heinz Field and emerge victorious in what will probably shake out to be a defensive battle.
The real storyline here is James Harrison's return to Pittsburgh. He will be fired up and likely play his best ball of the season if he's on the field healthy, and with a lack of suspensions permitting.
Cincinnati has the defense to stay in a game with any team, even on the road. The Bengals get their revenge as a battered and bruised Ben Roethlisberger begins to see the long season take its toll on his body.
PREDICTION: Bengals 24, Steelers 20 (7-7)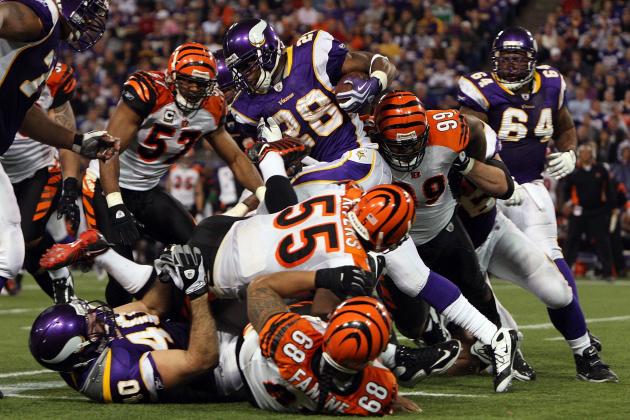 Jim McIsaac/Getty Images

The Minnesota Vikings and Cincinnati Bengals have not met since 2009 when a guy by the name of Brett Favre led the team to a 30-10 victory.
Oh how the times have changed.
By this point in the season it could be either Christian Ponder or Matt Cassel under center for Minnesota. The offense will still be effective either way because of running back Adrian Peterson. He alone will open up things for budding star tight end Kyle Rudolph and veteran receiver Greg Jennings, not to mention rookie WR Cordarrelle Patterson.
In other words, the Vikings are not the slouches everyone makes them out to be. The good news is this is a home game for Cincinnati with potentially a trip to the postseason on the line. Cincinnati pulls it out late.
PREDICTION: Bengals 27, Vikings 24 (8-7)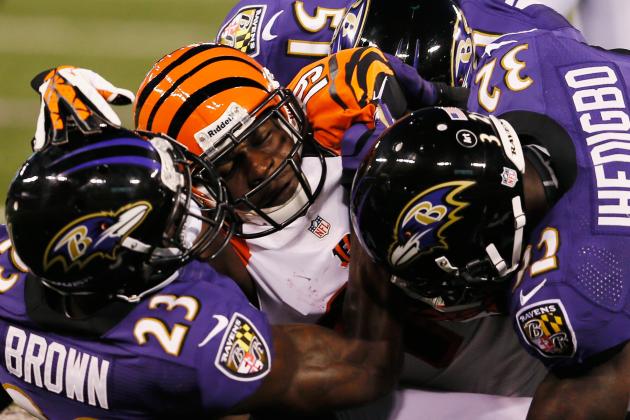 Rob Carr/Getty Images

Well, here it is.
Cincinnati has taken care of business at home against the Ravens in recent years. However, last year does not count, since the Ravens had already secured a playoff spot.
That may not be the case in 2013, so expect Baltimore to come out swinging with everything it has.
In reality the matchup will come down to the defense. Rookie linebacker Arthur Brown has had all season to learn, and corner Lardarius Webb should be in top form against A.J. Green.
The case for Cincinnati is the hope that rookies like Giovani Bernard and Tyler Eifert will be fully in the swing of things, but the Baltimore defense can and will be overwhelming with Haloti Ngata leading the way.
Last year we saw Joe Flacco catch fire when it mattered most. Andy Dalton has that potential as well. Which one will emerge in a defensive matchup with a potential playoff spot on the line? Your money should be with the more experienced player.
PREDICTION: Ravens 31, Bengals 28 (8-8)
Follow B/R's Chris Roling on Twitter for more news and analysis @Chris_Roling