Carmelo Anthony, welcome to the rest of your NBA career.
Leading into next season, 'Melo will be waging a battle he has spent an entire decade trying to avoid, the kind of struggle that impacts his legacy more than any campaign before it.
The last 10 years have been split between the Denver Nuggets, the team that drafted him, and the New York Knicks, the organization he willed his way toward, fighting to sidestep this very moment, this career-defining corner he has painted himself into.
Despite clinching more playoff berths than LeBron James, Dwyane Wade, Chris Bosh and everyone else from the storied 2003 draft class, 'Melo is still without a ring. Those fingers of his remain noticeably barren.
Still, 'Melo has been able to secure superstar status. Until now, his individual accolades have allowed him to scrape by. But no more.
His six All-Star selections and lone scoring title won't be enough to save him when his reputation comes under siege. Anthony has now reached that point, if he hadn't already.
"It's a big year," he said of next season, according to ESPN New York's Jeff Goodman. "A huge upcoming season for me, as a team and as an organization."
Huge doesn't even begin to describe it—the unparalleled significance next season holds and the ramifications any potential outcome stands to spawn.
Why Exactly Its So Big
Those Ringy-Looking Things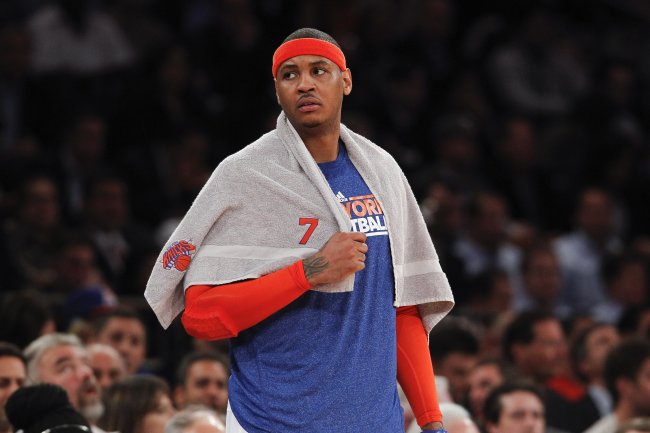 Jeff Zelevansky/Getty Images
Anthony, as previously mentioned, is no stranger to postseason play.
Since entering the league in 2003, his team has never failed to miss the playoffs. His 10 postseason appearances are more than Wade (nine), LeBron (eight) and Bosh (five).
Which means next to nothing so long as he is without a ring.
Though Anthony has carried his team to the postseason in each of the last 10 years, he ranks just 43rd among active players in contests played during that same span.
Lesser players routinely fasten themselves to the coattails of superstar teammates, however, bolstering their total, and therefore making such a finish potentially misleading (looking at you James Jones). In the interest of fairness, then, we would be better served taking a look at the postseason excursions of the NBA's top 10 luminaries, or as they should henceforth be known, 'Melo's people.
Players are charted below in reverse order of their standing within the league. All rankings were taken from the most recent evaluation of the Association's top 20 superstars penned by Bleacher Report's own Adam Fromal.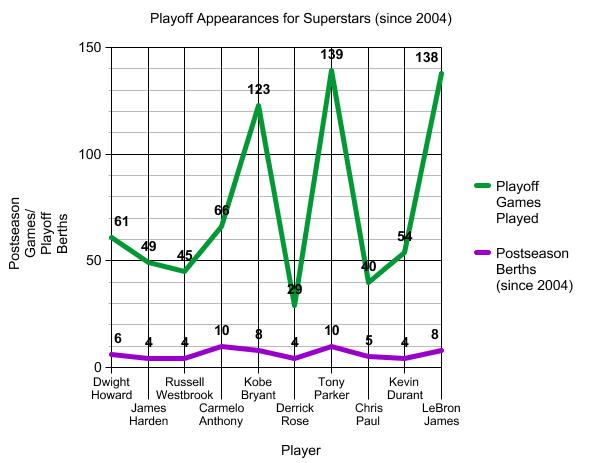 This should strike you as alarming. Anthony has appeared in the fourth-most playoff games of the 10 players listed, but he's tied for the most postseason berths since 2004.
Of the three players in front of 'Melo (Kobe Bryant, Tony Parker and LeBron), two have been to the playoffs fewer times (Kobe and LeBron) than he has. And of the six behind him, only one has made more than half as many postseason jaunts as him (Dwight Howard).
Things get dicier when you look at the average number of games each player's postseason expeditions have lasted.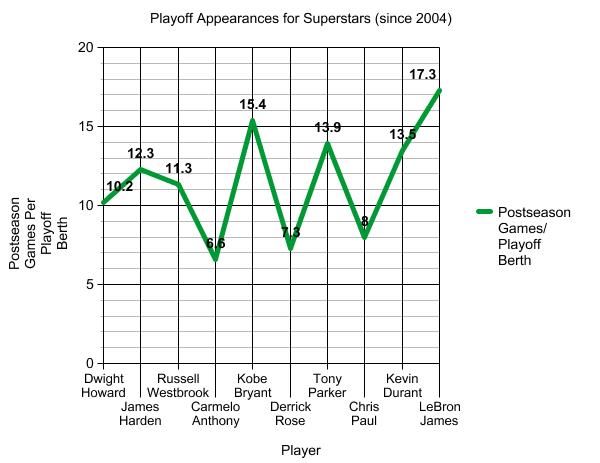 On average, Anthony has notched 6.6 games per playoff appearance, the fewest of all the superstars we see here. Meanwhile, Kevin Durant (13.5), Parker (13.9) and Kobe(15.4) have more than doubled that mark while LeBron (17.3) has nearly tripled it.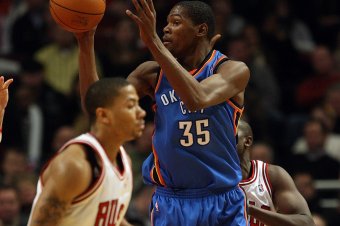 Jonathan Daniel/Getty Images
When you find yourself wondering why 'Melo's 10 straight postseason bills are no longer able to withstand the disdain of those demanding championships, look to those numbers. That's why.
Not everything has to do with the absence of a ring. All of it is an indictment on how little playoff success Anthony has had in general.
Anthony apologists are quick to point out that Chris Paul still doesn't have a title, which is true. But his playoff junkets have typically lasted longer than 'Melo's, making said defense erroneous. Such is the risk you run when you make it out of the second round twice in 10 tries.
Pressure is on 'Melo in NY.
There are no more excuses. Anthony is scrutinized by association. Superstars must all be held to the same standard, and as a member of the league's brat pack, 'Melo is no different.
He hasn't been able to deliver like LeBron or Parker in the postseason. Or even Derrick Rose or Durant, players who don't have as much experience as him. And a decade deep into his title-less trek, he knows it.
"My window is closing,'' Anthony told attendees of his Queens College camp, as quoted by the New York Post's Marc Berman. "I'm trying to bring a championship to New York ASAP.''

Time is no longer on 'Melo's side. He has to win. It's now or soon, or nothing.
But is it win in New York or bust as well?
Summer of 2014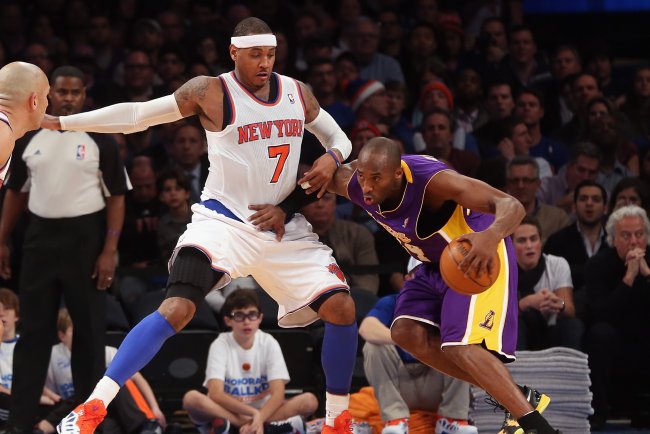 Bruce Bennett/Getty Images
It's not all championship rings and empty trophy cases for Anthony next season. There's more at stake, like his team colors.
Comments offered pertaining to his "window" are liable to be blown out of proportion. More than anything, his sentiments were about his biological clock.
Half his career is most certainly gone, probably more. "Maybe next season," isn't a mantra he can afford to live by. His "window" of opportunity in general, not just in New York, is closing.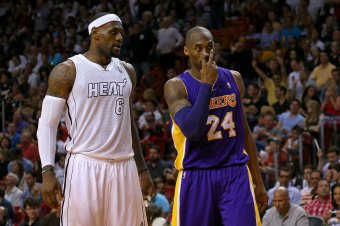 Mike Ehrmann/Getty Images
That doesn't mean he won't abandon the Knicks, though. He can opt out of the final year of his contract next summer, at which point he can join free-agency ranks that will (likely) include LeBron, Kobe, Wade and a smorgasbord of other dignitaries.
To that end, Anthony hasn't ruled anything out.
"As far as ruling anything out, I haven't thought about anything beyond today,'' Anthony said, per Berman. "My mind is not thinking about next offseason right now."

Inevitably it will be, if it hasn't already.
Rumors of his desire to flee New York and join Kobe, and possibly LeBron, with the Los Angeles Lakers have already started to gain traction. And if you're the Knicks you have to be worried.
Stephen A. says it's 50-50 Carmelo Anthony leaves New York next year and it's 50-50 he comes to the Lakers.

— Arash Markazi (@ArashMarkazi) July 8, 2013
One more premature playoff exit and Anthony may resign to piggybacking off someone else's legacy. Brow-beaten from his fruitless endeavors in the Concrete Jungle and Mile High City, he could ditch everything he has now for the chance to procure a ring.
Promising him ALL the star free agents in 2015 won't mean much either if the Knicks can't emerge as some semblance of a championship contender next year. James Dolan can wax poetic all he likes, but the Knicks promised 'Melo he'd be joining a superteam in 2011. Look how that turned out.
Los Angeles is a real possibility.
Amar'e Stoudemire is a shell of the player he was when New York signed him in 2010, and the Knicks eighty-sixed the Chris Paul blueprint laid in front of them following one swift wedding toast in favor of the immediate security Tyson Chandler was supposed to provide.
Three early playoff exits later, 'Melo is right back where he started as the only legitimate star on what many consider a championship poser.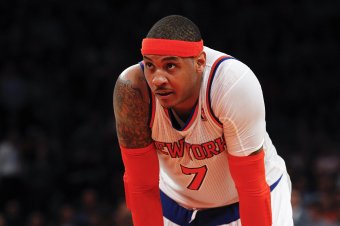 Jeff Zelevansky/Getty Images
Not only that, he's also been forced to watch as the Miami Heat have won two straight titles, the cash-strapped Brooklyn Nets added Paul Pierce and Kevin Garnett, the Chicago Bulls prepare for Rose's return and the Indiana Pacers assemble a bench.
New York has responded with a series of moves all its own, acquisitions 'Melo himself supported. Bringing in Andrea Bargnani, Metta World Peace and Beno Udrih made the Knicks better. For their sake, hopefully a lot better.
Because just as 'Melo's time to win is waning, his patience has to be wearing thin. He apparently expected the Knicks to make a play for Rajon Rondo, a desperately hopeless infatuation clearly fueled by his need to win. There's also no doubt in my mind he's aware of and intrigued by reports suggesting LeBron would be open to joining him in New York come 2015.
Stephen A Smith, on ESPN radio, says Lebron has "let work seep out" that he will "strongly consider" signing w/ #Knicks as a FA in 2 years

— Tommy Beer (@TommyBeer) July 30, 2013
Whimsical wants, however, like Anthony's playoff berths, are no longer enough. Pipe dreams and resplendent promises won't make any forthcoming decisions for him. How far away the Knicks are from giving 'Melo what his legacy needs to survive will.
Ramifications Abound
If 'Melo Leaves New York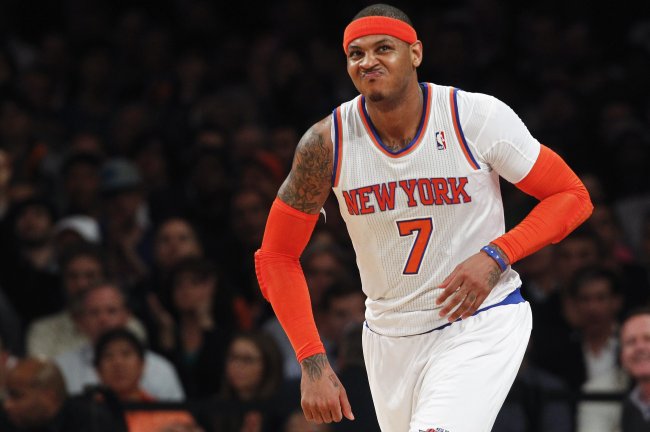 Jeff Zelevansky/Getty Images
Let's make this clear: If the Knicks win a championship next season, 'Melo isn't going anywhere. He'll still opt out, but instead of exploring his options, he will sign a new deal.
Let's also make this clear: There is no championship to be won in New York next season.
Although I welcome the opportunity to be proven wrong, strides taken by various teams in the East, the Heat still being the Heat and the Western Conference being as prolific as it is, point to the Knicks being in over their heads.
Proclivities trending toward the Knicks being superior to the aggregates they would need to leapfrog en route to a championship are idealizing an imperfect situation. This is coming from someone who projects the Knicks to win their division.
Finishing atop the Atlantic, ahead of the Nets, won't guarantee anything. Only a championship will eliminate any possibility of 'Melo leaving. If you can't relate to my opening statement, then you at least need to agree the odds are stacked against them, just like they are all teams. With 29 other franchises chasing the same piece of hardware, there is no such thing as a championship lock.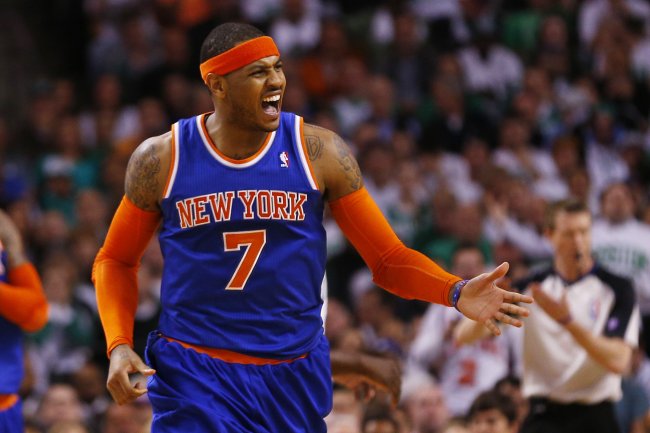 Jim Rogash/Getty Images
Assuming, then, that the Knicks don't win the title, 'Melo could leave, thereby admitting he's done trying to build his own legacy. Liken this to LeBron's decision in 2010. Hightailing it to South Beach wasn't his way of quitting on his ultimate goal, it was him acknowledging he needed more help than the Cleveland Cavaliers could give him.
Anthony would be doing the same thing by choosing to leave the Knicks next summer, only his would be a decision that incurs more flack than LeBron's initial escapade.
Think of what would happen if LeBron never won a championship in Miami and then left. Imagine how tainted his legacy would be. That's what 'Melo would be up against.
How far must the Knicks go to ensure Anthony re-signs in 2014?
Differences exist in that LeBron left Cleveland via free agency and 'Melo left Denver through a trade demand, but they're essentially the same circumstances. It doesn't matter how much better the Heat's Big Three is compared to the Knicks', nor does it matter how many wrenches (injuries) have been thrown in New York's plans.
LeBron and 'Melo sought refuge where they are now for the same reasons. The exact same reasons. Hotfooting their way out before making good on the pact their arrivals made would smear their legacies forever.
Two championships later, LeBron isn't facing such pressure. Even if he leaves Miami in 2014, his legacy won't be marred by the absence of a title and series of callous decisions. He'll be a ring chaser...with rings.
As for 'Melo, leaving New York would subject him to similar criticism, sans the fittings necessary to successfully fend it off.
If Anthony Stays in New York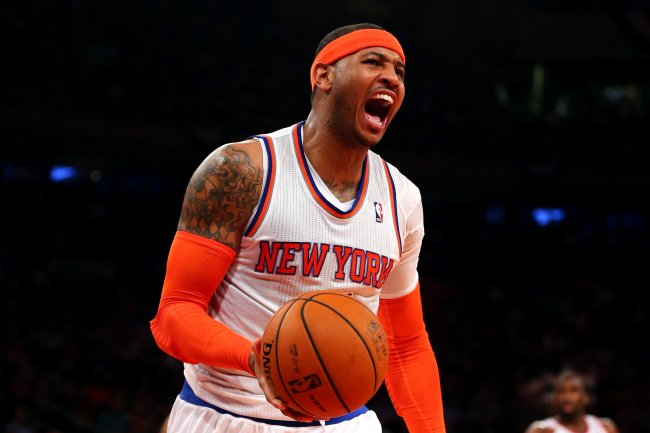 Elsa/Getty Images
The prevailing thought in New York is that 'Melo isn't going anywhere.
Why would he? He forced his way to the Knicks, he is the face of a famed franchise and gets to play for his "home." Knowing if he left his legacy would be tarnished by his unfulfilled championship greed, self-preserving logic mandates he remain right where he is. Staying put is the safer play.
But it's not without its perils.
Re-signing or opting in with the Knicks means 1) they gave 'Melo his ring, 2) he's banking on LeBron finding his way to the Big Apple in 2015, 3) New York traded for another star, 4) he's so loyal he doesn't care or 5) all of the above.
More likely than not, the first one won't apply (again, the odds). Holding out hope that LeBron does what he didn't in 2010 and signs with the Knicks in 2015 only becomes feasible if he himself opts into the fifth year of his current deal.
"LeBron has let a couple of people know… he may consider the NY Knicks a stronger possibility than any of us have ever imagined" - Stephen A

— Tommy Beer (@TommyBeer) July 30, 2013
SAS was suggesting that LeBron might not opt next summer b/c D Wade & Pat Riley may retire after 2014-15 season...

— Tommy Beer (@TommyBeer) July 30, 2013
Barring the unimaginable, the Knicks aren't trading for a true star sidekick (sorry, Rondo). Concluding that he's so loyal he doesn't care or bleeds blind faith is the more probable scenario.
At first glance, that doesn't seem so bad. Committing himself to a team that didn't win a title when he could have left for one that did—now that's chivalrous.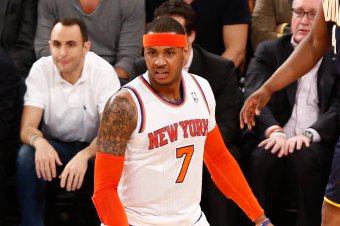 USA TODAY Sports
And potentially stupid.
Twenty years from now, 'Melo won't be remembered for his allegiance to New York. Not if he closed out his career sans a ring. Titles are the gauge to which all greatness is measured against.
Remaining with the Knicks no matter what shields him from the hateful smog his free-agent treachery would parent, but it doesn't ensure he be remembered as "great." Championships would.
Images can be rebuilt through titles. Were he to leave, but wind up planting his flag in a championship team, bits and pieces of his duplicity will be forgotten. Depending on how many he wins, his past transgressions could be erased entirely, a la LeBron in Miami.
Which team will 'Melo sign with in 2014?
Or he could retire without a single ring no matter where he plays, ruining any chance he has of being enshrined in the same class as LeBron, Kobe and others.
That's what is on the line in 2013-14—this decision, the one that will change the course of his entire career, no matter what. The one that will be made because of how close or far away from collective celebrity the Knicks are.
"When that time comes, I'll deal with that," 'Melo said of his free-agency plans, via Berman. "It's not something I'm thinking about right now.''

Soon enough, he'll have to. Following this season, he must decide if he's comfortable jeopardizing his legacy more than he already has by leaving, or if he's content staying with a team that can either salvage it or leave him on the outside looking in at everything he was ever supposed to be.