What's it like to work with Kobe Bryant? What's it like to interact with one of the greatest and most competitive players in NBA history on a daily basis?
Depends on whom you ask.
Public perception would have it that, as far as personality is concerned, the self-described Black Mamba ranges anywhere between honest and demanding, strong-willed and strong-arming, forgivably bristly and brutally abrasive, selflessly dedicated to winning and selfishly concerned with individual pursuits.
Back in February of 2012, Boston Celtics legend Larry Bird told Grantland's Bill Simmons that of all the players in the NBA today, he'd most want to play with Kobe:
The answer isn't all that surprising when you consider Bird's interpretation of what Bryant brings to the table: the hard work he puts into honing his craft, his desire to win and his toughness.
He implied, though, that sharing a court with Kobe might not be as much "fun" as it would be to join forces with someone like, say, LeBron James.
More importantly, Larry Legend never had the chance to play with Kobe in any capacity. He's never been faced with the day-to-day concerns with which so many of Bryant's former (and current) associates are intimately familiar.
Kobe's peculiarities have always been of particular interest to those curious about what the five-time champion is like on a personal level. They returned to the forefront recently, when Dwight Howard decided to ditch the Los Angeles Lakers to join the Houston Rockets.
Shortly after officially signing with the Rockets, Howard told ESPN's Stephen A. Smith that the two had their disagreements and that it was "very tough" playing with Kobe. However, he insisted that his relationship with Bryant had nothing to do with his flight to Space City and took responsibility for whatever issues he might've had with Kobe's "ball-hogging" habits:
To be sure, Dwight didn't exactly catch Kobe at the most opportune time.
He was on hand for what was clearly one of the most frustrating seasons of the Mamba's illustrious career—on a drama- and injury-plagued Lakers squad that barely sneaked into the playoffs and was summarily swept by the San Antonio Spurs.
Like Howard, Antawn Jamison spent the 2012-13 campaign as a one-year bystander amidst L.A.'s dysfunctional dynamic. Back in March, Jamison described Kobe's awareness of his own "selfish" tendencies—and the subsequent need for his teammates to account for those tendencies—during a rather candid appearance on the Max & Marcellus Show on ESPN Radio 710 in Los Angeles (via ESPN's Dave McMenamin):
Kobe will tell you. He's like, 'Look, you guys as my teammates, yell at me. Let me know that you're open because I'm so programmed,' and this guy has told me this, 'I see nothing but that basket. You could be open, there could be three guys on me, but the only thing I see is that basket so you have to tell me, Look, I was open. Or yell at me mid-play. That doesn't affect me at all and I respect that.'
Jamison also noted how Bryant, while not always the easiest person to deal with, ultimately appreciates it when his teammates are willing to call him on his mistakes:
I think the thing we've seen in the past was most teammates might have been afraid to come to him or express, 'Kob' I was open,' or, 'That's not what we drew up'... The thing I like about this team, Steve Nash -- who is a Hall of Famer -- and Dwight [Howard] as well, Dwight and Kobe have gotten into shouting matches on the bench because Dwight will be like, 'Kob', that's your rotation. Get there.' And after the game he'll be like, 'Appreciate it, big fella. I needed that.'

I come in there and I look at him a certain way, he'll be like, 'OK, Jamison, you're right. My bad.'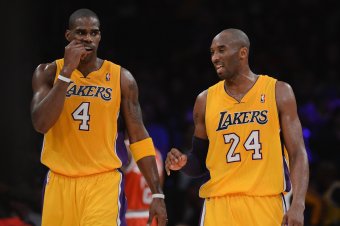 Harry How/Getty Images
That is an integral part of establishing trust with a player whose own prodigious talents, tireless work ethic and supreme self-confidence have led him to wholeheartedly believe, as if by nature, that his team's interests are always best served when the ball is in his hands:
It takes a certain time for him to be able to trust us. I think the thing that he has learned now is that he can trust us.

With 24 seconds on the clock, we're down one, instead of him, 'I got to do this, I got to do this,' he trusts Steve Nash to run the play. Or, he trusts us to throw the ball into Dwight. Or, 'You know what, the double team is coming, normally I might try to force this, but Antawn is open in the corner. I trust him that he'll make that shot.'
As a 15-year veteran with two All-Star appearances and no rings to his credit, Jamison was certainly savvy enough to understand and appreciate those notorious aspects of Bryant's relentless approach to the game:

It's great to be with him. I love a guy who expects so much from his teammates. He pushes his teammates. After games, we're traveling, guys are on their laptops, their iPads, watching movies, listening to music, this guy is watching film. He's breaking down situations. I'll be watching a movie, he'll tap me like, 'Come here.' He'll dissect plays like, 'This is what we got to do, me and you got to get this going.' I mean, this guy eats, sleeps basketball and the only thing he wants to do is to win another championship and I've never seen anybody as focused, as dedicated as Kobe.
It's tough to listen to Jamison's last remarks, though, without flashing back to Andrew Bynum. The often-aloof 7-footer spent seven seasons with Bryant, winning two titles and blossoming into an All-Star amid persistent (and now chronic) knee problems.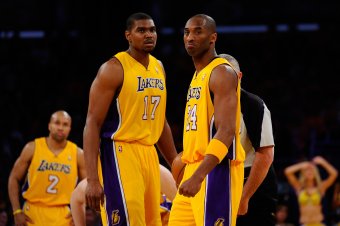 Kevork Djansezian/Getty Images
Bynum's since signed with the Cleveland Cavaliers on an incentive-laden two-year deal after playing nary a minute for the Sixers last season. When asked about Kobe's impact on his game last December, Bynum suggested that Bryant's ball-dominating habits might've curbed his own growth as a player (via Dave McMenamin):
I thought it really helped me a lot obviously at first, because he draws so much attention it's hard for guys to double team and key on you, so it helped me tremendously. Later, I felt I was able to get the ball more and do more things with the ball, so I could definitely see how it could stunt growth.
Perhaps 'Drew also considered how missing 130 games over his final five seasons in L.A. might've limited his development. Who knows how many more on-ball opportunities he would've had were it not for the slow recoveries from kneecap subluxations, torn ACLs and arthritis with the Purple and Gold.
But as far as former teammates go, Bynum is hardly the one with whom Bryant now has the most contentious relationship. That honor likely belongs to Smush Parker, who's been all over the map with his opinions of Kobe over the years.
Back in 2007, Parker, then Bryant's backcourt partner, characterized Kobe as "a great teammate" whose understanding of Phil Jackson's triangle offense was invaluable to Smush's transition into Lakerdom:
Just two years later, Smush, who'd already fallen out of the NBA, described the experience of playing for the Lakers as "overrated" and blamed Bryant for the problems that plagued the team between 2005 and 2007:
So, when Bryant called Parker "the worst" and a player who "shouldn't have been in the NBA," per Janis Carr of the Orange County Register, when talking about the bad old days last October, Smush naturally fired back. He addressed Kobe's slights during an appearance on Hard 2 Guard Radio shortly thereafter (via Larry Brown Sports):
I'm lost for words. It makes me blush. For my name to still come out of that man's mouth? It makes me blush.

The two years in LA were a blessing to me. People who ask me how it was playing for the Los Angeles Lakers. People ask me how it was playing with Kobe Bryant. I said in 2008 that it was an overrated experience.

You can't knock the man's legacy, you can't knock what he's done in basketball. His work ethic is tremendous. There's not an ounce of hate in my blood whatsoever. The guy can play basketball — you've seen that throughout his career.
Of course, as soon as Smush was done praising Bryant's contributions to the game, he went about badmouthing the way Kobe treated him:
What I don't like about him is the man that he is. His personality. How he treats people. I don't like that side of Kobe Bryant.

Basketball is a team sport. It is team-oriented. It is not an individual sport. It's not tennis or golf, it is a team sport. When you are the star of the team, you have to make your teammates feel comfortable. You have to make them feel welcome. And he did not do that at all.

Lisa Blumenfeld/Getty Images

I had a workout with the Lakers, beat all the guards out for the starting position, earned a spot on the team. Midway through the first season, I tried to at least have a conversation with Kobe Bryant — he is my teammate, he is a co-worker of mine, I see his face every day I go in to work — and I tried to talk with him about football. He tells me I can't talk to him. He tells me I need more accolades under my belt before I come talk to him. He was dead serious.
Parker also didn't take kindly to the way Bryant separated himself from his teammates: "On road trips, he traveled with his security guards. Those were the guys he talked to. On the team plane, he sat in the back of the plane by himself."
To the point where Parker felt the need to rebel against Bryant's "Reign of Terror":
The reason I wasn't a Laker after my second year is because I didn't bow down to [Kobe]. I didn't kiss his a–. I wasn't kissing his feet. Quite frankly, towards the end of the second season, I stopped passing him the ball. I stopped giving him the ball. I started looking him off.
As you might expect, Kobe brushed off Smush's response like Jay-Z would the dirt off his own shoulder.
It's not all that surprising, though, that among all of the public relationships that Kobe has cultivated over the years, his relationship with Smush ranks as arguably the prickliest. Those post-Shaquille O'Neal years weren't kind to the Lakers, who missed the playoffs in 2005, while Bryant lost out on league MVP honors to Steve Nash (twice) and Dirk Nowitzki in the midst of his own prime.
At that point, the frustration of losing, both individually and with his team (combined with Shaq earning a fourth ring with the Miami Heat), likely left the Mamba at his all-time moodiest. He'd yet to prove that he could win without O'Neal's help, and the Lakers hardly had the assets back then to bring Kobe within striking distance of title contention.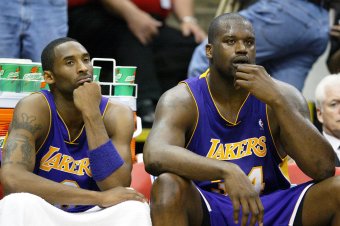 Jed Jacobsohn/Getty Images
Once upon a time, Shaq would've had some unsavory things to say about Kobe. But nearly a decade apart from Bryant appears to have put a thaw in the icy relationship.
And, unlike Parker, The Big Diesel A) was an all-time great, like Kobe, and B) won three championships with Bryant by his side. O'Neal spoke glowingly of his relationship with Kobe prior to his jersey retirement in LA this past April, per Melissa Rohlin of the Los Angeles Times:
There's two different types of dislike: there's an athletic dislike and a real dislike. We never had a real dislike. Every time I see his lovely wife and his beautiful children, I always go to his children and say, 'Hello babies, I'm uncle Shaq.'

We haven't played since 2004 -- nine, 10 years later -- and you're still talking about the so-called beef we had? ... I know you all have brothers and sisters, I know you all have disagreements and arguments, but you still love them. He's my teammate, he's my brother. I'm proud to call him both.
Likewise, Pau Gasol, who'd followed Kobe's lead to back-to-back titles in 2009 and 2010, had only the highest praise for his Spanish-speaking companion after Bryant tore his Achilles toward the end of last season, per ESPN Los Angeles' Dave McMenamin:
It's hard for me to see him like that. He doesn't deserve it. ... I hate that it happened to him. He works so hard. He's the most dedicated guy that I ever met, and he had the courage and the strength to talk to (the media). I don't know if I could have done it. So, again that's very remarkable.
Not that Pau would ever be expected to speak ill of the fallen or that he'd take anything other than the high road with Bryant, even in light of Kobe's (shall we say) less-than-full-throated support of Gasol during the previous year-and-a-half or so.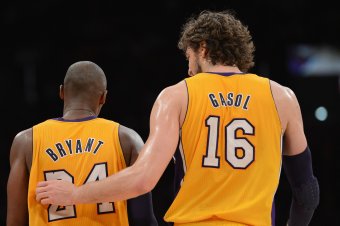 Harry How/Getty Images
On the whole, then, Kobe's clearly not the nicest, friendliest or cuddliest guy in a locker room—even less so when things aren't going swimmingly in Lakerland. But the man has helped dozens of players get a taste of what it's like to play for keeps across his seven trips to the NBA Finals.
If you're competing at the highest level the sport has to offer, isn't that what matters most? Maybe Larry Bird was on to something after all.