Power Ranking Kansas City Chiefs' 2013 Schedule from Easiest to Hardest Games
Image created by Brett Gering
Denny Medley-USA TODAY Sports
The 2013 Kansas City Chiefs schedule is teeming with buzz-worthy headlines and pregame hype.
Chiefs fans couldn't have asked for a more compelling trio of games to launch the 2013 season.
Kansas City's Alex Smith-led offense debuts against a (presumably) fragile Jacksonville Jaguars defense.
Week 2's home opener versus the Dallas Cowboys marks Brandon Carr's return to Arrowhead Stadium.
And four days later, Chiefs head coach Andy Reid visits his former stomping ground, as Kansas City clashes with the Philadelphia Eagles on Thursday Night Football.
But which opponents pose the biggest threats to the new-look Chiefs?
16. Week 1: At Jacksonville Jaguars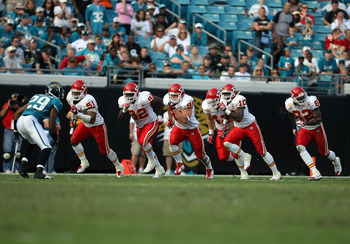 Doug Benc/Getty Images
In 2012, the Jacksonville Jaguars were the Chiefs' bunkmates—both teams shared equally abysmal 2-14 records. Kansas City received a (patronizing) consolation prize: It became the first team in league history to spawn six Pro Bowlers without netting at least six wins. Jacksonville, on the other hand, wasn't represented in the vapid exhibition.
Pro Bowl nominations are far from the end-all, be-all when critiquing teams—one glimpse at the Chiefs' 2012 record confirms that. But although Kansas City sank to the NFL's abyss, its roster clearly included its share of bright spots. And this offseason's top-down makeover has improved the areas of need.
The same can't be said for the Jaguars. Jacksonville's 30th-ranked defense has been gutted via free agency, and the replacements will presumably offer no improvement.
This opening-day softball should help Kansas City's offense file any rough edges and establish a sense of rhythm.
15. Week 6: Vs. Oakland Raiders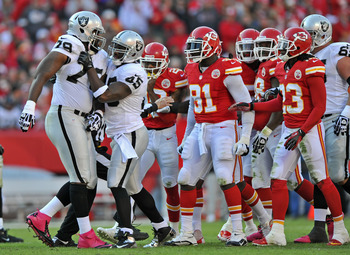 Peter Aiken/Getty Images
Unfruitful draft picks and questionable transactions have taken their toll on the Raiders organization.
In order to reduce the swelling to a bloated salary cap, Oakland has overhauled its roster and parted ways with a pack of familiar faces. According to Ourlads.com, the Raiders defense currently projects to start nine offseason additions.
The offense is riddled with question marks. The often-injured Darren McFadden regressed to a shell of himself, averaging a career-low 3.3 yards per carry in 2012.
Matt Flynn replaces Carson Palmer at quarterback. And while Flynn has shined during his limited playing time, he has yet to eclipse the century mark in career completions (87).
Denarius Moore and Jacoby Ford present two outside threats, but their productivity will largely depend on the efficiency of Flynn. And if McFadden doesn't return to pre-2012 form, defenses will have little reason to respect the run and bite on play-action. If that becomes a reality, it will inhibit Oakland's vertical passing game—on paper, its best asset.
Sometimes, it's necessary to take one step back before taking two steps forward. This offseason, the Raiders roster has lost more than it has gained, and the franchise finds itself in a transitional stage.
The Chiefs endured that onerous phase in 2012, but they appear to be veering back on the road to success. And a rebuilding Raiders squad attempting to win inside of a defibrillated Arrowhead is akin to reciting poetry in a war zone.
14. Week 5: At Tennessee Titans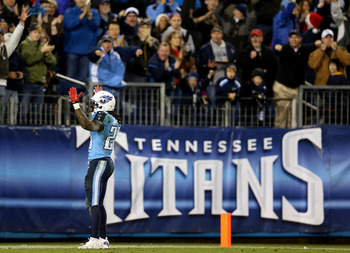 Andy Lyons/Getty Images
The Tennessee Titans finished 2012 with the No. 26 offense and No. 27 defense.
Quarterback Jake Locker posted 10 touchdowns to 11 interceptions last season, and he no longer has Matt Hasselback's wealth of wisdom at his disposal.
Chris Johnson remains a viable home-run threat, but he still hasn't resembled the 2,000-yard rusher of 2009.
Receivers Kenny Britt and Kendall Wright are capable of abusing secondaries. But their development could be stunted if Locker—who only completed 56.8 percent of his attempts last year—doesn't evolve into a more efficient passer.
Chiefs defensive coordinator Bob Sutton likes to blitz from a variety of angles, and that tends to create headaches for relatively inexperienced quarterbacks like Locker.
13. Week 15: At Oakland Raiders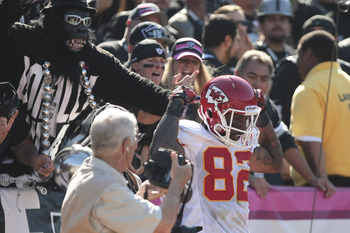 Kelley L Cox-USA TODAY Sports
Dasanis and aspirin bottles are handed to Oakland players as parting gifts from Arrowhead; the same holds true for Kansas City stars while exiting Oakland Coliseum.
Records litter out of bus windows at the first sighting of red or black in the two respective parking lots.
Thus far, both clubs have undergone major renovations in the offseason. But any transitional kinks should be worked out by Week 15. And Kansas City's roster beams with more potential than its Oakland counterpart.
Oakland Coliseum is nothing if not hostile. But the Chiefs' two front-page acquisitions, Andy Reid and Alex Smith, are far from rookies in handling adversity.
12. Week 8: Vs. Cleveland Browns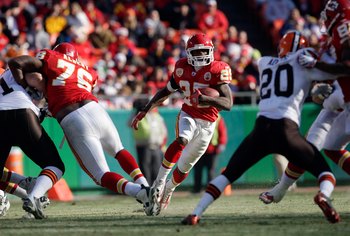 Jamie Squire/Getty Images
The AFC North seems to produce at least two—if not three—playoff contenders every season. With the recent emergence of the Cincinnati Bengals, the Baltimore Ravens and Pittsburgh Steelers have been forced to fend off a third party.
The Cleveland Browns are on the brink of making the same jump Cincinnati enjoyed a few seasons ago.
Running back Trent Richardson and receiver Josh Gordon lend firepower to an offense that sorely lacked it in past seasons.
Defensively, Joe Haden has cemented himself among the top young cornerbacks in the NFL. And the Browns added insurance with the offseason signings of Desmond Bryant and Paul Kruger.
But ultimately, Cleveland's resurgence falls on the shoulders of quarterback Brandon Weeden. The 29-year-old heads into his second season in the league, and his inexperience may eventually lead to the Browns' downfall.
11. Week 12: Vs. San Diego Chargers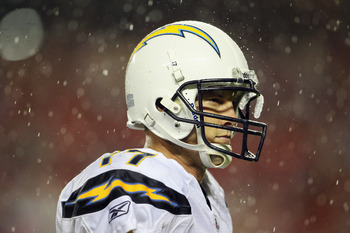 Jamie Squire/Getty Images
San Diego boasts a stout defense. However, the same can't be said about the offense with any degree of certainty.
New head coach Mike McCoy is tasked with gluing Philip Rivers back together again.
Rivers has, at times, looked like an on-field surgeon against the Chiefs. Conversely, a few of his career's lowest moments unfolded with Arrowhead serving as the backdrop.
The effectiveness of running back Ryan Mathews fluctuates, as does his availability.
San Diego's receiving corps welcomes back Vincent Brown—a budding prospect who missed 2012 due to a broken ankle. But Malcom Floyd and Danario Alexander aren't going to keep defensive coordinators up at night. And Antonio Gates, while still a threat, isn't the oppressive tight end of five years ago.
10. Week 9: At Buffalo Bills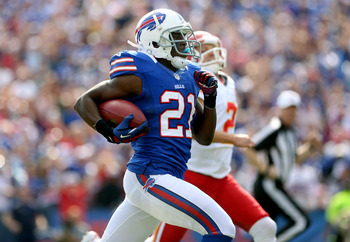 Tom Szczerbowski/Getty Images
For reasons unbeknownst to outsiders, the Buffalo Bills always seem to have the Chiefs' number. And for good reason: Kansas City has fallen to Buffalo in five of their last six contests (via MRNFL.com).
Much like the aforementioned Cleveland Browns, the Bills roster appears to encompass every key component outside of a reliable passer.
But for once, Kansas City may have history on its side.
Buffalo's new play-caller, Kevin Kolb, became a hot commodity under the guidance of Andy Reid—Kolb's first head coach. And Kansas City's incoming quarterback, Alex Smith, methodically passed for 303 yards and three touchdowns versus Buffalo last season.
9. Week 17: At San Diego Chargers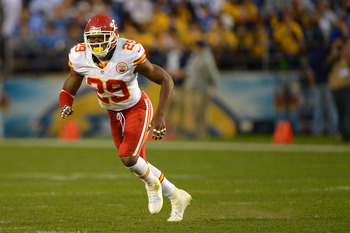 Jake Roth-USA TODAY Sports
Philip Rivers torched Chiefs safety Eric Berry in the teams' first meet-and-greet of 2012. However, a healthier Berry—recovering from 2011's ACL tear—took the field in the second matchup, recording eight tackles and a touchdown-negating interception. If he minimizes Antonio Gates' contribution, the defense should keep the Chiefs within striking range.
San Diego's front seven is uncompromising against the run. And ball hawk Eric Weddle, arguably the game's top safety, offers vertical protection.
If Kansas City notches a road win, it will be through the efficient passing of Alex Smith. And a hefty chunk of that efficient passing will spiral into the hands of Dwayne Bowe and Donnie Avery.
8. Week 2: Vs. Dallas Cowboys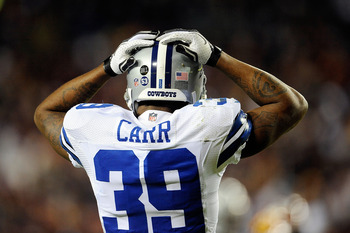 Patrick McDermott/Getty Images
Cornerback Brandon Carr will roam the opposing sideline for the first time at Arrowhead Stadium.
Dallas' depth chart varies with blinding bright spots and glaring holes.
The receiving corps overflows with talent, while the backfield is relatively devoid of it. The defense is sturdy on the edges but seemingly soft on the interior.
Tony Romo is responsible for more scratched heads than dandruff. He's the quintessential wild card who can make Cowboys fans cry just as quickly as he makes them cheer.
Having spent 14 years in the NFC East, Andy Reid is no stranger to squaring off against Dallas. If Kansas City reigns victorious, it will likely stem from a strong showing by Jamaal Charles, as well as the tight ends and slot receivers.
7. Week 16: Vs. Indianapolis Colts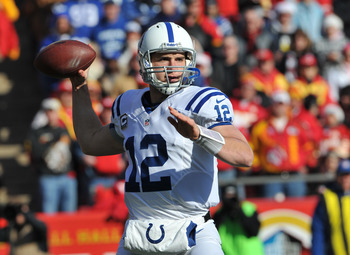 Peter Aiken/Getty Images
Andrew Luck's rookie campaign, like virtually all highly touted quarterbacks, proved to be a polarizing roller-coaster ride.
He suffered his share of lumps along the way: He only completed 54.1 percent of his passes—18 of which ended in interceptions—and 10 of his 41 sacks resulted in fumbles.
But if his right arm launched any more long-distance rockets, a bust of it would be hanging at NASA headquarters.
Luck's best outing didn't occur inside of Arrowhead: He completed less than half of his passes for a paltry 203 yards. But he not only authored the game-winning touchdown, Luck also shattered the single-season passing record for rookies (via Yahoo!).
And this offseason, Indianapolis added an extra weapon to its aerial arsenal by signing "Downfield" Darrius Heyward-Bey.
But a multitude of concerns still plague the other side of the ball. And that list of concerns is headlined by a flimsy run defense.
Last year, Jamaal Charles mounted a 226-yard ground assault at the expense of the Colts defense. And if he directs a sequel next season, a last-minute, game-winning touchdown won't be in the cards for Luck.
6. Week 4: Vs. New York Giants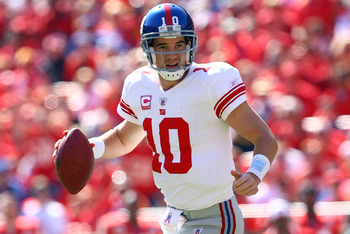 Jamie Squire/Getty Images
Regardless of who starts as Kansas City's offensive tackles, the pair will face an early test in Week 4. The rotation of Jason Pierre-Paul, Justin Tuck and Mathias Kiwanuka will put Alex Smith's mobility on display early and often.
But if Kansas City finds a way to keep edge-rushers at bay, Smith will exploit a frail Giants secondary.
New York's passing game will continue to flourish if Eli Manning, Hakeem Nicks and Victor Cruz manage to stay healthy. However, with Ahmad Bradshaw still drifting in the free-agent pool, the Giants backfield is extremely anemic.
If that remains the case, the Chiefs will continually enlist the help of nickelbacks to burden Manning.
5. Week 14: At Washington Redskins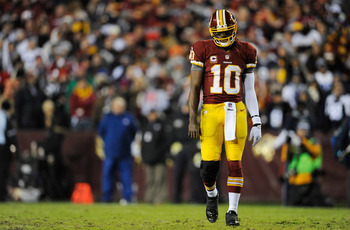 Patrick McDermott/Getty Images
Robert Griffin presents a myriad of problems for defensive coordinators. He flings pinpoint passes, flaunts elusive track speed and rarely turns the ball over.
In Week 14, Tamba Hali and Justin Houston will play critical roles in deciding Kansas City's fate.
But Washington's defense can be gashed for points in a variety of ways. The Redskins allowed 4.2 yards per carry and represented the league's 30th-ranked pass defense in 2012.
Controlling the time of possession and confining Griffin to the sideline could notch a road win for the Chiefs.
4. Week 3: At Philadelphia Eagles (Thursday Night Football)
Jamie Squire/Getty Images
One of the most anticipated matchups will play out in Week 3, as Andy Reid goes head-to-head with his first love. And Thursday Night Football's prime-time platform only douses gasoline on the old flames.
From competitive standpoint, the game offers two intriguing side stories that could become determining factors.
Andy Reid knows the ins and outs of every Philadelphia veteran's game like the directions to Geno's Steaks. Eagles players are currently touting Chip Kelly's offense as lightning in a 5 Hour Energy bottle. But Reid will be able to sample a two-week preview beforehand, and he knows how to exploit each player's weakness(es).
However, due to traveling, Reid's staff will only have two full days to prepare. And the unforgiving turnaround will also limit the amount of practices.
If the Chiefs head coach exacts revenge, Michael Vick will likely absorb the brunt of the blame.
3. Week 13: Vs. Denver Broncos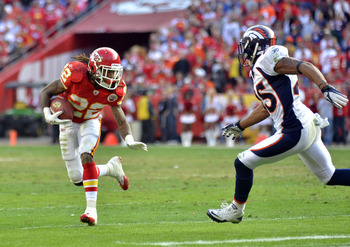 Denny Medley-USA TODAY Sports
There's no doubt that Denver remains the cream of the AFC West crop.
Peyton Manning racked up 4,659 yards through the air in 2012. And now Wes Welker is at his disposal.
The Broncos only suffered one significant loss to free agency: defensive end Elvis Dumervil. And the organization may minimize the damage by drafting his replacement on Thursday evening.
But while last season's 13-3 squad remains largely intact, that doesn't necessarily clinch a win for them at Arrowhead.
Last year, Manning's third-lowest single-game quarterback rating materialized in Kansas City. The living legend completed less than 60 percent of his passes (59.5), lobbed one interception and fell victim to two sacks (via NFL.com).
In the end, he was able to squeak out a 17-9 victory due to a stagnant Chiefs offense.
2. Week 7: Vs. Houston Texans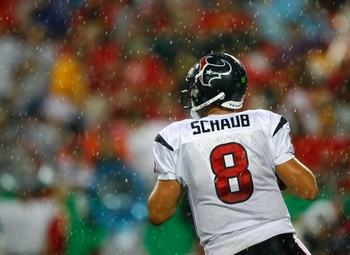 Dilip Vishwanat/Getty Images
The Houston Texans epitomize balance.
The tantalizing triad of Matt Schaub, Arian Foster and Andre Johnson unleash offensive blitzkriegs. Last season, Schaub slung 4,008 passing yards, Foster churned out 1,424 yards on the ground, and Johnson finished with 1,598 receiving yards.
The defensive roster outlines its own balanced diet of playmakers.
Houston's dynamic 3-4 returns the reigning Defensive Player of the Year in J.J. Watt. Regardless of whom the Chiefs (presumably) draft at left tackle, his most grueling test falls on Week 7.
Middle linebacking madman—and former Defensive Rookie of the Year—Brian Cushing enters 2013 on the heels of a torn ACL. When healthy, Cushing storms the field as one of the top three inside linebackers in the NFL.
In his recent breakdown of the league's top 100 cornerbacks, Bleacher Report's Matt Miller ranks Johnathan Joseph No. 25 and Kareem Jackson No. 14. And to secure the back end, the Texans signed (arguably) the most opportunistic ball hawk in league history, Ed Reed.
If the injury bug doesn't feast on their roster, the Houston Texans could secure the AFC's top overall seed in the playoffs.
1. Week 11: At Denver Broncos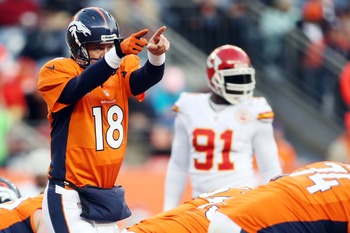 USA TODAY Sports
For defensive coordinators, one of two things will occur when traveling to Mile High: The thin air will leave them light-headed, or Peyton Manning will induce a pounding headache.
Regardless, at least one person in the press box will be rubbing their temples by halftime.
Denver concluded the 2012 regular season with a 7-1 home record—a six-point loss to Houston serving as the sole blemish. And the final pre-postseason scoreboard flaunted a 38-3 routing of Kansas City.
Week 11 will present the most demanding challenge for the Chiefs defense. Kansas City will benefit from its Week 10 bye, and Bob Sutton will spend that week devising a blueprint to frustrate Manning. Fans can expect to see Eric Berry utilized in a variety of ways, and a blind-side nickelback blitz could be on the menu.
But if there is one fact that is continuously overlooked, it's that Denver hosted the No. 2 defense in the league last season.
And the Mile High crowd is sure to be fully engaged. Kansas City will face four of its weakest opponents—Tennessee, Oakland, Cleveland and Buffalo—in a five-game stretch prior to Week 11. In other words, the Chiefs could head into Week 11 riding a wave of success.
If Alex Smith can overcome a raucous crowd and humble the AFC West title-holders, the scoreboard will make a resounding statement: the Kansas City Chiefs are back.
Twitter: Follow @BrettGering
Email: gering.brett@gmail.com
Keep Reading

Kansas City Chiefs: Like this team?