2013 New York Giants Schedule: Game-by-Game Predictions, Info & Analysis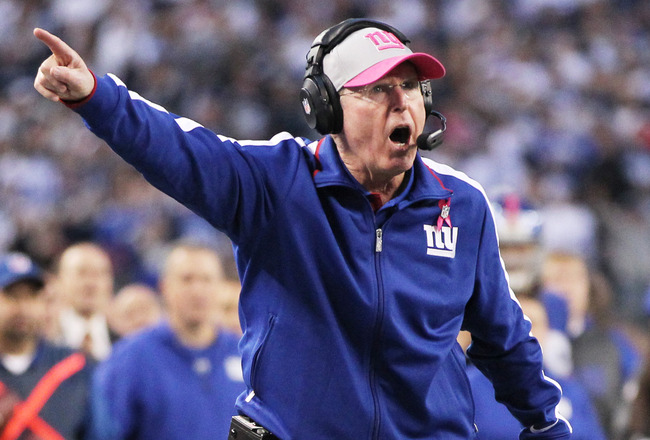 Tim Heitman-USA TODAY Sports
Because there's a formula in place, the New York Giants have known their 13 2013 regular-season opponents for quite a while. But now that the schedule has been announced by the NFL, complete with dates and times, it feels a little more real.
Plus, it gives us a chance to take part in the time-honored tradition of scanning the schedule from week to week while handing out wins and losses.
Here's a complete breakdown of what the G-Men will be dealing with this fall, along with predictions for each week.
Week 1: Giants at Cowboys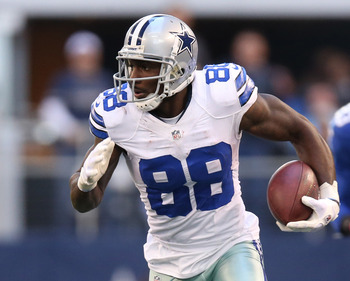 Matthew Emmons-USA TODAY Sports
Kickoff time and network: Sunday, Sept. 8 at 8:30 p.m. ET on NBC
The Giants have beaten the Cowboys in Dallas four years in a row, but by a single score on all four occasions. Every time these two get together in Texas, it's a closely contested shootout that ends in dramatic fashion.
If not for Dez Bryant's finger landing out of bounds on a what should have been a game-winning touchdown catch last October, the G-Men would have been swept in the 2012 season series with Dallas. What's most concerning about that is the Cowboys didn't start playing their best football until after both of those games with New York were done.
Don't expect this matchup to stray from previous ones when it comes to entertainment value, but do expect Dallas to be the favorite. The Cowboys were right there with the Giants despite having more injury problems in 2012, so they could have an edge in 2013
Prediction: Cowboys 35, Giants 34
If the Cowboys lose another nail-biter at home to Big Blue, they're officially snakebitten. I can see this game going either way, but Dallas is due for this.
Week 2: Giants vs. Broncos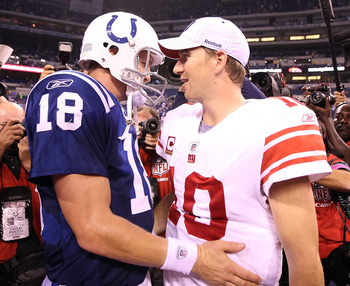 Andy Lyons/Getty Images
Kickoff time and network: Sunday, Sept. 15 at 4:25 p.m. ET on CBS
Unless Eli and Peyton Manning face each other in a Super Bowl, this could be the final edition of the Manning Bowl. So long as the two are in separate conferences, they'll only meet each other once every four years, and in 2017, Peyton will be 41.
I'm not sure how much it matters at this point, but Peyton outplayed his younger bro by a wide margin when they last met in 2010. Since then, Peyton has undergone approximately four surgical procedures, missed a season and changed teams, while Eli has added a second Super Bowl MVP to his résumé.
Despite protests to the league, other men will also compete in this football game. Men named Welker, Thomas, Decker, Miller, Bailey and Clady, whom I believe come together to outshine the best the Giants have to offer.
My point is that the Broncos are the better team, and they were also 6-2 on the road last season.
Prediction: Broncos 27, Giants 20
The Broncos are gonna be real good next year, and the Giants have never been anything more than a nine- or 10-win squad. Even at MetLife, the edge goes to Peyton and Co.
Week 3: Giants at Panthers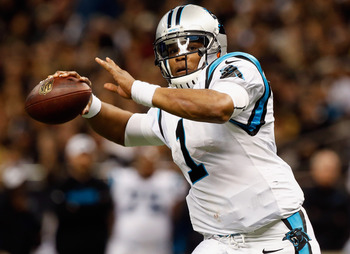 Chris Graythen/Getty Images
Kickoff time and network: Sunday, Sept. 22 at 1 p.m. ET on Fox
Last year in September, the banged-up Giants crushed Carolina 36-7 on the road. It's hard for a team to gain an edge in a more significant way than that.
In the Cam Newton era, though, it's all about timing when you face the Panthers. They lost five of their first six in 2011 and six of their first seven in 2012, but they won four of their last six in 2011 and five of their last six in 2012.
Just because something happened last year doesn't mean it'll happen again, and Carolina is better than that. The Panthers could put up a fight this time around. But this is another early-season matchup.
Prediction: Giants 38, Panthers 10
Good timing here. There's no way the Giants drop to 0-3 under Tom Coughlin.
Week 4: Giants at Chiefs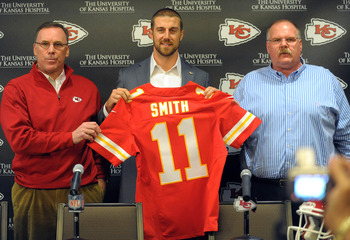 Denny Medley-USA TODAY Sports
Kickoff time and network: Sunday, Sept. 29 at 1 p.m. ET on Fox
Dangerous game, this one. New Chiefs head coach Andy Reid knows a thing or two about beating New York. After all, he's done it eight times in less than five years. The talented Chiefs underachieved in 2012 despite sending six players to the Pro Bowl, and now they'll have Alex Smith and a No. 1 overall draft pick at their disposal.
Kansas City also helped solve its depth problems by adding a slew of talented veteran starters and backups on the open market.
And you don't want to mess with the Chiefs at Arrowhead, man. Since 2001, they're 28 games below .500 overall but are still two games above .500 at home. In 2010, they were 7-1 at home and only 3-5 on the road.
And keep in mind that the Giants lost their final four road games to finish the 2012 season.
Prediction: Giants 27, Chiefs 21
Yeah, I'm still going with New York here. The Giants will have to battle, but I feel like this is the kind of game they win.
Week 5: Giants vs. Eagles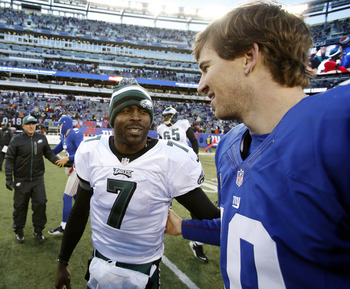 The Star-Ledger-USA TODAY Sports
Kickoff time and network: Sunday, Oct. 6 at 1 p.m. ET on Fox
Fun fact: In the first-ever matchup between the Giants and Eagles, back before iPhones and even YouTube in October of 1933, New York beat Philadelphia 56-0. That set the tone for many, many years of Giant-on-Eagle crime, and things didn't feel a whole lot different when Big Blue smacked Philly 42-7 in the 2012 season finale at MetLife Stadium.
But the Eagles were a mess at that point. Keep in mind that the G-Men lost to the Eagles at home just before heating up for their Super Bowl run in 2011 and dropped their first meeting with Philadelphia in 2012. In fact, before that Week 17 victory last year, the Giants had fallen to Philly in eight of their last nine meetings.
This New York team took some hits in the offseason, while things can only go up for the Eagles. The defense has received a makeover and the offense should be rejuvenated with Chip Kelly on board. If they can get some quality play from the quarterback position, they'll be competitive week in and week out.
Prediction: Giants 24, Eagles 23
I came very close to gambling here and predicting an Eagles victory. This'll be a toss-up, but the Eagles might not be ready for this type of road game amid a tough road trip.
Week 6: Giants at Bears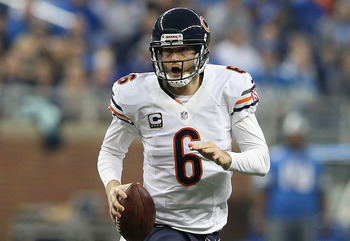 Leon Halip/Getty Images
Kickoff time and network: Thursday, Oct. 10 at 8:25 p.m. ET on NFL Network
The Bears have only gone 5-3 at home in each of the last two seasons, which is good, but not great considering how talented they are. The Giants might have lost four in a row on the road to wrap up 2012, but they've historically been good away from home against quality opponents.
Still, this feisty Chicago defense could present some serious challenges to Eli Manning, especially in the secondary. And on D, the iffy New York front seven will have to step it up against an improved offensive line and a healthy Matt Forte (assuming of course that he's healthy).
This was a matchup that favored the Giants a lot more when they had a top-end pass rush and the Bears couldn't protect Jay Cutler. The jury's out on both of those factors right now. On short rest, they're in trouble here.
Prediction: Bears 27, Giants 17
On top of all of that, the Giants are getting the Bears too early. Chicago lost five of its last six two years ago and five of its last eight in 2012. You want to get these guys late.
Week 7: Giants vs. Vikings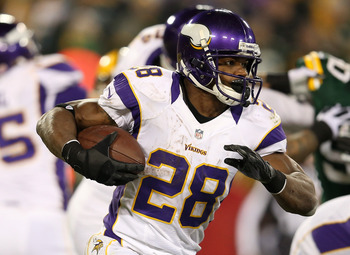 Andy Lyons/Getty Images
Kickoff time and network: Sunday, Oct. 21 at 8:40 p.m. ET on ESPN
This will be the test of the year for a run defense that disappeared far too often in 2012. Regardless of who is starting in the Giants' linebacking corps, they're going to have to at least limit the damage caused by the league's best running back, Adrian Peterson.
The Giants are used to facing top-tier pass-rushers within their own division and Eli Manning is a ninja under pressure, so dealing with Jared Allen and Minnesota's stout defensive front might not be a major issue, and the New York D will appreciate not having to go up against an elite passing offense.
That's why the G-Men still have a clear edge in this game.
But whenever the best player in a matchup is on the other team, it's reason for caution. Don't forget: Minnesota went to the playoffs in 2012. The Giants did not.
Prediction: Giants 28, Vikings 20
The Vikings were only 3-5 away from home in 2012 and probably lack the overall ability to keep up with a well-rested New York team at MetLife.
Week 8: Giants at Eagles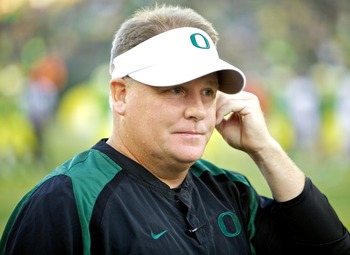 Craig Mitchelldyer/Getty Images
Kickoff time and network: Sunday, Oct. 27 at 1 p.m. ET on Fox

Hard to believe that one of Philadelphia's four wins in 2012 came against the Giants. This is a different, and probably better, Eagles team now, so New York could have its hands full with whatever Chip Kelly brings to the table at Lincoln Financial Field.
But the Giants still hammered the Eagles in their home finale last year, and I think they're still the better team here.
Prediction: Giants 30, Eagles 27
This is another one of those toss-up NFC East matchups. The Giants traditionally struggle in November, but they're strong in October and this is their final chance to secure a victory in the 10th month of the year.
Bye Week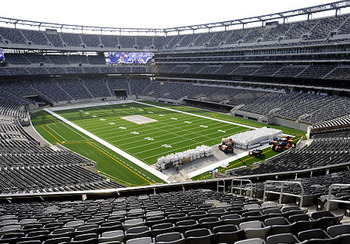 SNYGiants.com
Coming out of their bye week last year, the Giants blasted the Packers 38-10. Tom Coughlin's team has won five straight times in such situations.
Week 10: Giants vs. Raiders
Ezra Shaw/Getty Images
Kickoff time and network: Sunday, Nov. 10 at 1 p.m. ET on CBS
This matchup feels more interesting than it actually is, and I think it's because the Giants and Raiders always seem to be swapping free agents. Strange team to be a bedfellow with if you're New York,
Look for the Giants to have a big offensive day at home against a very weak Oakland defense. I don't think the Raiders have the personnel to cover Victor Cruz, Hakeem Nicks, Rueben Randle and Brandon Myers, nor do they have the offensive firepower (regardless what Matt Flynn adds) to keep up in a track meet.
My only fear is that, each year, the G-Men have one of those inexplicably bad home efforts against an inferior opponent. It happened against Tennessee in 2010 and Seattle in 2011 and almost happened against Tampa Bay in 2012. If it's gonna happen in 2013, the Raiders are the only obvious candidate.
Prediction: Giants 30, Raiders 17
At the end of the day, this is an Oakland team that only won a single road game last year, and that was against the Chiefs, who had the worst record in the NFL. The Giants can't afford to slip up here, so they won't.
Week 11: Giants vs. Packers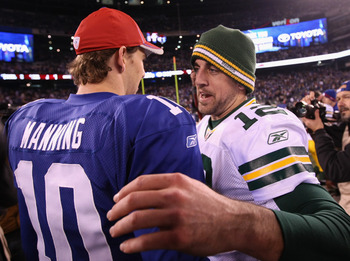 Al Bello/Getty Images
Kickoff time and network: Sunday, Nov. 17 at 8:30 p.m. ET on NBC
In this matchup of two of the last three Super Bowl MVPs, Aaron Rodgers has the edge over Eli Manning. But when you're the highest rated quarterback in NFL history, you have an edge over pretty much anyone.
The Giants, though, appear to have an edge overall. They outscored the Packers 75-30 in two victories in the calendar year of 2012, and they also put up 35 points in a three-point loss to the then-unbeaten Packers in December of 2011. Manning has a 109.1 passer rating in those three games, while Rodgers is at 90.1.
The New York pass rush has also typically been at its best against Green Bay. The Giants might have endured some tough offseason losses, but they might still be in position to get the best of the Packers yet again in 2013.
Prediction: Giants 31, Packers 27
I'd be willing to bet that New York's luck was going to run out with Green Bay if this were a road game, but they should prevail at MetLife. Besides, some teams just have other teams nailed down.
Week 12: Giants vs. Cowboys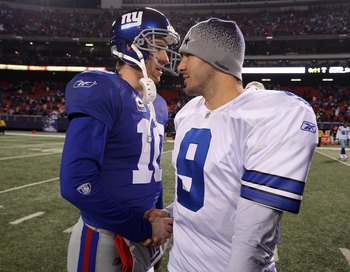 Jim McIsaac/Getty Images
Kickoff time and network: Sunday, Nov. 24 at 4:25 p.m. ET on Fox
Dallas got the best of the Giants in their prime-time home opener in 2012, so you can bet New York will be hungry for some revenge at MetLife this time around. You could make a valid argument that the Cowboys have outplayed Big Blue in each of their last three matchups, but Eli Manning and Co. came up big in critical moments and won two of those games.
On paper, Dallas has a much better team than New York. The run defense is stronger, the pass rush has more weapons and the cornerbacks are much more talented. Offensively, Dez Bryant is the best player on either team and DeMarco Murray probably has an edge over David Wilson at this point.
I'm in the minority in giving Tony Romo an edge over Manning, but that's just because I believe in statistics and refuse to believe in "quarterback wins."
Prediction: Cowboys 30, Giants 20
The Giants have lost 10 of their 15 November games since 2009. The Cowboys get them at a good time here.
Week 13: Giants at Redskins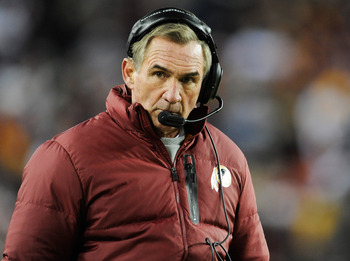 Patrick McDermott/Getty Images
Kickoff time and network: Sunday, Dec. 1 at 8:30 p.m. ET on NBC
The Giants suffered their most heartbreaking loss of the 2012 season in Washington, falling 17-16 to the 'Skins in a big December matchup.
Will history repeat itself? Washington won five of its last six home games of 2012, while the Giants were crushed by a combined score of 76-14 in their last two road games. In fact, New York is riding a four-game road losing streak entering 2013.
One thing to consider is that Alfred Morris got better as his rookie season wore on in Washington. Robert Griffin III gets all of the attention, but Morris is a gamer who possesses the ability to dominate an undersized front seven like New York's.
So if the Giants can't improve up front, they'll continue to struggle against this Redskins team that seems to have their number, home or away.
Prediction: Redskins 27, Giants 24
The Giants don't get the 'Skins until December. In other words, they likely lose a chance to take advantage of an less-than-100 percent RG3.
Week 14: Giants at Chargers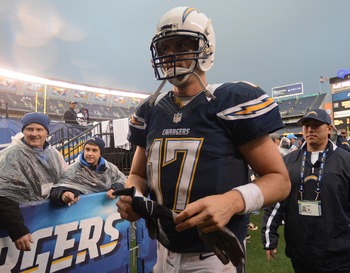 Donald Miralle/Getty Images
Kickoff time and network: Sunday, Dec. 8 at 4:25 p.m. ET on Fox
I'm sure there'll be some drinking games out there in regard to how often the 2004 draft is brought up when Eli Manning and Philip Rivers go head-to-head for only the second time since their forever-connected NFL careers began.
It's pretty much irrelevant to this matchup, but Rivers' Chargers did beat Manning's Giants in 2009, eking out a 21-20 victory at MetLife.
This game falls in San Diego, where the Bolts have gone 8-8 the last two years. San Diego's problem is that it has completely lost the ability to beat good teams, home or away. And I still consider the Giants to be a pretty good team.
I know, things change from year to year. But I can't look at the Chargers' offseason thus far and say that they got any better. Rivers' career has gone off track, and the defense is vulnerable against quality passers. Not a good omen for a matchup with Manning and his weapons.
Prediction: Giants 28, Chargers 14
You always have to be careful predicting victories in these cross-country travel games, but consider what the Giants did to the 49ers in 2012, the Seahawks in 2010 and the Raiders in 2009. In those three road games, they pummeled said opponents by a combined score of 111-17.
Week 15: Giants vs. Seahawks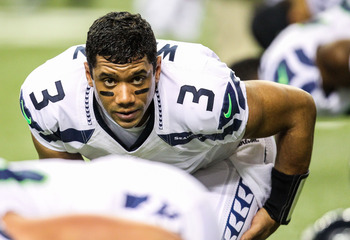 Daniel Shirey-USA TODAY Sports
Kickoff time and network: Sunday, Dec. 15 at 1 p.m. ET on Fox
Before Seattle was the team it is now, the Seahawks traveled three time zones to New York for what felt like a 10 a.m. start on a Sunday and scored 20 fourth-quarter points to defeat the Giants 36-25. So while the Giants should consider themselves lucky for drawing the dominant-at-home Seahawks at MetLife, this could still be a very tough W for Tom Coughlin's team.
Seattle outscored the Bears and Bills 76-34 in its final two road games of the 2012 regular season before slaying the Redskins on the road on Wild Card Weekend and falling short in a nail-biting loss to Atlanta the following week.
So forget about the notion that this team is only elite when hiding out in its northwestern home.
A Giants defense that was gashed time and again on the ground in 2012 could be in trouble against Marshawn Lynch, while the pass-first New York offense won't likely be able to control the pace against Seattle's physical, talented defensive backfield.
Prediction: Seahawks 23, Giants 20
Home or away, this just isn't a good matchup for New York. Even if David Wilson finds some holes against a beatable run defense, the Giants might not have the personnel on D to slow Seattle down.
Week 16: Giants at Lions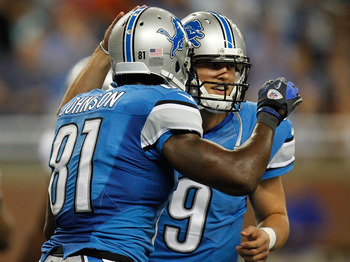 Gregory Shamus/Getty Images
Kickoff time and network: Sunday, Dec. 22 at 4:05 p.m. ET on Fox
You saw how bad the Giants' secondary was last year. The Giants were lucky they didn't have to face any of the league's cream-of-the-crop receivers.
This year, not so lucky. That's because they'll have to travel to Detroit to face the NFL's most dangerous receiver, Calvin Johnson.
If Johnson and Matt Stafford are clicking, there isn't a lot New York's mediocre pass defense can do about it. That's why this thing could turn into a true shootout, with Eli Manning lighting up Detroit's D with Victor Cruz, Hakeem Nicks and the rest of his weapons.
The Giants are the better team here, we can all agree. But I still can't see them running away with this one.
Prediction: Giants 35, Lions 32
Gut feeling, but I can imagine this one coming down to the final moments. And considering that the Lions are notoriously much more sloppy, expect a crucial turnover to make the difference.
Week 17: Giants vs. Redskins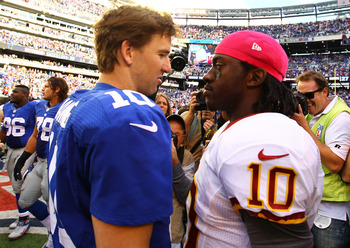 Al Bello/Getty Images
Kickoff time and network: Sunday, Dec. 29 at 1 p.m. ET on Fox
The Redskins have outplayed the Giants in each of their last four meetings, winning three of those games. And only one of those wins came with Robert Griffin III at quarterback. So if Griffin's healthy and Brian Orakpo's back, I'd have a hard time picking the G-Men to beat the 'Skins in either of their 2013 matchups.
However, this is the one New York will have its best shot at winning. After all, the Giants were still 6-2 at MetLife Stadium last year.
Redskins 24, Giants 23
Tough to predict these finales, but I think the Redskins are the better team and I'm sticking with my gut.
Final Predictions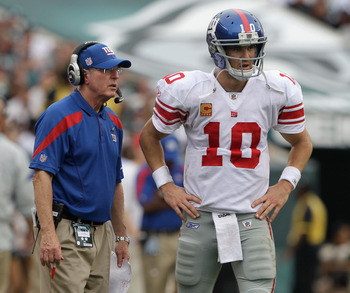 Rob Carr/Getty Images
Final record: 8-8
That seems about right. This team is good, but it is in a tough division and the schedule is tough. The NFC East is up in the air, and I reserve the right to adjust this prediction as we go, but right now I have the G-Men falling just short.
* The original version had their record as 9-7. I'm not so good at that mathematics thing.
Keep Reading

New York Giants: Like this team?