Grading the Minnesota Vikings' Last 10 Drafts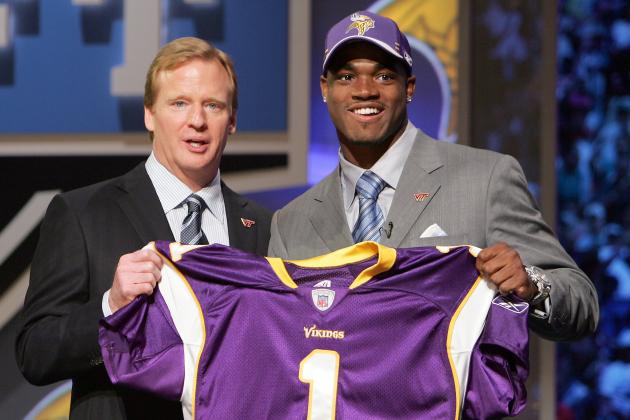 Richard Schultz/Getty Images

The NFL is closing in fast on the 2013 draft and while it may not be top heavy with superstars at the skill positions, it's a deep draft that will have teams across the league adding starters and depth position players in areas of need.
It's a huge draft for the Minnesota Vikings who are entering their second year of a rebuild after bottoming out with a 3-13 record in 2011. The Vikings surprised just about everybody in 2012 with a 10-6 record and landed a spot in the playoffs that nobody saw coming before the season.
NFL MVP Adrian Peterson was reason numbers one, two and three for the turnaround, but Minnesota's excellent 2012 draft was a huge factor in getting the Vikings back moving in the right direction.
The 2013 draft will be another huge one for the purple as general manager Rick Spielman and his staff have to fill glaring needs at linebacker, wide receiver and defensive line, as well as finding depth in the secondary and on the offensive line.
As we get ready for another exciting draft later in the month, let's take a look back and assign a letter grade to each of the Vikings' last 10 drafts.
Begin Slideshow

»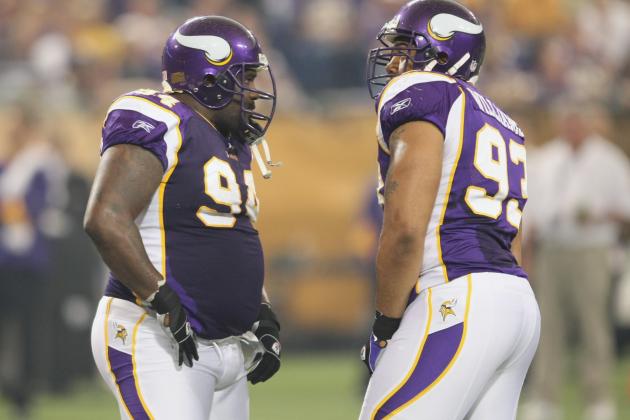 David Sherman/Getty Images

The Vikings 2003 draft didn't exactly get off to an auspicious start when Mike Tice and his staff failed to get a pick up to the podium in their allotted 15 minutes.
Vikings fans watching on television had their jaws drop as the Vikings "passed" and two other teams made their picks before Minnesota got their slip up to the stage.
In the end the Vikings got their man in defensive tackle Kevin Williams, who's started from day one and has been the anchor of the Vikings D-line for a decade.
Minnesota made it two for two in the second round by grabbing middle linebacker E.J. Henderson out of Maryland. Henderson was a warrior for nine years for the Vikings. Though never spectacular, he was a pro's pro and battled back from some brutal injuries to keep his career going.
Minnesota took receiver Nate Burleson out of Nevada-Reno in the third round. Burleson was great in his second season with the club but signed with Seattle after a disappointing, injury-plagued third season.
The Vikings got nothing else out of the rest of the draft except a good story from running back Onterrio Smith. The former Oregon Duck, who was talented, if a bit misguided, was detained at the Minneapolis airport in 2005 for carrying dried urine and a device that came to be known as the "whizzenator," a machine that was used to help cheat drug tests.
Coulda, Shoulda, Woulda
The Bears nabbed perennial All-Pro linebacker Lance Briggs 28 slots after the Vikings chose Henderson.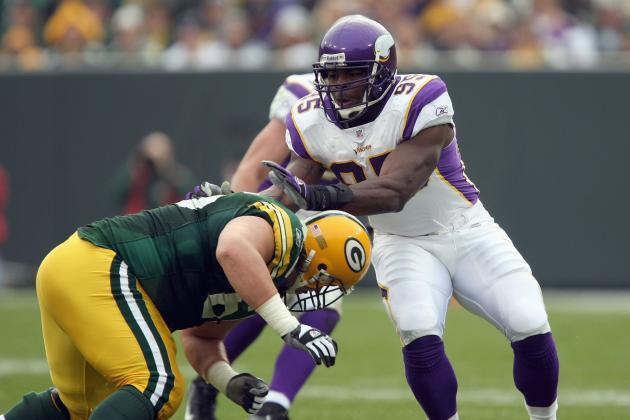 Jonathan Daniel/Getty Images

The 2004 draft began a two-year stretch that was the most futile in team history.
First-round pick Kenechi Udeze was an exciting, splashy pick. Udeze had been a force at USC and Minnesota was in need of some pass-rushing help. Udeze didn't live up to be quite the hype player that was advertised. He started 15 games as a rookie and recorded five sacks and looked to have a good future.
Udeze missed most of his second season with a knee injury and then started most games over the next two seasons, but his play was pretty lackluster.
Unfortunately, Udezi's career was cut short when he was diagnosed with a form of leukemia in 2008. Luckily, Udezi recovered from the disease, but his comeback attempt in the NFL didn't work out.
The rest of the Vikings 2004 draft class was a complete disaster, with only fourth-round pick Mewelde Moore ever giving any meaningful contribution, and his was pretty minimal. Second and third-round picks Dontarrious Thomas and Darrion Scott were complete busts.
Coulda, Shoulda, Woulda
Vince Wilfork went one pick after Udeze and some guy named Jared Allen went in the fourth round after three Vikings busts and Moore.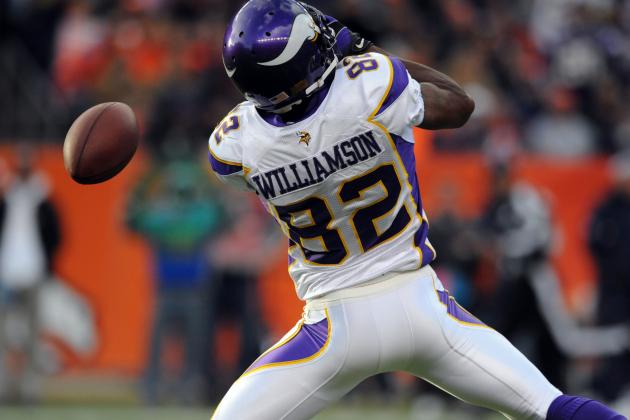 Steve Dykes/Getty Images

If the Vikings 2004 draft was an "F", the 2005 draft was a triple F-.
The 2005 draft was bottoming out, a draft year that arguably still haunts the team today.
There are first round picks who are busts every year. Some to a bigger degree than others. What's rare is having two first-round draft picks who are not only busts, but epic busts.
The names Troy Williamson and Erasmus James still make Vikings fans cringe eight years later. Not only was Williamson (drafted with the seventh pick) unable to catch a football, but Minnesota basically traded Randy Moss to get him.
As bad as Williamson was, he was better than James, who was taken 18th overall and just couldn't play a lick.
The Vikings had five other picks in 2005 and none of them ever contributed even as much as Onterrio Smith.
Coulda, Shoulda, Woulda
Basically anyone else picked would have been better, but if you want names: DeMarcus Ware, Shawne Merriman and Derrick Johnson all went shortly after Williamson and Aaron Rodgers, Roddy White, Frank Gore and Vincent Jackson all went after both the Vikings two first-rounders. Current Vikings quarterback Matt Cassel was selected after all seven of the Vikings stiffs.
Serenity now.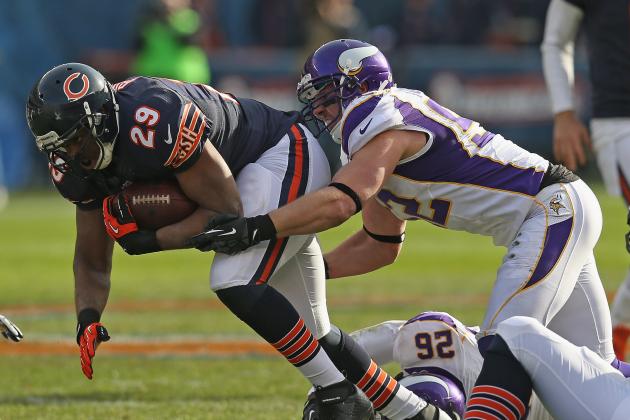 Jonathan Daniel/Getty Images

The Vikings hit a home run with the 17th pick in the first round, tabbing linebacker Chad Greenway out of Iowa. Greenway has been a tackling machine in his seven years with the club and is a high character guy and a team leader.
Cedric Griffen (second round) and Ray Edwards (fourth round) both showed some flashes but never really panned out as dependable players. Edwards showed enough to get a big free agent contract from the Falcons but is now pursuing a career in professional boxing.
Second-round pick Ryan Cook was basically a bust in Minnesota, but he's played plenty of snaps since he left town.
The pick that probably haunted the Vikings the most from 2006 was their third second-round pick, quarterback Tarvaris Jackson out of Alabama State. Coach and acting general manager Brad Childress was convinced Jackson was the Vikings future at quarterback, a decision that caused the club a couple of years of growing pains.
Coulda, Shoulda, Woulda
Vikings killers Greg Jennings and Devin Hester were both taken shortly after Griffin, as well as running back Maurice Jones-Drew.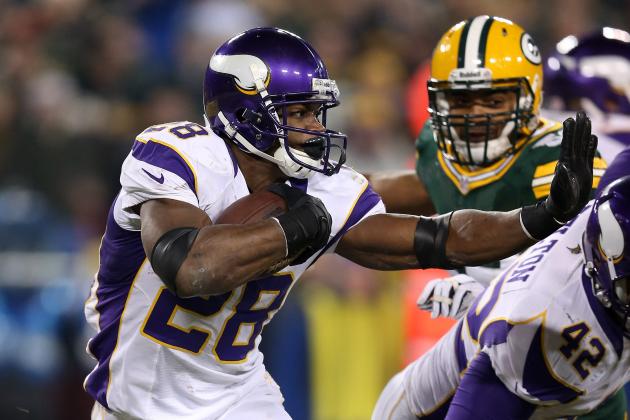 Andy Lyons/Getty Images

The fact that Adrian Peterson lasted until the seventh pick of the 2007 draft is all the proof you need to know that drafting is an inexact science.
Peterson looked like the best player in college football for three straight seasons, but was pegged as an injury risk after breaking his collar bone diving into the end zone to celebrate a touchdown. Lesson learned, he's never done that again and the Vikings got one of the best football players to ever put on cleats with their first pick in 2007.
Second-round pick Sidney Rice had a monstrous third season but missed most of year four and then was signed away by Seattle as a free agent.
Fourth-round pick Brian Robison has had a very nice career and was a steal that late in the draft.
The Vikings missed on their other five picks in the draft.
Coulda, Shoulda, Woulda
It's obviously hard to nag at a draft that gets you Peterson, but Dashon Goldson went 54 picks after the Vikings selected Marcus McCauley.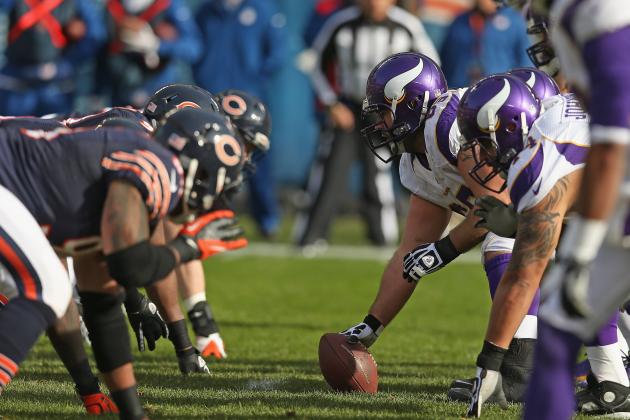 Jonathan Daniel/Getty Images

The Vikings had just a second round pick before having to wait until the fifth round to choose again. In a brilliant move, they traded their first round pick to the Chiefs for Jared Allen. But we're not grading trades, we're grading the draft picks.
They whiffed badly on their second rounder, choosing overmatched safety Tyrell Johnson out of Arkansas State.
They rallied in the late rounds though, something the Vikings had a pretty poor history of doing, grabbing defensive tackle LeTroy Guion in the fifth round and center John Sullivan in the sixth.
Sullivan has proved to be a steal as a sixth rounder, taking over at center after Matt Birk jumped to the Ravens in 2009. Sullivan has gotten better every year and will start for Minnesota for the next few years.
Guion has been a serviceable player, both as a depth guy and then as a starter in 2012.
Coulda, Shoulda, Woulda
DeSean Jackson went six picks after the Vikings took Johnson.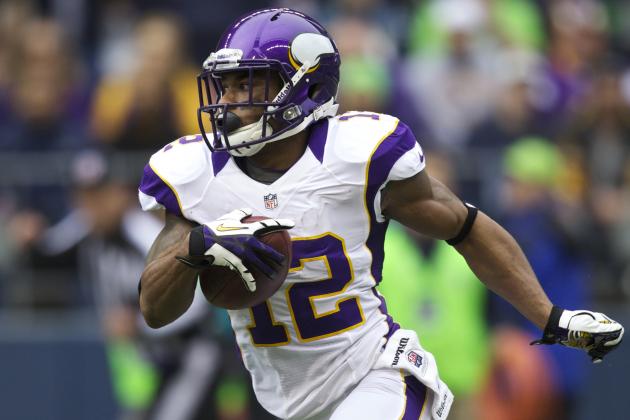 Stephen Brashear/Getty Images

Percy Harvin was red-flagged by a lot of NFL teams in the run-up to the 2009 draft. Nobody doubted his talent or toughness, but his behavior and attitude while at Florida caused many teams to take pause when debating whether or not to take him in the first round.
When he fell all the way to the Vikings with the 22nd pick, they didn't hesitate and Harvin was a phenomenal football player every time he took the field for them in his four years with the club. Darrius Heyward-Bey, Michael Crabtree and Jeremy Macklin were all selected before Harvin and none of them have had near the impact that Harvin has.
The red flags really never went away, though, and the Vikings have parted ways with Harvin after just four seasons. Harvin was certainly a live wire, both on and off the field, and the Vikings got a very good return for him.
The Vikings aced the second round as well, getting right tackle Phil Loadholt out of Oklahoma. Loadholt has started from day one and has improved every season with the club.
Minnesota missed in the third round with Asher Allen, but scored in both the fifth and seventh rounds, getting Jasper Brinkley and Jamarca Sanford.
Coulda, Shoulda, Woulda
The Baltimore Ravens selected the dynamic cornerback Ladarius Webb just two picks after the Vikings whiffed on the Asher Allen pick.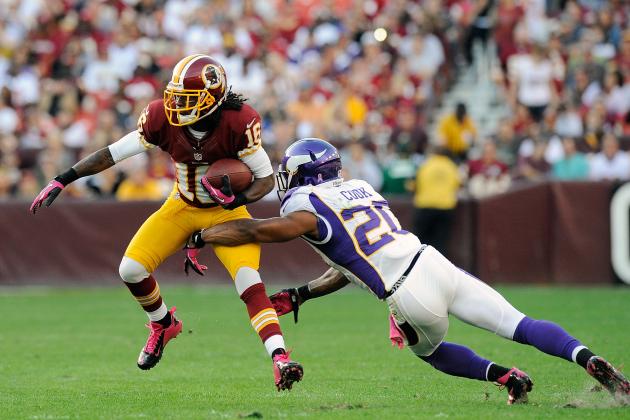 Patrick McDermott/Getty Images

The Vikings traded out of the first round and selected cornerback Chris Cook with the second pick of the second round.
Cook has had a checkered career so far, missing a season with legal issues and then breaking his arm after getting off to a good start in 2012. The Vikings are still hoping Cook develops into a solid, shut-down corner that they envisioned when they picked him.
Minnesota made a confusing choice later in the second round when they took Toby Gerhart, the running back out of Stanford. Nobody doubted the merit of having a good backup behind Adrian Peterson, but using a second-round choice when there were so many other holes to fill was a bizarre move.
It's played out pretty much exactly how everyone thought it would. Gerhart has been decent when given the chance, but nothing special. He'll play for the Vikings for one more season and then move on. The Vikings certainly could have done more with this pick.
The Vikings were ecstatic to get USC defensive end Everson Griffen in the fourth round. Griffen is supremely athletic and, although they knew he would be a project, he had too much potential to pass up. Griffen has gotten better each season and is still oozing with potential. The Vikings are looking for big things from him in 2013.
The Vikings last five picks have proved to be inconsequential. Taking Joe Webb in the sixth round was a great gamble, but he just can't play quarterback at the NFL level.
Coulda, Shoulda, Woulda
Rob Gronkowski, Zane Beadles and Darryl Washington all went in the 15 picks after Cook. Navarro Bowman was available when the Vikings selected Gerhart. And yes, a lot of people missed on All-Pro receiver Antonio Brown, but the Vikings took a hometown flier on linebacker Nathan Triplett the round before Brown was picked.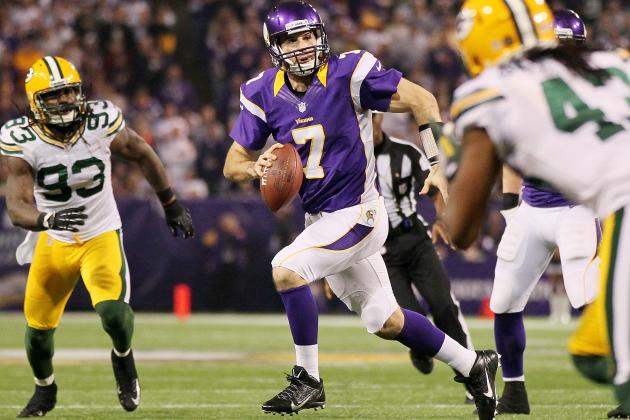 Andy King/Getty Images

The Vikings surprised almost everybody when they reached and took Florida State quarterback Christian Ponder with the 12th overall pick in the 2011 draft.
Most experts had Ponder rated as a second-round pick at best and he's done nothing to prove otherwise so far.
Let's just say the jury is still out and leave it at that.
Tight end Kyle Rudolph was a huge score in the second round. He's been a contributor since day one and will be a star in the years to come.
Beyond that, it was a pretty mixed bag for the Vikings. They have seven players still around from the draft, but none of them have shown any inkling that they will be impact players in the league.
Ultimately this draft class will be solely judged on how Ponder pans out as Rick Spielman and head coach Leslie Frazier have basically pushed all their chips into the middle with Ponder as their quarterback.
Coulda, Shoulda, Woulda
Well, Colin Kaepernick was taken 24 spots lower than Ponder. Their stories remain to be written, but Kaepernick's is off to a better start.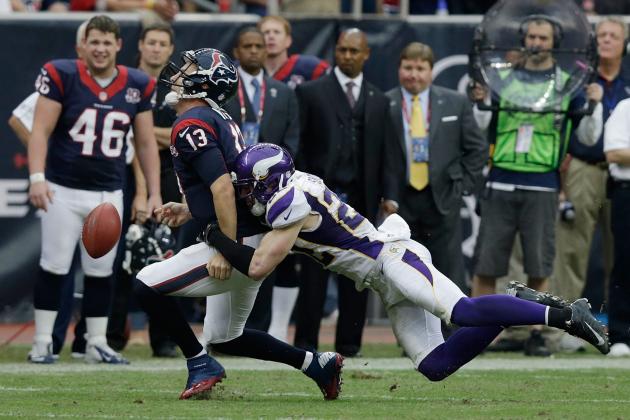 Scott Halleran/Getty Images

Rick Spielman finally had complete control of the draft in 2012, being named general manager after the 2011 season.
He killed his first draft.
He played the Cleveland Browns for an extra pick and still got Matt Kalil with the fourth overall selection. He then used some stocked extra picks to move back into the first round and selected safety Harrison Smith, who had a huge rookie season.
Kalil and Smith will be cornerstones and All-Pro players for the Vikings for years to come.
Josh Robinson, Jarius Wright and Rhett Ellison were all great picks and contributed as rookies. Robinson and Wright both have a chance to be great.
Robert Blanton, Greg Childs and Audie Cole were all solid picks and though none of them were contributors in 2012, they all still have a chance to be.
The Vikings also got the steal of the draft in the sixth round when they took a kicker out of Georgia. A kicker who was coming off a terrible season. Blair Walsh was immediately one of the top kickers in the NFL and might already be the best kicker the Vikings have ever had.
Coulda, Shoulda, Woulda
The Vikings might have been unlucky with Childs, but we're completely nit-picking what was a slam dunk of a draft.