NFL Week 16 Picks: Playoffs on the Line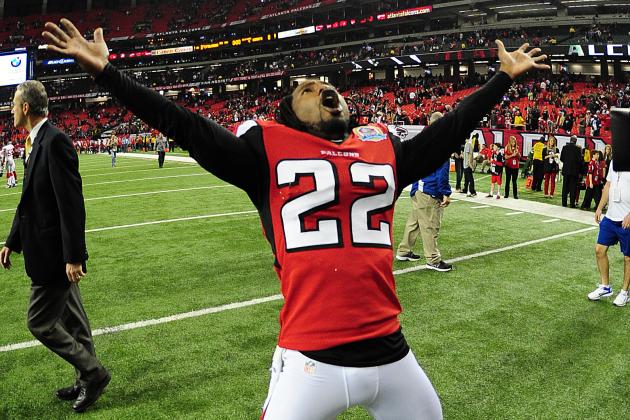 Scott Cunningham/Getty Images
Atlanta clinches home-field advantage with a win in Detroit
It's Week 16 and a handful of NFL teams need victories to either clinch playoff berths or at least salvage some hope for the final week of the regular season. Detroit, New Orleans, Tennessee, Kansas City, Buffalo, San Diego, the pitiful New York Jets, Philadelphia, Tampa Bay, Oakland, Carolina, Miami, St. Louis, Jacksonville, Cleveland and Arizona all have absolutely nothing to play for besides pride and draft position.
The rest of the league has everything to play for. Neither conference has any locked playoff positions. Home-field advantage and first-round byes are still up for grabs in both the AFC and NFC.
In the NFC, Atlanta needs a win to secure the No. 1 seed while San Francisco and Green Bay are in tight races to grab a first-round bye. The Seattle Seahawks have an outside shot of getting the second seed if the Green Bay Packers and San Francisco 49ers lose their remaining games. However, they are most likely to get the fifth seed.
In the AFC, Houston needs to beat Adrian Peterson and the Vikings to clinch the first seed while New England remains a game behind the Broncos in the race for the second seed.
The NFC East race continues with critical games for the Cowboys, Redskins, and Giants. A win is critical for each team at this point of the season. A loss could cost them a shot at a home playoff game or even a playoff game altogether.
Wild-card races continue. The sixth seed in the NFC is up for grabs between the Redskins, Cowboys, Giants, Bears, and Vikings. The AFC's races are a lot easier to follow than the NFC. Indianapolis looks locked into the fifth seed while the Steelers and Bengals are fighting for the sixth and final seed. There is still a possibility of the Ravens losing their final two games. That gives the Steelers and Bengals a small chance to win the AFC North.
A lot of questions still remain to be answered. Week 16 will answer many of those questions.
Begin Slideshow

»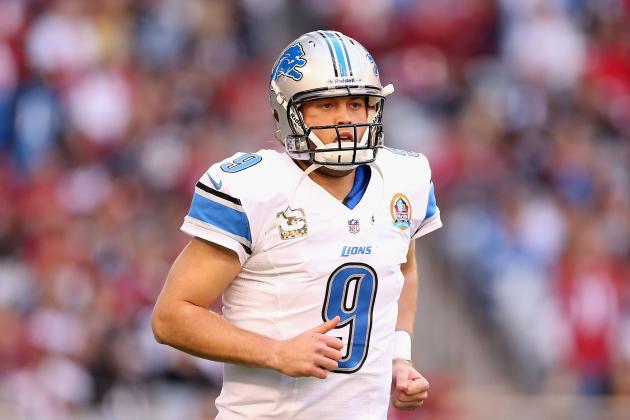 Christian Petersen/Getty Images
Matt Stafford
Atlanta blew away the New York Giants last Sunday. They also blew away the notion that they are an overrated team as Matt Ryan threw for three touchdowns and the Falcon's secondary capitalized on Eli Manning's mistakes. The Falcons are beginning to play their best football at the best possible time.
The Detroit Lions' offense is coming off one of the worst performances of the 2012 NFL Season. Losing to the Arizona Cardinals the week after they took a 58-0 beating in Seattle shows how far Detroit has fallen this season.
Detroit's offense turned the ball over four times last week and the Falcon's secondary is opportunistic. I expect Matthew Stafford to play better this week. However, a couple of his mistakes will allow the Falcons to prevail and clinch home-field advantage throughout the playoffs.
Final Score Prediction: Falcons 28, Lions 17
Jonathan Daniel/Getty Images
Clay Matthews
The Titans are coming off a victory where they were a little less pitiful than an unwatchable New York Jets team. Their defense is average and Chris Johnson is the only offensive weapon good enough to worry a weak Packers run defense.
Green Bay is beginning to play their best football with an improved defense and running game. Look for their secondary and pass rush to have another solid afternoon while the offense continues to put up yardage in the air and on the ground.
Final Score Prediction: Packers 35, Titans 10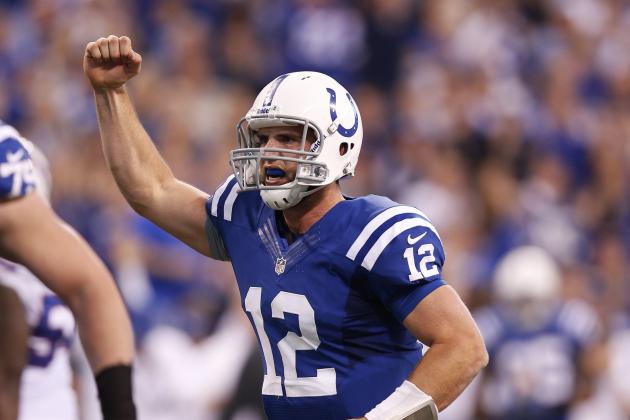 Joe Robbins/Getty Images
Andrew Luck
The Colts are the best story in the NFL. They are on the brink of a playoff berth after being the worst team in football the year before. However, the Colts have struggled with bad teams this year. They lost to Jacksonville, the Jets and they played two close games with Tennessee.
Kansas City is still an unwatchable display of incomplete passes and punting. They will lose this game. Any questions?
Final Score Prediction: Colts 17, Chiefs 6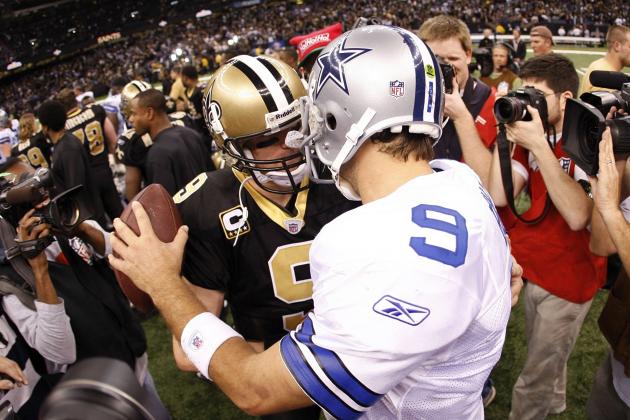 Chris Graythen/Getty Images

Both teams are coming off impressive victories. New Orleans made Tampa Bay look like a team on the same level as Rutgers. Yes, Greg Schiano was the head coach at Rutgers. The Cowboys were able to take advantage of Pittsburgh miscues last Sunday on the way to a win that was critical to their playoff hopes.
Both teams will put on offensive clinics, but mistakes will be the key to winning. I don't trust Tony Romo to win this game simply because his and the team's history of big games. I could be wrong like I was last week.
Final Score Prediction: Saints 31, Cowboys 27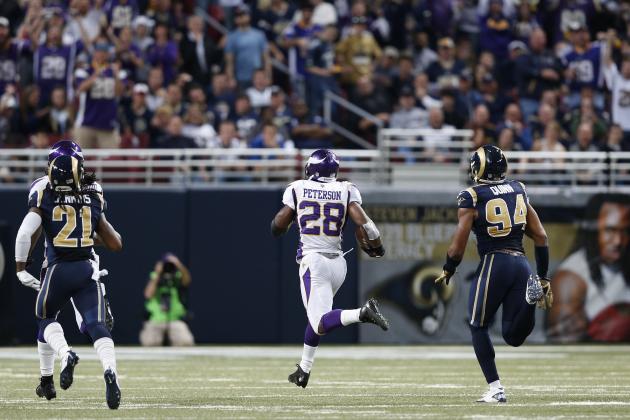 Joe Robbins/Getty Images

Adrian Peterson has run wild against opposing defenses this season. I expect Peterson to have a solid game, but Houston will not let him win this game by himself. The Vikings are one-dimensional. They can't throw the football down the field and that will be the difference. Christian Ponder will turn the ball over and that will lead to Texan points.
Final Score Prediction: Texans 30, Vikings 17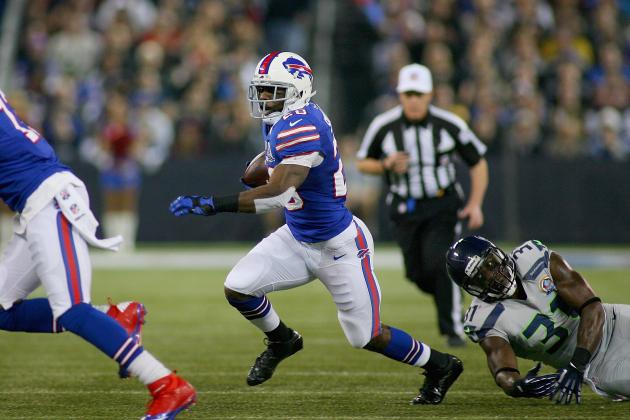 Rick Stewart/Getty Images

The Seahawks had 270 yards rushing against the Bills defense last week. The Bills can't allow Miami to have the same type of production on the ground if they want to compete in this one. The last meeting between these two is promising for Buffalo's defense. It held Miami to 60 yards rushing, but I don't expect the same to happen Sunday.
C.J. Spiller needs to run the ball on numerous occasions for Buffalo to win. Once again, the Bills won't take advantage of having one of the most dangerous weapons in the NFL. The Dolphins will even the season series with a victory.
Final Score Prediction: Dolphins 20, Bills 13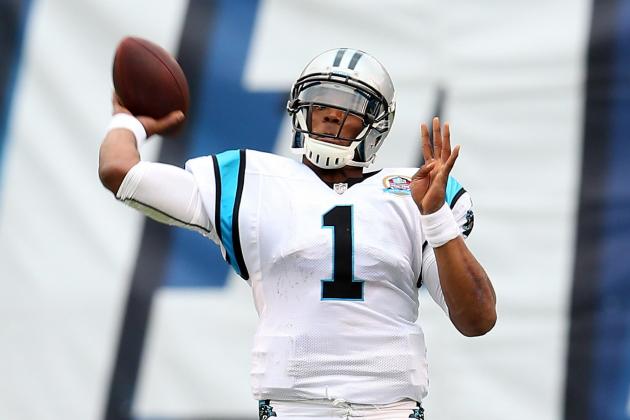 Stephen Dunn/Getty Images

Both teams won last week. We haven't been able to say that all season. The Raiders shut out the Chiefs. Take that for what it's worth. Carolina blew out the San Diego Chargers on the road.
Carolina's victory last Sunday impressed me more than the Oakland's. Carolina has looked like a playoff team the last two weeks. The Raiders also haven't won in the Eastern Time Zone since 2009. Expect Cam Newton to have another big game for the Panthers. Oakland's defense won't be able to prevent big plays as Carolina wins handily in Charlotte.
Final Score Prediction: Panthers 30, Raiders 14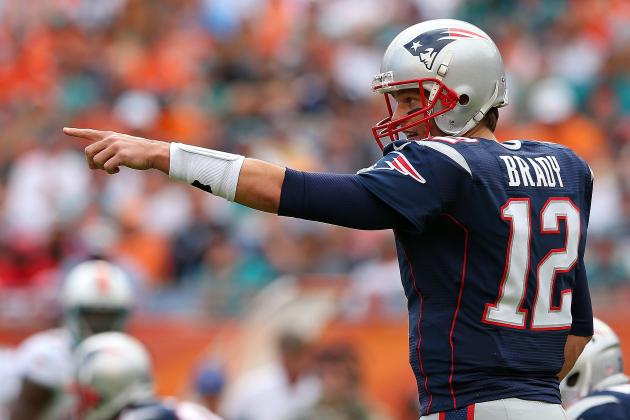 Mike Ehrmann/Getty Images

The league's 31st ranked defense faces the league's top ranked offense in this one. That's enough for me to believe the Patriots win easily while hanging at least 40 points on the Jags. Expect the Patriots defense to rebound from last week against Jacksonville's 31st ranked offense.
Final Score Prediction: Patriots 45, Jaguars 7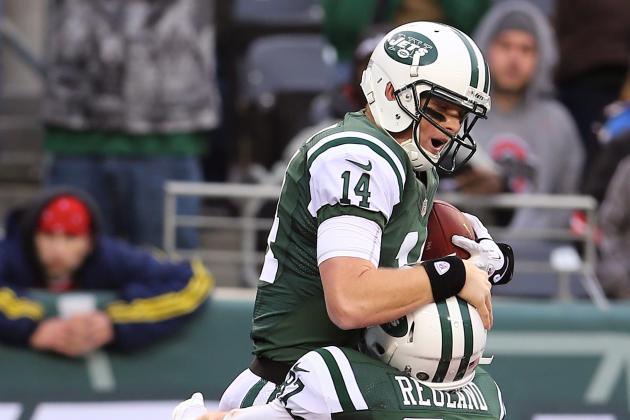 Elsa/Getty Images

This game features two disappointing teams. Both San Diego and New York looked terrible in their week 15 games. However, one of these teams has to win this Sunday. Greg McElroy will make fewer mistakes than Philip Rivers. That will result in a close and obviously low-scoring Jets win.
Final Score Prediction: Jets 17, Chargers 14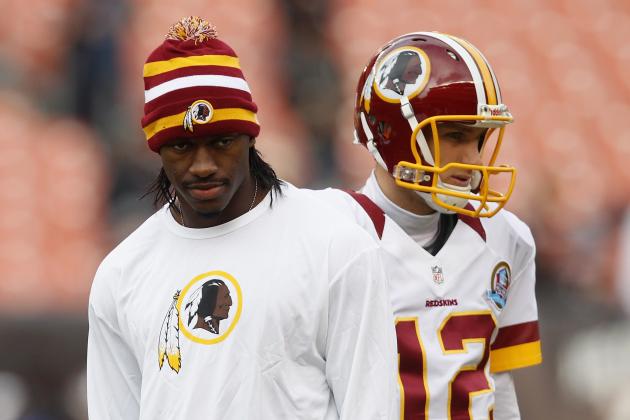 Matt Sullivan/Getty Images

It's looking like Robert Griffin III will return for the Redskins this Sunday. Washington needs a victory to stay on pace in the race for the NFC East title.
Philadelphia has lost nine of their last 10 games. One of those losses was a 31-6 loss at FedEx Field where the Eagles turned the ball over three times. Washington will once again win the turnover battle. Expect Philadelphia to lose their 11th game of the season as the Skins move closer to a division title.
Final Score Prediction: Redskins 27, Eagles 14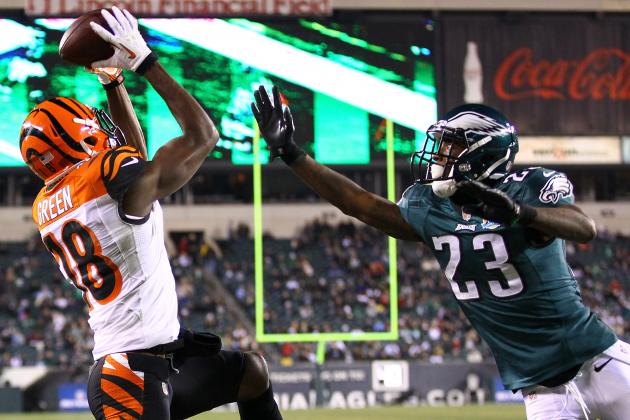 Al Bello/Getty Images

The Steelers are struggling. Their offensive line has been in shambles all season long. Big Ben made negative headlines this week with critical comments of offensive coordinator Todd Haley. Pittsburgh is not heading in the right direction.
The Cincinnati Bengals are headed toward the playoffs. They have won five of their last six games. Look for A.J. Green to make a couple of big plays against a Pittsburgh secondary that struggled last Sunday. A big 4th quarter touchdown to Green will be the difference for the Bengals as they win a close game.
Final Score Prediction: Bengals 24, Pittsburgh 20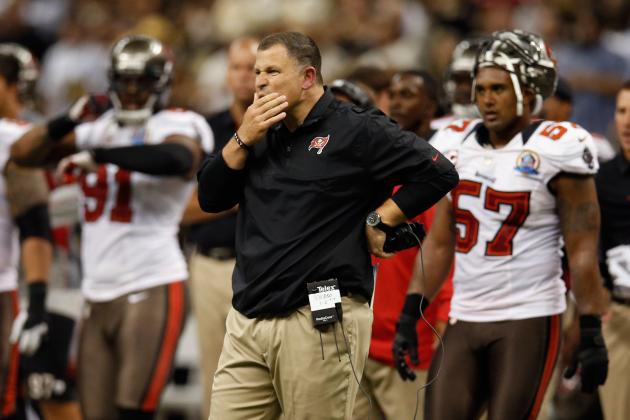 Chris Graythen/Getty Images

The Bucs have lost four straight games and last week's performance was especially concerning. They were horrible in New Orleans as they took a 41-0 beating. The Rams were beat handily at home as they ran into an inspired Adrian Peterson.
Which team rebounds? Arizona beat Detroit after being embarrassed in Seattle the week before. The same should happen for Tampa Bay. I expect Greg Schiano's team to rebound and win a close game at home.
Final Score Prediction: Bucs 21, Rams 14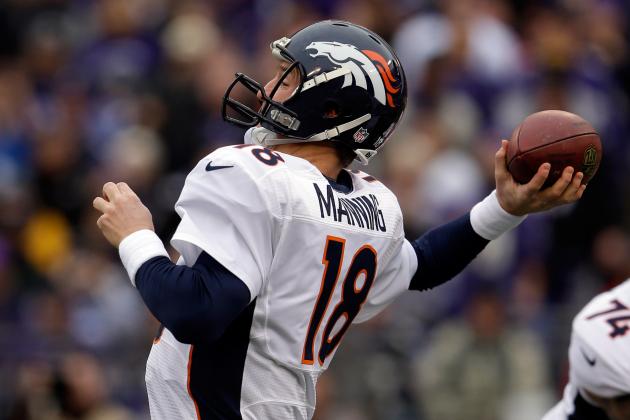 Rob Carr/Getty Images

Cleveland has played well during the second half of the season. So has Denver.
This game comes down to the choice of Peyton Manning vs. the Browns' defense or Brandon Weeden vs. the Broncos' defense. I'll take Peyton and the Broncos.
Final Score Prediction: Broncos 31, Browns 17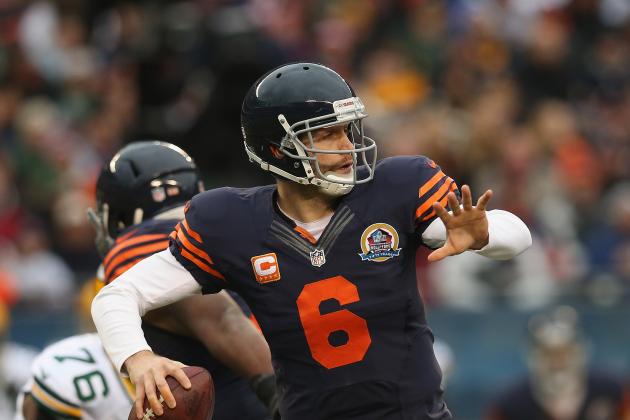 Jonathan Daniel/Getty Images

The Bears have struggled lately. The Cardinals have struggled all season. Jay Cutler can't turn the ball over at the same rate Matthew Stafford did last week in Arizona. I still see Jay making a few mistakes, but Chicago will finally find a way to win this week. Arizona still has a pitiful offense.
Final Score Prediction: Bears 17, Cardinals 7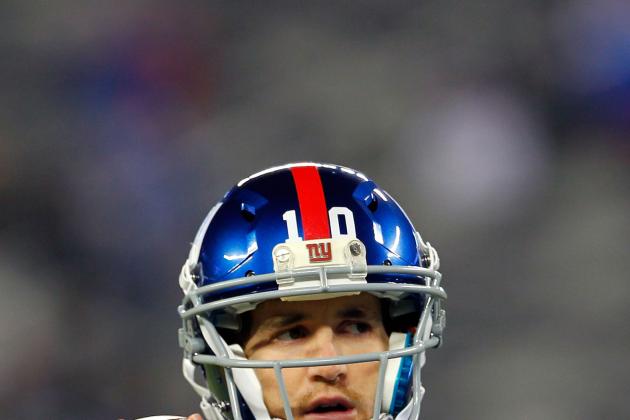 Rich Schultz/Getty Images

Both teams were embarrassed last Sunday. The Giants have lost four of their last six games and Baltimore has lost three straight. Which team rights their ship? New York will.
New York has a better passing game and the Ravens have struggled all year on defense. I expect the Giants' pass rush to step up their game and hit Joe Flacco on numerous occasions. New York moves closer to a playoff berth with a giant win in Baltimore.
Final Score Prediction: Giants 23, Ravens 14
David Welker/Getty Images

This is the most anticipated game of the week. Both teams were equally impressive last week. Seattle flew thousands of miles and blew out Buffalo. The 49ers went into Foxboro and won. Each team is playing tremendously well on offense and defense.
The difference in this game will be something as simple as crowd noise. CenturyLink Field is the toughest place for a young quarterback to play. Young Colin Kaepernick will make a crucial mistake in a hostile environment to allow the Seattle Seahawks to win a close game and stay in the race for the NFC West. Justin Smith's arm injury is also an issue for San Francisco.
Final Score Prediction: Seahawks 21, 49ers 17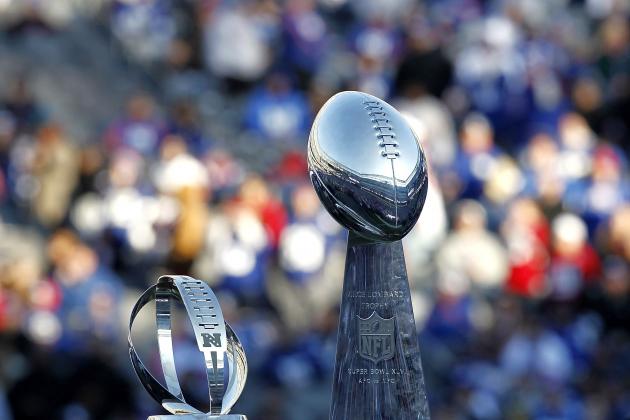 Jeff Zelevansky/Getty Images

AFC
1. Houston
2. Denver
3. New England
4.Baltimore
5. Indianapolis
6. Cincinnati
NFC
1. Atlanta
2. Green Bay
3. San Francisco
4. Washington
5. Seattle
6. NY Giants