Most Startling Statistics of the Boston Celtics' Season so Far
Tim Fuller-US PRESSWIRE
You can bet that Rondo's assist number's will be somewhere on this list
The Boston Celtics are off to a sluggish 6-5 start and are currently fourth in the Atlantic division.
Saying that a 6-5 start is sluggish wouldn't normally fly, but it has to by Boston's standards.
We're 11 games into the season and barely being over .500 is only one of many interesting statistics emerging right now.
The Celtics are about to go through a particularly difficult stretch of their schedule so looking into which wild stats will stick and which ones won't, could help to predict how well they're going to play.
Plus, it's always fun to look at strange stats.
Here are a couple of stats that should make Celtics fans both excited and disgusted with their team. (Disgusted might be a bit of stretch, but you never know?)
All statistics in this article are accurate as of games played through Nov. 20.
Begin Slideshow

»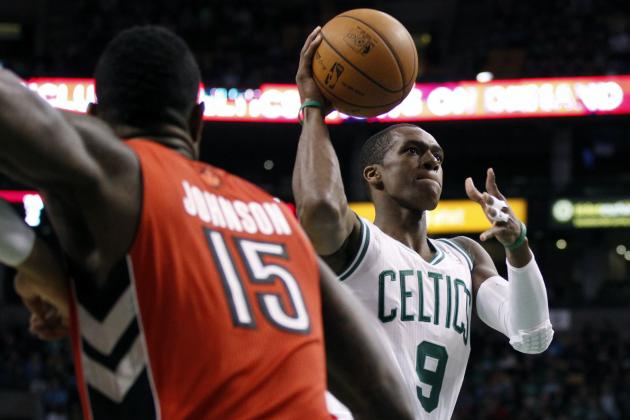 David Butler II-US PRESSWIRE
What are the chances that Rondo passes this ball?
Rajon Rondo is now at 34 straight games with at least 10 assists.
That's simply incredible.
Rondo is currently averaging 13.1 assists per game, but how long can he keep that up for?
Personally, I believe that John Stockton is the best point guard of all time. I'm sure this will meet some criticism by Magic Johnson supporters, but having the most assists and steals of all time are clear signs to me.
Now, Stockton has five of the six single-season assist records with the most being 14.5 assists per game in the 1989-1990 season. If Rondo maintained his current average, then he would tie Magic at the No. 8 spot.
Top 10 is pretty good.
Who knows if he'll be able to keep it up, but watching Rondo put up assist after assist has been a lot of fun to watch. It's also helped the Celtics win games.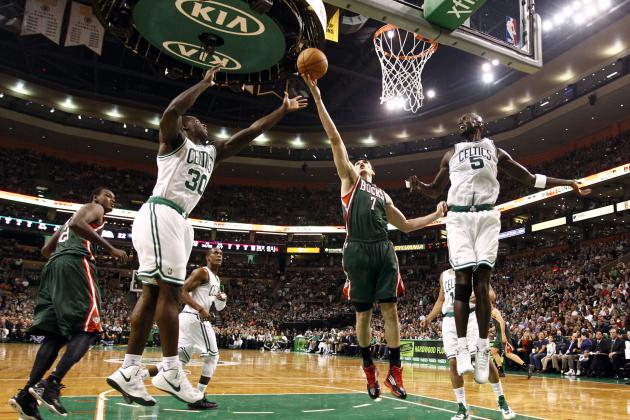 Mark L. Baer-US PRESSWIRE
This shot probably won't be rebounded by the Celtics
It's not uncommon to see a team miss about 40 shots per game. In fact, it's almost guaranteed that that's going to happen. Now, that means that there will be about 80 shots missed between both teams.
Is it becoming easier to see how only averaging 36.8 rebounds per game would be a bad thing?
The Celtics are rebounding less than half of all missed shots and that always ends up catching up to teams at the end of basketball games.
Boston doesn't have a big team, but that doesn't mean that they can't put more of a focus on grabbing shots that don't go in. Rebounding is a team statistic and one that the Celtics are completing at a very poor level.
Bruce Bennett/Getty Images
The bench is a good spot for Garnett right now
Wait, why is Kevin Garnett's average of 28.1 minutes per game a good thing?
Because he's a 36 year old that has seen his fair share of games and could use the rest.
Garnett has played in 1,266 career games. A person can only play so much basketball before their body begins to wear down.
Making the playoffs is obviously at the beginning of Boston's goals, but what will they be if they make it and Garnett isn't healthy enough to play at all?
Exactly. They'll be close to nothing, so playing him less right now is more important than picking up more wins and securing a high seed in the playoffs.
He's never played so few minutes in a season, but he knows as well as anybody else that being healthy at the end of the year is the most important thing. Coach Doc Rivers is managing his minutes beautifully right now, and hopefully he won't feel like he'll need to play Garnett more than his body will allow.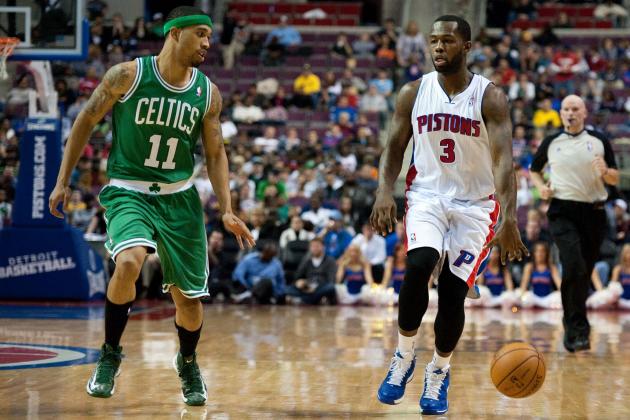 Tim Fuller-US PRESSWIRE
Losing to the Pistons always hurts
There's a good and bad in this statistic.
The good is that the Celtics are winning most of the games that you would expect them to win. Their opponents' combined record in games that they've won in is 20-31.
The bad is that Boston isn't beating many of the better teams that they play. The Milwaukee Bucks are the only team that the Celtics have beat with a winning record. The combined record of the teams that Boston's lost to is 29-21.
As the season continues, it'll be important for them to start beating the better teams. There's no such thing as a team with a bad record in the playoffs.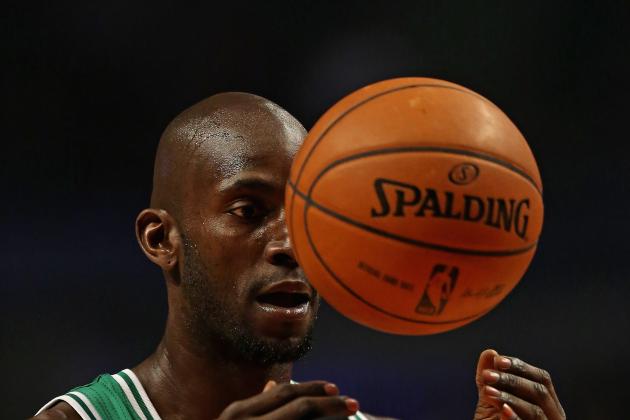 Jonathan Daniel/Getty Images
"Go in ball...go in ball."
You could argue that this is the most important stat in this slideshow.
The Celtics are shooting 79.4 percent from the free-throw line and that's especially important when they're averaging 24.5 free throws a game.
It's all positive anytime a team can get about 19 free points a game at the charity stripe. That is unless you're a fan of the other team.
Getting to the free-throw line means that you're attacking the basket and being aggressive. Boston is doing that, plus putting them in once they've arrived, and they all add up over the course of a game.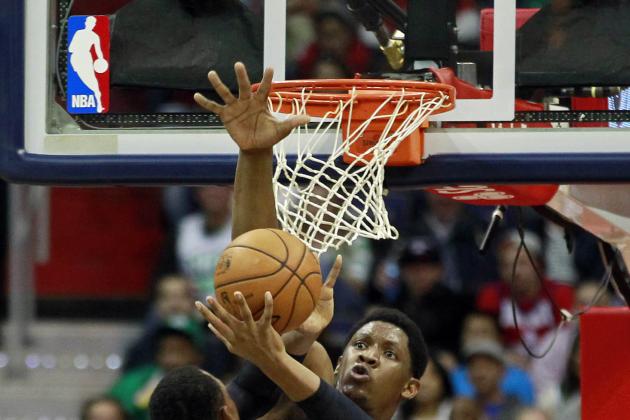 Geoff Burke-US PRESSWIRE
You probably won't see the Celtics blocking too many shots
Let's quickly put this one into perspective. Boston is averaging 3.27 blocks per game.
Oklahoma City Thunder's Serge Ibaka is averaging 3.45.
Now, Boston's block leader is Brandon Bass with 0.9 per contest and it'll be interesting to see if Boston can increase their overall number as the season progresses.
There aren't any real shot blockers on the roster, but 3.27 is pretty much unacceptable.
Having some kind of defensive presence in the key is important to establishing a positive team identity.
You don't want to be known as a team that can be abused down low, but that's exactly what Boston is becoming.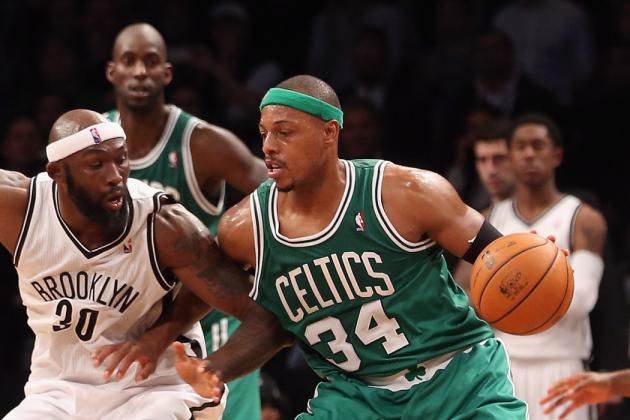 Bruce Bennett/Getty Images
Turning the ball over hasn't been a problem for the Celtics
Holding on to the ball and not giving it to the other team is good for winning games, pretty self-explanatory stuff.
Boston barely turns over the basketball and that's crucial for this team's future.
Fewer turnovers mean more opportunities for getting up shots. More opportunities for getting up shots mean more of a chance of putting up higher point totals.
Putting up a lot of points is clearly an important factor at the end of ball games.
The same can be said for the opposition. The more that you turn the ball over, the more shooting opportunities the other team gets.
Maintaining possession of the ball is going to be a focal point of Boston's as the season continues.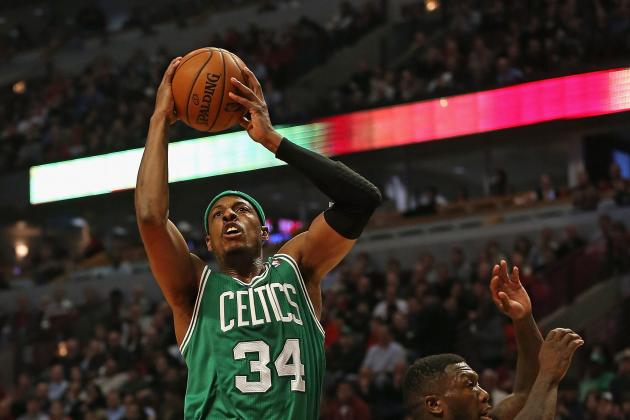 Jonathan Daniel/Getty Images
Pierce hasn't shot the bell well thus far
You don't have to read over Boston's roster twice to see that Paul Pierce is Boston's best scorer. As is customary with most of the best scorers, they're going to be the ones taking the most shots.
The issue is how poorly Pierce is shooting from the field.
He's averaging 14.9 shots per game; second on the list is Kevin Garnett with 11.7. Pierce is making 6.1 of those shots and Garnett is making six of his.
You should be making more shots if you're taking more, but that's not how Pierce is playing right now.
It's still very early, but Pierce is going to need to improve his shooting percentage if the Celtics are hoping to have more than a mediocre year.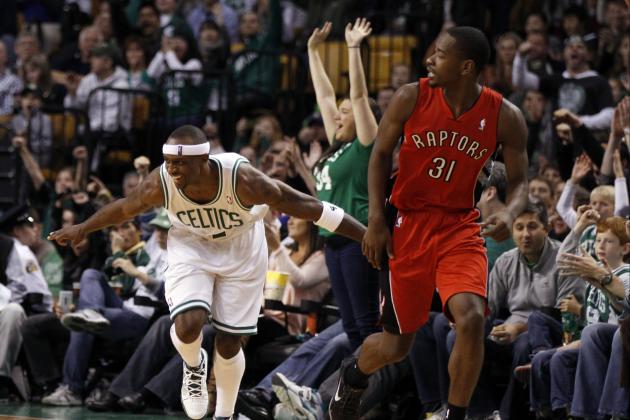 David Butler II-US PRESSWIRE
It's important to know what shot is a good shot
Three-pointers have a way of winning and losing teams' games.
Luckily, the Celtics know that shooting a high number of threes will most likely contribute to more losses than wins.
Putting up 14.3 of them a game is near the bottom of the league. That's certainly a positive for this team.
This number would have been higher if they still had three-point sniper Ray Allen—who's currently averaging 3.7 threes a contest—but they lack the same long-range threats that they used to have.
Boston's strength lies in their dribble penetration and mid-range shooting. It's in their best interest to stay away from three-pointers and stick to what they do best.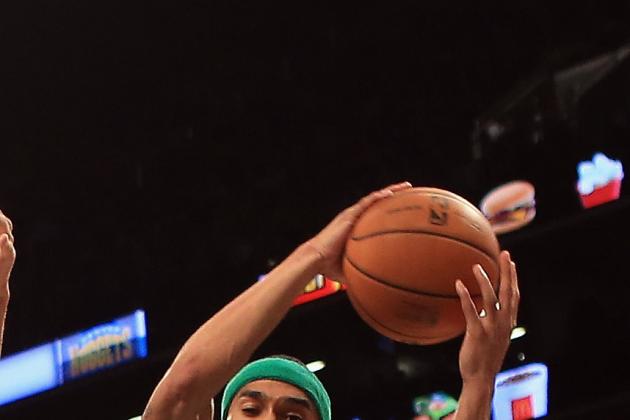 Bruce Bennett/Getty Images
Here's another example of how poorly the Celtics are rebounding the ball
When you're rebounding as poorly as the Celtics are, then it's only fair for them to have two slides dedicated to grabbing the basketball when a shot is missed.
Averaging 6.8 offensive rebounds per game doesn't sound like a significant stat, but that number is significantly lower than any other NBA team's. On top of that, it's important to think about what that number means.
When you don't get offensive rebounds, you lose out on opportunities for second-chance points. Being able to extend a possession and give your team another chance at scoring is a big factor in winning games.