What I've found most striking about the NFL so far this season is just how many average teams there are. Power rankings really bring this to light.
For instance, is there really that much of a difference between the 11th ranked team in my rankings, the Seahawks, and the 20th ranked team in my rankings, the Buccaneers? Probably not.
2012 seems to be a year of parity in the NFL. Even the top ranked team, the Falcons, certainly have many flaws. My sixth ranked team, the Patriots, already have three losses.
In another interesting development, only one out of the top five teams in my my rankings (the Texans) is an AFC team. Furthermore, only eight of the top twenty teams are AFC teams. If the first half is any indication, the NFC has emerged as the dominant conference in 2012.
The grades assigned for each team are not based on their performances in Week 8. Rather, they're based on each teams' overall performance midway through the NFL season, while strongly factoring in the initial expectations for each team at the start of the year.
For example, the reason that both the Patriots and Packers are rated a whole letter grade below the Seahawks, despite having a better record, is because they had higher expectations heading into the season. In essence, the grades provide a barometer of how well each team has been living up to their respective expectations and talent levels.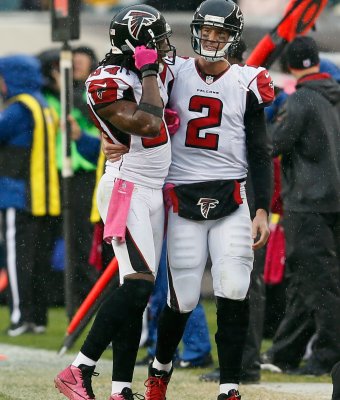 Rob Carr/Getty Images
1. Atlanta Falcons (7-0)
For the first time since Week 3, the Falcons not only won, but they also won impressively. Now they are 7-0 for the first time in the franchise's 47-year history.
Grade: A+
2. Houston Texans (6-1)
The Falcons are undefeated and the team to beat right now, but the Texans are far and away the most dangerous team in the AFC at the moment.
Grade: A
3. New York Giants (6-2)
Eli Manning didn't have his best game, and the Giants came way too close to blowing a 23-0 first half lead. What matters, however, is that the Giants are sitting pretty at 6-2 midway through the season, with a comfortable 2.5 game lead up on both the Cowboys and the Eagles.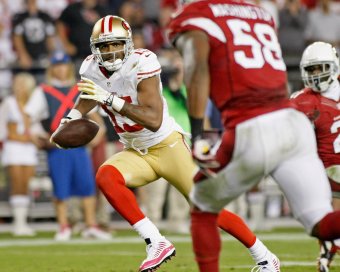 Ralph Freso/Getty Images
Grade: A-
4. San Francisco 49ers (6-2)
Had the 49ers not let off the gas midway through the 3rd quarter, their 24-3 blowout victory over the Cardinals could have been even more lopsided. Alex Smith had a nearly perfect quarterback rating of 157.1, and their defense held the Cardinals pathetic running game to just seven yards on the ground.
Grade: A-
5. Chicago Bears (6-1)
Following Tim Jennings' interception return for a touchdown Sunday, the Bears defense has now scored six times this season. That's one of the main reasons that they're able to keep winning despite lacking any sort of consistency offensively.
Grade: A-
6. New England Patriots (5-3)
Jamie McDonald/Getty Images
The Patriots head into their Week 9 bye with a slightly disappointing 5-3 record. Something tells me they're not losing three games again in the second half of the season.
The Patriots' schedule is tougher than it looked like it would be heading into the season, so I don't expect them to run the table in the second half. It wouldn't surprise me if the Pats secured a first round bye with an 11-5 record, though. The AFC is relatively weak in general, and the Ravens still have to play the Steelers twice and the Broncos and Giants once.
Grade: C+
7. Green Bay Packers (5-3)
Obviously they didn't look great against Jacksonville, but the Packers have now won three straight. Without his two favorite targets, Greg Jennings and Jordy Nelson, Aaron Rodgers can't be expected to automatically put up the sort of numbers that we're accustomed to seeing from him.
Grade: C+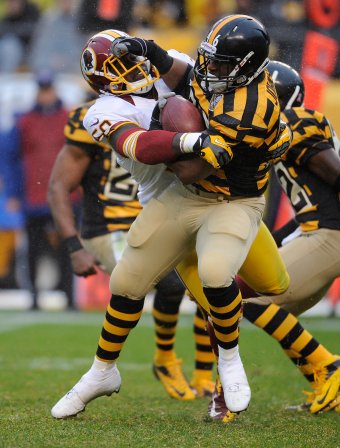 Joe Sargent/Getty Images
8. Denver Broncos (4-3)
The Broncos are only 4-3, but they've done an impressive job surviving their brutal first half schedule. Things should become significantly easier in the second half, as they play only one team (Baltimore) with a winning record and that's ranked higher than 17th in these rankings.
Grade: B+
9. Pittsburgh Steelers (4-3)
The way Jonathan Dwyer is running should be exciting for any Steelers fan, but I strongly encourage all Steelers fans to stop the Jerome Bettis comparisons before they get out of control. I can't think of anything that could be more insulting to a legend like the Bus than comparing a young, unproven running back to him after two good games.
Grade: B-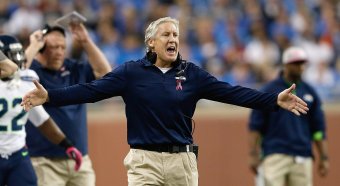 Leon Halip/Getty Images
10. Baltimore Ravens (5-2)
The Ravens had timely bye in Week 8. I say timely because I don't think they've played particularly well in any of their last four games.
It's hard to see the Ravens defense improving all that much with Ray Lewis out for the second half. Ranked 28th in the league at midseason, maybe they really are over the hill.
The Ravens are one of the most deceiving 5-2 teams in recent memory.
Grade: B-
11. Seattle Seahawks (4-4)
The Seahawks have fallen for the second weekend in a row, but I'm still high on their prospects. While their defense didn't play up to the standard it had set for itself in their first eight games, Russell Wilson had one of his best games of the season against the Lions.
Grade: B+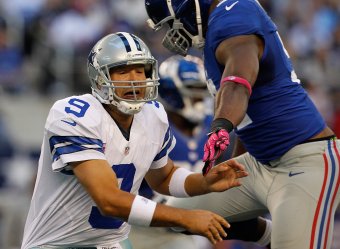 Tom Pennington/Getty Images
12. Minnesota Vikings (5-3)
I don't think the arrow is pointed up for the Vikings. After coming out of the gate strong at 4-2, they've lost two out of their last three games to teams with losing records.
The biggest difference has been Christian Ponder. In the Vikings first four games of the season, Ponder didn't throw a single interception. In the Vikings' last four games, Ponder has thrown seven.
I don't expect the Vikings to finish this high in the rankings by the end of the season. They have probably been overachieving all along.
Grade: B+
13. Dallas Cowboys (3-4)
It's nearly impossible to turn the ball over six times in a game and win and Tony Romo deserves a lot of the blame for his four interceptions.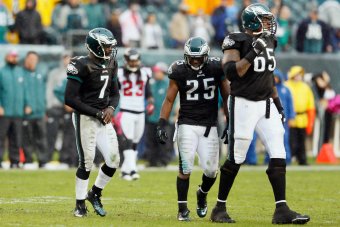 Rob Carr/Getty Images
Can the Cowboys knock off the Falcons next week? I doubt it. While it wouldn't shock me if they outgain the Falcons, it would surprise me if the Cowboys can make a play when it really counts and the game is on the line.
Grade: C-
14. Philadelphia Eagles (3-4)
Everyone wants to blame Michael Vick for the Eagles' troubles and understandably so, but the Eagles' defense has let them down as well this season. They have too much talent on the defensive side of the ball to be ranked 16th in points allowed per game.
According to the latest reports, Vick will not be benched Monday night at New Orleans, but if the Eagles lose again, a change will most likely be imminent. Vick currently ranks 25th in the league in quarterback rating.
Grade: D
15. Detroit Lions (3-4)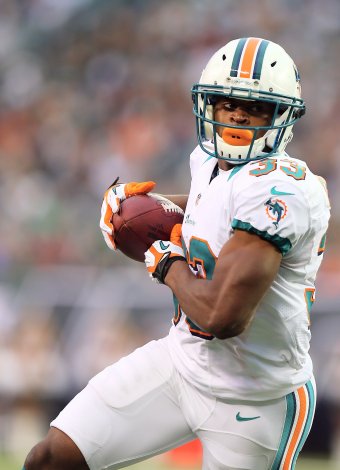 Elsa/Getty Images
With two big wins in the last three weeks, the Lions aren't quite dead yet. They had better take care of business next weekend at Jacksonville, however, which is something they've had trouble with this season.
Matthew Stafford might not be having quite as good of a season this year as he did last year, but he has definitely proven to his detractors that he can still be extremely effective, even with Calvin Johnson essentially taken out of the game by opposing defenses.
Grade: C-
16. Miami Dolphins (4-3)
With Ryan Tannehill questionable for the Dolphins' upcoming matchup in Indianapolis, Miami could be forced to rely on Matt Moore for a game or two. While Moore has shown himself to be a capable backup in the past, it's concerning that a quarterback switch could potentially screw up the momentum the Dolphins have been riding over their three-game win streak.
Grade: B+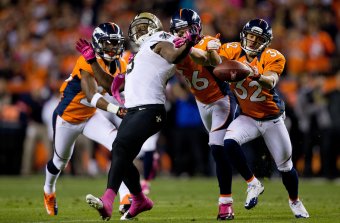 Justin Edmonds/Getty Images
17. Cincinnati Bengals (3-4)
The Bengals really can't afford to lose four in a row, but with matchups against the Broncos and Giants looming ahead on the schedule, I have a feeling that it's going to be five straight losses in a row. The schedule does soften for a few weeks after that, but I still don't see the Bengals making the playoffs.
Grade: C-
18. Indianapolis Colts (4-3)
The way the AFC playoff picture is shaping up, the winner of Sunday's Colts-Dolphins game is going to have a decent shot at a wild card. In fact, if the playoffs began today the Colts would be the five seed in the AFC and the Dolphins would be the six seed. For this reason, it's arguably the matchup of the week.
Which team has the edge? I like Miami for the simple reason that I think they're a slightly better team overall. Had they not lost two overtime games, they would be 6-1 right now. However, with the Colts' home field advantage and with the possibility of Ryan Tannehill having to sit out, a Colts victory wouldn't shock me either.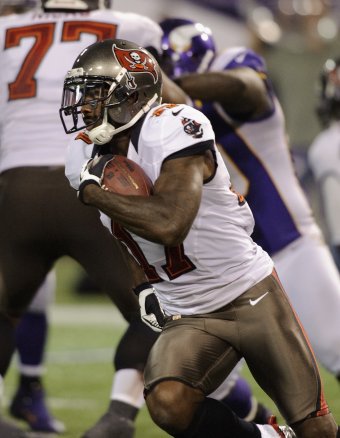 Hannah Foslien/Getty Images
Grade: A-
19. New Orleans Saints (2-5)
I guess the Saints already had their back against the wall, but now the situation has become even more dire. With four out of their next six games against teams ranked in the top four of my rankings, I really can't envision the Saints even coming close to making the playoffs in the tough NFC.
If they lose next Monday night against the Eagles they can certainly forget about it, because they're not winning out with their remaining schedule.
It's not like they deserve to make the playoffs, anyway. The Saints are allowing an embarrassing 9.1 yards per pass attempt this season.
Grade: F
20. Tampa Bay Buccaneers (3-4)
After rushing for 135 yards and a touchdown Sunday, Doug Martin is now second behind only Alfred Morris amongst rookie running backs in rushing yardage with 543 yards.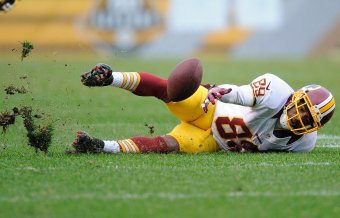 Joe Sargent/Getty Images
It's not only the ground game that's looking good however. Josh Freeman threw for three touchdowns for a third game in a row against the Vikings, setting a Bucs franchise record.
I don't think the playoffs are in the cards, but the future is bright for the Bucs under Greg Schiano.
Grade: B
21. San Diego Chargers (3-4)
Inevitably, at some point in the season I say that I think Norv Turner should either be fired immediately or at the very least not brought back for another season. That time has come again.
When you can only manage to muster up six points against the Browns, a change is clearly necessary. Considering the talent level on this roster, the results they've been getting during their three-game losing streak have been nothing short of pathetic.
The AFC is weak and this could have been the year that the Chargers returned to the playoffs. I would be shocked if that happens now.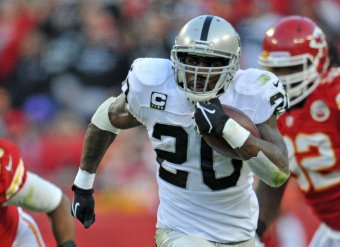 Peter Aiken/Getty Images
Grade: D
22. Washington Redskins (3-5)
I never really hopped onto the Redskins bandwagon this season because of that atrocious pass defense. I love Robert Griffin III as much as anybody, but when you're giving up a league-worst 314 yards through the air per game, you're going to have a hard time beating anyone.
The offense also faltered against the Steelers, but that's predictable considering the Steelers are the league's number two ranked defense.
Grade: C+
23. Buffalo Bills (3-4)
Whether it's coming up with excuses for his lack of production, or saying that he didn't want to leave Houston in the first place, Mario Williams is saying literally none of the right things leading up to Sunday's road test against the Texans.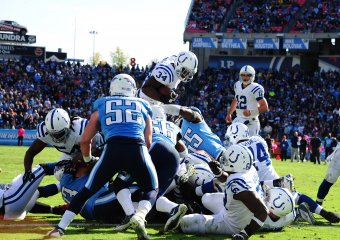 Scott Cunningham/Getty Images
Of course his 3.5 sack total is disappointing to Bills fans, but the reality is that the last time Williams finished a season with a double digit sack total was 2008. Maybe the Bills had unrealistic expectations for Williams when they signed him to a six-year, $100 million contract in the offseason. He's never been an elite, top-10 pass rusher in my book.
Grade: C
24. Arizona Cardinals (4-4)
There's a reason that the Cardinals are the lowest ranked team that isn't below .500: They've lost four in a row after their hot 4-0 start.
With tough road games coming up in Green Bay and then in Atlanta, I think it's safe to say the Cardinals have no shot of making the playoffs, despite their decent record.
Grade: C+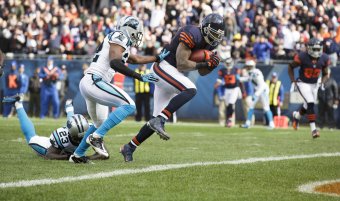 John Gress/Getty Images
25. Oakland Raiders (3-4)
Before Raiders fans get too excited, they should try to keep in mind that the Raiders' two-game winning streak has come at the expense of the two very worst teams in the league (Jacksonville and Kansas City). Making things even less impressive, they were also both close games.
Yes they're only a game back to the Broncos and technically still very much alive, but the Raiders have no realistic chance in the AFC West.
Grade: B-
26. Tennessee Titans (3-5)
The Titans really blew it at home against the Colts. That was a game they really needed.
If they were sitting at 4-4 right now, I think they'd have a decent shot at cracking an AFC wild card. As it stands now, however, I wouldn't predict anything better than a 7-9 season for the Titans, who still have to play the Bears, Texans and Packers.
Which Team Should be the Super Bowl Favorites?
Grade: C
27. New York Jets (3-5)
Everyone knows that the Jets are woefully bad at the skill positions. What people might not yet realize about the Jets is that they also lack physicality on both sides of the ball. The Jets rank 16th in rushing offense and 29th in rushing defense. How does Rex Ryan sleep?
Grade: D
28. St. Louis Rams (3-5)
I know they got embarrassed across the pond, but I still think this season can be a relatively positive one for the Rams if they can regroup for the second half of the season. The Patriots are capable of embarrassing a lot of defenses.
Grade: B-
29. Carolina Panthers (1-6)
Here's a matchup a lot of people have been waiting for.
This Sunday, Cam Newton will travel to Washington to take on Robert Griffin III. Oops, I meant to say the Carolina Panthers will travel to Washington to take on the Redskins. You can see how I would make a mistake like that, seeing how both quarterbacks are so lacking in terms of supporting cast.
People say it's a quarterback driven league, but if the Panthers and Redskins seasons have proved anything, it's that you still need a lot more than an above average quarterback to win games.
I'm sure Cam Newton has plenty of motivation heading into this game with all the hype over Griffin III being the better version of him.
Grade: F
30. Cleveland Browns (2-6)
It's really tough to win in the NFL when you only put up seven points on the scoreboard, and the Browns defense deserves a lot of credit for completely shutting down Phillip Rivers. Even more impressive, they've given up only three field goals in the last six quarters.
There's no doubting the fact that the Browns are a bad football team, but I would never accuse them of lacking heart or effort.
Grade: C-
31. Kansas City Chiefs (1-6)
How did the Brady Quinn experiment pan out? Well, after completing only two passes for a single yard and a pick, Romeo Crennel decided it was best for everyone to take Quinn out. No offense to Quinn, but he should also probably just retire.
In relief, Matt Cassel actually probably played about as well as he has all season, which of course isn't saying very much at all.
Sorry Chiefs fans and I hate to say it, but it's officially time to start rooting for losses and thinking about a quarterback of the future in the form of the number one overall pick.
Grade: F
32. Jacksonville Jaguars (1-6)
In a bizarre turn of events, Blaine Gabbert actually played about on par with Aaron Rodgers Sunday. Regardless, I don't think any Jaguars fans really wants to hear about moral victories, so I'll spare them.
I also must admit, I had a pretty tough time deciding between the Jaguars and Chiefs for the last spot in my rankings. I think in the future the way I'm going to decide is to write my comments for both teams first, and then place whichever team I make fun of less in the 32nd spot.
Grade: F