The Only 10 NBA Teams That Matter in the 2012-13 Season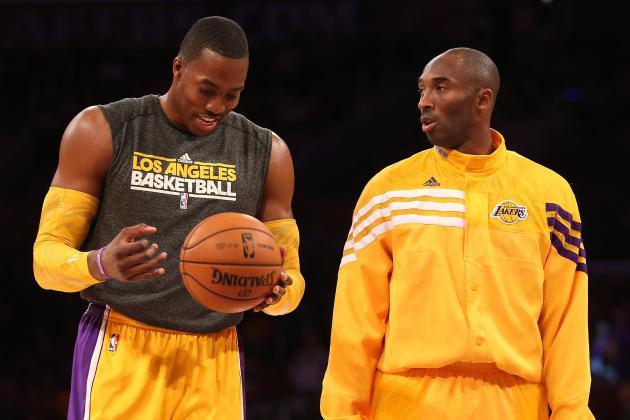 Stephen Dunn/Getty Images
The Los Angeles Lakers are one of only 10 NBA teams that matter this season.
Kobe Bryant doesn't care about Stephen Curry.
In the NBA, there are the matters and the matter-nots.
A guy like Bryant and his top-tier Los Angeles Lakers matter while Curry and those not-always-lovable Golden State Warriors do not.
But Curry isn't alone. He's just one face of the many NBA franchises taking part in the league's 82-game exhibition season in preparation for the true season, the playoffs. The reality is that only 10 NBA teams truly matter in 2012-13.
The NBA landscape resembles some sort of funky neighborhood where first-class mansions cast shadows over huts, shacks and Bobcats. In this neighborhood, even Kings are unable to remodel while the mansions grow continually superior—and Dan Gilbert might not be so much as invited for another BBQ in a long, long time.
In the new super-team NBA, it's even more difficult to become a surprise contender. While the inevitable party crasher may looks to spoil the celebration of riches from time to time, they rarely stay for dessert. When was the last time a non-favorite won an NBA championship, 1892?
The 2011 Dallas Mavericks may be the biggest surprise champions since before the Jordan era, mostly because of their finals upset against the favorite Miami Heat, but even they had the sixth-best odds in Vegas heading into that season.
There simply aren't big surprises in the NBA. Surprises happen in year-by-year steps:
1. "OK, wow they had a pretty good season. They might be good next year."
2. "They were pretty good this year. They are knocking on the door."
3. "They are contenders this year."
4. "They are contenders again this year, and they now signed another superstar."
Fans either learn to appreciate the modest charm of their huts and shacks or they simply sneak in the back doors of the mansions. But for the loyalists of NBA franchises destined for the lottery or early playoff bow-outs, the 2012-13 season doesn't offer much hope.
Here's a look at the only 10 franchises that matter this season.


Begin Slideshow

»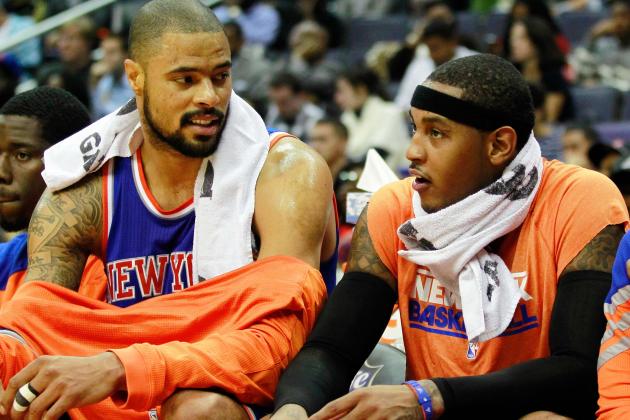 Geoff Burke-US PRESSWIRE
The New York Knicks barely matter, but they matter.
They matter because…
New York's new coach Mike Woodson doesn't think the old stuff is funny. He wasn't given the job because he's into image.
He has the ability to push Carmelo Anthony into becoming more than a rec-league scorer, and into an MVP-caliber, all-around superstar who can pound the paint, rebound and give some semblance of effort on defense.
While the veteran offseason additions may be over hyped, Woodson has enough talent to be relevant on the star-laden East Coast. Amar'e Stoudemire's injury will only keep him out for two months of the regular season, plenty of time to get warm before the actual (post) season begins.
They also matter because they are New York and the media has been trained to make sure they always matter.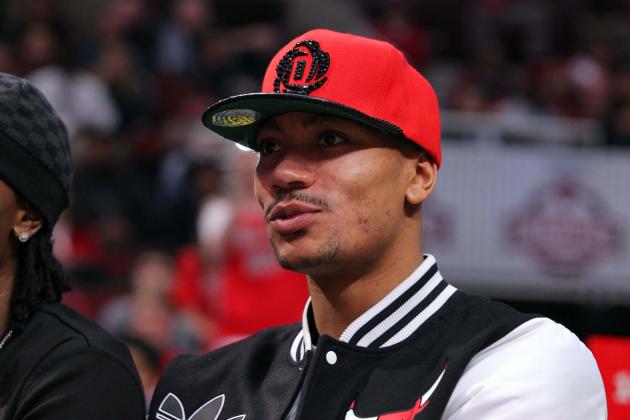 Dennis Wierzbicki-US PRESSWIRE
Derrick Rose won't be back anytime soon, but he will be back.
They matter because…
Derrick Rose will be back this season—at some point.
While there's still no targeted return date, a consequence of the dramatic ACL tear in his left knee during Game 1 of last year's first-round playoffs, the possibility of early spring has been floated around.
Rose is a worker and it will be tough for Chicago to not allow the superstar to try and rush back. When he's healthy, the Bulls are the team that went 50-16 last season.
So the pressure will be on the Bulls to play well enough to allow Rose an opportunity to return and lead Chicago into a mid-tier spot in the playoffs, possibly setting up an early match up with the Miami Heat.
Replacing your most valuable player is no simple task, and Kirk Hinrich, with two seasons away from Chicago, will be asked to return and at least halfway fill Rose's shoes.
Veterans Carlos Boozer and Richard Hamilton might have a half-season of premium gas to propel the Bulls into a good enough spot for Rose's return. Other than that, the play of Luol Deng and Joakim Noah will need to be revved to an even higher level.
But the Bulls still matter because, despite his injury, Rose will still be one of the game's best players when he returns.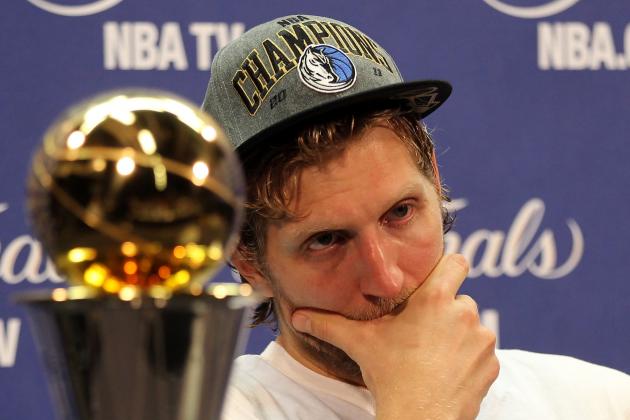 Mike Ehrmann/Getty Images
The 2011 NBA Champion Dirk Nowitzki will have one last stand.
They matter because…
Dirk Nowitzki isn't done just yet.
Sure, the seven-footer is coming off arthroscopic surgery at the age of 34, and he's expected to miss the first 10 games of the season, but he's still just one season removed from guiding the Mavericks to a championship. Last season, he averaged 22.9 points and 8.3 rebounds per game, albeit at a much lower shooting percentage than usual.
He'll have Elton Brand as a new friend who can "remember the old days" with him. Brand is no longer close to the player he was, but he still has double-double ability and that will be of value. Both Brand and Dirk's German national team teammate, Chris Kaman, will play on one-year "Let's see what you can do" contracts.
While Nowitizki keeps the Mavericks relevant, it's the potential of an O.J. Mayo and Darren Collison backcourt that pushes Dallas into the Western Conference conversation.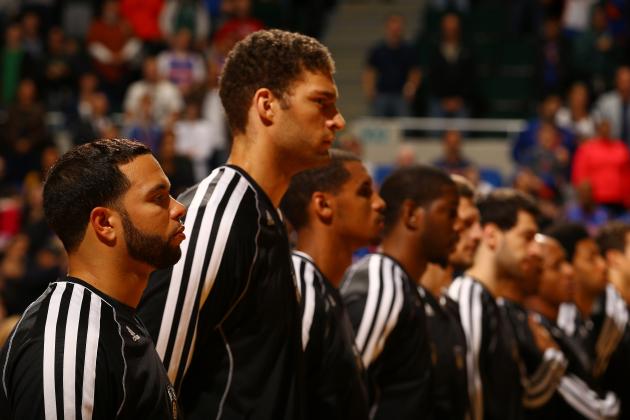 Al Bello/Getty Images
Deron Williams and the Nets' perimeter can be dangerous.
They matter because…
Jay-Z says they do. But more importantly because in a basketball world, the 1-2-3 of Deron Williams, Joe Johnson and Gerald Wallace resembles some sort of NBA2K "I can actually get this through for real, computer-approved trades" lineup.
In reality, it's a versatile, athletic perimeter and Wallace will be able to utilize that athleticism to defend the opponent's top scorer most nights. With the likely impressive wing play of the Nets, pressure falls on the wide shoulders of Kris Humphries and the now-healed foot of Brook Lopez in the frontcourt.
Humphries once fell into marriage with Kim Kardashian, who is now dating Kanye West, who is buddies with Jay-Z, who is … uh oh. But if Humphries can remove the label as a reality-show emblem, he can do the dirty work for Brooklyn. And in doing so, maybe he can teach Brook Lopez how to play a little dirtier, or at least to play with a drop of aggression.
It's a starting five that can and must be dangerous because you can't expect much from the Nets' weak bench. They matter because the deep pockets of Mikhail Prokhorov have created the best impression possible of today's standard NBA Big Three.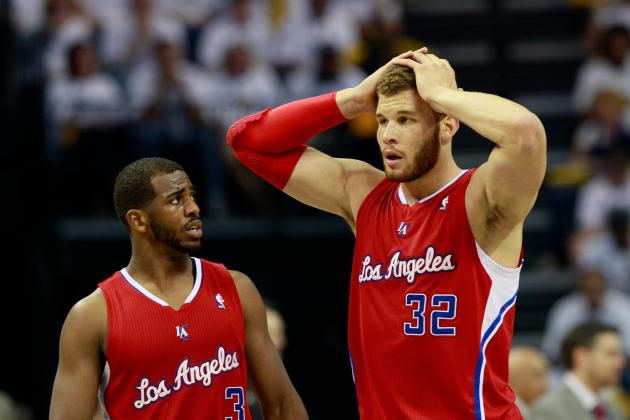 Kevin C. Cox/Getty Images
It won't be a surprise if the Clippers show just why they matter this season.
They matter because…
The Los Angeles Clippers are the ultimate wild card in a city that loves a second option.
This might be the most talented team that no one's talking about, only because the Lakers' dream team roster could overshadow even another Michael Jordan comeback.
The obvious strength is the return of the Chris Paul and Blake Griffin show. And you also can't ignore the intangibles of Caron Butler or the impact that Chauncey Billups could have in big moments if he gets healthy.
But the real reason this team matters is its depth. The squad's second unit and even third-layer bench guys offer the type of makeup needed to do special things in the playoffs. The Clippers could have hit the jackpot with unknown Lamar Odom and obtained the automatic bench scoring of Jamal Crawford. Matt Barnes is significant and is a proven playoffs performer. Eric Bledsoe has the ability to explode and will have the opportunity to prove that while Billups recovers.
While the Lakers matter most, the Clippers could be the surprise that's really no surprise.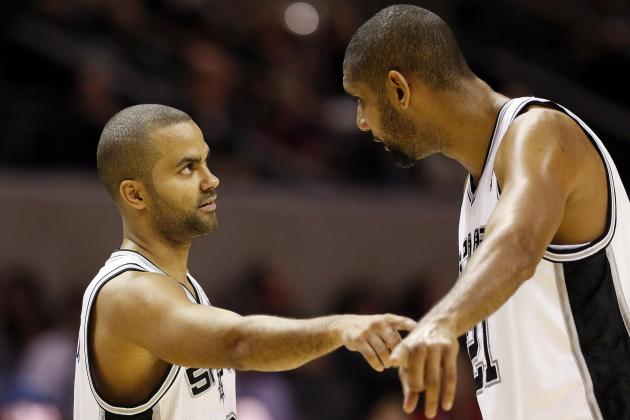 Soobum Im-US PRESSWIRE
Tim Duncan isn't going anywhere just yet.
They matter because…
The San Antonio Spurs have always mattered. Because they have had just three seasons in Tim Duncan's 15-year career that they haven't advanced to at least the second round of the playoffs.
Because San Antonio's compiled a 50-16 record last year and went 8-0 in the playoffs against the Utah Jazz and Los Angeles Clippers before falling apart to the Oklahoma City Thunder.
Because the scheme that has found so much success throughout the years still features Tony Parker and Manu Ginobili. Because Stephen Jackson is still 100 percent personality and grit. Because Kawhi Leonard just could be the Spurs' next great star.
But mostly because Gregg Popovich is arguably the game's best current coach. This year's Western Conference Champions will have to advance through San Antonio.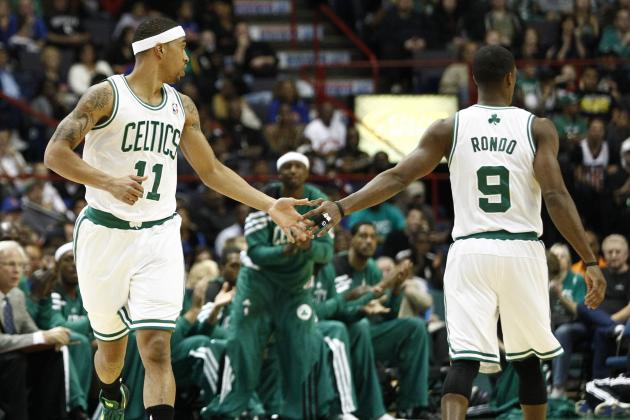 Mark L. Baer-US PRESSWIRE
The Celtics have some familiar faces but a new style.
They matter because...
This could be the last season before the Boston Celtics completely fall apart. Or, this could be the season that they actually do fall apart.
Ray Allen is gone, and Rajon Rondo is angry at the world. But that's only part of the conversation to why the Celtics still matter. It's a new team, arranged to compete with the speed of the league's running opponents.
Jason Terry and Leandro Barbosa will further crowd a backcourt with a heated tempo, but the spot next to Rondo could belong to Courtney Lee, the guy who, along with Avery Bradley, Boston fans are hoping can turn into a star. It will take someone to stand out if Boston can make another run at it.
But ultimately it will be the core of Rondo, Kevin Garnett and Paul Pierce that will set the tone of whether or not this time will truly matter come playoffs.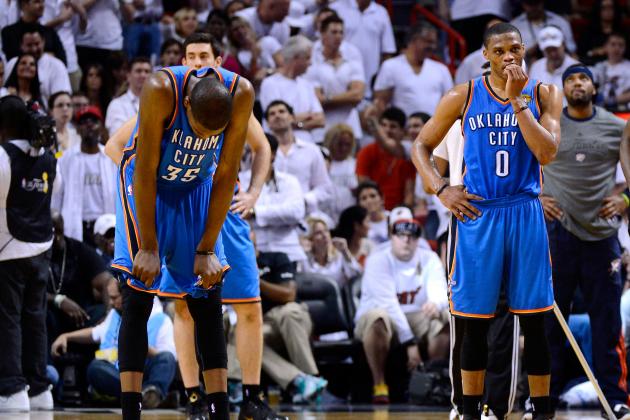 Ronald Martinez/Getty Images
The Thunder are no longer the team to beat in the Western Conference, but they still matter.
They matter because…
The Lakers still have to prove that they can reclaim the crown out of the tight grip of Kevin Durant and Russell Westbrook.
James Harden lost his grip when he was recently shipped to Houston. His replacement, Kevin Martin, is not the same type of player. He can score, but he has a softer frame and has yet to prove that he isn't completely soft overall.
The Thunder get more than enough overall in return, but it's going to difficult to replace the guts of Harden. Martin certainly will not do it. The wiry shooting guard still has to reveal whether or not he can consistently score off the bench.
While the argument can be made that Oklahoma City gets worse, it's clear that the Los Angeles Lakers have become dramatically more talented. Oklahoma City matters most because of Durant and Westbrook, who will both have to become even more lethal.
But the Thunder will need to prove they still matter more than some of the league's more improved teams.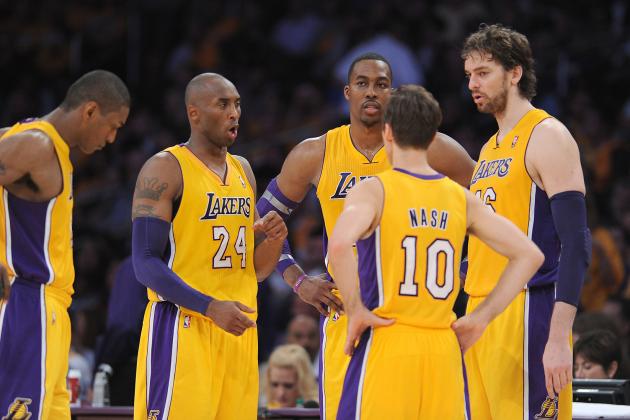 Jayne Kamin-Oncea-US PRESSWIRE
The Lakers remodel has put the Lakers back in the position of favorite.
They matter because…
The Los Angeles Lakers are the greatest team assembled since the other 20 magnificently assembled teams of the last few years. It's like the steroid era of general managers—it's just getting ridiculous.
This Lakers roster, following in the footsteps of the Miami Heat, is exactly why the other 20 teams in the NBA don't matter. The super-team roster is precisely what is wrong with the NBA right now and it's ruining any realistic hopes of most other franchises.
But it doesn't matter. The finals ratings are incredible and the passion continues to grow.
It was going to take a lot to compete with the East Coast mansion in Miami. But Los Angeles is always up for the task.
Kobe Bryant has his Superman, Dwight Howard. Pau Gasol stays put despite all the awkward breakup talk. Ron Artest maintains his name change to Metta World Peace and most normal people remain weirded out. Steve Nash has a haircut that people like to talk about so it should probably be mentioned. The whole team is one big cartoon of talent.
The Lakers have built an incredible mansion, and this season they will be forced to prove what kind of party they can throw. The Lakers have had plenty of super teams before that haven't won, but none like this. Ultimately, just as we saw in Miami last season, it will be the bench roles of guys like Steve Blake and Antawn Jamison that could tell the complete story.
Obviously, the Lakers matter. But one team matters more.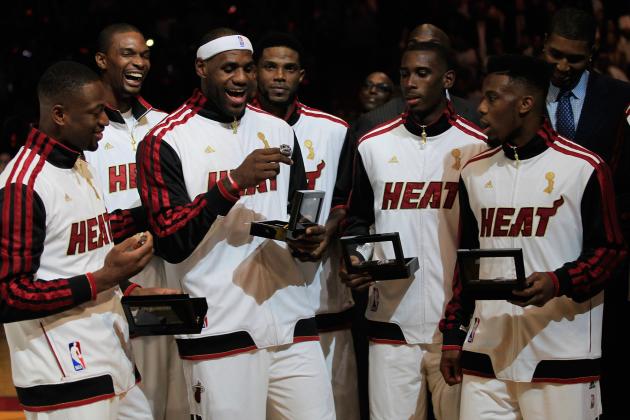 Chris Trotman/Getty Images
Defending champions, the Miami Heat still matter more than any other team.
They matter because...
It doesn't matter what anyone else did this offseason.
The championship rings have been awarded and the Miami Heat remain the team to be beat. LeBron James is far and away the greatest talent in all of sports and this Heat team is even stronger than last year's team.
Of course it was the superstars last season; the title was won behind James, Dwyane Wade and Chris Bosh. But big moments came from the lesser-heralded names, role players Mario Chalmers, Shane Battier and Mike Miller. The Heat didn't rest, and used free agency to claim Ray Allen and Rashard Lewis. Few of the super teams offer the level of depth that Miami does.
Don't let the Lakers' show fool you; this Heat team has already proven it can win, something that the Los Angeles talent collection still has to prove.
With 30 teams each set to play 82 games, it seems nearly inevitable that only seven possible games between the Heat and Lakers will truly matter.
"That's why they play the games, blah blah, yeah yeah."
It doesn't matter.
People were predicting the Thunder and Heat last year, and that's what they got.
Only ten teams have a shot this year to make a difference. But only two, the Heat and the Lakers, will truly matter when the 2012-13 season closes with another Miami championship.
Agree or disagree, find @jimmypspencer on Twitter and let him hear it.