San Francisco 49ers: Midseason Report Cards for Each Positional Unit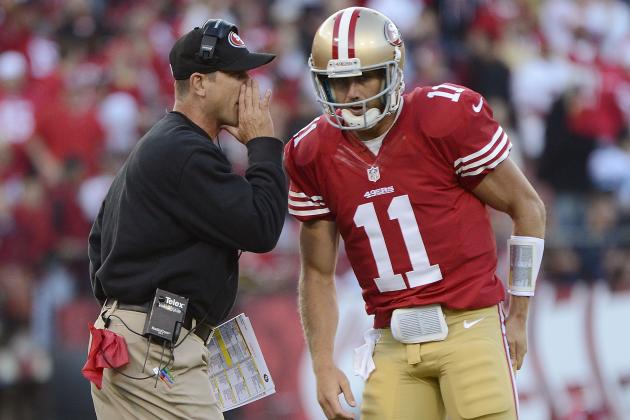 Thearon W. Henderson/Getty Images
Jim Harbaugh and Alex Smith have led the 49ers to first place in the NFC West
The San Francisco 49ers are at the midpoint of the regular season. They have a very good record of 6-2 and lead the NFC West by two full games.
The 49ers have played some brilliant football, both on the offensive and defensive sides of the ball. However, they have also had bouts of inconsistency and periods of poor play.
Taking a look at the schedule prior to the season, the 49ers are right where I thought they would be, with their 6-2 record. Now is a perfect time to give each of the 49ers' positional units a midterm grade. Read on to see how they fared.
Begin Slideshow

»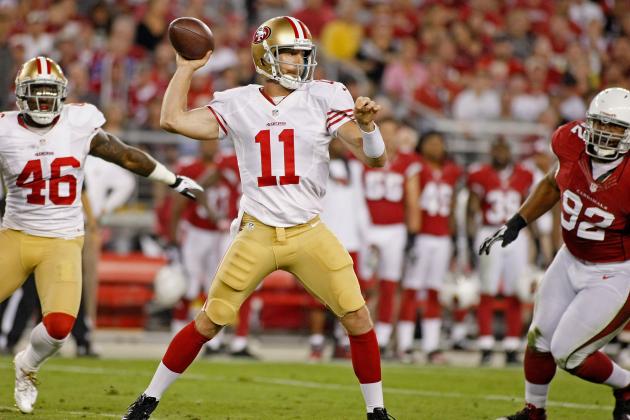 Ralph Freso/Getty Images
Alex Smith rebounded with a great game against the Arizona Cardinals
Alex Smith played two poor games in a row, after getting the 49ers off to a great start early in the season. Smith and the entire 49er offense was horrible in the loss to the New York Giants. Then, against the Seattle Seahawks, he again was not very good.
Smith rebounded with a record-breaking performance in the national spotlight that is Monday Night Football. He went 18-of-19, for a 94.7 completion percentage, the highest for any quarterback who threw at least 15 passes in a game.
For the season, Smith has completed 145 of his 209 attempts, a 69.4 completion rate. Smith has thrown for 1,659 yards, an average of 207.4 yards per game. Smith also has 12 touchdowns and five interceptions.
Three of Smith's interceptions came in a losing effort against the New York Giants, when Smith was woefully off his game. This coincided with offensive coordinator Greg Roman inserting backup quarterback Colin Kaepernick into the game on several occasions.
The continual in and out approach threw the entire 49er offense out of rhythm and the result was the lowest scoring output of the year, with only three points. With Kaepernick also playing in the Seattle game, Smith also seemed to press and try to force the action. The result was a season-low of 140 yards passing from Smith.
I don't want to absolve Smith of any blame just because Roman played Kaepernick; however, Smith does need to be in control of any situation he's faced with. Nevertheless, defenses have caught on to Kaepernick's offensive packages, so his time in the game may be diminished as the season wears on.
Smith has excellent mastery of the offense and his ability to change the play at the line of scrimmage has resulted in several good plays for the 49ers. Smith has also matured as a leader, both on and off the field.
There is still room for improvement with Smith, especially when it comes to being able to throw with consistent accuracy and also finding his receivers down the field more. Smith's tendency is to throw the safer check-down pass, rather than try to make the big play.
When you have Randy Moss and Vernon Davis on your team, it would be worth the gamble to throw the deep ball periodically. If nothing else, this keeps the defense honest and opens up those underneath routes where Smith is much more comfortable.
As for Colin Kaepernick, he still has a long way to go before he has a strong command of the complex 49er offense. He can make big plays, but is also prone to mistakes. Now that the surprise element of Kaepernick has worn off, defenses have been able to play much better against that WildKap formation.
Almost all of Kaepernick's successful plays come about because of his athleticism. This is great when it works, but also risky because he won't always be able to beat opposing defenses with his strong arm or quick feet.
At this point in their respective careers, Smith gives the 49ers the best chance to win.
Quarterbacks Grade: B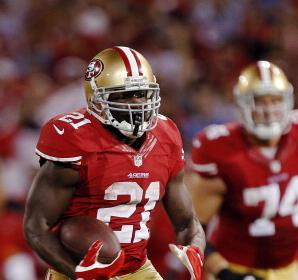 Brian Bahr/Getty Images
Frank Gore is on his way to another 1,000 yard season
Frank Gore leads the San Francisco 49ers' running game. Now in his eighth NFL season at the age of 29, Gore shows no signs of slowing down.
Gore's running style combines great vision, power, speed and patience. He has 119 carries for 656 yards and four touchdowns. Gore averages an outstanding 5.5 yards per carry. The 49ers have also utilized Gore in the passing game. His 16 receptions rank fourth on the team.
Gore is the heart and soul of the 49er offense. His tremendous work ethic, fierce competitive nature and professionalism make him a unique superstar.
Backup running back Kendall Hunter has also been very effective. With 60 carries, he takes one-third of the overall ball-carrying load off of Gore. Hunter has gained 301 yards, slightly better than five yards per carry.
The ability of Hunter to be a fine change-of-pace back and take some of the burden off Gore is ideal for both players. Gore doesn't get as beaten up and Hunter gets a great chance to contribute.
Starting fullback Bruce Miller rarely touches the ball, as he has only three carries and two receptions this year. He is, however, a very valuable player for the 49ers. Miller is a strong blocker and is often tasked with leading the way for Gore and Hunter.
Running Backs Grade: A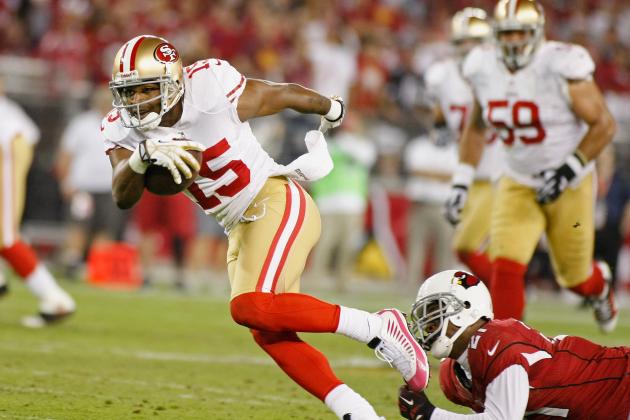 Ralph Freso/Getty Images
Michael Crabtree scored two touchdowns on Monday Night Football
The San Francisco 49ers made several changes to their wide receiver corps this past offseason. They signed free agents Randy Moss and Mario Manningham, and then used their first-round draft pick on Illinois receiver A.J. Jenkins.
The 49ers' wide receiving corps is stronger than in 2011, but they still sometimes have trouble getting open against tight press coverage. Both New York and Seattle used this defensive approach against the 49er wide receivers successfully.
Michael Crabtree leads the 49er receiving corps with 39 catches for 440 yards. His three touchdowns trail Vernon Davis by one, but Crabtree showed his ability to run after the catch against the Cardinals. Crabtree is developing into a top flight receiver.
Manningham, who came to the 49ers from the NY Giants, is second on the team with 27 catches, even though he missed a game due to injury.
Moss showed that he still has plenty of gas left in the tank, as he made an exciting highlight-reel play on Monday night. He caught a short, sideline pass from Alex Smith, eluded two would-be tacklers and raced down the field for a 47-yard touchdown.
Moss still has the speed to get deep, although Smith has had trouble getting him the ball. I do look for Moss to get more passes thrown his way in the coming weeks, as he has proven that he's still a dangerous weapon.
Kyle Williams is a good slot receiver and has 10 catches on the year.
This group, which is rounded out by Ted Ginn, has improved, but they need to do a better job getting open against that aggressive, in-your-face coverage.
Wide Receivers Grade: B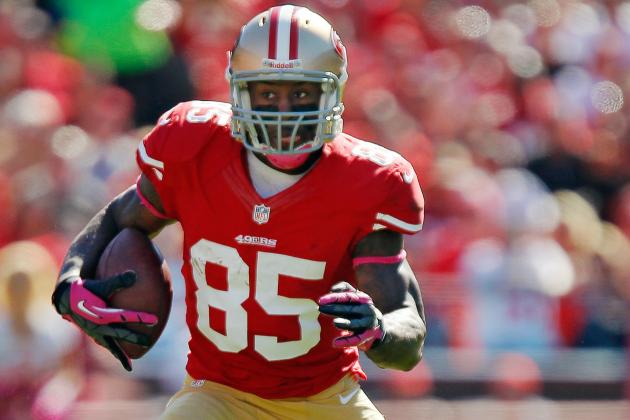 Brian Bahr/Getty Images
Vernon Davis presents matchup problems for any defense
San Francisco 49ers head coach Jim Harbaugh loves to incorporate his tight ends into the offense. The 49ers have one of the best in the league in Vernon Davis.
Davis has been targeted by opposing defenses and his production is down at this point in the season. He has 25 catches for 374 yards and four touchdowns. Defenses have frequently bracketed Davis, not allowing him to get open.
Davis is also extremely valuable in the 49ers' running attack. He is a fine blocker, one of the best at his position.
The Niners' second tight end is Delanie Walker. He is one of the fastest players on the team and as defenses focus on Davis, Walker has gotten more opportunities. He currently has seven catches for 89 yards and a touchdown.
The third tight end is rookie Garrett Celek. He is used sparingly, usually when the 49ers play a three-tight end formation.
Tight Ends Grade: B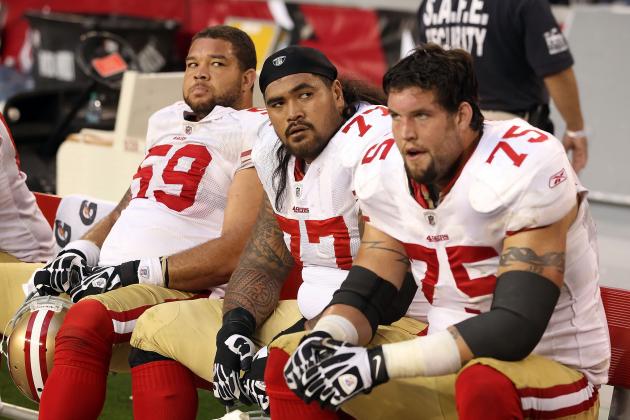 Christian Petersen/Getty Images
49ers' linemen Goodwin, Iupati and Boone take a well-deserved rest
The San Francisco 49ers lead the league in rushing and the main reason is the strength of their offensive line. This unit, consisting of tackles Joe Staley and Anthony Davis, guards Mike Iupati and Alex Boone, and center Jonathan Goodwin, is big, strong and powerful.
The 49ers' offensive line is an excellent run-blocking group, which is its forte. It has the ability to dominate a defensive line and impose its will on the opposition.
Where the 49ers' line sometimes has trouble is in pass protection. It has allowed 24 sacks and can have problems against strong pass-rushing teams.
One factor in the sacks is that Alex Smith sometimes holds the ball too long, not wanting to throw it into traffic. Even if there are some sacks that can be attributed to Smith, the offensive line does need to be more consistent in pass protection.
Offensive Line Grade: A-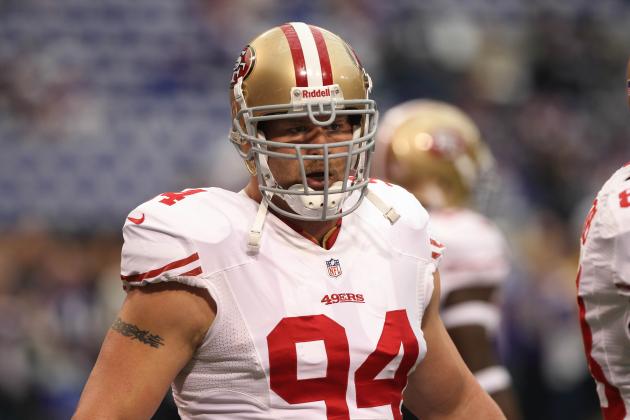 Brace Hemmelgarn-US PRESSWIRE
Justin Smith was a First-Team All-Pro in 2011
The San Francisco 49ers' defensive line has been solid, though unspectacular. This group is led by three-time Pro Bowler Justin Smith. He plays an all-out intensity on every play. Smith's 35 tackles are fifth on the team and lead the next defensive lineman by 20.
Ray McDonald had a good game against Arizona, but overall, the 49ers would like more production from him. He has just nine solo tackles and six assists in eight games.
Isaac Sopoaga is the 49ers' nose tackle. His job is to occupy blockers and help stuff the run. He does a good job in this area, although he does not provide a strong pass rushing push.
The 49ers' defensive philosophy is that the linemen occupy blockers, enabling the linebackers to make the majority of the tackles on running plays. They do that job, but outside of Smith, they do not make enough plays.
In addition, this unit is not a strong pass rushing trio. They have combined for just one-half of a sack all season, which was generated by McDonald.
The 49ers' depth on the defensive line is also the weakest of all the position groups. They must hope that none of the starters goes down with an injury. This was an area I thought the 49ers would address in the prior offseason, either in the draft or via free agency.
Defensive Line Grade: B-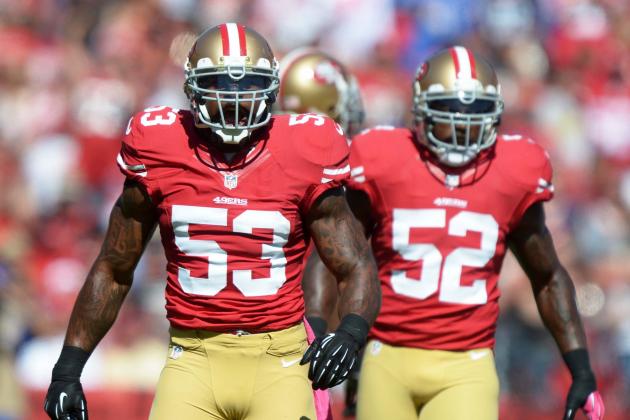 Kirby Lee-US PRESSWIRE
Navorro Bowman and Patrick Willis anchor the tough 49er defense
The San Francisco 49ers have, in my opinion, the best pair of inside linebackers in football. Patrick Willis and NaVorro Bowman were both First-Team All-Pro selections in 2011.
Willis and Bowman lead the 49ers in tackles by a wide margin. Bowman has 42 solo tackles and 25 assists for a total of 67. Willis has 48 solo tackles and 17 assists, for a total of 65. Each player has one interception and Bowman has recorded two sacks.
On the outside, the 49ers play Ahmad Brooks and Aldon Smith. Brooks is a very steady player and is playing at a high level. Smith is the 49ers' main pass rushing linebacker.
In 2011, Smith played about half the time, mainly on passing downs. He collected 14 sacks and was a devastating pass rushing specialist. Now, Smith is an every-down player. He is on his way to duplicating or perhaps even exceeding his sack totals from 2011, as he currently has seven-and-a-half.
The numbers for Smith are deceiving, however. Many of the sacks were obtained when teams were hopelessly behind and passing on every down. Four of Smith's sacks occurred in blow-out victories against the Jets and Cardinals. We have also seen Smith disappear at times, which could be related to the fatigue of playing every down.
Smith has also been victimized in pass coverage. He is not asked to do this often, but when he is in coverage, he is not comfortable. Smith is a tremendous athlete and as he gains experience playing every down, he will become more consistent.
Linebackers Grade: A-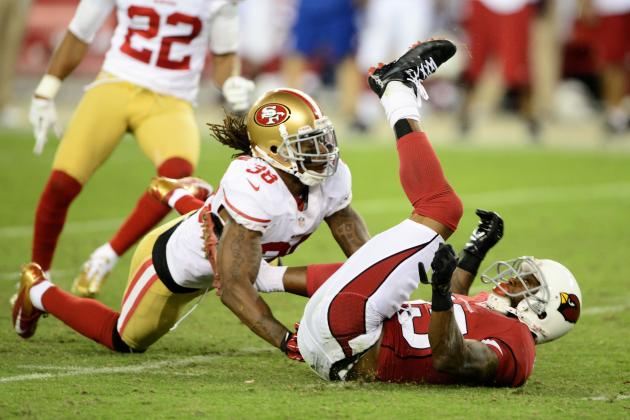 Mark J. Rebilas-US PRESSWIRE
Dashon Goldson makes the Arizona receiver pay for going over the middle
One of the biggest areas in which the 49ers have improved is their defensive secondary. Cornerbacks Carlos Rogers and Tarell Brown have been solid and safeties Dashon Goldson and Donte Whitner are playing outstanding football.
This unit is playing at a higher level than they did in 2011, although there is one major negative. The secondary, which specialized in creating turnovers in 2011, is not generating them nearly as often this season.
Rogers and Goldson each had six interceptions in 2011, and in 2012 Goldson has two and Rogers none. Brown and Whitner combined for six more interceptions in 2011 and have none this year.
Although the 49ers have been less successful with the takeaways this season, they have done a fine job of breaking up pass plays and also tackling. Whitner is third on the team in tackles with 37 and Goldson is one behind. They are both hard hitters and sure tacklers.
One of the pleasant surprises of the season is the improved play of nickel back Chris Culliver. He has become a much better defender in pass coverage and is tied with two interceptions. Dime back Perrish Cox is a big improvement over Tremaine Brock, who filled this role last year.
Defensive Backs Grade: A-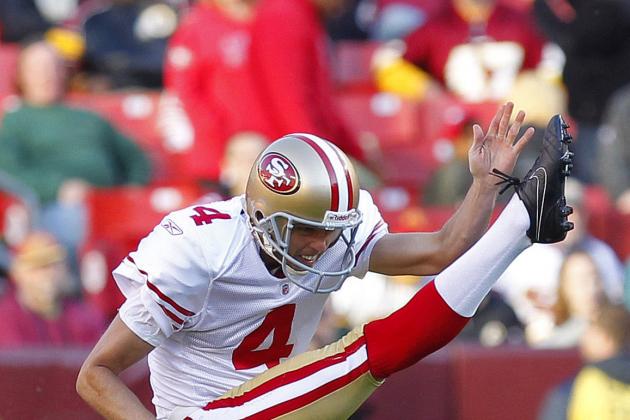 Geoff Burke-US PRESSWIRE
Andy Lee is one of the best punters in the league
The San Francisco 49ers are blessed with two of the best kicking specialists in pro football. Punter Andy Lee is a three-time Pro Bowl selection and two-time first-team All-Pro, including in 2011. Place kicker David Akers is a six-time Pro Bowler and two-time first-team All-Pro, including in 2011 with Lee.
Lee is having another stellar year and ranks near the top in all punting categories. Akers is 14-for-19 on his field-goal attempts, a 73.7 percent rate. Akers uncharacteristically has missed some make-able field goals this year.
The 49ers' return game is usually handled by Ted Ginn, when he's healthy. He is a dangerous return man and also sure-handed. The concern with Ginn is his durability. His absence in the 2011 NFC title game was a major reason the 49ers lost their chance to go to the Super Bowl.
The area that has been inconsistent this year has been the 49ers' coverage units. Special teams coach Brad Seely is one of the best in the business, but the coverage units were a major weakness in the first half of the season.
These units played better against the Cardinals and dangerous returner Patrick Peterson. They kept their discipline and stayed in their lanes to quell the Cardinals' return game. The 49ers' coverage teams still must prove to me that they can consistently contain the opposing returners.
Penalties have also hurt the 49ers' special teams units.
Special Teams Grade: C+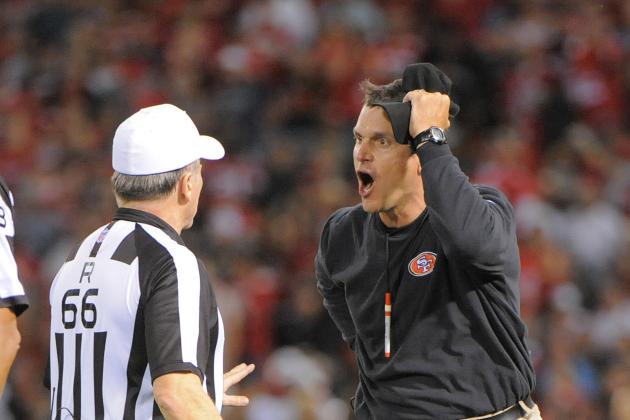 Kyle Terada-US PRESSWIRE
Jim Harbaugh is intense as they come
San Francisco head coach Jim Harbaugh has built an excellent staff around him. Offensive coordinator Greg Roman is creative and utilizes the wide array of weapons the 49ers possess.
The 49er defense is run by Vic Fangio. Harbaugh allows him complete reign over the defense and Fangio has built this unit into one of the best in the NFL.
The 49ers generally have their team well prepared for the games and they are extremely adept at making adjustments during the game or at halftime.
I believe the 49ers were not well-prepared in their two losses this year. Against the Vikings, coming off an emotional two-week stint against Green Bay,and then Detroit, the 49ers played flat and could never really gain the momentum of this game. They may have taken the Vikings lightly, as they were not very good in 2011.
Against the New York Giants, the 49ers defense wore down and ultimately could not stop the Giants. Eli Manning had a big game and Ahmad Brooks rushed for over 100 yards against the 49er defense.
The biggest issue, however, was on offense. Roman continually shuttled Colin Kaepernick in and out of the game, which affected the entire rhythm of the 49ers' offense. They lost all continuity and could only muster one field goal, losing 26-3.
Special teams coordinator Brad Seely has also had his issues this year, as the 49ers' coverage units have given up some big plays.
Coaching Grade: B+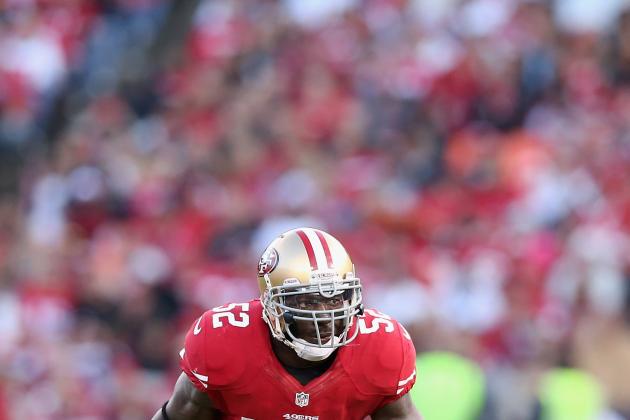 Ezra Shaw/Getty Images
Patrick Willis is the heart and soul of the 49ers' defense
The San Francisco 49ers hold a two-game lead in the NFC West. With Arizona decimated by injuries, and Seattle starting a rookie quarterback, the division title is in the 49ers' sights.
The 49ers have their sights set much higher and only a Super Bowl championship will make them happy. The window of opportunity is open for the 49ers and they have the talent and coaching to make it happen.
However, as I pointed out with several of the grades, there are areas for improvement. These weaknesses must be strengthened over the remainder of the season, or the 49ers will be susceptible to being beaten by a good team.
The 49ers almost made it all the way last season, but this current team is poised to make it happen.