We're back again with another mailbag of questions about the Atlanta Falcons. The Falcons head into a game with the Oakland Raiders this week and should be able to win and retain a record of 6-0 heading into the bye week.
This week, we have quite a few questions that need to be answered, so we'll dive right in.
DaVonte Hughes starts us off with an easy one:
@scar988 what's your opinion on the falcons run d

— DaVonte Hughes (@xXKidZeroXx) October 12, 2012
Honestly, right now, it's been pretty terrible. The Falcons currently rank 31st in the NFL in yards per carry with a 5.4 yards per carry average. They also rank 27th overall in the NFL in yards per game at 142.8 yards.
There are multiple ways to fix the issue. I posted an article a couple days ago with four ways the Falcons could fix it. However, the main point of the article is just for the Falcons to be patient. Corey Peters should be back right after the bye week.
When he does come back, the Falcons will get a much needed boost to the defensive tackle rotation in both size and speed. Peters is the kind of player who can penetrate in the backfield and disrupt offenses, both in the run and the pass.
By bringing back a starter, it moves Peria Jerry and Vance Walker—who have been surprisingly good—back to the rotation and strengthens the Falcons depth at a time when it needs more talent on the interior of the defensive line.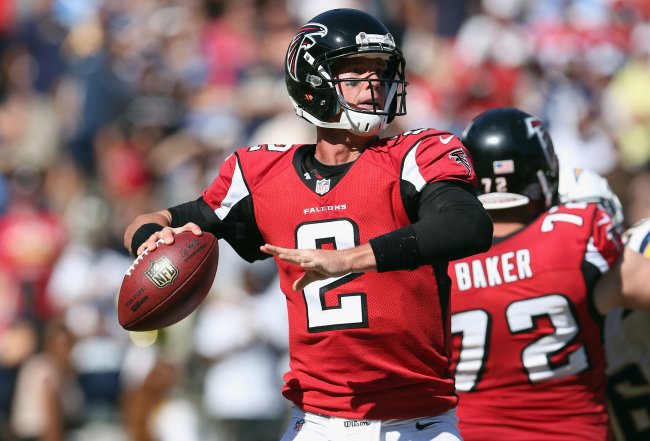 Jeff Gross/Getty Images
Bryan Aspinwall asked the following on my Bleacher Report profile page:
Hey man has there been any word on Peter Konz and why he hasn't stepped up and taken the starting job from Reynolds? Has Reynolds really improved that much or is Konz not who we thought he was? (Insert Dennis Green joke here)
It's more that Reynolds has tremendously improved. After five games in 2011, Reynolds was not only terrible, he was about to get benched. He had allowed two sacks, four hits and three hurries. This year, he hasn't let Ryan get touched by the guy he is blocking and has allowed seven hurries, no sacks and no hits.
That's a huge improvement for a guy who looked like he was closer to the chopping block than the starting spot in 2012. Peter Konz is likely exactly who we thought he was. However, giving a guy with his talent level some time to learn the NFL game is never a bad thing.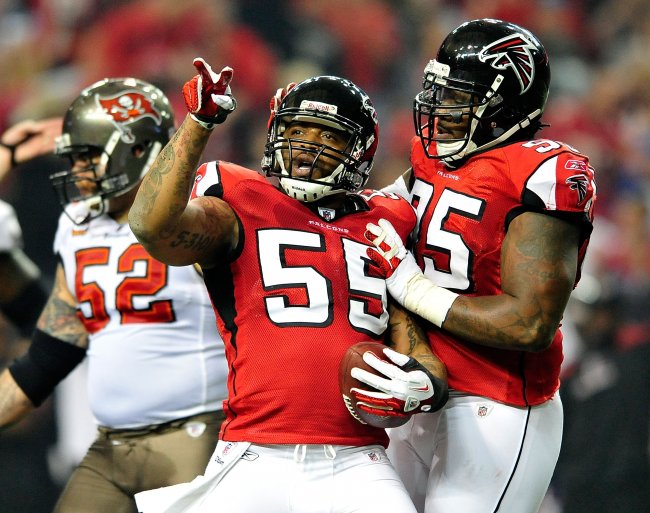 Grant Halverson/Getty Images
Up next, Blake Hudgins asks about the lines:
@scar988 what's the thoughts on both O and D lines? We looked a little shaky on both at times, but decent overall. Is that the case?

— Blond Barbarian (@BlakeHudgins) October 12, 2012
Well, the offensive line has improved tremendously in terms of pass blocking. Outside of a bad Carolina game, they have kept Ryan relatively untouched. The issue has been run blocking, but even that seems to have been coming around the past few weeks.
Overall, the offensive line has been above average. It hasn't been great, but it hasn't been terrible either. It's the Batman of the offense. It's not what the fans or the team has wanted so far, but it's been what they needed.
As far as the defensive line, the new scheme is going to make things very different all year. Nolan has started with three different fronts in all five games. Against San Diego and Denver, he's opened with the 2-4-5 nickel package. Against Washington and Carolina, a pure 4-3 package and against Kansas City, the Falcons opened with a 3-3-5 Nickel package.
So when it comes to judging the line, the Falcons have been running a lot of 2-4-5 and "amoeba" looks that make it tough to truly judge a line as a whole. You have to look at the front seven when grading. Tthey have done well in pass rushing and coverage, but run stuffing needs a lot of improvement.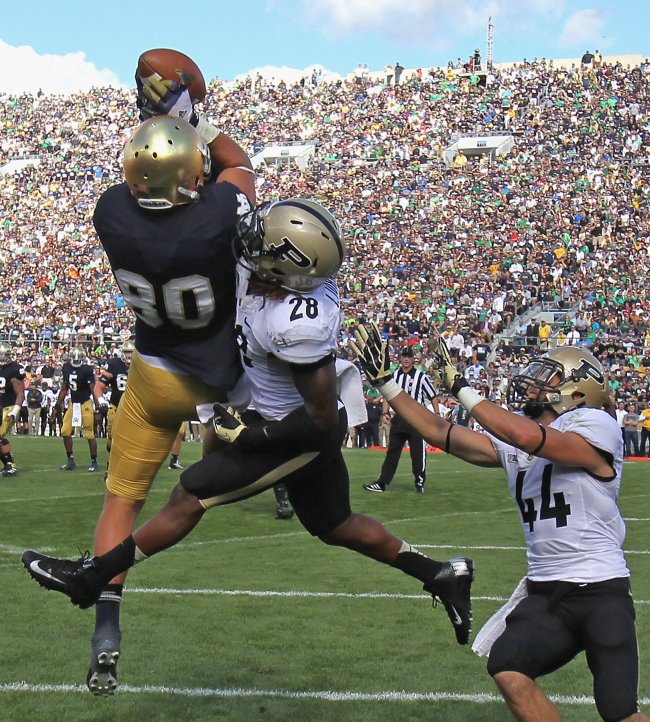 Jonathan Daniel/Getty Images
In a question that's a couple months early, Mike Dodd asks about the 2013 draft:
@scar988 its WAY 2 early but how do you see atl using their 1st round pick? Michael Buchanan (loads of potential) or Tyler Eifert are my picks

— mike dodd (@MiKEEYDOdd) October 12, 2012
Honestly, it's way, way too early to even think about who the Falcons will draft. The positions that seem to make the most sense are tight end and running back early, with linemen on both sides to round out the rest of the draft.
But Tyler Eifert would be the perfect pick for the Falcons. In early grading so far of the Notre Dame tight end, I have him rated as a better all around player than last year's top tight end, Coby Fleener. Fleener was one of the highest rated tight ends for the past four years on my personal board, outside of Jimmy Graham.
Kevin C. Cox/Getty Images
Up next, Corbin Miles asks about Michael Turner:
@scar988 do you think Turner will still be on our team next year???

— Corbin Miles (@Kor2bin) October 12, 2012
This is way too early to speculate. According to Spotrac, Turner has an $8 million cap hit in 2013. However, if he gets cut, the Falcons won't have to pay his $5.5 million salary and that could be used as a way to help keep William Moore, Brent Grimes or even Sam Baker.
It's very likely that Turner either takes a large pay cut to stay with the team or gets cut outright. If he takes less money to stay with the team, it would surprise me a bit, but he hasn't seemed like the greedy player that most are in the NFL. Then again, I thought the same thing about former Falcon, Curtis Lofton.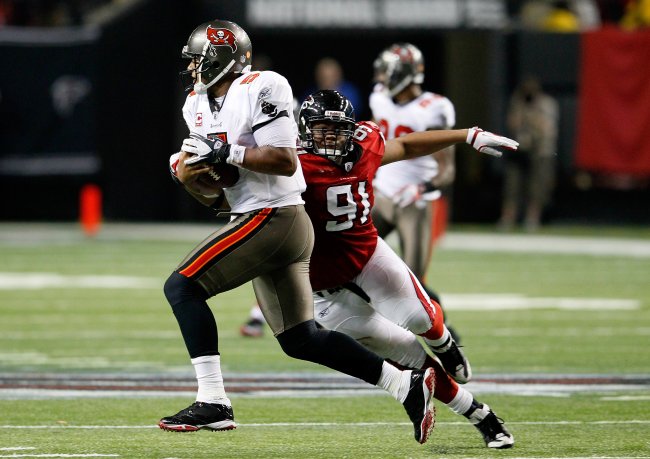 Kevin C. Cox/Getty Images
After Corbin, Wombat9195 asks about the return of Corey Peters:
"@scar988: How much will the return of Corey Peters help the run def and def as a whole?#BRFalconsMailbag

— FalconsBravesUGA#1 (@Wombat9195) October 12, 2012
Corey Peters is one of the best run defenders of the past two years and those were his first two in the NFL. He's able to shoot the gap and create penetration, both against the pass and the run. Penetration is key in any and every defensive scheme.
Now, against the pass is where he could surprise. Peters will help shore up the run defense as noted earlier in the mailbag, but his previous job in the scheme was to bull rush the entire time or to read and react to the play. Under this new scheme, the only thing the defensive tackles do is attack the gap, and it plays right into his strength.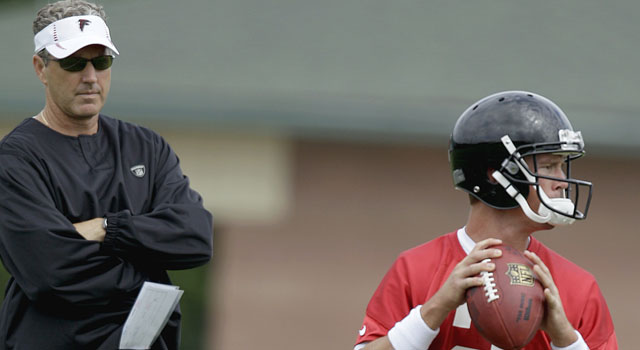 Craig Sager II of Score Atlanta asks the following question:
If you were Dirk and the opponent would get overwhelming pressure again like the Carolina game. Would you leave the backs in there with Ryan to try and pick up the extra heat or empty them out let the pressure come again and trust Ryan to get it out quick again using the backs as receivers not for protection or chip blocking etc. What do you think the strategy should be in that situation. Stay home and try for a pocket or just let them continue bringing knocking Ryan as long as you can make them pay in the quick passes and screens.
This is an awesome question, Craig. Personally, I'm a big fan of varying the scheme. I like the idea of having seven offensive linemen in a max protection with just a three man route setup of Gonzalez, White and Jones.
I'm also a big fan of running screens and draws to throw them off. Essentially, I wouldn't really change much from my initial scheme to balance the pressure out. With a quarterback like Matt Ryan, I would open up my playbook even more in the screen packages.
Now, how would Dirk Koetter attack this?
After looking at the Carolina game, he did almost exactly the same thing that I was suggesting. However, he ran a lot of normal sets as well. Once he mixes it up a bit more, these athletic fronts will have a hard time beating this Falcons offense for sacks.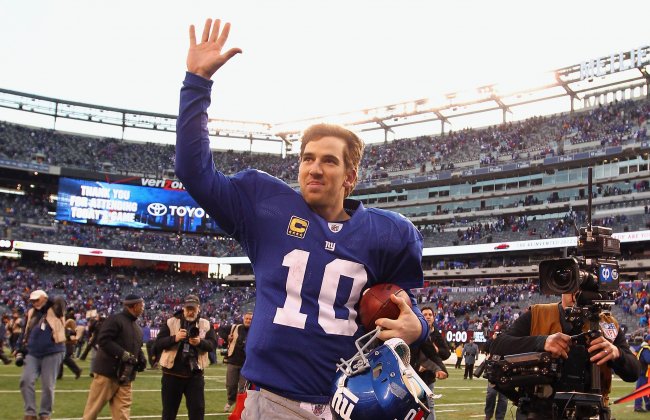 Al Bello/Getty Images
Erik Frenz, the AFC East Lead Writer here at Bleacher Report, asks the following:
@scar988 What has been the problem for the Falcons in their playoffs losses, and does this team look like it has those problems?

— Erik Frenz (@ErikFrenz) October 12, 2012
The biggest issue with the Falcons over the last two years in the playoffs has been a lack of aggression and a lack of hunger when they get there. They haven't had the swagger needed to win the playoff games either.
With a pair of new coordinators, the Falcons have turned the entire philosophy of the team around. The schemes are both trying to figure out the best way to attack, instead of playing reactive football. By showing the aggression, both on the field and in the coaching box, the Falcons have seemingly cured those problems from past years.
However, they still have to get to the playoffs first. While I don't think they will have a complete collapse and go from 5-0 to 5-11, they could flounder with a harder schedule and wind up 10-6 or 11-5 by the end of the season if they don't keep the aggression up.
Scott Carasik is a Featured Columnist for Bleacher Report. He covers the Atlanta Falcons, NFL and NFL Draft. He is also the Falcons analyst at Drafttek, runs the NFL Draft Website ScarDraft.com and hosts Kvetching Draftniks Radio.