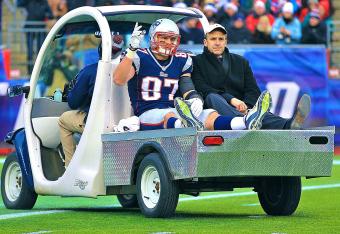 Getty Images
The hits keep coming for the New England Patriots, and this could be the one that spells doom for their title hopes this season.
The Patriots beat the Browns in miraculous fashion with a 27-26 win on Sunday, but it's the loss of tight end Rob Gronkowski that will draw the headlines.
Gronkowski suffered a knee injury that took him out of the game, and while the Patriots offense found their stride later on, their momentum from the past six weeks has all but evaporated without their best tight end.
"Rob was taken to the hospital for observation and evaluation on his injury," said head coach Bill Belichick after the game. "That's all I have."