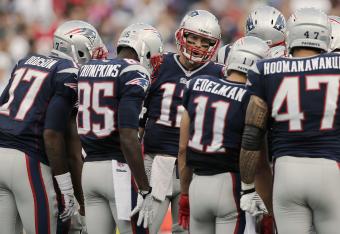 Tom Brady (center) has been looking at a whole new cast of characters this year.
Winslow Townson/Getty Images
It wasn't pretty, but the New England Patriots' offense has made it through a tough start to the season and is now back in the discussion of the best units in the league as we head toward the 2013 playoffs.
One of the overriding narratives this preseason was the loss of key weapons and how that would affect the offense. Between Wes Welker, Brandon Lloyd, Aaron Hernandez, Danny Woodhead and Deion Branch, 75.8 percent of Brady's completions from 2012 were gone before the beginning of the 2013 season.
One look at the production of those players, and it's not hard to see why many had concerns about whether the Patriots offense would make it through so much overhaul in one offseason.
Add six receptions for 160 yards from Kellen Winslow, Donte Stallworth and Daniel Fells, and replacing all that production would not be easy.