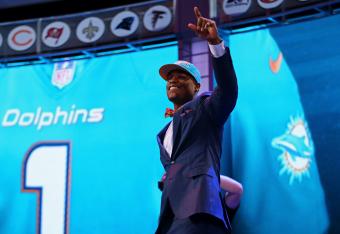 Al Bello/Getty Images
The Miami Dolphins showed a lot of faith in DE/OLB Dion Jordan by trading up to the No. 3 spot in this year's draft to get him.
The onus is now on Jordan to prove that their faith is well-founded, but it is also on the coaching staff to put his talents to good use.
There's no denying that Jordan is talented, but some players might crumble under that kind of pressure, while others will rise to the occasion. It also may not be a one-year process. For instance, Dolphins quarterback Ryan Tannehill took steps toward proving that he wasn't a reach as the No. 8 overall pick in last year's draft, but there are still considerable question marks around his future.
The pressure will be similar for Jordan as it is for Tannehill, and while Jordan doesn't play the game's most important position, expectations around the Dolphins are considerably higher across the board than they were last year at this time.