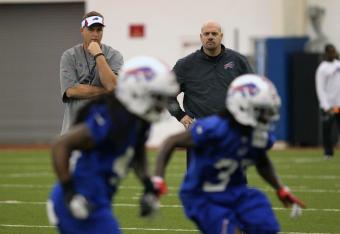 Things are still kind of blurry for the Bills defense under Mike Pettine.
USA TODAY Sports
Don't try to pigeon hole the Buffalo Bills as a 3-4 or a 4-3 defense.
Now that defensive coordinator Mike Pettine is pulling the strings for the Bills, expect a lot of the same that we saw from him with the Jets: a mix of both fronts, a lot of nickel packages and a game plan-specific defense (via BuffaloBills.com).
The Bills spent years building toward a 3-4 defense, but switched to a 4-3 scheme last season under defensive coordinator Dave Wannstedt. The result is a mix of players that can play different roles depending on the front.
Most of the players have their roots in the 4-3 defense, but some—such as linebacker Manny Lawson and nose tackle Marcell Dareus—come from, and have excelled in, a 3-4 defense. Almost every player, though, has experience in both fronts—for better or worse.