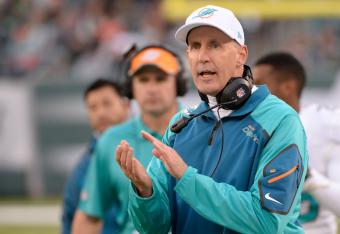 Robert Deutsch-USA TODAY Sports
The playoffs are in sight for the Miami Dolphins, and at 6-6, they have just as good a shot as anyone—and a better shot than several teams—of playing a football game or more in January.
Their margin for error, however, is exceedingly thin. The Dolphins' best chance starts with winning all of their remaining games (thank you, Captain Obvious), but they're not going to get there without a little help from their enemies.
At this point, the Dolphins are all but out of the race for the AFC East title. They would have no choice but to win every remaining game, and the New England Patriots (9-3) would have to lose every remaining game in order for the Dolphins to win the division. With the Denver Broncos (10-2) and Kansas City Chiefs (9-3) duking it out for the AFC West title, the top wild-card spot is all but sewn up.
The sixth seed in the AFC seems to be the only spot in the playoffs that's truly up for grabs, and it's a dogfight with six teams still in the hunt.