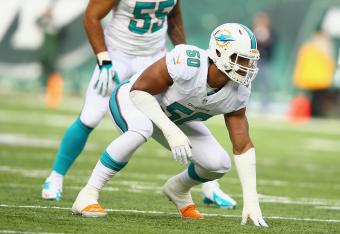 With Dion Jordan and Cameron Wake soaking up the spotlight, Olivier Vernon (above) has flown under the radar. Not anymore.
Al Bello/Getty Images
The Miami Dolphins have one of the best pass-rushers in the NFL: Cameron Wake.
They selected a rookie pass-rusher with the third overall pick this year: Dion Jordan.
Yet a little-known, under-the-radar defender has more sacks than the two of them combined.
Meet Olivier Vernon, second-year defensive end out of Miami, the Week 13 AFC Defensive Player of the Week, and—if he continues to play at the level he's shown over the course of the season—a blue chip building block for the defense.