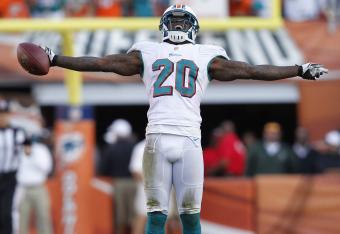 Joel Auerbach/Getty Images
As the Miami Dolphins continue to fight for money to fund stadium renovations, one of their own is fighting for money to fund his livelihood.
According to Armando Salguero of the Miami Herald, Dolphins safety Reshad Jones is not planning on showing up for organized team activities unless contract talks begin:
He has every right to be upset about his current situation.
Jones signed with the Dolphins in 2010 as a fifth-round draft pick, but he has clearly surpassed his draft slotting at this early stage in his career. He has developed into a playmaker for the Dolphins defense, and ranked third on the team in tackles and first in interceptions in 2012.