2012 NBA Season: Lakers-Celtics III? Why It Will Happen & How They Match Up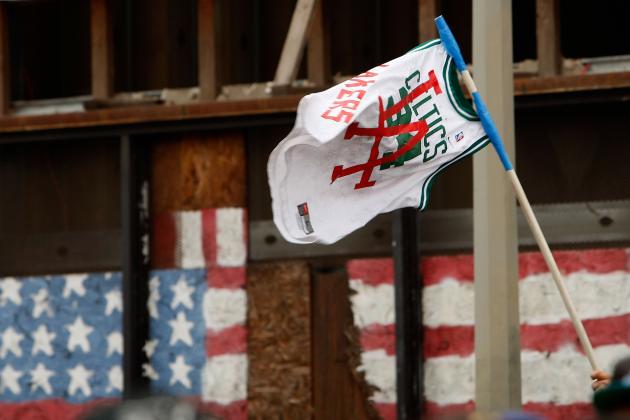 David McNew/Getty Images

While the start of the 2012-13 NBA season is less than a month away, it will only serve as a formality to make way for the Boston Celtics and Los Angeles Lakers to once again square off for all the marbles.
It would mark the third finals matchup between the teams in the last six years and an unprecedented thirteenth meeting in the history of two of the most storied franchises in the NBA. The Celtics came out victorious in 2008, while the Lakers got the better of them in 2010.
Who doesn't love a trilogy?
The Miami Heat and Oklahoma City Thunder sure don't.
Sure, it's no secret that last season's top two teams have only gotten better this past offseason. Common sense would suggest that a rematch between arguably the two best players in the game—LeBron James and Kevin Durant—is inevitable.
It is, but just not this year.
With their numbers constantly declining in recent years, Paul Pierce and Kevin Garnett are entering what is most likely their last productive season with the Celtics. Riding into the sunset on top will definitely serve as sufficient motivation for a pair whose drive to win has been known to prosper even when there's a lack of skill.
The defending champion Heat will serve as the Celtics' biggest roadblock to making their 22nd trip to the finals.
During last season's conference finals, the Celtics held a 3-2 advantage heading home, before eventually falling to the Heat in seven. It was a shock to many that the injury-stricken Celtics even made it past five, let alone held a series advantage.
The acquisitions of Courtney Lee, Jason Terry, Jared Sullinger and Fab Melo have only helped to make the Celtics far more talented and versatile than they were a year ago.
On the other hand, after winning back-to-back championships, the Lakers are coming off a couple of years where they've watched youth get the better of them. This year, they're ready to show these young guns that sometimes experience and wisdom are far better weapons to have in your arsenal.
During the offseason, the Lakers brought in Steve Nash, Dwight Howard, Antawn Jamison and Jodie Meeks.
The move did two things: it gave them an added boost in the starting lineup while also strengthening the team's bench.
With a starting lineup that boasts four, if not five, future Hall-of-Famers, the Lakers will be a nightmare for anyone they come across in the playoffs.
Youngsters, class is in session.
While a Lakers-Celtics finals matchup lacks the same flair and marketing opportunities as a Kobe-LeBron matchup would, its history is unparalleled by any other potential matchup. We'll eventually get our Kobe-LeBron fix, but after this season it might be quite some time before we get to witness another Lakers-Celtics duel.
When faced with a choice between history and what's trending, always side with history.
So without further ado, here's how the Lakers and Celtics would match up.
Begin Slideshow

»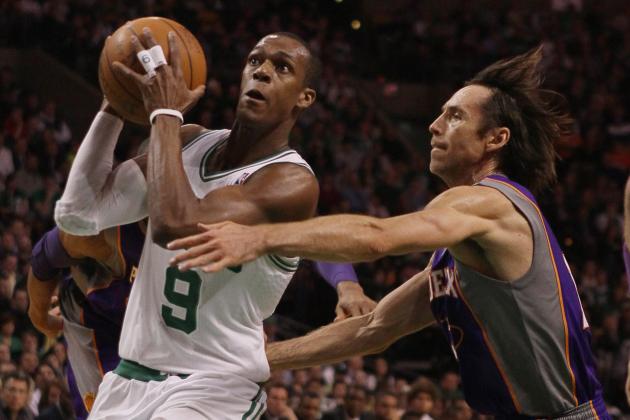 Elsa/Getty Images
Rajon Rondo (left) and Steve Nash (right) will be a key matchup in the series
Head-to-Head: In 10 regular season matchups, Nash holds the advantage 6-4.
Nash - 33.3 MPG*, 13.9 PPG, 9.7 APG, 2.8 RPG, 0.6 SPG
Rondo - 28.0 MPG, 13.4 PPG, 6.7 APG, 3.3 RPG, 1.8 SPG
*Bold detonates a number that is higher than the player's career average
The Rundown: Last season with the Phoenix Suns, Nash averaged 10.7 assists per game—No. 2 in the league.
That's particularly impressive when you consider the supporting cast he was working with. Grant Hill, Channing Frye, Jared Dudley and Marcin Gortat aren't exactly the group of players a point guard fantasizes about playing with.
Kobe Bryant, Metta World Peace, Pau Gasol and Dwight Howard? Now that's more like it.
The Lakers will appreciate the help, as Ramon Sessions served as the team's leading distributor with only 5.5 assists per game.
That alone displays the importance that the addition of Nash will have on this team. His impact will be felt from the opening tip, as the Lakers will find themselves benefiting from better ball movement and a lot more easy buckets.
Now, remember how we mentioned earlier that Nash only finished second in the league in assists? Rondo and his 11.7 assists per game can be thanked for that.
Rondo established himself as the starting point guard for the Celtics the same year the "Big 3" made their way into town. The superstar status of the Kevin Garnett, Paul Pierce, and Ray Allen trio overshadowed the importance and role that Rondo played in the Celtics' success.
In recent years, it's been clear that Rondo has been the largest contributor toward the Celtics' deep runs in the postseason.
Rondo's average in every major statistical category actually goes up during the postseason.
That includes last season when Rondo averaged a career high 17.3 points per game in the postseason compared to his 11.9 points per game during the regular season. He was particularly impressive in the seven-game series with the Miami Heat, where he averaged 20.9 points per game—including a 44-point outburst in Game 2.
That's stepping up to the occasion.
How They Match Up: Although Nash's teams have gotten the better of Rondo's in their 10 matchups, the two have actually matched up fairly well with each other.
However, this go around, age will surely become a significant factor.
Rondo, 26, is entering the pinnacle of his career and has seen his numbers increase with each passing year. On the other hand, the 38-year-old Nash has seen his numbers slowly decline.
In the presence of highly talented teammates, Nash will surely be provided with one last burst. However, the quickness and agility of Rondo will take its toll on Nash's body over the course of a grueling series.
Advantage: Celtics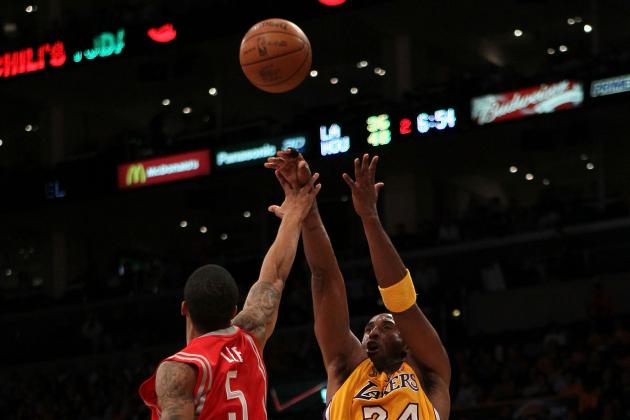 Jeff Gross/Getty Images
Courtney Lee (left) will try to keep pace with Kobe Bryant (right)
Head-to-Head: The 10 regular season meetings between the pair have been split 5-5.
Kobe - 37 MPG, 30.8 PPG, 5.8 APG, 6.7 RPG, 1.3 SPG
Lee - 24.5 MPG, 10.4 PPG, 1.8 APG, 3.8 RPG, 1.1 SPG
The Rundown: Most players would settle for five NBA titles in seven finals appearances. But Bryant isn't "most players."
In fact, Bryant's hunger and desire for another title matches that of any player who's yet to win one—some might even say it surpasses that.
His immense work ethic, vocal leadership and pure talent are always on display during games, no matter the score. It's that will to win that causes him to be considered one of the best, if not the best, to ever play the game.
While many players might notice a drop in production after 16 years in the league, Kobe only seemed to get better, averaging 27.9 points per game last season—only 0.1 points off of scoring title winner Kevin Durant's 28.0.
On the other hand, Lee isn't really known for his scoring ability.
In 58 appearances last season, Lee reached the 20-point mark only six times with his highest output being a 25-point effort against the cellar-dwelling Sacramento Kings.
However, Lee emerged as a viable three-point threat last season, shooting more than 40 percent from beyond the arc. He would be a suitable replacement in that aspect following Ray Allen's departure from the team.
With only four years in the league, Lee offers tremendous upside and should be a great fit for the Celtics as they turn toward adding a more youthful presence to the roster.
How They Match Up: No matter how you spin it, this is going to be a huge mismatch.
Lee is known for being quite lackluster on the defensive end, which can only mean bad news if you're depending on him to mark Bryant for an entire series.
With Bryant's tendency to drift off of his man in help-defense, Lee's three-point shooting could prove to be critical.
However, that's as much as Lee would offer in this matchup. Expect Kobe to downright abuse Lee all series long.
Advantage: Lakers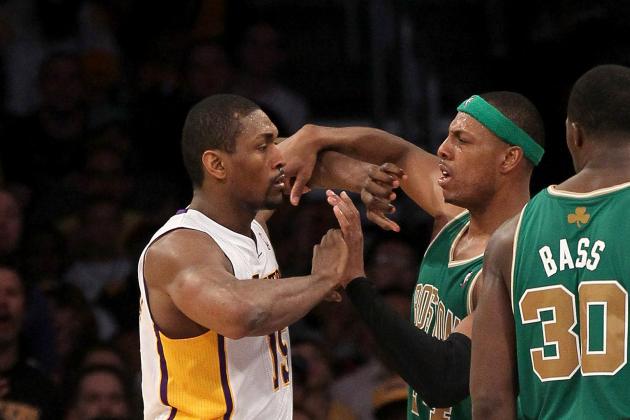 Stephen Dunn/Getty Images
Ron Artest (left) and Paul Pierce (right) have a history of chippy play
Head-to-Head: In 25 regular season matchups, World Peace holds a 14-11 advantage.
World Peace - 33.9 MPG, 13.6 PPG, 2.9 APG, 5.0 RPG, 2.2 SPG
Pierce - 38.7 MPG, 20.3 PPG, 4.1 APG, 5.5 RPG, 1.4 SPG
In 16 playoff matchups, World Peace holds a 9-7 advantage.
World Peace - 37.9 MPG, 15.6 PPG, 2.2 APG, 5.1 RPG, 1.8 SPG
Pierce - 41.6 MPG, 21.1 PPG, 4.1 APG, 7.5 RPG, 1.3 SPG
The Rundown: When looking at the recent statistical aspects of his career, don't expect World Peace to stand out. In fact, his three seasons with the Lakers have been the three worst statistical seasons of his 13-year NBA career.
But what makes World Peace such a valuable asset to any team is an attribute that doesn't show up on the stat sheet: his defense.
His defense has garnered the St. Johns-alum four selections onto the NBA's All-Defensive Teams, as well as landing him the Defensive Player of the Year award in 2004.
He makes a living by frustrating opponents. Judging by his career thus far, he's done a pretty good job.
On the other hand, Pierce has done it all for the Celtics.
Since his arrival in 1998, he has been the heart and soul of the organization. His adoration from the Celtics' faithful can only be matched by his love for the city. Although he's taken part in multiple losing seasons, Pierce never once demanded to be traded.

However, the 14-year veteran has seemed to reach a turning point in his career.
What he once found to be second nature, he is now finding difficult to accomplish. As a result, his numbers have declined in recent years.
After averaging 20-plus points per game in nine consecutive seasons, Pierce has failed to reach that mark in the past three campaigns. Furthermore, his field goal percentage took a staggering drop from 49.7 percent in 2010 to 44.3 percent last season.
It was even worse in the playoffs, as he shot a measly 38.6 percent from the field.
However, one attribute he possesses has never failed: his will to win.
During Game 5 of the conference finals last season, Pierce entered the fourth quarter shooting 4-of-15 for only 11 points. However, he would add eight more points in the final quarter, including a shot clock-beating three-pointer over the outstretched arms of LeBron James to ice the game and give the Celtics a 3-2 series lead.
He's not done yet.
How They Match Up: These two have been at each other's throats in years past. However, there seems to be a mutual respect between the pair.
While he seems content with saving his energy for the defensive end, except for the random 30-foot fade-away three-point attempt, World Peace seems to take the offensive initiative a lot more. Pierce still produces, however, he seems to be more prone to giving up the ball.
A large part of that is due to World Peace's defense.
However, with his career quickly waning away, Pierce is bound to play this season in a different gear. I expect him to come out with the mindset that the only thing stopping him from ascending back on top of the NBA is his body.
It will be close, but I see Pierce coming up clutch in the late moments of some games in this series.
Advantage: Celtics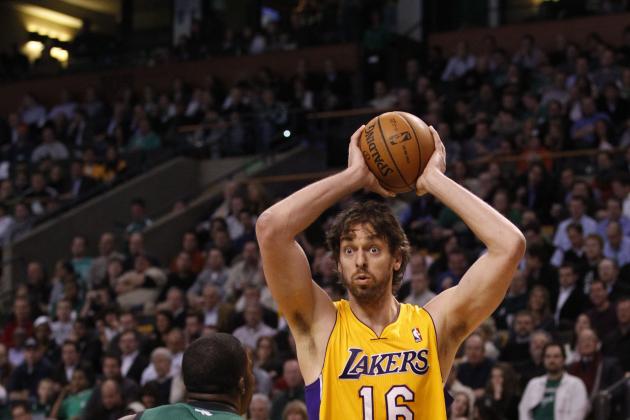 David Butler II-US PRESSWIRE
Pau Gasol (right) should have no problems exploiting Brandon Bass (left)
Head-to-Head: In 14 regular season matchups, Gasol holds a 9-5 advantage.
Gasol - 37.8 MPG, 19.0 PPG, 3.4 APG, 8.8 RPG, 1.6 BPG
Bass - 17.7 MPG, 6.5 PPG, 0.6 APG, 3.6 RPG, 0.4 BPG
The Rundown: Gasol is coming off easily the worst season in his 11-year NBA career. The only thing worse than his regular-season performance was his postseason performance.
Don't expect to see much of the same this season. In fact, expect Gasol to view his shortcomings, and near-experience with being traded, as a wake-up call.
Now, with Howard taking up most of the attention down low, Gasol should see fewer double teams and find himself with a much better opportunity to score.
Known as one of the better-passing big men in the league, the addition of Howard should also add to Gasol's versatility.
On the other hand, Bass is coming off of a career year.
Bass registered a career-high in minutes per game last season. He made the most of it, averaging 12.5 points and 6.2 rebounds per game.
He has fared quite nicely, filling in the the void at the position for the Celtics in his first year with the team.
In his second year, facing competition from Chris Wilcox and Jared Sullinger, the Celtics will expect him to be even better.
How They Match Up: This is another one of those matchups that is a pretty big mismatch.
With the exception of the March 11 contest between the Lakers and Celtics—Bass had 15 points, eight rebounds and two blocks in 43 minutes—Bass has been fairly non-existent in games against Gasol.
At 7' tall, Gasol has a four-inch height advantage over Bass. Expect Gasol to exploit that difference with ease.
While Bass may simply be able to "keep up" with Gasol through the first couple of games, look for head coach Doc Rivers to opt for Wilcox or Sullinger later in the series to see if they could produce better results.
Advantage: Lakers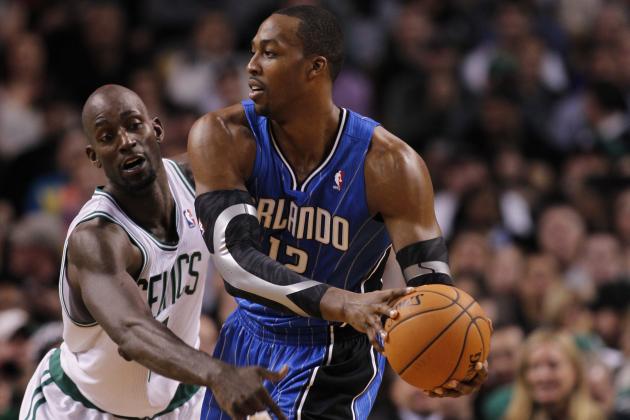 Greg M. Cooper-US PRESSWIRE
Garnett (left) hopes he has enough left in the tack to compete with Dwight Howard (right)
Head-to-Head: In 20 regular season matchups, Garnett currently holds an 11-9 advantage.
Howard - 37.9 MPG, 16.6 PPG, 1.5 APG, 14.3 RPG, 1.1 SPG, 2.1 BPG
Garnett - 35.3 MPG, 17.3 PPG, 3.5 APG, 11.0 RPG, 1.6 SPG, 1.2 BPG
The Rundown: If you can't beat them, join them.
After coming up short against them in the 2009 NBA finals, Howard caused a stir when he decided to join the Lakers this past offseason.
Considered to be one of the elite players in the league, Howard's impact will be felt immediately.
Amid constant back-and-forth battles through the media with then-head coach Stan Van Gundy, Howard put together one of his best seasons in the league last year. He averaged 20.6 points per game along with a league-best 14.5 rebounds per game. He also led the league in field goal percentage, shooting 57.3 percent from the floor.
While Andrew Bynum will surely be missed, Howard is exactly what the Lakers need to get over him.
Garnett, on the other hand, was a player many believed to be pretty much at the end of his career.
However, after averaging only 15.8 points and 8.2 rebounds per game during the regular season—the fourth-lowest point total and lowest second-lowest rebound total of his career—Garnett rebounded in the postseason, averaging 19.2 points and 10.4 rebounds per game.
His play was the catalyst of the Celtics' surprise run to within a game of the NBA finals.
How They Match Up: This will prove to be a fierce matchup down low, as both stack up pretty evenly during their head-to-head encounters.
However, in their lone playoff encounter in 2010—won 4-2 by the Celtics—Howard really demonstrated why he is clearly the better big man.
In the six games, Howard averaged 21.8 points and 10.8 rebounds per game, while shooting 56.8 percent from the floor. Garnett only averaged 10.3 points and 8.0 rebounds per game on 38.9 percent shooting.
Garnett's only hope is to capitalize on his long-range shooting, forcing Howard to come up and defend him on the perimeter.
Other than that, expect Howard to utilize his strength to take advantage of Garnett's battered body.
Advantage: Lakers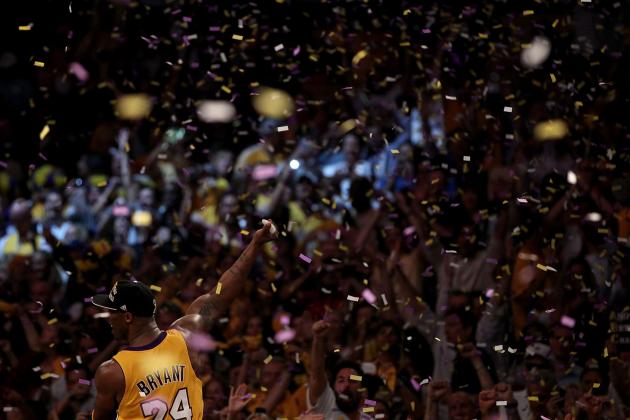 Christian Petersen/Getty Images
Kobe Bryant should greet a familiar site come next June
It would be one of the most talked-about finals in years. It would pit the team everyone expected to be there—the Lakers—against the team everyone expected to be over the hill by now—the Celtics.
Just like in 2008, the Lakers will be heavily favored.
Just like in 2008, that will not be the case.
With a bunch of new players added to the cast, this will go down as one of the most exciting chapters in the teams' storied rivalry. Players from both sides will give the performances of their careers, leaving it all on the line.
However, only one team can come away with all the marbles.
While the Celtics will constantly badger the Lakers, holding some late-game leads during the series, the Lakers will eventually pull through and regain their place atop the NBA.
With his sixth NBA ring, Bryant will match Michael Jordan and give new life to the long-standing debate between who is the greatest to ever play.
Prediction: Lakers in 6
All head-to-head statistics were taken from basketball-reference.com. All other stats were taken from ESPN.com.
You can follow Sebastian on Twitter at @SP7988