Alex Smith: Not an Elite Quarterback Yet, but Certainly Good Enough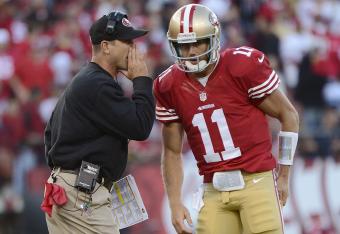 A great tandem so far.
Thearon W. Henderson/Getty Images
Now that the San Francisco 49ers are universally opined as the NFL's best and most complete team (there could be an argument for the Houston Texans here as well, and no one would disagree), there have been praises heaped onto all types of players up and down the roster. The usual kudos goes out to Patrick Willis, Justin Smith, Vernon Davis and even Michael Crabtree. The most surprising, however, has been the love for Alex Smith.
He has gone from the hated label of "game manager" to now becoming a quarterback who can lead his team to the Super Bowl. Even the great Aaron Rodgers has defended him at lengths. When the league's Most Valuable Player goes out of his own way to praise you, you're doing something right.
But is it all warranted? Has the No. 1 pick that went bust just a couple years ago just suddenly turned the corner and become an elite quarterback capable of bringing his team to the Super Bowl? Remember this happened.
The answer could be a yes but leans toward a no. No, Alex Smith isn't a game manager anymore, and never was (the term doesn't even make sense—aren't all quarterbacks managing the game?). Simply put, Jim Harbaugh has put Alex Smith in the perfect position with his relentless backing (despite his pursuit of Peyton Manning), defense and running game to succeed.
Playing quarterback isn't easy, even when you are the best of the best. Ask Peyton Manning how he did on Monday night in Atlanta. Still, there are ways to keep the game simple for the signal-caller. Watching the game live, it's easy to see that Smith's game plan is to protect the ball and to get it to the first open man downfield no matter how open they are.
According to NFL.com, Smith has thrown down the field for 20-plus yards 16 times, compared to the 40 times he has thrown it between 1-20 yards. Granted, the 49ers don't need to take unnecessary shots down the field, especially when they are up and the running game is running on all cylinders, but it would be nice to utilize the downfield weapons they do have in Davis, Moss and Manningham.
Where does Alex Smith rank amongst quarterbacks?
In
Green Bay
, he missed Moss and
Crabtree
in the end zone when he checked down to the first available target. A little bit of this was seen in the preseason as well, as Smith has been taught to protect the ball at all costs. That explains why he hasn't thrown one interception in nine straight games, but sooner or later he will be put in a position to do so.
Be it in the regular season or the playoffs, there will be a time when the 49ers are down in the fourth quarter and the pass rush is fierce. Then they'll have to air it out, and when that time comes, we'll truly find out what Alex Smith has. Those underneath routes to possession receiver Crabtree? Not there. Running game? Stuffed.
However, Harbaugh and the coaching staff has narrowed the probability of that hypothetical scenario happening into an extremely low percentage, possibly zero. If that's the case, we'll never know.
Alex Smith's career has been a case of polar opposites. It started with him in an impossible situation, having to rescue a terrible team with no offensive line and terrible coaching. Now he has found himself in the perfect position, a team with a defense so nasty it absolutely dominated two of the best offenses in the entire league and a coaching staff that seems to out-coach the other side every week.
There are no weaknesses on this team. Whereas once upon a time, he could do no right, his margin for error now is as large as Patrick Willis' biceps.
The talk throughout the season will revolve around how well Alex Smith has played and whether he is one of the top 10 quarterbacks in the league. He isn't. He probably won't have the opportunity to show that, and that's for the best.
With the way the defense and Alex Smith are playing, it won't matter whether he is in the same stratosphere as Rodgers, Eli Manning or even Ben Roethlisberger—that trophy will do the talking for him.
This article is
What is the duplicate article?
Why is this article offensive?
Where is this article plagiarized from?
Why is this article poorly edited?

San Francisco 49ers: Like this team?