Jets vs. Steelers: Pittsburgh's Biggest Winners and Losers from NFL Week 2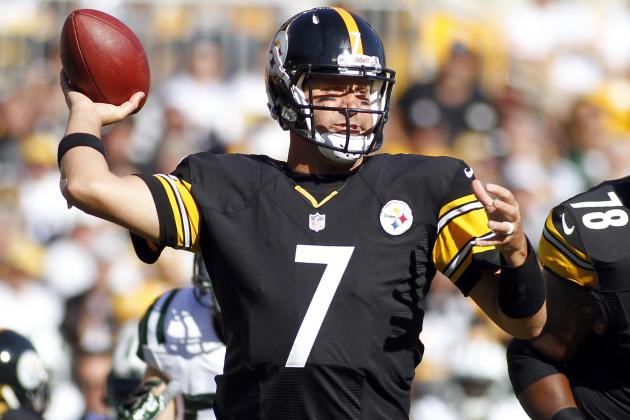 Justin K. Aller/Getty Images

The Pittsburgh Steelers answered questions after their Week 1 loss in Denver with an emphatic and mostly dominant whipping of the New York Jets in Pittsburgh on Sunday. The Steelers, who prevailed 27-10, seemed to learn some of the lessons taught by Peyton Manning's Broncos and adjusted well after some early-game problems this week.
Here's a look at the winners and losers for Pittsburgh.
Follow me on Twitter: @nickdewitt11
Begin Slideshow

»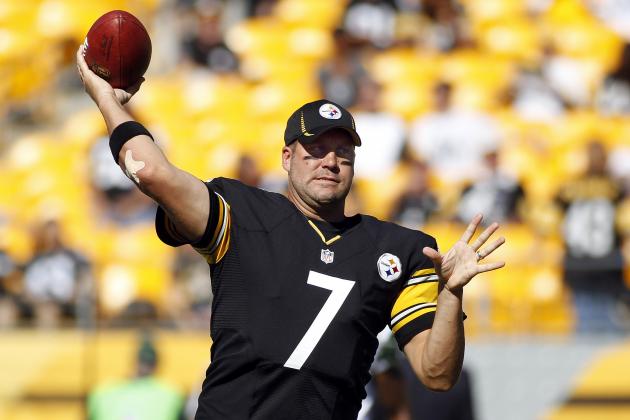 Justin K. Aller/Getty Images

Game Stats
24-of-31, 275 yards, 2 TD, 0 INT
Analysis
Besides his interception last week, I thought Roethlisberger played a good game. This week, he was flawless. He was sacked a few times, mostly due to poor blocking by his offensive linemen (more on that later). He overcame everything, however, to throw for two touchdowns.
Both scoring passes were spectacular plays that showed different sides of Big Ben's game. The first was a deft fade pass to Heath Miller that he dropped behind the coverage. Miller has re-emerged in this offense as one of Roethlisberger's favorite targets.
The second touchdown was a great pass by Roethlisberger and a better catch by speedster Mike Wallace. Wallace tapped his toes just inside the white line to score a back-breaking touchdown against a fired-up Jets defense.
Roethlisberger has really thrived to this point with Todd Haley's offensive scheme. You can't be upset with how things have unfolded at all on this side of the ball.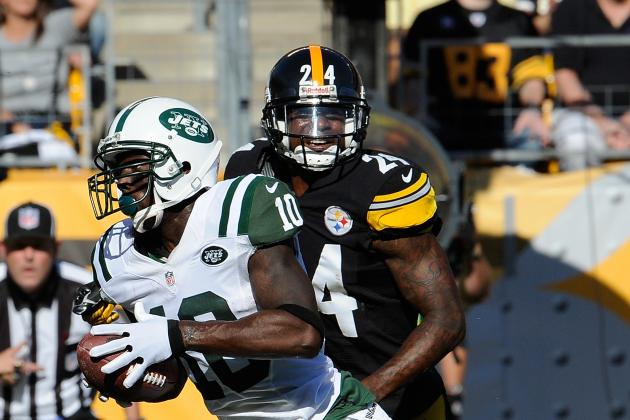 Joe Sargent/Getty Images

Game Stats
0 tackles, 3 pass interference penalties
Analysis
This wasn't Taylor's best game. It might have been one of his worst. The first problem was that he wasn't able to effectively cover in zone. He got better at this as the game went on, but he never was comfortable in that spot for the Steelers.
Pittsburgh needs its top cornerback prepared and on his game each week. It is very weak at the position, and Taylor is the one who is paired with an opponent's top receiver each week.
Speaking of top receivers, Taylor's opponent was former Steelers receiver Santonio Holmes. Holmes got the best of Taylor early with a lot of taunting and jawing. He also was able to continually draw pass interference penalties on Taylor. That has to stop.
Taylor has a penchant for committing interference penalties when he's close to being beaten. That is something Carnell Lake, his position coach, needs to focus on this week.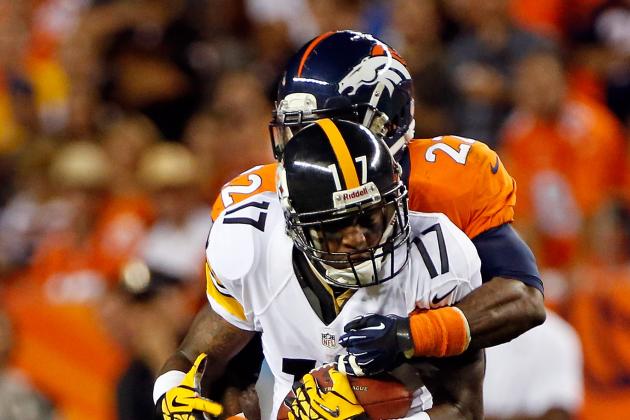 Doug Pensinger/Getty Images

Game Stats
5 receptions, 74 yards, 1 touchdown
Analysis
For a player who held out for the entire preseason and is only playing his second game since last year's playoff loss, Wallace looks very, very comfortable in Todd Haley's new offense. He has made plays in both games so far and is continuing to be the deep threat other teams fear.
In this game, Wallace was very good. He was able to bring down almost every pass in his direction and made a touchdown that is sure to make the highlight reel for this week's NFL action. His acrobatic grab reminded me a little of Santonio Holmes' grab in Super Bowl XLIII.
The Steelers are at their best when Wallace and Roethlisberger are on the same page. Last season, that was not often the case. This year, they've been very good together.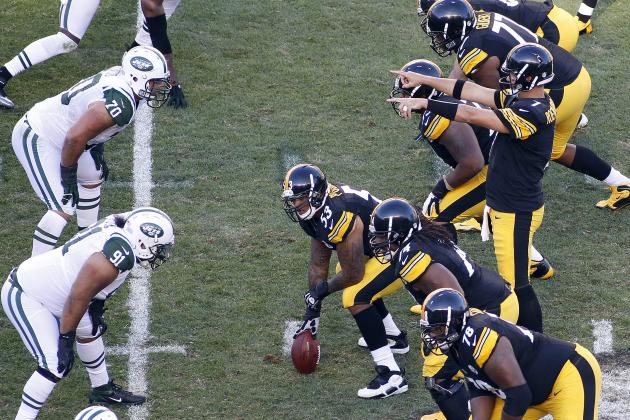 Justin K. Aller/Getty Images

Game Stats
3 sacks allowed, 66 rushing yards
Analysis
At first, I was only really upset with the run blocking. That was the big failing this week, especially early. Pittsburgh couldn't get its running game going at all until the second half. The adjustments there were encouraging, but still not enough. The Steelers had very little success on the ground for a second straight week.
The pass blocking was suspect too at times. There were a lot of holding calls which I thought were correct and were also the only reason pass-rushers didn't get to Ben Roethlisberger.
The guard play in this game, especially from Ramon Foster, was disappointing more than anything. The guards couldn't keep rushers off of the running backs and let too many guys through to lead blocker Will Johnson. That has to change.
The sacks today were almost entirely on the line instead of Roethlisberger, which is something entirely new for this team. Usually, it's a healthy (or unhealthy I guess) mix. This week, the line was letting their quarterback down.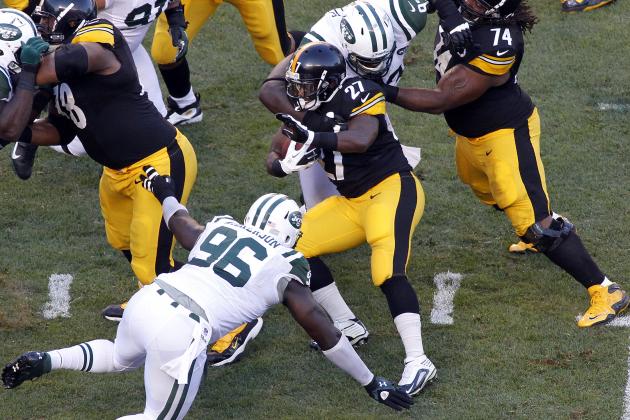 Justin K. Aller/Getty Images

Game Stats
12 attempts, 28 yards, 1 reception, 12 yards
Analysis
The statistics don't really show how important Dwyer was to this game. He was the team's most effective running back in this game and may have earned himself a promotion to the starting role next week when the Steelers face the Raiders.
What was impressive about Dwyer was the speed with which he hit the hole and the punishing style of his running. He was able to work in limited or no space. The Steelers need a back like that while they sort out the issues with their offensive line.
Dwyer's work wasn't spectacular and he won't make any highlight reels, but he did enough to be a winner this week. He should be given the chance to build on that next week. He did out-perform starter Isaac Redman in my opinion.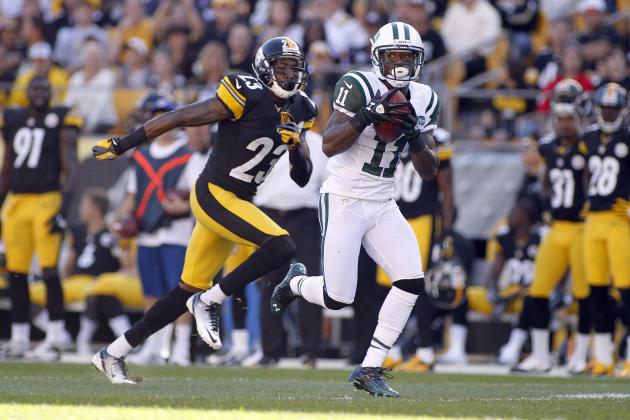 Justin K. Aller/Getty Images

Game Stats
I'd give them an F. It's that simple.
Analysis
I would be very surprised after this game if Rex Ryan and Mike Tomlin didn't share some words about how they'd survived another comically bad performance by the replacement officials the NFL has employed since locking out their regular referees in the offseason.
There were pass interference calls that made no sense, phantom holding calls, a blown review that gave the Steelers a huge gain and other penalties that took longer to decide on than the play did to unfold.
This game lasted a good half-hour to 45 minutes longer than it needed to because the officials simply couldn't find a way to be decisive. Both teams had to be frustrated by a game where the coaches seemed at a loss for words.
Roger Goodell has plenty of reasons after Week 2 action to beg the referees to return to work at favorable terms. It's time to put an end to this farce before someone gets hurt. Fans will throw things on the field at some point. It will only take one game-deciding call to make that happen. Let's avoid an ugly scene.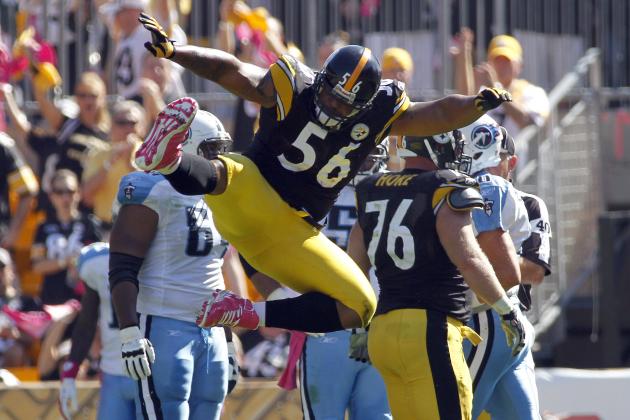 Justin K. Aller/Getty Images

Game Stats
2 tackles, 1 sack
Analysis
Woodley is another guy who contributed beyond statistics. He was one of only two Steelers defenders (the other being Lawrence Timmons) who generated consistent and considerable pressure on Mark Sanchez.
After the first quarter, Dick LeBeau's defense looked like the players that finished at the top of the NFL last season. Woodley was a huge part of that with a big sack that silenced a still-hot Sanchez early in the game.
Woodley is a key cog this season, especially right now while James Harrison is on the shelf. His work in this game was excellent and was a big reason that the Jets folded up after one quarter and never really threatened again.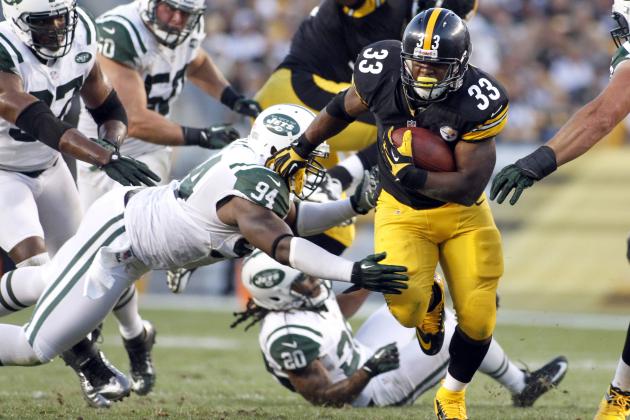 Justin K. Aller/Getty Images

Games Stats
12 attempts, 25 yards, 1 touchdown, 1 reception, 14 yards
Analysis
This was the tale of two different games for Redman. The first three quarters, he was a non-factor that couldn't get out of the backfield successfully. Part of that, as we've already covered, was due to a poor performance by the interior of the offensive line.
Part of it was that Redman just didn't have an answer on this day. In the fourth quarter, however, he came alive with a great performance that included a touchdown that sealed the victory for Pittsburgh. Redman looked more purposeful and poised.
The reason I'm giving him a draw this week is that I'm not sure he did enough to hold off Jonathan Dwyer for the starting job against the Raiders next week, but he did contribute positively to the victory. He deserves credit for slamming the door, but criticism for failing early.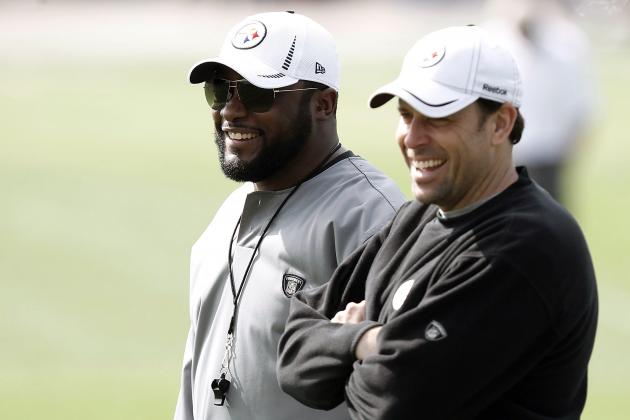 Jared Wickerham/Getty Images

Game Stats
21 first downs, 53 percent efficiency on third down, 331 total net yards
Analysis
After two weeks, I'll be surprised if anyone is still very critical of how the offense performs under their new coach. The evidence is overwhelming that Haley's system is much better for the Steelers as a team.
The Steelers authored their longest drive in five years in this game. Their dominance in time of possession (36:36 to 23:24) was a big reason that the Jets didn't get many chances in the second half of the game. The Steelers are capable once again of killing the clock to win the game.
The offense has been particularly good in the air so far, with Ben Roethlisberger leading an explosive passing attack that has maximized the team's talented skill players.
The ground game is a work in progress, but Haley has gotten the most out of those players behind an offensive line that just isn't very good right now.
Do you still doubt Haley? If so, leave a comment as to why and also about what he needs to do to prove himself to you.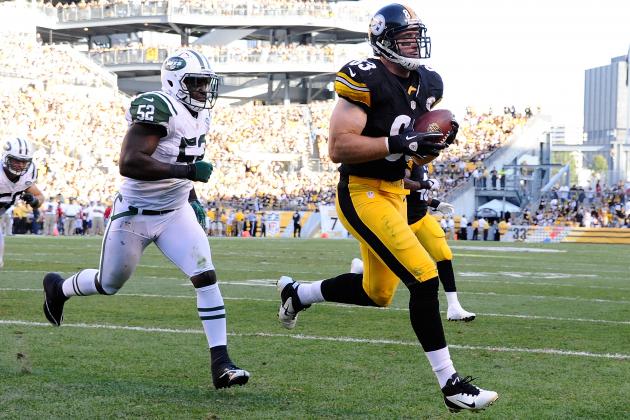 Joe Sargent/Getty Images

Game Stats
3 receptions, 19 yards, 1 touchdown
Analysis
Miller has been reborn in this offense a season after he was most out of the picture thanks to Bruce Arians' focus on receiver-heavy sets. While there is merit to both ideas, having an effective tight end has always been a hallmark of successful Pittsburgh teams.
Miller was great last week, and he was good this week too. Ben Roethlisberger dropped a perfect fade pass into his hands early to regain the lead for good. Having Miller run the fade is interesting, but his physicality and athleticism are excellent for that role.
He's also been a big part of third-down plays, something that was terrible under the Arians and is now much better under Todd Haley. The Steelers are very hard to defend on third downs. A huge part of that is the fact that Miller can escape notice at times thanks to the talented receiving corps.