5 Ways Dwight Howard Can Fill Shaquille O'Neal's Shoes for LA Lakers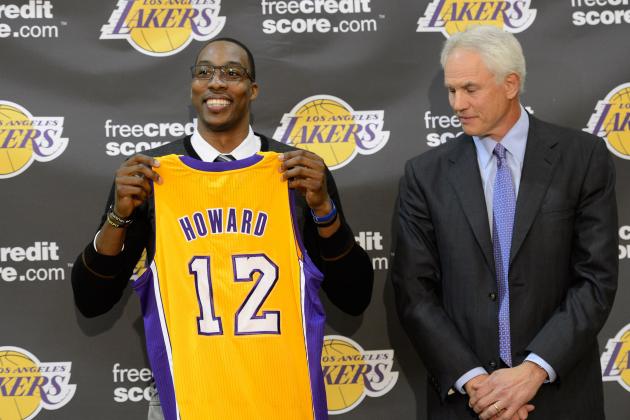 Kevork Djansezian/Getty Images

Hopefully, Dwight Howard is ready to handle the pressure that comes with playing center for the Los Angeles Lakers because he is going to compared to Shaquille O'Neal for the rest of his career.
You know, that one guy who was virtually unguardable in his prime.
Shaq averaged 27.5 points per game during his first nine seasons in the NBA.
Howard has averaged 20.6 points per game over the span of his eight-year career.
While it isn't really fair that Howard has to compete with Shaq, it is inevitable as both have earned the label as the best big man in the league.
Howard doesn't have Shaq's size and quickness and isn't nearly as dominant with the ball in his hands while in the post. But, that doesn't mean that Shaq was better than Howard in every category.
Few would argue that Shaq is a better all-around defender, as Howard's ability to pick up slack for his team mates on the defensive end is truly remarkable.
Howard and Shaq are different types of centers, but there are ways in which he can fit the big shoes that Shaq left when he was traded to the Miami Heat in 2004.
Begin Slideshow

»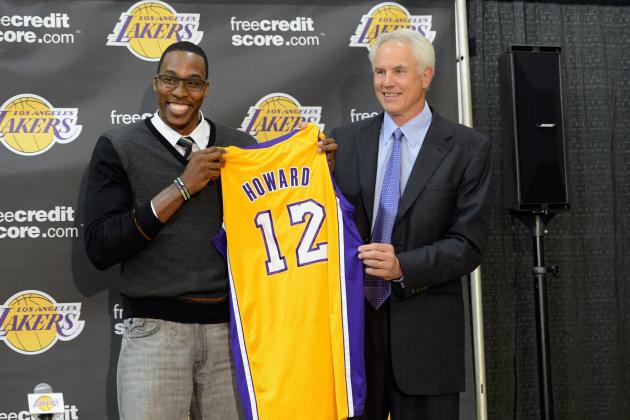 Kevork Djansezian/Getty Images

The title of the slide is simple because the idea isn't too complex.
If Dwight Howard is able to bring multiple championships to Los Angeles, then he will compare favorably to Shaquille O'Neal.
Shaq won three titles while a member of the Lakers and another with the Miami Heat in 2006.
While it won't be easy for Howard to match O'Neal's three titles in purple and gold, it is possible.
Next season, Howard will join forces with Steve Nash, Kobe Bryant and Pau Gasol. Following last season's playoff exit, few would have expected the Lakers to field that lineup when the next season tipped off.
That being said, Miami Heat and Oklahoma City Thunder aren't going anywhere, and the Lakers will probably have to go through both of them to win titles in the next couple of years.
If the Lakers can get past the Thunder and into the NBA Finals, they will likely face off with the Heat for all the marbles. Howard's presence will give the Lakers a massive advantage inside if that matchup were to come to fruition next June.
While we haven't seen what the new-look Lakers will look like, it is fair to assume that they are going to be very, very good.
NBA superstars are judged on the number of titles they win, just ask LeBron James, who hasn't been under nearly as much fire since he claimed his maiden NBA title earlier this summer.
No one would argue that O'Neal isn't a winner, an argument that will be used against Howard if he doesn't bring a title to Los Angeles in the next couple of years.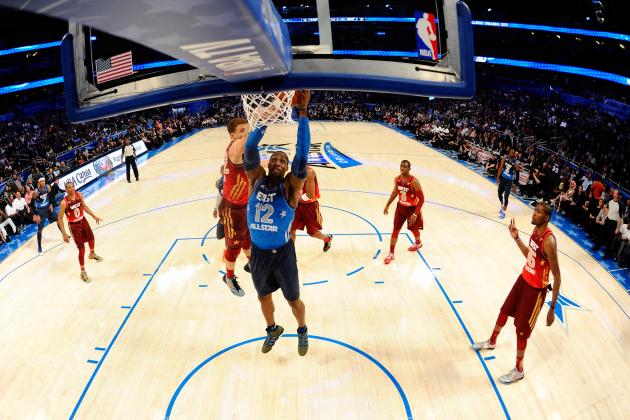 Pool/Getty Images

Dwight Howard is never going to be the dominant offensive force that Shaquille O'Neal was in his prime, but he doesn't have to be.
What he does need to do is add another five points per game to his scoring line. In what shouldn't even be considered a normal season due to the media circus that followed the Orlando Magic all season, Howard averaged 20.6 points on 57.3 percent shooting.
Shaq didn't average less points than Howard's 20.6 until his 15th season in the NBA, when he averaged 17.3 points for the Miami Heat in 2006-07.
In today's NBA that lacks quality centers, Howard should thrive. He is among the best players in the NBA, and he should be taking advantage of the subpar big men that he faces on a nightly basis.
In an interview with NBA TV, Shaq claimed that Howard should average 28 points and 15 rebounds per game next season. A feat that O'Neal never accomplished over the span of his NBA career.
I'm not saying that Howard needs to approach the 30-point per game mark to be considered great, but he does need to raise his scoring production to 25 points per game to be compared favorably to Shaq.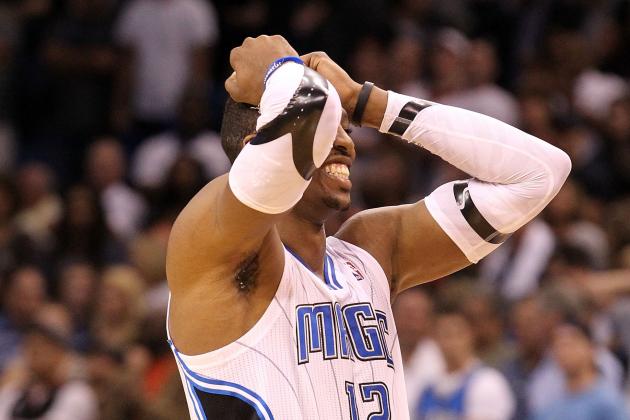 Sam Greenwood/Getty Images

One thing that has always linked Dwight Howard and Shaquille O'Neal was their inability to convert on their free-throw attempts.
Considering the fact that both centers drew a lot of fouls inside and constantly found themselves on the free-throw line, their poor free-throw shooting percentage was always a talking point.
In his eight seasons, O'Neal converted on just 52.4 of his free-throw attempts. Put another way, his free-throw percentage was lower than his shooting percentage from the field, when other players were guarding him.
In his ninth season, Shaq was even worse from the line as he shot 51.3 percent from the charity stripe. O'Neal was easier to guard when he was at the free-throw line, something that should never be said about a player—especially a player who found himself on the free-throw line an average of 9.3 free throws per game.
While Howard isn't much better than O'Neal from the charity stripe, he has been slightly more effective once he finds his way there.
Last season, Howard shot a paltry 49.1 percent front the line, but that could be attributed to the mental anguish that he was suffering due to his trade demand and the media circus that ensued.
In the four seasons prior, Howard converted on at least 59 percent of his free-throw attempts, a feat that O'Neal only did once while playing for the Lakers.
Few things are more frustrating than a player consistently missing their free throws, especially when those misses directly affects the outcome of the game.
If Howard is able to get a little better from the line—which isn't asking too much— then he would have bested Shaq in an important statistical category. Not to mention the fact that a better conversion rate from the line would also go a long way in improving his scoring production.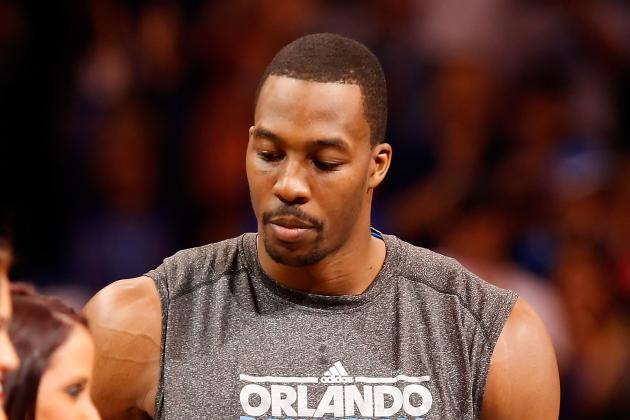 J. Meric/Getty Images

Shaquille O'Neal won only one regular-season NBA MVP award, something Dwight Howard is yet to do.
However, it should be noted that Shaq did claim that award in his ninth season, which conveniently happens to be the season that Howard is entering.
If Howard isn't able to get back onto the floor once the season starts, his candidacy for this season's MVP award will be crippled. There are too many talented players in the NBA to make up for missing a large chunk of the season.
Honestly, Howard probably wouldn't be able to get back into the race even if he starts opening night and isn't 100 percent healthy. You can bet that LeBron James and Kevin Durant are both going to put together MVP-worthy seasons, and I wouldn't count on Chris Paul, Kevin Love and Tony Parker doing the same.
The competition for the league's Most Valuable Player award is always going to be fierce, which is why it would be very impressive if Howard were able to claim the award.
In terms of how Howard's current situation affects his chances, there are both positives and negatives.
With Kobe Bryant, Steve Nash and Paul Gasol all starting, the Lakers will be among the best teams in league, and Howard will contribute to that success. It is practically a pre-requisite for the MVP to be on a winning team, a fence that Howard will have no problem clearing in the coming seasons.
On the flip side, the presence of Bryant, Nash and Gasol will take away some of credit from Howard.
Howard won't lead the team in scoring—that will still belong to Bryant—and many of Howard's buckets will be on beautiful assists from Nash, which he will eventually get critiqued for, but he could end up being the most important player on the team.
The projected strong performances from his new teammates might be enough to keep Howard from winning the MVP award in the near future, but if he performs at a Shaq-like level, he will be rewarded for it in a big way.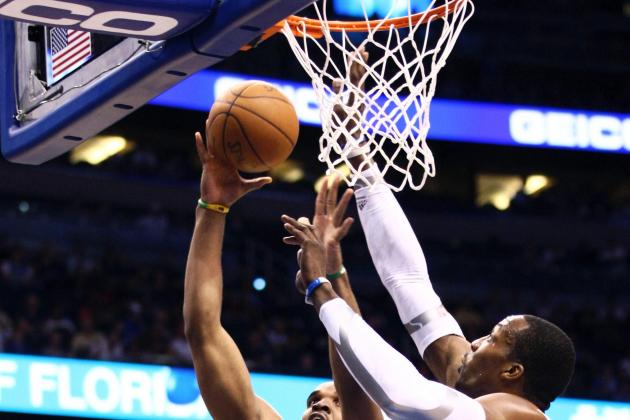 Douglas Jones-US PRESSWIRE

While Shaquille O'Neal is one of the best centers in the history of the NBA, he is remembered more for what he did on the offensive end than the defensive end.
At this point in Dwight Howard's career, the opposite could be said for him.
It isn't a secret that prior to this season Howard won the Defensive Player of the Year award in three consecutive seasons. A feat that had never been achieved before Howard, and it may be a while before we see another player accomplish that dominant of a run.
Shaq was never named to the All-NBA Defensive first team, but was named to the second team three times.
On the other hand, Howard has already been named to the All-NBA Defensive first team three times and the second team once. Once the new Superman gets healthy again, there is little reason to doubt the idea that he will make a few more All-NBA defensive teams.
In order for the Los Angeles Lakers to win the championship next season, they will need a special defensive performance from Howard.
While Steve Nash is an asset overall, he is a bit of a liability on defense. He will certainly need a lot of help when he faces off against conference rivals Russell Westbrook and Chris Paul, although guarding players like them takes a whole team anyway. A lot of the slack will need to be picked up by Howard on the defensive end.
If he is up to the challenge, then the Lakers will be an awfully tough out once the playoffs start next season.