Seahawks vs. Broncos: 10 Things We Learned from Seattle's 30-10 Win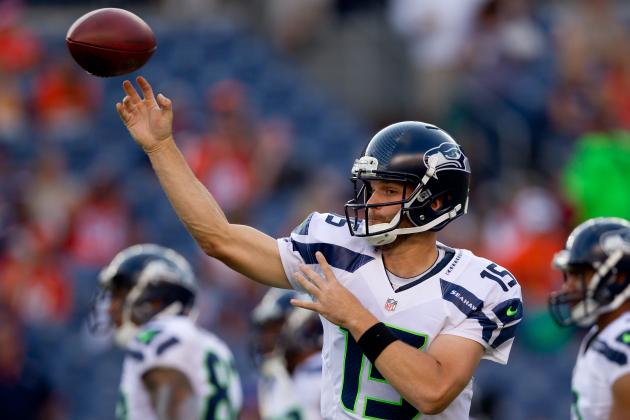 Justin Edmonds/Getty Images
I'm looking at you, Terrell.
Another preseason game is in the books, and Seattle has come out on top again.
The first-team offense kept close pace with the Broncos' first-team offense, as the score read 10-9 Broncos at half.
When the second stringers came in, however, Seattle dominated, with rookie Russell Wilson leading three scoring drives, and the defense scarcely allowing rookie Brock Osweiler to earn a first down.
Here are 10 things we learned from this game, and to be fair, I've divided them into five good and five bad.
Enjoy!
Begin Slideshow

»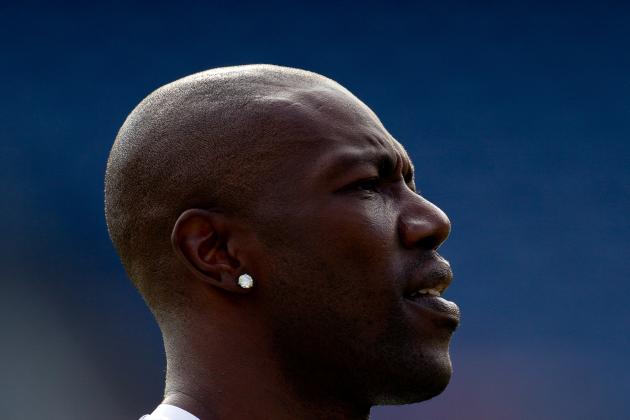 Justin Edmonds/Getty Images
Brick.
At one point in the first half, Matt Flynn was 4-9, and Terrell Owens had been targeted five times. Guess which five?
Yes, Owens had an extremely poor first-half showing. Flynn targeted him constantly, yet they were not on the same page. Flynn was decisive in his throws, implying that he knew what routes ought to have been run, while Owens ran sluggish routes and consistently made the wrong cuts.
Some slack must be cut because he's only been with the team for a few days, but some things are inexcusable...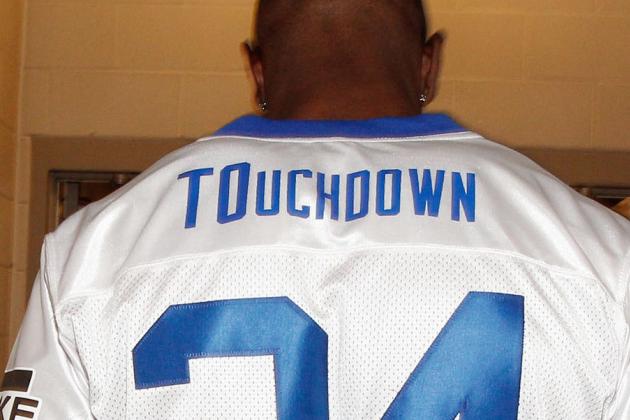 Christopher Polk/Getty Images
I wish.
...like drops. On one play, Terrell Owens got completely behind the defense with a solid two steps on the nearest defensive back. Matt Flynn wound up and delivered a picture-perfect pass that dropped beautifully into Owens' bread basket.
The ball went straight through Owens' hands. Quite simply, this was entirely unacceptable and cost the Seahawks four points on a drive. If Owens is going to make the roster, he needs to do it by being the playmaker he was earlier in his career. He's not on the right track as of now.
Otto Greule Jr/Getty Images
That 'stache.
Winston Guy, a sixth-round draft pick out of Kentucky, certainly isn't doing himself favors so far in the preseason.
The competition for the backup safety spot is already pretty intense. Guys like Jeron Johnson and Chris Maragos have both made plays in practice and in the preseason, whereas Guy has gone mostly unnoticed.
Special teams ability is often what lands backup defensive backs a spot on the 53-man roster. Apparently Guy didn't get this memo, because he singlehandedly caused two Seahawk punts to be blocked/deflected. While lined up in punt protection, Guy allowed his man to get into the backfield with ease, disrupting the play.
Pete Carroll can't be too happy with Winston Guy right now.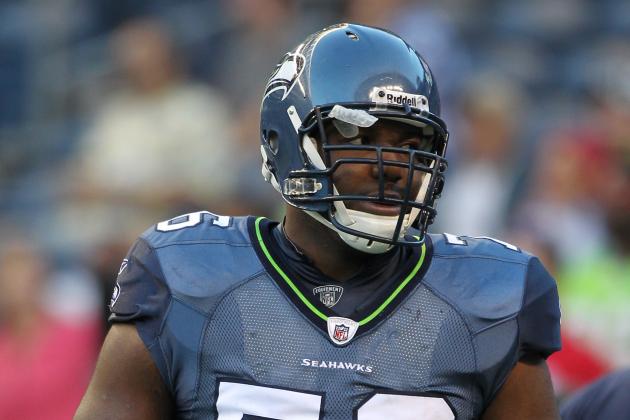 Otto Greule Jr/Getty Images
Just don't judo flip him.
After last week's performance, Seattle's tackle positions were looking solid, and a generally optimistic mood permeated the offensive line.
If only we could say the same this week.
Russell Okung had numerous issues stopping Elvis Dumervil. He was flagged multiple times for holding and let Matt Flynn get pressured consistently.
On the other side of the line, Breno Giacomini was undisciplined. His whole game was chippy, and the big Russian got in trouble for some unnecessary roughness. His 15-yard penalties were drive killers and simply cannot continue if the offense hopes to succeed this year.
Justin Edmonds/Getty Images
Running: You're doing it wrong.
Tom Cable's zone blocking scheme has been proven to work and is a very powerful tool when a power back is behind the line.
When Leon Washington is behind the line; however, the result is nowhere near as good.
Consider me one who is baffled that Darrell Bevell would call multiple run plays up the A gap (between the center and guard) with a smaller speed back. More often than not, these plays resulted in third-and-long situations for the quarterback and, subsequently, punts.
Hopefully we see Washington exclusively in a return role in 2012.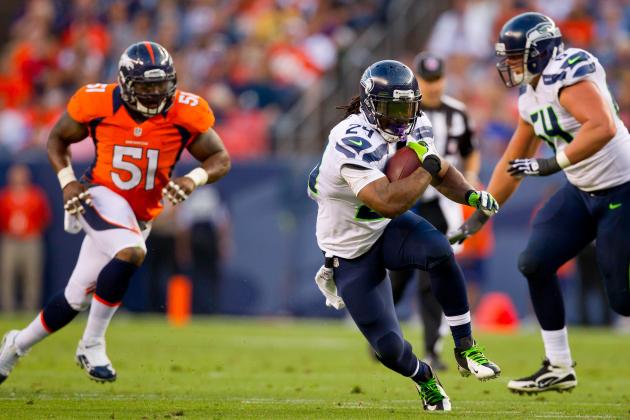 Justin Edmonds/Getty Images
The green visor?
As a general whole, the running game was solid.
Marshawn Lynch saw limited action but was very successful in his few snaps. He hit holes quickly and gave every indication that his hefty contract hasn't slowed him down.
Robert Turbin got stuffed on a few attempts, but also showed good ball carrier vision and hit holes decisively.
Kregg Lumpkin had a few nice carries and is a nice pass-catcher out of the backfield.
Tyrell Sutton had a great long run near the end of the game, and also had an impressive, tackle-breaking touchdown on a screen pass from Russell Wilson.
Overall, a solid performance.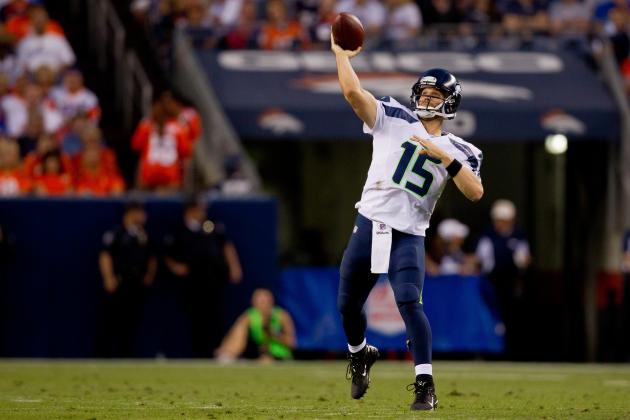 Justin Edmonds/Getty Images
Heck yeah.
Ultimately, Matt Flynn's first half stats seemed largely unimpressive. Keep in mind, however, that five of his seven incompletions can be attributed to miscommunications with Terrell Owens (three were incorrectly run routes, two were drops, including the dead drop on what would've been a 48-yard touchdown).
Flynn was also pressured constantly and had very little room to do anything in the pocket. A few times, Flynn recognized a blitz and made great throws under pressure to convert third downs.
All things considered, was Flynn's performance bad? I wouldn't say so. He has a touchdown in my books. We'll have to see how he does in Week 3.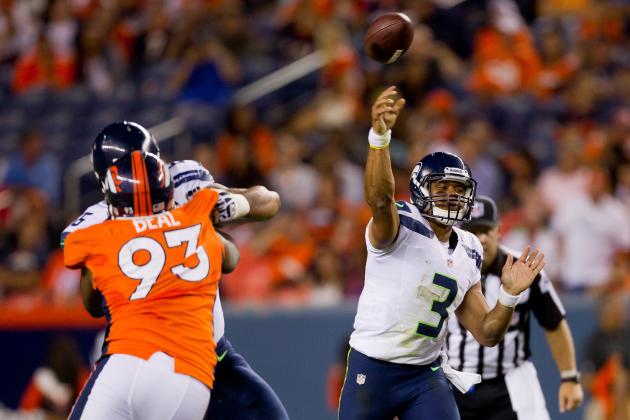 Justin Edmonds/Getty Images
Wilsonmania.
For the second straight week, Russell Wilson impressed. He lead three scoring drives, two of which were 80 and 85 yards. He extended plays with his feet, showed excellent poise and made phenomenal throws.
Particularly impressive was a third-and-17 throw over the middle to Anthony McCoy, where Wilson stood tall in the face of pressure to deliver a great pass.
It will be interesting to see if Wilson earned a starting nod for either Week 3 or 4 of the preseason.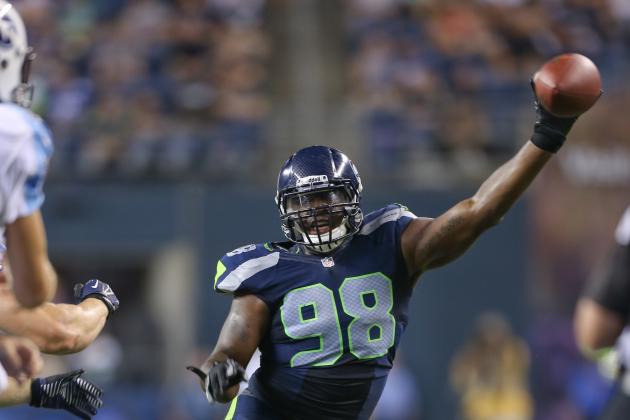 Otto Greule Jr/Getty Images
I'm pretty!
Scruggs was another backup Seahawk who showcased some skill for two straight weeks.
Just like he did against the Titans' backups, Scruggs routinely penetrated the backfield, pressuring the quarterback and recording tackles for loss.
He has been by far the best backup defensive lineman this preseason and could (should) beat out fellow backup Dexter Davis for a roster spot.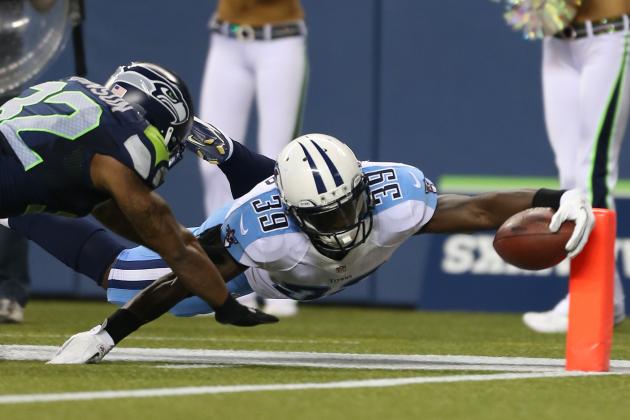 Otto Greule Jr/Getty Images
Boise State Product.
Jeron Johnson was the defensive MVP of this game.
After Kam Chancellor was pulled out of the game for an undisclosed reason, Johnson went into beast mode.
The undrafted free agent out of Boise State not only picked off an errant Peyton Manning pass, but forced a fumble as well.
Johnson is a playmaker at heart and provides extremely valuable depth on this Seahawks defense.
Similarly, Chris Maragos had another great game tonight. He recorded a pass breakup of a Brock Osweiler pass by drilling the intended receiver, and otherwise played excellent coverage to the point where the Broncos did not throw deep the entire second half.
Let's just say that if Earl Thomas or Kam Chancellor were to get injured, all hope is not lost.