5 Ways the Los Angeles Lakers Will End Up Regretting the Dwight Howard Trade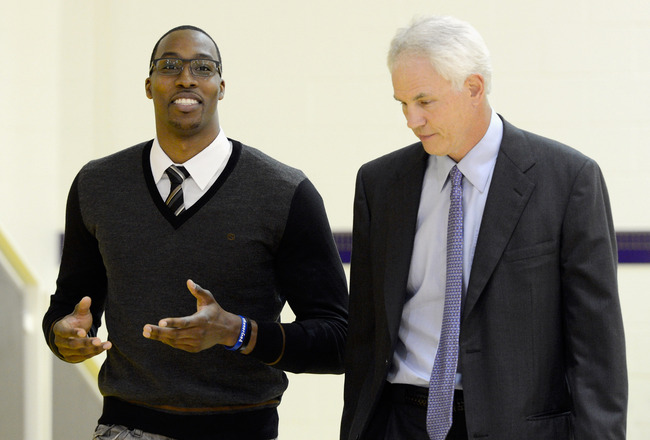 Kevork Djansezian/Getty Images
General manager Mitch Kupchak's acquisition of Dwight Howard ostensibly makes the Los Angeles Lakers the team to beat, at least in the Western Conference. Conventional wisdom overwhelmingly supports the notion that the move will make the team better.
Much better.
So much better, in fact, that anything short of a showdown with the Miami Heat in the NBA Finals would be a disappointment on par with Superman abandoning the planet earth in its hour of greatest need. It's the kind of cataclysm that might cause fans in Los Angeles to question their new-age religions and start going to Clippers games.
It wouldn't be pretty.
That's all the more reason to challenge conventional wisdom with the obstinate doubts of a devil's advocate. At the very least, fans would be wise to prepare themselves for the worst.
In the event everything turns out as planned, those fans will still be able to savor the moment. In the event they don't, the disappointment shouldn't come as too jarring of a surprise.
Consider this tour through one pessimistic perspective a psychological cushion of sorts. Superteams are still subject to the same luck (or lack thereof) that pesters the rest of the league. Here are five reasons the Lakers just might not be as lucky as they appear at this very moment.
Howard's Back Becomes Chronic Problem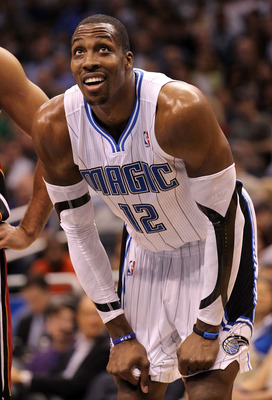 Sam Greenwood/Getty Images
Dwight Howard's April back surgery was reportedly successful, so the Los Angeles Lakers shouldn't have anything to worry about in the short-term. His doctors believed his recovery would proceed without any hitches, and the most recent indications suggest that will indeed be the case.
The bigger concern is that these kinds of problems (e.g. herniated discs, or—as was initially diagnosed—back spasms) could re-emerge.
Howard has been a model of health and durability thus far in his career, but he's also a physical player who relies heavily on his athleticism in the painted area. This isn't a guy who will step out and hit mid-range jumpers from the top of the key.
That kind of versatility has prolonged the careers of guys like Kevin Garnett and Tim Duncan, but Howard can plan on taking a beating for a long time to come (and obviously dishing more than a few beatings of his own).
Some will suggest that Howard is no more likely to suffer from injuries or future back conditions than anyone else, referencing his record of health as evidence. That would, however, seriously ignore just how heavily he relies on a physical style of play.
He may be built like a tank, but you could say the same for Shaquille O'Neal, who was slowed significantly toward the later stages of his career.
Howard isn't there yet, but don't be surprised if his longevity doesn't live up to expectations.
Kobe Chemistry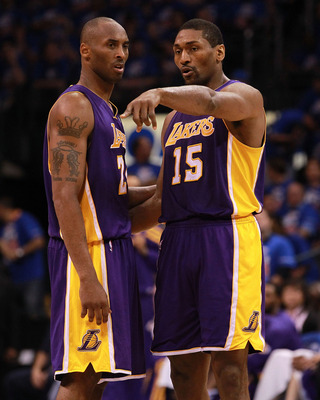 Ronald Martinez/Getty Images
It goes without saying that a guy like Dwight Howard wouldn't have meshed with the Kobe Bryant we all knew and loved 10 years ago, the same one who fell out of love with Shaq.
But, the Kobe of today seems like a more patient sort, at least for now. He's managed to get along with Metta World Peace and tolerated Andrew Bynum's shenanigans with the understanding of an older brother.
Perhaps Dwight Howard's carefree, fun-loving persona will round out the Lakers' one big, happy family.
But, they just might get on Kobe's nerves. It won't be that Howard is getting too much attention, though he almost certainly is. Bryant is above that fray at this point in his career. The bigger concern is that the 33-year-old icon will steam over the fact that Howard doesn't yet understand what it takes to win at the highest level.
But for one trip to the 2009 NBA Finals in a weak Eastern Conference (in which Howard's Magic ultimately lost in just five games to the Lakers), this isn't a guy who has consistently succeeded in the postseason.
He can blame Orlando's front office for not giving him enough stars with whom to work, but Howard should also take some responsibility for the fact that he's never added much to his scoring repertoire.
Unfortunately, this isn't a guy who likes to accept responsibility. In other words, he's the exact opposite of Kobe Bryant in that respect. As Bryant has grown into an elder statesman, he's become a model for how to lead.
Howard has instead grown into a more self-congratulatory celebrity.
Dwight Shrinks Under Pressure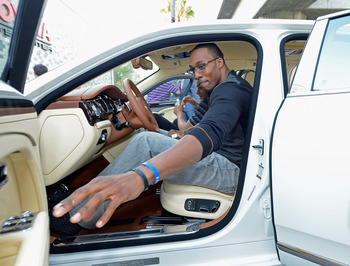 Kevork Djansezian/Getty Images
Dwight Howard really wanted to play in a bigger market, but he should be careful about what he asks for.
If he struggled to answer easy questions in Orlando, he could find himself struggling a whole lot more with the increased national attention. Now that LeBron James has shed his bad-guy reputation, the media just might be itching to replace him with a new face.
How about the second big man to abandon a supremely unlucky Orlando Magic for the league's most celebrated franchise?
But, Dwight doesn't want to be the bad guy. That's why he was so underhanded about his treatment of Stan Van Gundy, and that's why he was so fickle about his intentions vis-a-vis the Magic. He desperately wants to be liked, and he just might lose his mojo when it becomes apparent that the only people who like him now are Lakers fans and nihilists.
No, a psychological implosion won't rob Howard of his talent or physique. It's just the kind of thing that can distract a guy when he can least afford to be distracted. This game is about focus as much as anything else.
Will Howard be able to ignore the world's judgement and ill will?
Andrew Bynum Will Emerge the Better Player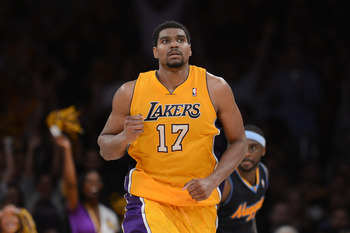 Harry How/Getty Images
Andrew Bynum was already a more skilled scorer. Could he wind up having a better all-around career than Dwight Howard?
Don't count him out.
Howard has had eight years to develop a mid-range shot, learn how to shoot free throws or at least extend his range beyond five feet. He's even worked with Hakeem Olajuwon to improve his post moves.
At the end of the day, he doesn't have much to show for it. So long as he remains the best athlete at his position, that may not matter. When that athleticism begins to decline, however, it's not especially clear that Howard will be able to compensate.
Meanwhile, the younger Andrew Bynum already has a more diversified offensive game. And, his rebounding ability isn't far behind either.
Howard is a much better defender in some ways, especially on account of his mobility and success guarding quicker bigs. But, there's not much more to it than that.
He'll block a few more shots, but he's so thrilled to swat them out of bounds that his team won't retain possession. Though less flashy, Bynum is far more likely to keep the ball in play when intimidating shots.
When Howard is age 33 or 34, he may begin to look like an older, slower version of the exact same player. Bynum won't by 34 for another 10 years. When he is, he'll have the skill set and talent to play at a high level. He's never relied on elite athleticism, and he may be all the better for it as he ages.
Howard Has No Loyalty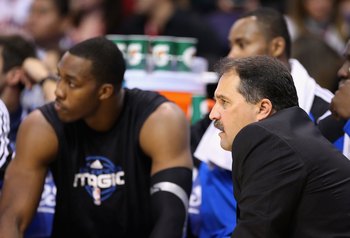 Christian Petersen/Getty Images
Let's assume Dwight Howard sticks around for another four or five years.
What happens next?
What happens when Steve Nash is long-since retired and Kobe Bryant is age 38? Will Howard show Los Angeles the kind of loyalty he failed to show his coach, teammates and fanbase in Orlando?
Don't count on it.
Of course, the Lakers could very well secure his services by luring additional superstars to replace Bryant and company. That's assuming those superstars will still want to play with Howard as he gets into his 30s, but this organization usually finds a way.
Whether it will be enough to keep Howard in Purple and Gold is impossible to know, though. Here's what he do know: He's not the kind of guy who shows a lot of patience when things start to go south. If he's not entirely happy with the Lakers, he's not the kind of guy who will stick it out for the fans.
Dwight Howard is about one thing, and that's Dwight Howard.
That might not bother the Los Angeles Lakers at the moment. The Magic's loss is, after all, their gain. But, if there's anything like karma or poetic justice in the cosmos, the Lakers will learn they can trust this guy every bit as much as his former employer.
Which is to say, not so much.
Keep Reading

Los Angeles Lakers: Like this team?