Houston Rockets: Rockets' Tradition at Center Is as Good as Anybody's
His career was cut short by injuries and he never lived up to his enormous potential and expectations. But Ralph Sampson's most successful moments did occur in a Rockets uniform.
He helped Houston get to the finals against Boston in 1986 with the game winning shot you just saw in the clip.
They came up short against the Celtics but this shot and that season created tons of excitement in Houston. He achieved his defining moment as a pro right there and went up, over and around Kareem to do it.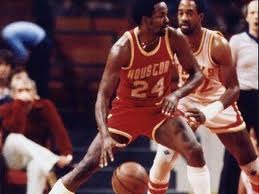 businessinsider.com
Five years before Sampson and Hakeem Olajuwon faced Boston in the finals, Moses Malone took his shot at them. Boston was too much but Moses and company had made Rockets fans proud.
Moses' reputation as a hard worker and tenacious rebounder was born in Houston. He averaged 23.7 points and 15 rebounds as a Rocket. He also won two of his three MVP awards while in Houston.
There are just so many images and visuals that come to mind when talking about Yao Ming. This one was always my favorite. The ease in which he executes this play is still mind-boggling.
Like Sampson, Yao's career was derailed by injuries. He averaged 19 points, 9.2 rebounds, and 1.9 blocks per game and yet the numbers don't begin to do him justice.
How do you even begin to describe Olajuwon? He's not sitting on the bench as an assistant or pacing the sidelines as a head coach.
But the premiere players in the league are going to him to try to add a touch of his game to theirs. Kobe Bryant, LeBron James, Amar'e Stoudemire, and even JaVale McGee are trying to get some knowledge from "The Dream."
Hakeem averaged 21.8 points, 11.1 rebounds, 2.5 assists and 3.1 blocks per game for his career and led Houston to two titles. Like Rudy Tomjanovich said, people would be talking about his play for years.
Can you imagine what Olajuwon could do for Dwight Howard's game? As athletic as he is, he pretty much shoots a jump hook, running hook or dunks. After a few sessions with Olajuwon, how scary would he be?