6 Reasons Why San Francisco 49ers Will Reach Super Bowl in 2013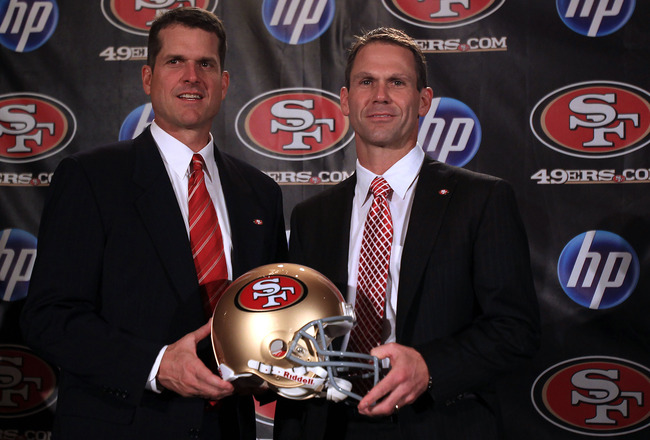 Ezra Shaw/Getty Images
The San Francisco 49ers were one or two plays away from the Super Bowl last time around and I believe they can take the necessary steps to go one further this upcoming season.
Despite a tough schedule and ever-improving NFC, I believe the 49ers are a stacked team that should only continue to improve over the next few years.
The incredible thing to remember is that the 49ers are a very young team.
But even the elders of the team like Justin Smith have shown zero signs of slowing down. He would have got my vote for best player in the NFL last season.
The two men shown in the picture above have shown their worth and I fully expect Jim Harbaugh, Trent Baalke and the rest of the coaching staff to engineer something special.
I'm not going to go crazy and say they will definitely win the whole thing but I'm also not going to buy into the notion that the team will suffer a second-year slump under Jim Harbaugh.
With veteran leaders like Justin Smith and Patrick Willis in the locker room, can you see any letting up?
1. The Offensive Line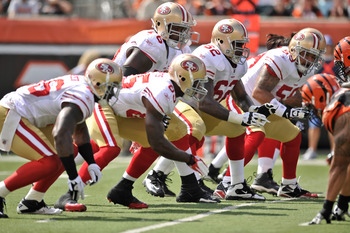 Jamie Sabau/Getty Images
The offensive line was very inconsistent last season.
At times it looked incredible, and yet other times looked incapable of keep Alex Smith off his backside.
I'm really excited to see how Anthony Davis in particular improves his game because he has so much talent.
He has received some criticism that I find a little premature: He is still only 22 despite entering his third season and still has room to improve.
He took Major steps last year and looked particularly comfortable later on in the season.
I don't think I have to tell any 49ers fans that Mike Iupati is already one of the best guards in the entire league. Watching him maul offensive lineman in the run game is as good a sight as any.
Joe Staley has stepped up too and become a pro-bowl caliber blindside protector.
Jonathan Goodwin is solid at center too but the right guard position needs to be filled.
I'm interested to see whether Alex Boone or one of the younger guys like Daniel Kilgore or Joe Looney get the call.
Either way, I think whoever starts at guard will have a higher ceiling than Adam Snyder, who was solid for the team before departing in the offseason.
I consider the offensive line to be the most athletic in the NFL and I think they will take the next step to becoming a great pass-protecting force as well as a nasty run-blocking group.
2. The Wide Receiver Position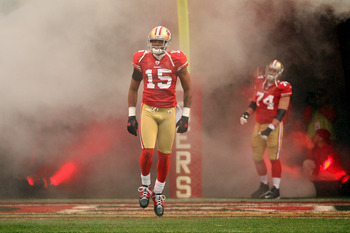 Ezra Shaw/Getty Images
Mario Manningham, A.J Jenkins and the mercurial Randy Moss have all been added to the roster.
Add this collection of talent to Michael Crabtree and Kyle Williams and you have a very deep group.
Everyone knows that the wide receiver position for the 49ers was non-existent in the playoffs when it mattered most, but I expect that to change.
I love the options that Jim Harbaugh, Greg Roman and Alex Smith have at their disposal.
Michael Crabtree is not the diva that people make him out to be. Anyone that has seen how impressive his run blocking is will know that he is willing to do the dirty work and graft in order to help the team.
Coach Harbaugh also said that Crabtree has the best hands of any receiver he has known.
High praise for a player who has to improve even more.
Kyle Williams made some costly errors but the fact remains that he can be a very good slot receiver.
He has great speed, good hands and isn't afraid to go over the middle: Don't forget about Williams amid the influx of new ammunition.
I'm not even going to speculate on what Randy Moss will bring to the team.
This is because I can see him being a great addition, but I also wouldn't be surprised to see him falter the same way he did in Minnesota and Tennessee in 2010.
Either Way, nobody can say it won't be interesting to see how he gets on.
A.J Jenkins may be considered a reach but I really hope that he can become a deep threat for the team. He has great speed and I can tell from watching his highlight videos that he has great suddeness.
He seems to have a knack for catching the slant routes that Crabtree struggled with.
Mario Manningham also brings a different dimension. I see him as more of a possession receiver who can come out of nowhere with the occasional spectacular player (Super Bowl) and also go vertical when needed.
I'm guessing Crabtree breaks the 1000 yards barrier, Manningham cracks 750 yards and I have no idea about the rest.
3. Alex Smith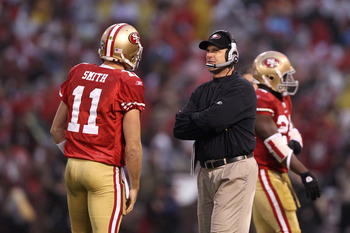 Ezra Shaw/Getty Images
Another year with Jim Harbaugh should seriously improve Alex Smith.
Don't think that the Peyton Manning saga will affect him. Does nobody remember all the obstacles he has faced since being the No. 1 overall NFL draft pick seven years ago?
I'm hoping to see more of the clutch Alex Smith that was on display against the New Orleans Saints in the playoffs and he will have to show it immediately in Week 1 of the upcoming season against the Green Bay Packers.
I think Smith lost some of his arm strength after his season-ending injury a few years ago but I think he showed some more zip last season.
Add to that the fact that he is a very intelligent guy and I expect him to better his 2011 campaign.
He is getting more freedom at the line of scrimmage and for the first time, I actually see him as the leader of the offense.
More importantly, I think his teammates and coaching staff have faith in him and feel the same way.
4. The Committee of Running Backs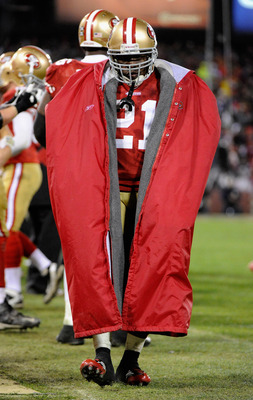 Thearon W. Henderson/Getty Images
Frank Gore is on the decline and therefore it was vital for the 49ers to find some more weapons in that department.
First off, I don't expect Anthony Dixon to get many carries because of the new faces.
I like the different options available in the running game; all four of them have different skills.
Frank Gore obviously bleeds red and gold and that shows every time he suits up. There is no other player I can think of that runs with as big a chip on his shoulder.
I assume he will remain the starter because he is the best all-around back but the depth is great at the position.
Kendall Hunter has already shown he can be effective when Gore is off the field.
Despite being only 5'7" and not having 4.3 speed, he combines surprising power and good speed to play like someone far bigger than his stature suggests.
I loved when the Niners drafted LaMichael James but I'm not ready to put him ahead of Hunter on the depth chart.
Instead, I'd like to see him get involved in the passing game by collecting screen passes and even lining up in the slot.
I think James presents such a mismatch that the coaching staff will have no choice but to get the ball in his hands.
Lastly, Brandon Jacobs will be the short yardage back and should be a bad sight for defenders who have already dealt with the other trio of backs.
5. Aldon Smith: 99 Problems but a Sack Ain't One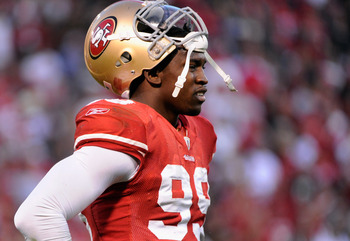 Thearon W. Henderson/Getty Images
Aldon Smith is a special talent and I can't wait to see him get a starting role.
I don't think that becoming a full-time starter will limit his effectiveness as a pass rusher and I actually expect him to post even greater numbers.
As one of the most athletic linebackers in the league, he can chase sideline to sideline and I also think he is a more adept run-stopper than given credit for.
With incredible length and defensive lineman size, how could anyone assume he isn't strong enough to be an every down player?
Patrick Willis, NaVorro Bowman, Ahmad Brooks and Aldon Smith are the best linebacking group in the NFL. Period.
Every one of them is big, fast and technically astute. I can't wait to see Aldon terrorizing quarterbacks as a starter alongside them.
6. The Fans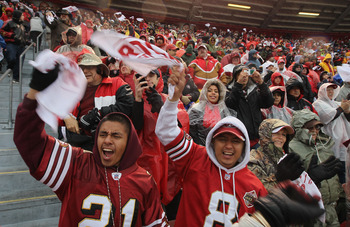 Justin Sullivan/Getty Images
A little cliche, I know.
There seems to be a new energy that is flowing through the veins of every 49ers fan.
Candlestick Park had seemed a little subdued in recent years: last season changed that.
The Monday night game against the Steelers and playoff game versus the Saints were as loud an environment in the NFL all season.
Everyone knows that success breeds confidence, and in this case, the fans confidence in the team will rub off on the players and force them to step up their game each and every week.
Keep Reading

San Francisco 49ers: Like this team?