Which NBA Players Need a Change of Scenery to Rejuvenate Their Careers?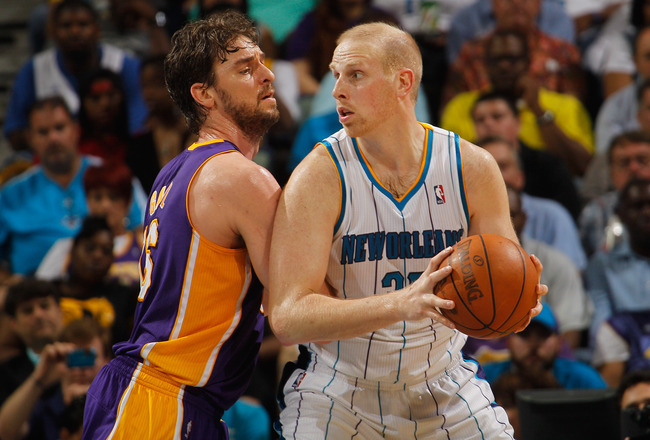 Chris Graythen/Getty Images
In the NBA, you wear out your welcome very quickly if you can't put the ball in the basket and look engaged on defense.
It also doesn't help when the rest of your team wouldn't start on a pick-up game squad, but that's neither here nor there.
With the middle of free agency fast approaching and teams looking to shed contracts, add pieces and rid themselves of bad attitudes, there are several guys in need of a change of scenery if they want to stay employed by David Stern and the league for much longer.
Here's a list of those guys and some likely landing spots for them, citing some of the reasons they've struggled in their current atmosphere and how they can get back on track with a new franchise should the opportunity present itself.
Lamar Odom, who was traded to the Clippers and would be on this list if still with the Dallas Mavericks, wasn't included for consideration due to him already being with a new team.
Ben Gordon could be here as well, but he's on his way to the Charlotte Bobcats.
O.J. Mayo
Stephen Dunn/Getty Images
It's hard to believe O.J. Mayo was the third overall selection in the 2008 draft.
He's almost like the anti-James Harden, relegated to a sixth-man role and not producing the way you'd want him to.
His name is almost always in midseason trade rumors (remember this one?), and he's shot just above 40 percent the last two seasons.
That's a far cry from the potential this guy has.
He has numerous 30 point games, a couple 40-point outings, and when he's on, he's lights out from anywhere on the court. It's certainly unfair that he's not a starter, but when you're a professional, you have to make the best of it, and his performance hasn't indicated that he's a happy camper.
Shooting 27 percent in the playoffs isn't going to get it done. Look for Mayo, a free agent, to finally look for a starting role and a chance to emerge as a top-notch guard in a new city.
Possible Destinations
Boston, Phoenix, Atlanta, Orlando
Michael Beasley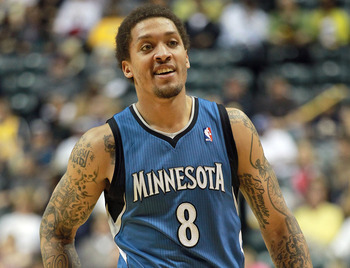 Andy Lyons/Getty Images
The former No. 2 overall pick spent a couple seasons in Miami with Dwyane Wade before being shipped to Minnesota, and it appears his time up north has been just as forgettable as his time in South Beach.
Minnesota didn't exercise their option on the forward, making him a free agent looking for a new place to play. It comes at a good time, as Beasley was the constant source of trade rumors and speculation that he was on his way out.
He's a gifted scorer, but until he learns to be a playmaker and not just a shooter, he'll likely irk fans of his team. Look for a veteran team with some established leadership to take a chance on his talent and gamble with a low-risk contract.
Possible Destinations
Dallas, LA Lakers, Phoenix, Boston
Wesley Johnson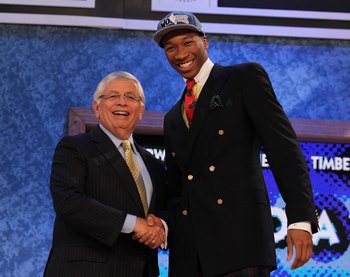 Al Bello/Getty Images
Wes Johnson was a gifted scorer and three-point shooter in Jim Boeheim's Syracuse offense.
In Minnesota, he's found himself playing out of position, at shooting guard, due to the need for one in the T-Wolves' current rotation.
With so much depth in Beasley, Derrick Williams, Anthony Randolph, Wayne Ellington and even J.J. Barea and Luke Ridnour, Johnson seems to be without a niche and without a defined role for the remainder of his time in Minny.
To make matters worse, Minnesota is hot on the heels of Nic Batum and maybe even Pau Gasol. Getting the first would drastically reduce Johnson's playing time and acquiring the second might ship him out of town entirely.
Maybe that change could light the fire Johnson needs to live up to his lottery-pick status and allow him to start contributing at small forward.
He'll have to be traded to find a new home, so options seem scarce unless Minnesota can find a solid deal.
Possible Destinations
LA Lakers, Dallas, Portland (sign and trade for Batum)
Tyreke Evans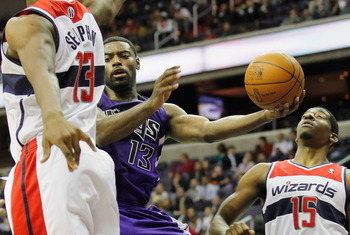 Rob Carr/Getty Images
Evans has plenty of game.
But with an unstable position and a big ego in DeMarcus Cousins already invading the locker room, there might not be room for Evans on the court—or off it—in Sac-town.
Isiah Thomas emerged as a talented young guard in the second half of the season. Evans found himself playing small forward at times, a position he was never expected to play coming out of Memphis.
Like Johnson, he can only be had through a trade at this point. There are no indications Sacramento wants to deal him, but if they did, they'd probably be able to nab a talented bench guy and a draft pick.
So Evans could start over in a new city. There's plenty of market for a guy who can get to the rim at will and guard positions 1 through 3.
Only time will tell with Evans.
Possible Destinations
Atlanta, Chicago, Memphis, Houston
Andray Blatche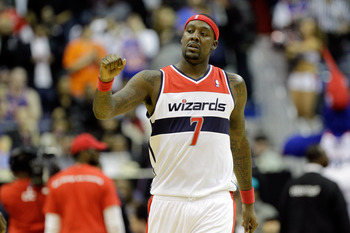 Rob Carr/Getty Images
After emerging in 2010-2011 with 16.8 points and 8.2 rebounds per game, Blatche was supposed to pair with John Wall and JaVale McGee to lead the Wizards to a playoff run this past season.
Just the opposite occurred, and Blatche now finds himself with a new center, shooting guard, small forward—and his potential replacement in Emeka Okafor.
What does Washington do with this guy, and more important, is there anybody out there that will trade for him? He's a gifted post scorer and can do some things on the perimeter, but is the $8 million salary too much for an attitude problem who seems largely unmotivated?
Of course, there's always the amnesty provision, and this fan site certainly hopes it goes down that way. (Disclaimer: this is a fan site, in no way associated with this site's opinion on the matter, and is only being used to show that there is some animosity towards Blatche in Washington.)
Who takes on Blatche is a mystery, but if Washington wants to start over completely, it'll find a way to let him locate a new home next season so that he can prove all the doubters wrong.
Possible Destinations
Charlotte, Miami, Brooklyn, New York
Chris Kaman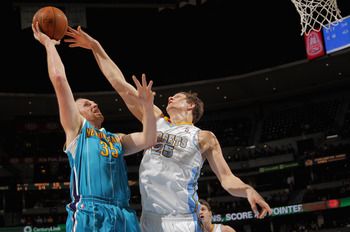 Doug Pensinger/Getty Images
The 30-year-old center is coming off an injury-ridden year with the Hornets where he was one of the pieces in the Chris Paul trade.
His time in the bayou hasn't been great, and after leaving L.A. the way he did, you could almost see it coming that Kaman would need a new shot after this season.
You'd think he has some great basketball left, and as an unrestricted free agent, it's almost certain he won't return to New Orleans after their roster turnover and the addition of Anthony Davis as the franchise's future.
He's looking for a shot at a championship, so look for Kaman to find a squad that can both offer some financial opportunity and contend for an NBA title this next season.
He's just two years removed from averaging 19 points and nine rebounds while making the All-Star team in 2010.
Possible Destinations
Dallas, Indiana, Portland, Miami, Boston
Keep Reading