Pittsburgh's Forgotten Classics: Packers vs. Steelers, 1998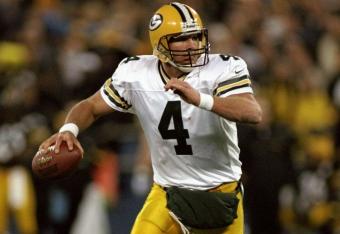 Rick Stewart/Getty Images
The '97 Pittsburgh Steelers narrowly missed a trip to Super Bowl XXXII during Kordell Stewart's first year behind center. Costly miscues halted the Black and Gold's playoff march.
Instead of competing on the grandest NFL stage, the Steelers who could stomach it likely watched the game on television with the rest of us, paying witness to a grand upset when Denver quarterback John Elway and his Broncos took out the defending champion Green Bay Packers, ending a streak of 13 straight NFC victories in the big game.
Entering 1998, many Black and Gold players and fans all had the same question: Could that have been us? Could Jerome Bettis have run over the tired and overmatched—albeit critically vaunted—Packers defensive front like Terrell Davis?
Some doubts certainly lingered. After all, the Packers—in spite of their loss that Super Sunday—sported a Brett Favre that was not yet the mistake-prone big game bumbler that so aggravated many historians during the latter stages of his career. This was a Brett who was still entirely red in the beard, a strong-armed Mississippi boy whose laser throws often seemed almost indefensible and far more often than not resulted in touchdowns opposed to meltdowns.
And, the Steelers? Well...
The man formerly known as "Slash" certainly had a fine campaign in his first full season as a starting quarterback, but there were concerns. He led the AFC with 17 interceptions despite electrifying the league with his great combination of arms and legs.
Yes, Favre himself was also a tad turnover-prone, sure. Often, coach Mike Holmgren would want to pull his hair out when Brett took seemingly unnecessary risks, sometimes making decisions even more confusing than the phonetics of his own last name--- how could it rhyme with carve, and shouldn't it sound more like favor?
Indeed, this was at a time when the Green Gunslinger was reaching the crescendo of his dominance and popularity, and people all around were asking that question.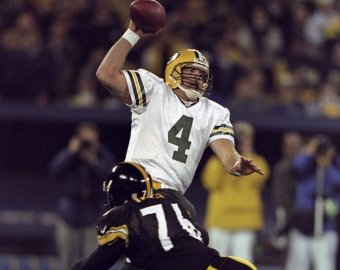 Todd Warshaw/Getty Images
Despite the wackiness of his game, Favre was not the man that cost his team in the clutch in the '90s. It was quite the opposite. He was revered as an enthusiastic athlete, like an overjoyed young boy, playing the game with a vigor too often lost on modern athletes. Likewise, for those few bad choices, Favre would answer with touchdowns in the dozens, and he had truly become the rave of the NFL and sports world.
Just like this article so far, everything was Favre, Favre, and more Favre. Three straight NFL MVP honors, numerous Sound FX appearances in Sunday pre-games, that NFL Quarterback Club game that got worse and worse as years went by, yet flew off shelves at least in part because the game's most exciting gunslinger had his arm cocked back on the cover, ready to fire another patented missile.
Right or wrong, the world didn't know a Brett that didn't come through, time and again. The NFL world at large was hypnotized.
And so, Steelers fans who saw the Week 10 Monday night football matchup when the 1998 NFL schedule was released couldn't help but view it as a litmus test. That enthusiasm began to wane, transforming to concern as Kordell began to struggle through a horrendous sophomore slump.
Then, when the Steelers put up a dreadful home performance one week prior to their "should have been" Super Bowl XXXII bout, the concern transformed to mass criticism.
Kordell Stewart seemed way over his head. The Black and Gold defense helped anchor the team, leading Pittsburgh to a 5-2 record. However the strain of bad offense finally caused stress cracks in the team foundation, and a game against the soon-to-be Titans was a definite cave-in.
Which Steelers victory over Brett Favre was the most memorable?
As many of the 1998 Pittsburgh Steelers stood on the sidelines during a disappointing Week 9 performance, they watched as Mike Tomczak became the beneficiary of a soft prevent defense implemented by the Tennessee Oilers.
The Steelers' backup quarterback was brought into the lopsided affair in favor of the struggling Kordell Stewart, who was in the midst of a 12-game stretch that included eight touchdowns and a ghastly 17 interceptions.
Slowly but surely, a 34-7 Titans lead was chiseled down to 41-31, but time had all but dwindled in a contest that was never truly in doubt, and Jeff Fisher, Steve McNair and the non-Houston Oilers dealt Pittsburgh a crushing blow that was far worse than the final score.
Where were the Steelers of January who were one or two plays away from the Lamar Hunt Trophy?
An opportunity to improve to 6-2 had escaped the Black and Gold, which meant they would be losing ground to the sudden AFC Central heavyweight Jacksonville Jaguars.
Additionally, lacking a confident quarterback and possessing a stunned defense was not a great combination, particularly considering their next opponent: Brett Favre.
Or, as more considerate fans called them, the Green Bay Packers—who were far more than a one-man show despite the hysteria.
While the Steelers laid an egg against their division rival, the Packers spent that Sunday afternoon thoroughly dominating a mutual NFC power. Cheese-headed fans watched jubilantly as the Pack went on the attack against Steve Young and the 49ers, beating San Francisco 38-22.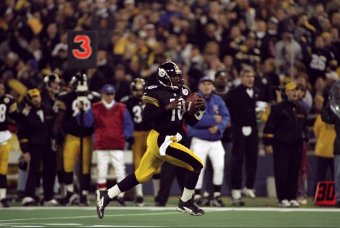 Rick Stewart/Getty Images
The Packers, like Pittsburgh, had a new, surprising foe in their divisional ranks. They continued to stare up the standings at the Minnesota Vikings, a team that featured a freakish offense (Randy Moss, Cris Carter, and Randall Cunningham) and solid defense (John Randle). Earlier in the season, Green Bay had suffered a severe Monday night embarrassment, losing 37-24 to those Vikings in Wisconsin.
Green Bay knew that catching the Vikings would allow no room for error, so there was clearly no reason for Brett Favre and company to come to Three Rivers Stadium with anything but the steely-eyed intensity normally reserved for the home team Steelers.
There was a negativity festering amidst the Steel City, affecting fans and media alike. Likewise, there was a sense of optimism about a chance to measure up against a great team and get back on track. The mixture of feelings created a very marketable uncertainty about the critical contest.
The Steelers had made the playoffs for six straight seasons under Bill Cowher, and they were still hoping to extend that streak to a seventh campaign. Likewise, under "The Chin's" leadership, the team had never lost consecutive home games.
Pittsburgh played "lights out" when the lights went on. The Steelers dominated opponents at home on Monday night under coach Cowher with frightening ease. With a 6-0 home Monday mark, the defense had never surrendered more than 14 points in any of those games, twice shutting out the opposition (Bengals and Bills) and not allowing an offensive touchdown against in five of the contests.
If the Steelers defense had any leverage against the '98 version of the Pack, it was the team's drop-off in the run game.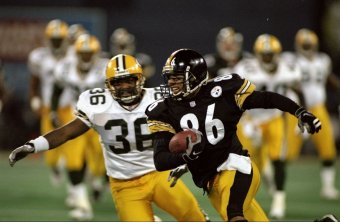 Rick Stewart/Getty Images
The Green Bay rushing attack had trailed off from 1997, when Dorsey Levens ran for over 1,400 yards. Instead, backs were falling weekly, and Levens, Travis Jervey and Darick Holmes could barely muster the Packers to the century mark in combined rushing. Still, Favre had amazing targets in Antonio Freeman, Robert Brooks and Mark Chmura, and he would overcome the lack of offensive balance with another 35-touchdown campaign.
In the prior three seasons ('96-98), Favre had 112 touchdowns and 42 interceptions.
And, as if that weren't enough, the Steelers struggling, highly inefficient offense would be battling Reggie White, Leroy Butler, Vonnie Holliday, Darren Sharper, Craig Newsome and a cast of great players comprising an elite Super Bowl-caliber defense.
Worse, they entered play confident. In their win the previous week, the Packers defense sacked the normally evasive Steve Young nine times.
Included in the harassment of Young was another classic installment of the "Ministry of Defense," courtesy of the Minister of Defense, Reggie White, who had three of the quarterback takedowns.
A major inter-conference showdown between two recent championship contenders was about to go down, and another factor added to the intrigue: The Jaguars and Vikings both won their Sunday games. One of these squads was about to trail by two games in their respective division.
Atop the division implications, if Levon Kirkland, Carnell Lake, Darren Perry and Jason Gildon didn't answer the call, it seemed as though the Steelers' Monday night dominance would end...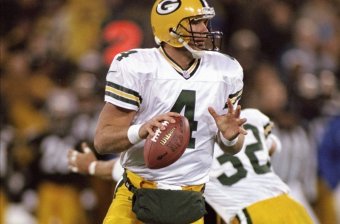 Rick Stewart/Getty Images
Little did the Steel City realize that the call to greatness would be answered not only by the defense, but by a dominating offense that seemed to reach its full potential for one electric night at Three Rivers Stadium.
Kordell and the offense stepped onto the field for their first possession. With Stewart's recent struggles and "the Bus" continuing to bowl over opposing defensive fronts, it seemed only natural that the Steelers would attempt to run against a Packers front that had been staunchly criticized since their pathetic Super Bowl showing.
Pittsburgh's offensive approach turned out to be quite opposite.
A week after being vehemently booed for the first time ever at home, Stewart was afforded the opportunity to get comfortable in the game with some high percentage passes, including an early quick screen to a receiver that Steelers fans would soon get to know quite well: Hines Ward.
The starting receivers for the Steelers were Courtney Hawkins and Charles Johnson, a duo that occasionally dazzled but more often frazzled fans. The pair were about to take turns giving Pittsburgh an early lead.
First, on the sixth play of the opening drive, Stewart drifted back from center and quickly snapped his hips to the right. However, after a quick pump fake over the middle, corner Craig Newsome got caught with his feet frozen. Receiver Courtney Hawkins got behind Newsome by two steps, hauling in a perfect deep lob down the left sideline from Kordell. Hawkins got his arms around Hawkins and managed to wrangle the receiver to the unforgiving Astro Turf at the 12-yard line.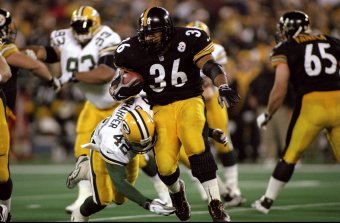 Rick Stewart/Getty Images
However, the damage was done. Early momentum—and long-lost confidence—belonged to Pittsburgh's No. 10.
This was demonstrated again when Stewart looked to his left before firing quickly to the right side of the end zone, connecting with a wide-open Charles Johnson for the opening score. The Steelers led 7-0.
Next, the vaunted Steelers defense would have its chess match—or, more accurately, backyard brawl—against Favre and friends. Early on, it appeared they would have all they could handle from the nearly uncontainable quarterback.
After rocketing an early completion to Freeman on the drive, Brett would connect again with his top target in far more grandiose fashion. Facing third-and-long from near midfield, the wily No. 4 was flushed from the pocket by a relentless Pittsburgh rush.
Rolling left, Favre continued to look upfield, ducking below the arm of Levon Kirkland and pushing off of Jason Gildon before lastly cutting around the oncoming Joel Steed. As he reached the sideline—having evaded three potential sackers—Brett launched a laser throw while off-balance toward Antonio Freeman.
The terrible footwork did not prevent a physics-defying tight spiral and bullet-like zip, and Freeman caught the pigskin with his tip-toes inbounds for a wild 26-yard gain that served as a microcosm of what to expect from Favre.
It would be among his only fine plays of the night. A largely contained Favre, for not seeing the field and being harassed when he did, finished only 22-for-39, managing less than 230 yards and no touchdowns passes.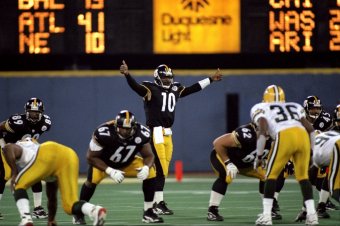 Rick Stewart/Getty Images
Brett's third-down heroics did not yield points. The Steelers defense held stout, ending the Packers threat with a splash. First, Donta Jones, an unlikely hero, got the first of his two-and-a half-sacks on the night, resulting in a loss of mere feet. Next, Favre fired incomplete to Freeman, covered nicely by DeWayne Washington.
Lastly, a critical third-down play snuffed out the Packers scoring threat. Favre pitched right to Travis Jervey, who cut back to the left and handed the ball off on a reverse to Antonio Freeman. The handoff was ill-advised and was mere inches away from being a fumble that would have been returned for a touchdown.
Immediately, Lake blew up Freeman for a huge 10-yard loss. Instead of a manageable field goal, Ryan Longwell attempted a 51-yard effort that floated wide.
With ideal field position and the early lead, the Steelers showed no willingness to hand over even a micron of their early momentum.
From the Packers 33-yard line, Stewart took the shotgun snap and faced an immediate pass-rush from Reggie White. As "Slash" juked away, White got a hand on his ankle, desperately trying to keep hold of the elusive quarterback.
Unlike Steve Young one week earlier, White would not have the better of this showdown. Stewart shook off White, outran Green Bay defenders to the corner and burst up the field for a 30-yard run. The raucous Monday night football crowd shook the lower level of the Three Rivers Stadium, and the crescendo reached fever pitch when Kordell opted for a quarterback sneak over the middle on third down, leaping over Gilbert Brown for the score.
At the end of one quarter, Pittsburgh led 14-0.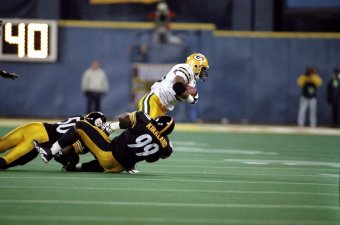 Rick Stewart/Getty Images
Everyone knew that Favre would have a trick up his sleeve in the second quarter. Everyone was wrong.
Donta Jones and Nolan Harrison met at Favre to end another Packers possession, forcing Sean Landeta to kick away the pigskin to an offensive unit that suddenly seemed capable of no wrong-doing.
Another drive ended with a field goal after the Pack's lone third down stop of the first half. It wasn't long before the Steelers defense wreaked more havoc, giving the ball back to an offense that felt like the reincarnation of Bradshaw, Stallworth and Harris before those bright nighttime lights.
With the threat of Kordell firmly established, Jerome Bettis began to find large running lanes, gashing the line and then bashing the poor linebacker or safety unfortunate enough to make the tackle.
Bettis would gain 100 yards on 34 carries, his seventh-straight 100-yard rushing game on Monday night football. The Bus garnered two more first downs before Stewart made another huge play with a Pittsburgh icon who had not yet been fully discovered.
A quick slant on third down found the mitts of Hines Ward, who turned up the field in front of the covering Rod Smith for a 45-yard burst. At the time, it was an unexpected play off the bench. Eventually, such pickups would become known as "another great play from a Steelers icon."
Chris Fuamatu-Ma'afala capped first-half scoring, plunging into the end zone from five yards out to give the 'Burgh a commanding 24-0 lead.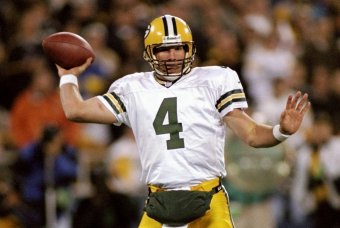 Rick Stewart/Getty Images
Favre and the Packers defense were being "cavred," particularly on third down.
In the first half, the Steelers were ri-donk-ulous with possession at stake, clearly magnifying the importance and focus of the team to keep the ball away from a certain media magnet Q.B.
Pittsburgh had converted nine of their third downs, picking up five first downs on third down through the air. In fact, a suddenly superb Stewart was 5-for-5 on third downs before intermission.
As good as the Steelers were offensively, the Pack was nearly every bit as bad, gaining only two first downs, surrendering a pair of drive-killing sacks, and largely looking overwhelmed.
Directly after halftime, things didn't appear as though they would get better. Cheeseheads watching on television would have to endure another defensive effort that seemed more holey than swiss. But not before they got to see the game's first turnover.
Collectively, Wisconsin knew that you had to take the occasional bad with the overwhelming good of Brett Favre. To start the third, they got to say, "Bad Brett!"
Favre was again caught in the wake of a blitz, attempting to throw away the football on a play that was doomed to failure. Instead of lobbing it to the sideline, he fired the football toward the out-of-bounds area, failing to give the throw any elevation.
DeWayne Washington's magnificent acrobatic interception along the sideline gave Pittsburgh superb field position.
Another third down came. Another Pittsburgh conversion happened.
Stewart's dump pass to Bettis saw the power back evade the first wave of runners with his deceivingly nimble feet. With open field to run, No. 36 picked up a head of steam, rumbling down the turf and eventually dragging the last couple of Packers with him inside the 10-yard line.
At long last, Green Bay held for three plays, forcing a field goal from the goal-to-go situation.
The scoreboard read: STEELERS 27, PACKERS 0. Half of the third period had elapsed. All was well in the Steel City.
Optimism in Three Rivers Stadium didn't wane, even after the offense began to sputter and Green Bay mustered some lost pride to salvage some points and avoid a shutout, 27-3.
Entering the fourth quarter, the Steelers and the fans were on cruise control. Surely, many working western Pennsylvanians opted for slumber over the slaughter, turning off the blowout and headed to bed, sure of the win.
The final score would come as a shock to many the next morning. After all...
All Hell was about to break loose.
More and more televisions were being turned off, or perhaps just up until the time that the Steelers got back into gear and drove to the precipice of the Packers goal line once more with nine minutes left in regulation.
Almost cockily, the Men of Steel, heroic chests sprouting from the rest of their bodies in full swagger, brought Mike Tomczak into the game and lined Kordell Stewart up on the outside at receiver. If this wasn't rubbing it in, what was?
No. 10 was going to cement a heroic evening with a receiving touchdown, further glorifying his best game of the season...
Or, so it was intended. Springboarding a freak series of events, one can look back on the personnel switch and use a classic saying to describe it for exactly what it was: "being too big for one's britches."
The embarrassed Packers burst through the line and overwhelmed Tomczak, whose lack of mobility and tunnel vision toward a double-covered Stewart made him the waiting victim. Reggie White came over the top of the backup, and Tomczak lost his handle on the football.
The ball bounced backward, and Keith McKenzie scooped up his timely gift, returning the pigskin 88 yards for the touchdown.
All still seemed settled, but it was an ounce of energy that the Steelers did not need to infuse into the defending NFC and former defending NFL champions.
If the matter was seemingly resolved, Green Bay did its best to make the Steelers pay for their attempts at showing off. Pittsburgh's offense stalled at midfield, and Brett Favre took possession with a half quarter to play and the tiniest sliver of hope.
It would almost be enough.
Trailing 27-9, the MVP who had been hidden (and sidelined) all night found a groove that had been absent for over three-fourths of the evening. Pump fakes, timing patterns, rockets between coverage... the famous portfolio of the man everyone enjoy watching play suddenly showed up for a prime-time audience that had mostly tuned out.
Favre finally got into a rhythm, finding men not named Freeman. Bill Schroeder made a leaping catch over Levon Kirkland, Mark Chmura caught his only two passes, and Green Bay systematically and quickly went down the field for a touchdown, tacking on the two point conversion.
The one silver lining for Pittsburgh was time. Green Bay had to use a timeout in their effort to cut the deficit to one score before the two-minute warning, and two minutes—though not a great portion of the clock—had elapsed.
Now down 27-17, the Packers needed to recover an onside kick and preserve time. Green Bay recovered, and business picked up!
From midfield, Favre quickly zipped a pass to Antonio Freeman, nearing the Pittsburgh red zone. Opposed to burning precious seconds by rushing to the line, the Pack exhausted their second timeout.
Realizing the need to preserve the two minute timeout, coach Mike Holmgren opted for an early down field goal, cutting the lead to 27-20 with 2:11 to play and one timeout left.
The Steelers could breathe a sigh of relief when they recovered the Longwell's second onside effort. To complete the unlikely miracle, Green Bay would need to make a stop.
Three Jerome Bettis runs would seal Pittsburgh's win. Is it any wonder Bill Cowher called him his closing pitcher?
After second down, Green Bay used its final timeout. Third-and-5 marked the difference between victory and a potential historic collapse for the Men of Steel.
Third down was no contest. The Bus rumbled through the line for 12 yards, and fans could finally twist and turn their Terrible Towels in triumph... officially!
While the contest featured two teams that both felt they were working toward the Super Bowl, a fall from grace came soon thereafter for both clubs.
In Green Bay, Mike Holmgren coached his last game later that season in the Wild Card Playoffs, a 30-27 last second loss in San Francisco known by most historians as "The Catch II."
The drop-off was far worse in Pittsburgh. The Steelers would only win one more game in 1998, an illusory 30-15 home victory over the Jaguars that seemed momentous... but simply wasn't. The win over Jacksonville came a mere 13 days after beating Green Bay. Despite bolstering their record to 7-4 and pulling to within a few more wins of a playoff bid, the bottom dropped out on Thanksgiving Day.
The Black and Gold blew a 13-3 lead against the Detroit Lions and their quarterback, future Steeler Charlie Batch. In overtime, a controversial coin toss, in which Jerome Bettis alleged to have correctly called the result, gave the Lions first dibs with the pigskin.
Batch led Detroit right down the Silverdome turf, beating the Steelers 19-16. The loss would go on to have devastating results on the psychology of the team.
Losing their final five games of the season, the Steelers did away with two great Bill Cowher streaks. They lost back-to-back home games against the Patriots and Bengals. More importantly, they missed the playoffs with a 7-9 record.
It would be the first of three consecutive seasons in which "Cowher Power" was unable to lead the franchise to January football.
While Stewart could never find a way to consistently rekindle the type of play he flashed in spades against the Packers, he did have one last "hurrah!" in Black and Gold, leading the Steelers to a 13-3 record and home field advantage in 2001.
***************************************************************************
The Pittsburgh Steelers have blessed their fans with an abundance of exhilarating games. The "Catalog of the Classics" runs deeper for the Black and Gold than most other NFL teams, especially in the modern era. For that reason, many of the team's greatest games are easily lost within its rich history, a lengthy volume that spans six Lombardi Trophies and an absurdity of spoils!
Periodically throughout the team's 2012 offseason, we will look back at one of the great Steelers games that many fans may not remember. In this way, the epic bouts will no longer be...
The Forgotten Classics!
Please enjoy these previous installments. For links to volumes 1-11, please check out my writer's profile!
Vol. 1: The Immaculate Interception; 1997, at New England Patriots

Vol. 2: Streak Busters; 1982, at Dallas Cowboys
Vol. 3: Rookie Quarterbacks Collide; 2004, at New York Giants
Vol. 4: The Jinx Survives Sudden Death; 1978 and 1979, vs. Cleveland Browns
Vol. 5: A Rivalry Remembered; 2000, vs. Oakland Raiders
Vol. 6: Wild Win in the Windy City; 1995, at Chicago Bears
Vol. 7: Eighteen Wins, One Loss; 1984, at San Francisco 49ers
Vol. 8: Falling Giants; 1964, vs. New York Giants and at Cleveland Browns
Vol. 9: Elvis (Grbac) Has Left the Building; 2002, vs. Baltimore Ravens
Vol. 10: Jerry G. and Emperor C.; 1988 and 1989, at Houston Oilers
Vol. 11: " We Dey!"; 2006, at Cincinnati Bengals
Vol. 12: Buffaloed Bills; 1974 and 1996, vs. Buffalo Bills
Vol. 13: Marino vs. Tomczak; 1994, vs. Miami Dolphins
Vol. 14: Cowboy Collapses; 2004 and 2008, vs. Dallas Cowboys
Vol. 15: First Rounders and the Fifty-Two; 1984, vs. San Diego Chargers
Vol. 16: Snapped on the Fanny; 1976, vs. Baltimore Colts

This article is
What is the duplicate article?
Why is this article offensive?
Where is this article plagiarized from?
Why is this article poorly edited?

Pittsburgh Steelers: Like this team?