Doug Pensinger/Getty Images
January 16, 2017
The Pittsburgh Steelers and Buffalo Bills have met thrice in the NFL playoffs, all three encounters occurring in the divisional round.
In 1992, the Buffalo Bills were in the midst of one of the greatest stretches of success and perseverance in NFL history. En route to 10 consecutive victories in the AFC playoffs and four straight championship game berths, back-up quarterback Frank Reich led Buffalo to a commanding 24-3 win in the Steel City. It was obvious that the momentum from their classic comeback one week earlier, in which they rallied from a 35-3 deficit at home against the Oilers, gave them a confidence they would not relinquish...at least, not for a couple of weeks.
The loss ended head coach Bill Cowher's inaugural campaign. The Steelers were a team on the rise, but they weren't quite "there" yet. Weeks later, Steelers fans watched as the Cowboys dismantled Jim Kelly and crew, 52-17.
In both of the other two postseason matches between the two squads, the teams played exactly as though they were battling on Super Bowl Sunday.
For the Black and Gold, this formula proved successful.  After all, the franchise boasts a 6-2 record in the big game.
And, as the snake-bitten Bills would prove in the early 90's, the descriptor "as though it were the Super Bowl" does not carry the same weight of success. Just like the haunting memories of four consecutive big games, Buffalo's two other trips to the Steel City have proven to be dicey...and icy...at best.
The first do-or-die battle between Buffalo and the 'Burgh was on Dec. 22, 1974.
O.J. Simpson's only playoff game would be over before it began when the surprising Bills fell victim to a tidal wave of Pittsburgh momentum early.
In retrospect, it's hard to imagine the contest having gone any other way. The Steel City had reached a fever pitch, fans' screams echoing like a constant crescendo through Three Rivers Stadium. After all, this was a time before Steelers Country was a place glorified by the presence of even one Lombardi Trophy, sinner six.  The boisterous crowd was hungry for success.
After finally winning a playoff game following the '72 season, the Steelers had made the playoffs for a third straight season, a feat that had not yet occurred in team annals. A stellar 1974 draft class would prove to bring the missing pieces of a dynastic puzzle: Lynn Swann and John Stallworth became a dynamic receiving corp, Mike Webster anchored the championship line and Jack Lambert...well, what else needs to be said about "Count Dracula in Cleats?"
The Bills were certainly not regarded as the most talented or imposing playoff team, and most fans viewed their presence in the postseason as more of an aberration than justification of greatness. Few of the players on their roster warranted more than a glance. 
Quarterback Joe Ferguson would blossom into a fine starter during the mid-70's and line up under center into the 80's, but he was still coming into his own. Receiving his passes were J.D. Hill and, during a one-year stint in Buffalo, Ahmad Rashad, who led the team with 36 receptions. Rashad would have far more productive seasons later in his career with Minnesota, but his contributions certainly helped lead Buffalo to a rare playoff appearance.
Corner Robert James and safety Tony Greene were standouts on an improving unit, though not nearly in the same class as the vaunted Steel Curtain. 
Indeed, while Buffalo was getting better, they their roster paled to Pittsburgh's who's-who gallery of eventual superstardom...with one exception.
O.J. Simpson was had just completed his third consecutive 1,000-yard rushing season, and the heralded back was one year removed from a lofty 2,003 rushing yards in 1973. He was the main catalyst to three consecutive winning seasons in Buffalo from 1973-75, finishing with five straight 1,000-yard campaigns.
Beating the Bills was not a complex formula: Stop "the Juice," and you could easily squeeze the Bills.
In their only prior meeting, Simpson rushed for 189 yards in 1972, though Pittsburgh managed to win. 
Further showcasing his talent was Simpson's performance against Pittsburgh in 1975, a 30-21 revenge win in the Steel City in which O.J. rushed for 221 yards for the Bills.
Thankfully, during the teams' most critical bout, O.J. had ought as well been the first two letters of O.J.G.I.O.W., decrypted to read, "Oh, just get it over with!"
Simpson finished with 15 rushes for 49 yards. Putting this into perspective was Terry Bradshaw, the oft-maligned Pittsburgh quarterback who had the biggest day of his career to that point. Throwing poised and accurate, the passer also became a runner, picking up 48 critical yards on his finest afternoon to-date, only one fewer than Simpson.
In a season that began with Joe Gilliam as the entrenched starter, the "Blonde Bomber" had to endure the peaks and valleys that typically coincide with early days in the NFL. Eventually, Bradshaw took control under center, then got the vote of the locker room. His desire to make good on his responsibility took shape.
After the first quarter, Buffalo led 7-3, courtesy of a 22-yard scoring pass from Ferguson to Paul Seymour. 
By halftime, the game would be out of reach.
To open scoring in the second quarter, Terry Bradshaw dropped back, found time to survey the field from a strong pocket, stepped away from eventual pressure and spotted Rocky Bleier running down the field in an apparent mismatch with linebacker Doug Allen.
An easy touchdown bomb from "the Bomber" himself gave Pittsburgh the lead, 9-7. It was a beautiful lob, another assured pass from the budding Bradshaw.
As Buffalo's offense, unable to found running room or open receivers, failed to gain yardage or keep the defense off the field, the Steel Curtain beamed proudly from the sidelines throughout a second quarter of statistical dominance by the Black and Gold offense.
The unit kept the chains moving, courtesy of Bradshaw's arm and legs, particularly on key third downs. Likewise, they made big plays at the most opportune moments.
A beautiful 25-yard reverse by receiver Lynn Swann set up Pittsburgh's second touchdown, a bruising one-yarder from Franco Harris. Throughout the quarter, Franco burrowed right down the throat of the Bills defense for six points. 
On the next offensive possession, Terry Bradshaw fired a deep laser down the middle of the field, and a diving Lynn Swann set the Steelers up in a goal-to-go situation. 
Ahead 16-7, Harris extended the advantage with a four-yard burst.
Next, following another "Buffa-low" possession, the Steelers took control again, and a superb pitch and catch from Bradshaw to Larry Brown set up the cinching score.
Franco's third touchdown of the quarter gave Pittsburgh a dominant 29-7 lead. As O.J. Simpson sat on the sideline in his winter jacket, hood up and blowing in the cold breeze, one could almost sense an element of forfeiture from the Bills sideline.
Buffalo made no aggressive rally, falling 32-14. 
One week later, the Steelers earned their first AFC Championship, defeating John Madden and the Super Bowl-favorite Raiders, 24-13. The path to their first title—and eventual dynasty—was laid.
Pittsburgh's next win over Buffalo came against a far more talented cast.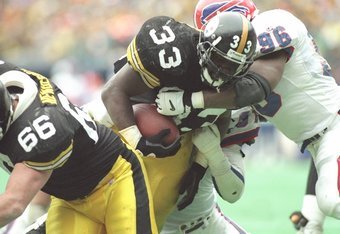 Doug Pensinger/Getty Images
After missing the playoffs in 1994, the Bills were hungry to get back to the winning ways, particularly in January, that led them to four straight Super Bowls.
As amazing as their success was, Buffalo sadly became the target of mockery, failing to win in any of their four opportunities. 
The name BILLS became an acronym that fans translated to mean, "Boy, I Love Losing Super Bowls!"
For every fan humored at Buffalo's misfortune was another becoming impatient with their place in the spotlight. Prior to Pittsburgh's playoff game in '92, I vividly recall my mother saying emphatically, "I hope we kick Buffalo's (insert expletive). I'm so tired of seeing them in the Super Bowl."
Years later, that same sentiment was echoed by many, only magnified. For the record, Buffalo didn't care, and their 10-0 record against the AFC in the playoffs in the 90's demonstrated this point.
With a cast of characters that still included Jim Kelly, Thurman Thomas and Bruce Smith, one could not take victory over Buffalo for granted, a reality that the Bills cemented in a 37-22 demolition over Dan Marino and the Dolphins in the '96 Wild Card Playoffs. In the contest, Thurman Thomas rushed for 158 yards.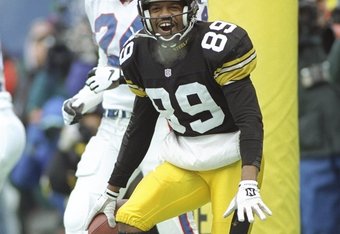 Doug Pensinger/Getty Images
Adding to the challenge for Pittsburgh was Buffalo's stout defensive front, which included sack masters Smith, Bryce Paup and Phil Hansen, who combined for 38 sacks.
After having lost to Buffalo in 1992, Bill Cowher's Steelers were hoping that Jan. 6, 1996 would be more reminiscent of their most recent contests against Marv Levy's bunch. In 1993 and '94, the Steelers hosted the Bills on Monday Night Football, defeating them in what was regarded as a team litmus test by scores of 23-0 and 23-10.
Like the '74 playoff game, in which an inconsistent offense showed flashes of championship greatness, the '95 Steelers rallied from a 3-4 start in large part due to an offensive upgrade that featured downhill running by Bam Morris and big-play passing by Neil O'Donnell. It was the first time during the Cowher era that "Blitzburgh" was able to boast an offense anywhere near as capable as its intimidating "Steel Trap" defense.
Instead of Kevin Greene, Greg Lloyd, Chad Brown and Rod Woodson carrying the load, playmakers such as O'Donnell himself, Yancey Thigpen, Ernie Mills and Kordell Stewart gave the Steel City an offensive groove. This facet of the team was made more vital whenever Rod Woodson fell on opening day with a devastating knee injury.
Weeks later, he would become the first player to have major reconstructive knee surgery and return to play in the same season. 
Cowher showed the ultimate respect for the All-Pro defensive back, taking a risk by leaving an active slot open for Woodson (just in the case of a Super Sunday return). Any chance of a miraculous return by "Hot Rod" depended on two wins in the AFC playoffs.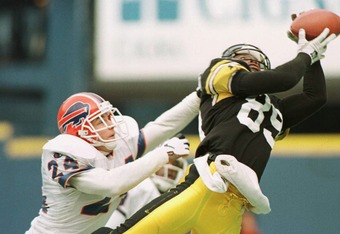 Doug Pensinger/Getty Images
The odds of victory increased when it was announced that Bruce Smith would miss the game due to severe flu.
To start the contest, the Steelers defense quickly got Jim Kelly and company off the field.
Without the leverage of Smith, Bryce Paup and Phil Hansen were not nearly as effective, and the Steelers offense wholly dominated the entire first half. The offensive line kept pressure off of Neil O'Donnell, and an effective blend of inside and outside running kept the Buffalo defensive front off-balance.
On their opening drive against the Bills, the offense started off hot. 
Then, O'Donnell went to work, hitting Yancey Thigpen on a 13-yard strike on 3rd-and-9. Next, Thigpen was the recipient of a quick slant that covered 43 yards, and the Steelers offense was electrifying the crowd early.
After failing to score a single touchdown in their previous playoff meeting, the Steelers struck paydirt in the first quarter. John L. Williams' gained the single yard needed for six points, and Pittsburgh led 7-0.
In another similarity to the '74 playoff game, a heralded Buffalo running back was stuffed. This time, early efforts to get Thurman Thomas into the game failed miserably, causing a lackluster start for the Bills offense. Thomas would finish with a mere 46 yards, over 100 fewer yards that he had gained one week earlier against the 'Phins.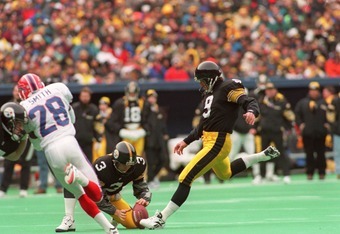 Rick Stewart/Getty Images
Adding to his frustration, Thomas tweaked his ankle late in the first quarter, and the Bills committed their second early turnover, this time stripped from the arms of the injured back. This was after Carnell Lake obliterated the Buffalo back in the backfield for a 13-yard loss on 2nd-and-6.
With ideal field position, the Steelers drove the the Bills' 10-yard line, then O'Donnell dropped back and hit Ernie Mills over the middle. Mills' diving catch awed the Three Rivers Stadium crowd, but his momentum seemingly carried him out of bounds. However, the officials ruled that he was "pushed" out of the back of the end zone, where he landed square against the goal post to end a play that was all action.
The Bills adamantly argued the call, to no avail.
Another Jim Kelly interception, also disputed by Buffalo for potential "pass interference" by Jerry Olsavsky, continued a frustrating first half for the western Pennsylvania native. East Brady's finest finished completing 14-of-29 attempts for a mere 135 yards with three picks. His second turnover helped Pittsburgh's suddenly juggernaut offense to increase its lead.
Before long, the Steelers led 20-0. All momentum was in Pittsburgh's favor.
Still, it was impossible in the mid-90's to consider the Bills dead in the water. After all...there was "that comeback," the everlasting reminder that Buffalo was never out of any contest...right?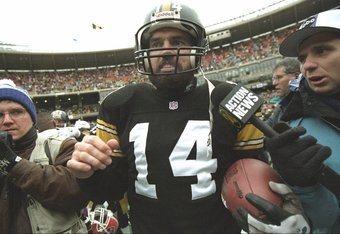 Doug Pensinger/Getty Images
Quickly, the Bills drove down field before halftime, reaffirming their penchant for dramatics and cutting the score to 20-7. 
Then, just as fast, O'Donnell rallied the Steelers offense, which drove in the final seconds to another field goal, and Norm Johnson's true kick made the score 23-7 at intermission. 
If the first half was a lesson in peak performance, the third quarter was the "valley" to that peak. The Steelers offense managed a field goal to extend the lead, but their timing was off, and they were unable to capitalize, even on good field position.
Conversely, the Bills seemed ready to pull another veritable "rabbit" out of their helmets.
Failing to keep a drive alive from midfield, Pittsburgh sent Kordell "Slash" Stewart onto the field to expand his role, and he gained his newest title: punter. His 41-yard pooch backed the Buffalo offense deep in its own territory. Sadly, it didn't matter.
After Jim Kelly temporarily fell to injury, backup Alex Van Pelt led the Bills to a momentum-changing score, finding Jim Cline for a two-yard touchdown. The Steelers still led, 26-14.
Then, conjuring up more images of "past comebacks," Jim Kelly returned, seemingly rejuvenated after his locker room visit, and engineered an impressive drive, capped by a nine-yard touchdown pass to Thurman Thomas (himself returned from injury) to start the fourth quarter.
Suddenly, only ahead by five points, ghosts of the AFC Championship Game entered the minds of Steelers fans everywhere. In that game, they led the Chargers by a count of 13-3, only to blow the advantage after giving up two deep touchdown bombs late.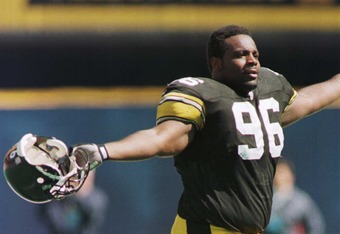 Rick Stewart/Getty Images
Neil O'Donnell, who quarterbacked the Steelers during that stinging loss, had every reason to be as haunted by past demons as anyone. Instead, he gave encouragement to his teammates.
"Was I scared? Personally, no, but I was looking at some of our guys and their eyes were a little big. I was just telling everybody to relax."
Yancey Thigpen clearly took note of his quarterback's calmness, as well as his message. Answering Kelly's score with a nine play, 76-yard drive, O'Donnell showed aplomb, and Bam Morris continued his hard-running during a 108-yard performance.
From their own 41-yard line and in danger of returning the ball to Buffalo, as well as continuing their momentum, O'Donnell threw a beautiful back shoulder lob down the right sideline to Thigpen, who made a dramatic, leaping grab in Bills territory. 
The stunned Bills defense never recollected itself, and Bam Morris' 13-yard touchdown effectively capped the competitive phase of the contest.  The Steelers led 33-21 with only a few minutes remaining.
Officially putting away the determined Bills rally, Levon Kirkland intercepted a desperate Jim Kelly pass, setting up another Morris touchdown from two yards out. 
A contentious fourth quarter disappeared, then the blowout that initially seemed to be on tap represented itself.  
Many Bills' players criticized the officiating, referencing missed opportunities to call pass interference and Mills' controversial second-quarter touchdown.
Defensive end Brentson Buckner didn't want to hear any excuses.
"Yeah, yeah, yeah, excuses, man. The officials. The crowd noise. The weather. Bruce Smith didn't play. Great teams overcome adversity. We have all year. Tell the Bills they just got their butts kicked."
With the win, Pittsburgh earned the right to host the city's second straight AFC Championship Game.  Rod Woodson's active roster spot paid off! The Steelers helped to alleviate the pain of losing to San Diego with a dramatic 20-16 victory over Jim Harbaugh and the Colts, earning a trip to Super Bowl XXX. 
****************************************************************************
The Pittsburgh Steelers have blessed their fans with an abundance of exhilarating games. The "Catalog of the Classics" runs deeper for the Black and Gold than most other NFL teams, especially in the modern era. For that reason, many of the team's greatest games are easily lost within its rich history, a lengthy volume that spans six Lombardi Trophies and an absurdity of spoils!
Every week of the team's 2012 offseason, we will look back at one of the great Steelers' games that many fans may not remember. In this way, the epic bouts will no longer be...
The Forgotten Classics! 
Please enjoy these previous installments, and check out my writer profile for Volumes 1-6:
Vol. 7: Eighteen Wins, One Loss; 1984, @ San Francisco 49ers
Vol. 8: Falling Giants; 1964, vs. New York Giants & @ Cleveland Browns
Vol. 9: Elvis (Grbac) Has Left the Building; 2002, vs. Baltimore Ravens
Vol. 10: Jerry and the Emperor; 1988 & 1989, @ Houston Oilers
Vol. 11: "We Dey!"; 2006, @ Cincinnati Bengals
Like the new article format? Send us feedback!