Eagles Schedule Analysis: Fewer Powerful Backs, More Tackle-Breakers
June 13, 2012

Ronald Martinez/Getty Images
One of the few advantages that came from under-achieving last season is that the Philadelphia Eagles avoided a killer schedule like the one the New York Giants are having to deal with.
Sure, division rivals share all but two opponents on an annual basis, but that can make quite the difference. While Big Blue has to deal with the division champion Green Bay Packers and San Francisco 49ers, Philly gets to play their respective bridesmaids, Detroit and Arizona. 
That gives the Eagles a small advantage, which could make all the difference in a division that is supposed to go down to the wire. 
Based on last year's results, the Eagles have the seventh-most difficult schedule in the league. But based on point differential, it's actually much closer to the middle of the pack. Of course, we established yesterday in this spot that assessing a schedule based on how teams fared the previous season is unwise, so let's handicap what's ahead for the Eagles by looking at which of their opponents are expected to be worse, better and about the same.
Which Teams Are Expected To Be Better?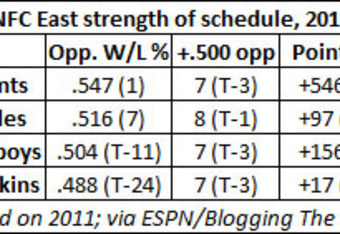 Cardinals: They're better than their 2011 record of 8-8 because a) they're at home, where they were 6-2 last year, and b) they won five of their final six games last season.
Falcons: I don't know that they're much better than they were last year, but they certainly aren't any worse than 10-6. This is a team that won 13 games in 2010.
Cowboys: Philadelphia manhandled them twice last year, but improvements to the defense indicate it could be a tougher ride this time. 
Redskins: Robert Griffin III, Pierre Garcon, Josh Morgan and a healthy batch of quality backs, plus the return of Trent Williams and Fred Davis from suspension. They should win more than five games.
Panthers: They won four of their last six games in 2011, and now Cam Newton enters 2012 with a full offseason under his belt. This is a .500 team at the very least.
Buccaneers: It's almost logistically impossible for the Bucs to be any worse than they were in 2011. And they at least get Philly at home, where they were a relatively respectable 3-5 last season.
Which Teams Might Be Worse?
Ravens: Baltimore will still be a force, but it likely won't have Terrell Suggs for that Week 2 meeting with the Eagles. Not sure the Ravens will look like a 12-4 team at that stage.
Saints: Not much worse, though. Even with the bounty scandal bringing them down, the Saints should look like a high-caliber team in a prime-time Week 9 home game against Philly.
Which Teams Should Be About the Same?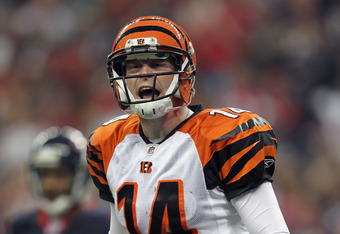 Jamie Squire/Getty Images
Browns: With a rookie quarterback and lots of holes on both sides of the ball, they don't appear as though they're about to take off, but they also shouldn't be worse than 4-12. Philly gets them right out of the gate in Week 1, which is definitely to the Eagles' advantage.
Giants: This is a tough one, because this Giants team is probably better than 9-7, but they still might have taken a small step back with some lost veterans in the offseason.
Steelers: Someone yesterday took exception with my statement that nothing much has changed in Pittsburgh. They've lost some veterans, but none of those losses causes me to believe they'll be any worse in 2012.
Lions: Detroit is young and still on the upswing, but with that pass defense I still don't expect them to be much better than 10-6 again in 2012.
Bengals: Andy Dalton and A.J. Green should only get better, so I definitely don't see Cincinnati taking a step backward, but I'm not convinced the Bengals will be much better than 9-7.
That ratio of improved teams to teams in decline still indicates that the schedule will be harder than the 2011 standings would have you believe, but at the same time, it's actually a little less intense than the Cowboys' slate. Dallas plays seven teams that are expected to be better; Philly meets just six.
Of course, these kinds of things are close to unpredictable, but it still helps give you a better feel for what to expect.
Looking at potential hiccups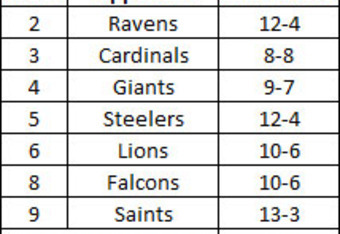 The Eagles didn't really face any supremely mobile quarterbacks last season, so I'm a bit concerned about how Juan Castillo's defense might fare against the likes of Robert Griffin III and Cam Newton this season. 
They have to travel to Washington to meet Griffin for the first time right after a grueling six-week stretch in which they play five 2011 playoff teams as well as the Cowboys. That's a scary game, as is the matchup the following week with Newton's Panthers. That Carolina game is on a Monday night and is situated right before a big divisional road game in Dallas. Oh, and the Washington game comes with the Redskins having two weeks to prepare.
If that aforementioned stretch doesn't do the Eagles in, that run could.
Looking at where they could excel
The defense gave up more than 20 points on seven occasions last year, but five of those opponents are off the 2012 schedule. They'll still have to deal with the Giants and Falcons, whom the defense struggled with, but Buffalo, San Francisco and Chicago won't be factors this year. 
I know, those teams aren't exactly offensive juggernauts, but they all had top-tier, aggressive running backs who carved up the Philly defense. This year, in place of those teams, they add teams like Detroit, Cincinnati, Cleveland and Pittsburgh to the schedule. That's good news, because none of those teams run well.
They'll likely have to face an improved Giants running game, and Ray Rice makes an unwanted appearance on the schedule early. But they're still replacing Reggie Bush, Fred Jackson, Frank Gore, Matt Forte, and Marshawn Lynch with the less lethal running threats that reside in Tampa, Cincinnati, New Orleans, Pittsburgh, Cleveland and Detroit.
Looking at tackle-breakers
It's no secret that the Eagles struggled to make tackles throughout the 2011 season. Football Outsiders found that they missed more tackles than any team in the league except the Bucs. But they also faced a lot of teams that were good at breaking tackles.
Atlanta, Chicago, Buffalo, New England, Dallas and Detroit all ranked in the top 10 in that category. That's nearly half of Philly's schedule right there. 
All in all, their 13 opponents averaged 3.9 broken tackles per game. But it won't get any easier in 2012. Their opponents on the upcoming slate actually averaged 4.1 tackles per game in 2011.
They'd better hope the defense has fixed those problems.