Predicting Two-Deep New York Jets Depth Chart, Pre-Training Camp
Jeff Zelevansky/Getty Images
Now that free agency and the draft are over, the time has come for NFL teams to start figuring out their depth charts and finalizing their roster.
While a lot can change in training camp, each NFL team has a good idea of what their team is going to look like on opening day.
Here is a projection for the two-deep Jets 2012 depth chart.
Quarterback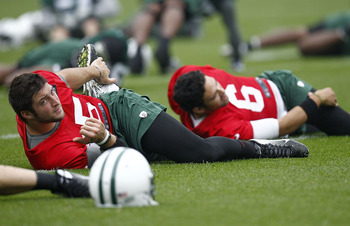 Jeff Zelevansky/Getty Images
Starter: Mark Sanchez
Reserve: Tim Tebow
You could probably write a thesis paper on the dynamic between these two quarterbacks, but for now, Sanchez is the unquestioned starter and Tebow is the backup/Wildcat quarterback.
If things get ugly as the season wears on, things could change, but things will have to take a drastic turn for this lineup to shuffle.
Running Back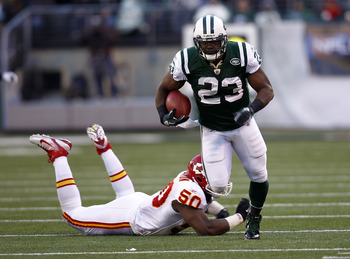 Jeff Zelevansky/Getty Images
Starter: Shonn Greene
Reserve: Joe McKnight
Greene will get at least one more chance to prove that he is the workhorse back the Jets need in their smash-mouth style of football. He does, however, still need to improve in the passing game in order to be considered a "foundation" back.
McKnight will get his first chance to be a third-down back, but his playing time hinges on his ability to protect the passer.
Left Tackle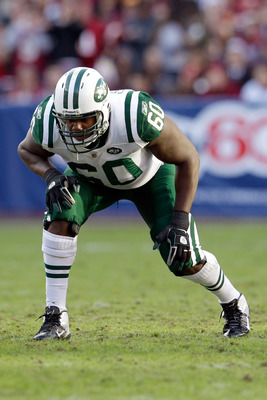 Rob Carr/Getty Images
Starter: D'Brickashaw Ferguson
Reserve: Stephen Heyer
Ferguson is the unquestioned starter, despite a down year in 2011. The backup spot will depend on who makes the team, but if the Jets needed a guy for a game tomorrow, I would put the experienced Heyer in.
Left Guard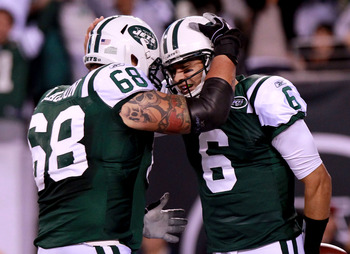 Nick Laham/Getty Images
Starter: Matt Slauson
Reserve: Vladimir Ducasse
Slauson, coming off season in which he greatly improved his pass protection, is locked in as the starter.
Assuming Vlad does not completely fall on his face in training camp, he should be the first alternate at guard, as he was working at left guard in minicamp.
Center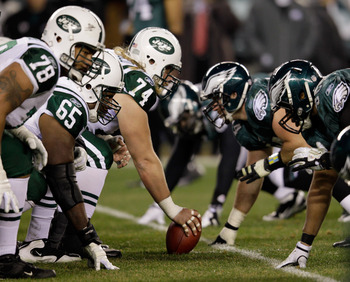 Rob Carr/Getty Images
Starer: Nick Mangold
Reserve: Caleb Schlauderaff
Mangold is among the best in the world at his position; only injury is taking him out of the lineup.
Meanwhile, Schlauderhaff appears to be the next Rob Turner, a versatile backup center who could also play guard. He has not seen much playing time for the Jets, so this spot will become more clear as training camp wears on.
Right Guard
Rob Carr/Getty Images
Starter: Brandon Moore
Reserve: Vladimir Ducasse
Moore, one of the best pass-protecting guards in the game, will start. Ducasse will assume the backup duties, once again, assuming he does not embarrass himself in preseason.
Right Tackle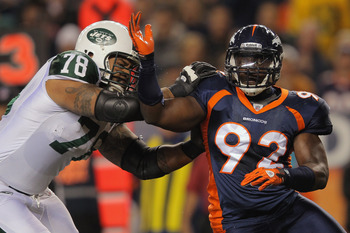 Doug Pensinger/Getty Images
Starter: Wayne Hunter
Reserve: Stephen Heyer
This is where things get interesting. Hunter, universally despised by Jets fans, remains to be the starter headed into this season.
However, if Hunters falters during the season, I expect the Jets to make a move, starting either Heyer or Ducasse, depending on who looks better in preseason. Based on what Ducasse has shown over the past few seasons, my money is on the veteran to back up Hunter.
Wide Receiver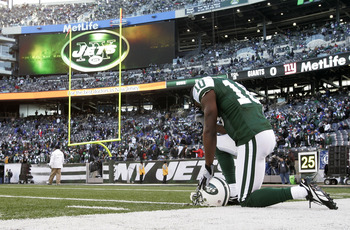 Rich Schultz/Getty Images
Starter: Santonio Holmes, Stephen Hill
Reserve: Jeremy Kerely, Chaz Schilens
Mike Tannenbaum has done a nice job adding depth to the receiver position.
Holmes, making about $10 million a year, is (supposed to be) the go-to guy. Hill has been impressive in OTAs and minicamp and appears to be the starter opposite Holmes as a deep threat.
Kerely is an ideal slot receiver, which he showed in his impressive rookie season, while Schilens is a rotational player that will see the field when the Jets get into the red zone. The Jets probably anticipated Schilens to be the starter until they were able to land Hill in the second round of the draft.
Tight End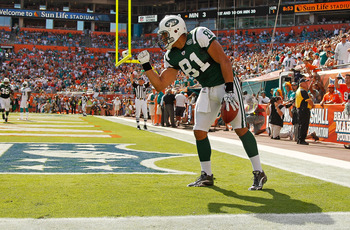 Mike Ehrmann/Getty Images
Starter: Dustin Keller
Reserve: Jeff Cumberland
Dustin Keller, Sanchez's favorite target who led the Jets in receptions in 2011, will start.
Behind him, the Jets have Jeff Cumberland, who showed promise as a pass-catcher before ending his season from an injury.
They also have Hayden Smith, the former Australian rugby player who figures to be a blocking tight end once he learns how to play the game. The sky is the limit for Smith, but it will take some time for him to digest the nuances of the game, putting Cumberland on the fast tract to be the second tight end.
Fullback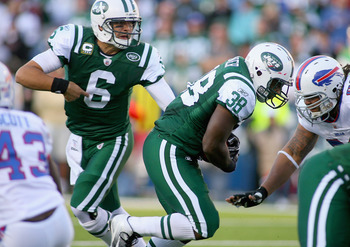 Rick Stewart/Getty Images
Starter: John Conner
The Jets signed Fui Vakapuna, who is more famous for his appearance on the Bengals' edition of Hard Knocks, to give some competition to Conner during camp, but I don't see the Jets moving on from the Terminator so soon.
Unless Conner is totally outplayed, he will be the starter once again.
Defensive End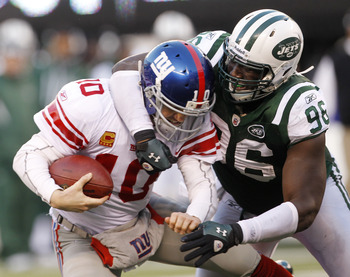 Rich Schultz/Getty Images
Starter: Muhammad Wilkerson, Quinton Coples
Reserve: Mike DeVito, Marcus Dixon
While Rex Ryan has stated that Coples will be a starter from day one, just about every defensive end on the roster is going to see the field plenty.
I would expect the Jets to use a lot of four-man fronts to take advantage of the pass-rushing talent of Coples without taking Mike DeVito off the field. Marcus Dixon was also impressive in limited action a year ago and will fill in on a rotational basis.
Nose Tackle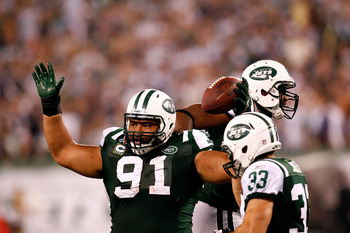 Jeff Zelevansky/Getty Images
Starter: Sione Pouha
Reserve: Kenrick Ellis
Pouha is probably the best pure 3-4 nose tackle in the game right now and will be the unquestioned starter.
Kenrick Ellis, a third-round pick from a year ago, will get another opportunity to develop behind Pouha. If all goes well, he should succeed Pouha once his three-year contract runs out.
Outside Linebacker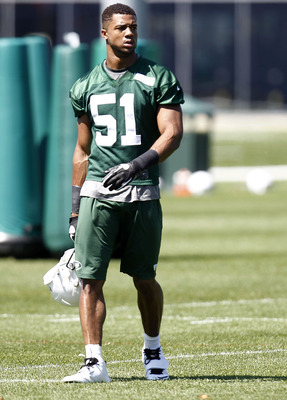 Jeff Zelevansky/Getty Images
Starter: Calvin Pace, Bryan Thomas
Reserve: Garrett McIntyre, Aaron Maybin
Because the Jets are probably going to use more 4-3 looks this season, this position will be in flux all season long.
However, if the Jets are in their base 3-4, Pace and Thomas will be the starters. McIntyre filled in on a rotational basis on run downs after Thomas' season ended in a game against the Ravens and will continue to provide depth.
Maybin will still be used almost exclusively as a third-down pass-rusher, where he thrived last year for the Jets. While many of his sacks were a result of terrific coverage, he adds an element of speed to an otherwise-slow Jets defense.
Inside Linebacker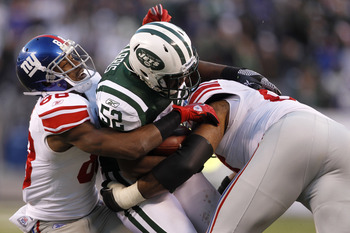 Rich Schultz/Getty Images
Starter: David Harris, Bart Scott
Reserve: Demario Davis, Josh Mauga
Harris and Scott will return as the starters from last year, but it will be interesting to see how the Jets use third-round pick Demario Davis. Davis is a more athletic player than Scott and should replace him in passing situations.
Meanwhile, Josh Mauga, who filled in for Scott on a rotational basis last year, will continue to add depth and contribute on special teams.
Cornerback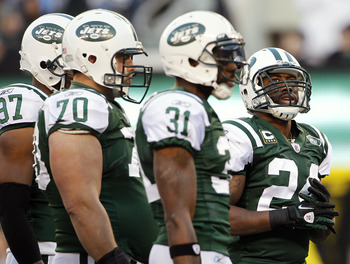 Rich Schultz/Getty Images
Starter: Darrelle Revis, Antonio Cromartie
Reserve: Kyle Wilson, Ellis Lankster
Revis and Cro are possibly the best corner tandem in football; no sense in messing with that combination.
Kyle Wilson will get another season as the slot corner. Ellis Lankster, who was given hefty praise from defensive coordinator Mike Pettine, will get a larger role in the defense and looks to be next man up after Wilson.
Free Safety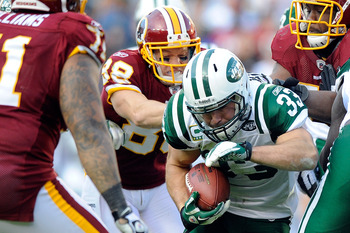 Patrick McDermott/Getty Images
Starter: LaRon Landry
Reserve: Eric Smith
The Jets signed Landry to be the starter, but with so many other in-the-box type of players on the roster, Landry will probably fill in the free safety spot. While he is more effective as a strong safety, he does have experience playing free safety from his time in Washington.
Eric Smith, who was picked apart in coverage last year, will be used in sub-packages, which is where he is most effective.
Strong Safety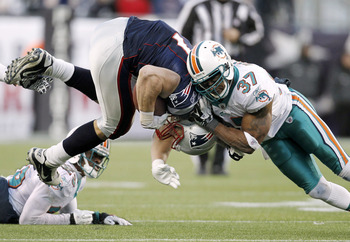 Winslow Townson/Getty Images
Starter: Yeremiah Bell
Reserve: Eric Smith
The Dolphins' leading tackler in 2011, Bell is the ideal player to fill the strong safety spot. While the Jets have a lot of rookies waiting in the wings, Smith will fill in to either safety spot in case of an injury before the Jets trust a rookie at the last line of defense.
Keep Reading

New York Jets: Like this team?