Why Rajon Rondo Is the Most Valuable Player in the 2012 Playoffs
June 4, 2012

Jim Rogash/Getty Images
Rajon Rondo's outstanding performance in the 2012 NBA playoffs is quickly making those trade rumors (despite Danny Ainge denying them, per CBS Sports) that surrounded him for much of this season seem rather ridiculous.
The 26-year-old point guard is bringing it every night, in a way many never thought he possibly could.
Shooting 48.8 percent in the postseason, a sharp improvement from his 44.8 percent mark during the regular season, Rondo has left his imprint on every game the Celtics have played. Averaging 17.4 points, 6.8 rebounds and 11.9 assists through 16 playoff games, it's not a stretch to call Rondo Boston's most important player.
In addition to his impressive stats, Rondo is averaging a whopping 42:35 of playing time. Rondo has played fewer than 40 minutes in a game just twice, and he's exceeded the 42-minute plateau in more than half of his games.
Following rampant speculation that he may be traded, many had "questions" about his future in Beantown, and yet Rondo has emerged as the key for the Celtics' playoff success.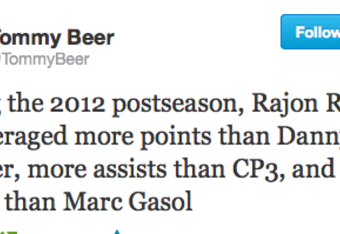 This was a team that was projected to be out before they even began. The Celtics, often called too "old" or too "slow," were not supposed to make it to the Eastern Conference finals.
Nobody expected Kevin Garnett to suddenly play like he was back in Minnesota, few were hoping for too much from Ray Allen on a gimpy ankle and Paul Pierce has noticeably slowed during the season.
In a season where just about everyone brushed off the Boston Celtics as legitimate title contenders, Rajon Rondo never gave up on his team.
Comparable to the little engine that could, Rondo's slogan isn't "I think I can," but rather, "I know I can." Carving up the opposing defense along the way, Rondo has been absolutely marvelous and is the reason the Celtics are still playing basketball in June.
Rondo has 190 assists, easily leading the league in that category for the playoffs. To provide some perspective, Rondo has 103 more assists than Chris Paul, who is second on the list. Rondo also has 108 rebounds to date—he's averaging more than teammate Paul Pierce in that department.
But what about on the defensive end?
Rondo's 2.3 steals per game rank him ahead of LeBron James, Dwyane Wade and even Russell Westbrook.
It's not hard to see the way Rondo is impacting the game for Boston—it's actually more difficult to build a case that he's a liability.
Often knocked for his poor foul shooting, Rondo has been much improved in that department as well, shooting 71.1 percent from the charity stripe. During the regular season, the charismatic point guard registered just a 59.7 percent clip.
Remarkable—that's the word I keep coming back to when trying to find a way to describe Rondo.
Whether he's weaving in and out of the lane in an effort to open things up on the floor or he's simply dissecting the defense with his unbelievable ball-handling skills, Rondo has proven to be a magician whose tricks simply can't be figured out.
Every time a scouting report is released on Rondo, he finds a way to make it irrelevant.
There is no book on how to stop this kid from doing his thing with the basketball in his hands. Opponents can plan for a way to potentially slow him down, but Rondo is showing us that it's impossible to stop him completely.
Should we really be surprised by any of this?
Rondo finished the season on an incredible roll. In every game he played in from March 11 through April 26 (the end of the regular season), he had double-digit assists. That's a startling streak even for a basketball wizard like Rondo.
Now, Rondo has continued his crusade throughout the postseason, and he'll keep fighting with every minute he spends on the court. He knows this team needs him, and he's finally growing into his role as a leader.
It's great timing for both Rondo and the Celtics. Even if Boston doesn't fulfill its championship dreams this season, general manager Danny Ainge has to be feeling a lot more comfortable than he did less than one year ago about a future roster that is built around his point guard.
With three years and $36 million left on his contract after this season, there's no doubt that Rondo has turned himself into (dollar-for-dollar) the most valuable player in the league.