9 NFL Training Camp Battles That Will Get All the Headlines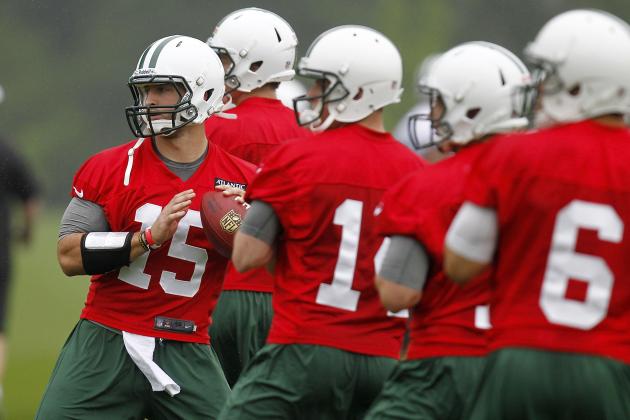 Jeff Zelevansky/Getty Images

Champions are made during the four weeks of preseason preparation under the sweltering August sun. Starting in late July until the first weeks of September, NFL teams will mold their rosters, install complex offenses and defenses and put themselves (hopefully) in a position to win the Super Bowl.
For each of the 32 teams, there will be numerous roster battles that will be watched closely by coaches. Only a handful of those battles will catch the eyes of fans, and even fewer will be discussed and dissected by the national media.
What follows are nine NFL Training Camp battles that will get all the headlines. Because of the nature of the national media, seven of the battles involve the "glamorous" quarterback position that always gets headlines, whether the player involved is a superstar or not.
Begin Slideshow

»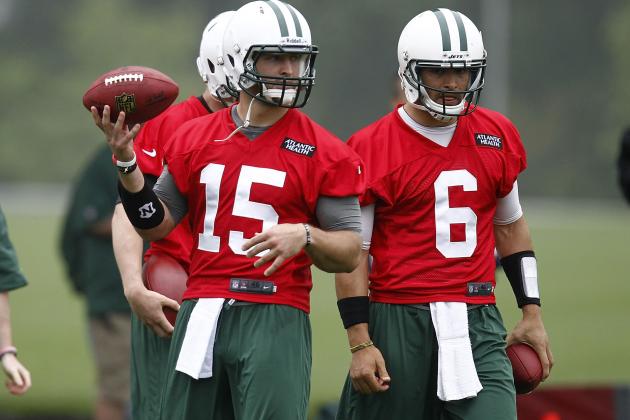 Jeff Zelevansky/Getty Images
Jets QBs Tim Tebow (15) and Mark Sanchez
When it comes to the national media, the New York Jets are like catnip – it just can't resist getting a taste. And the tastiest morsel that will emerge from coach Rex Ryan's New Jersey-based boys will be at quarterback where the much loved – and much-maligned - Mark Sanchez will battle with the sainted Tim Tebow for the honor of getting hammered in the New York press.
As of right now the Jets say there is no competition battle. Sanchez is the starter and Tebow will get to run a few trick plays and serve as protection on the punt teams. And if you believe that, I have one of several bridges that cross the Hudson into Manhattan to sell you. There was no quarterback controversy in Denver last year either and we saw how that turned out. This one will be a story until one of the two QBs is gone.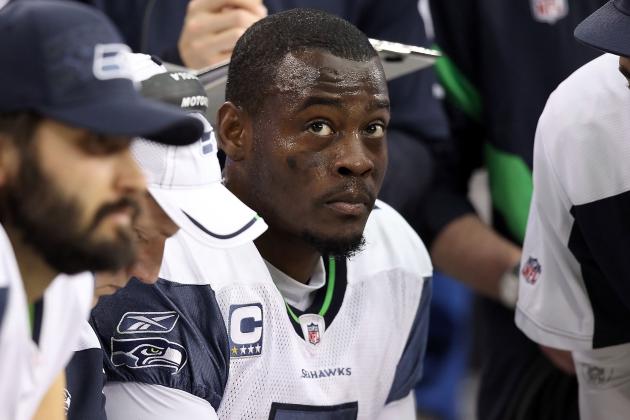 Christian Petersen/Getty Images
Seahawks QN Tarvaris Jackson
Unlike with the Jets, the Seattle Seahawks do have an interesting situation on their hands. Tarvaris Jackson was brought in last year to handle the quarterbacking duties and while he was better than what many expected – over 3,000 passing and 14 touchdowns, both career-highs – he's obviously not a franchise quarterback. So enter Matt Flynn, who threw for nearly 500 yards in one game in relief of Aaron Rodgers for the Green Bay Packers at the end of last season.
That monster game got Flynn plenty of attention and the Seahawks won the right to sign the free agent in the offseason. Seattle then stunned the NFL community by taking Wisconsin's Russell Wilson in the third round. Although undersized by league standards, there are many who feel that Wilson can be a star.
Flynn will probably end up being the starter but it's the kind of storyline that the media loves: the embattled incumbent, a highly-sought free agent and the underdog rookie fighting out for NFL glory. Expect plenty of headlines.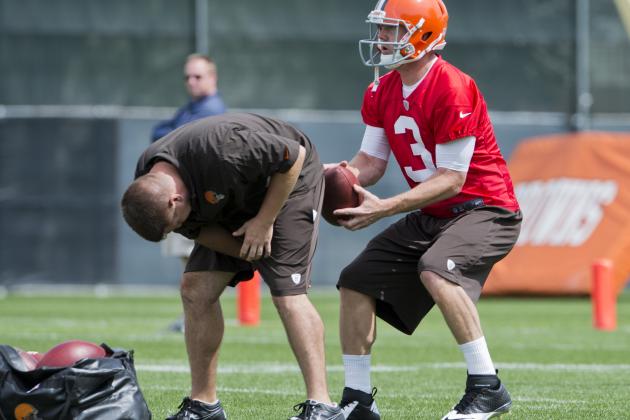 Jason Miller/Getty Images
Browns QB Brandon Weeden
Just two years ago, Colt McCoy was the quarterback that was going to take the Cleveland Browns to the next level. Now, it's Brandon Weeden who slides into the role of savior of a franchise that has only one playoff appearance since returning to the league in 1999.
The big question in Cleveland is whether McCoy was given a fair shot to take the starting job on a team that simply was not that good. He had a decent, if unspectacular year in 2011, with over 2,700 yards and 14 touchdowns and 11 interceptions while battling injuries. But the Browns spent a first-round pick on Weeden and considering his age – he'll turn 29 during the season – the team will have to decide quickly if he is their QB of the future and if so, what to do with their last QB of the future.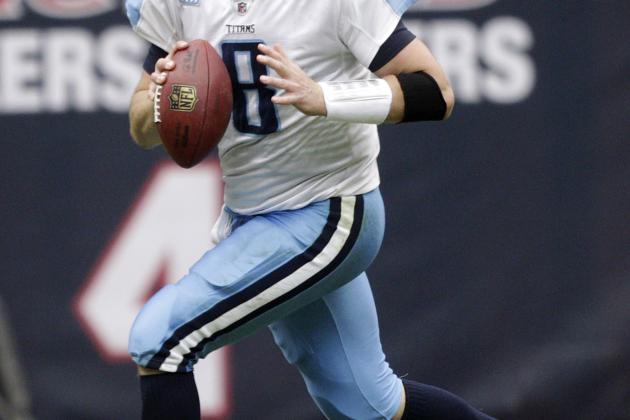 Bob Levey/Getty Images
Titans QB Matt Hasselbeck
Matt Hasselbeck has been a pro's pro and has been arguably the most underrated quarterbacks in the league over the past decade. Last season, his first with the Tennessee Titans, Hasselbeck threw for 3,500 yards and 18 touchdowns and nearly led the team to the playoffs.
But Hasselbeck is also 36 years old and the Titans drafted Jake Locker in the first round a year ago to eventually become the team's quarterback of the future. In limited playing time last year, Locker threw for 542 yards and four touchdowns without an interception. While his completion percentage was awful – just 51.5 percent – his quarterback rating was 99 showing that he is prepared to take the job full-time. The battle between the seasoned vet and the young gun will be closely watched.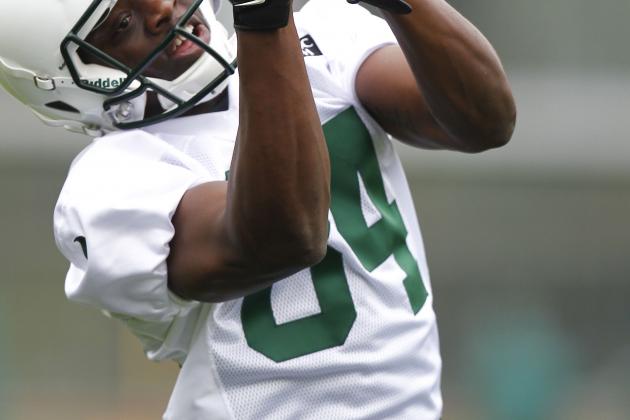 Jeff Zelevansky/Getty Images
Jets WR Stephen Hill
The last time we saw Santonio Holmes, he was pouting on the sidelines as the New York Jets' season was crashing to the ground. Despite being one of the team's captains, Holmes had been benched and teammates were openly questioning his work ethic.
Four months later, Holmes is not only still with the team but he is still listed as a starter – for now. While he has had a solid career, Holmes caught only 51 passes for 654 yards in 2011, prompting the Jets to select the speedy Stephen Hill in the second round. The latest in a recent line of outstanding Georgia Tech receivers, Hill will give Holmes a run for his money in a battle that will garner plenty of attention.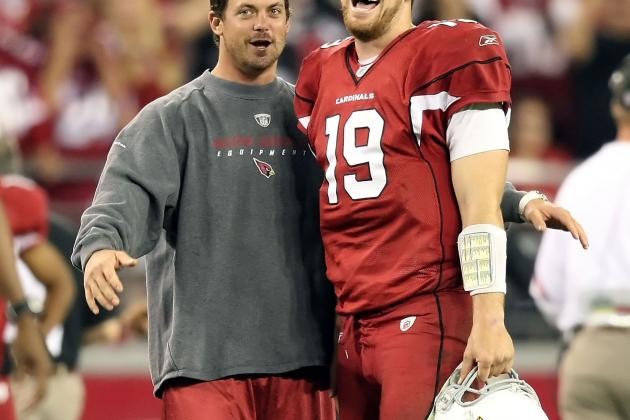 Christian Petersen/Getty Images
Cardinals QBs Kevin Kolb and John Skelton (19)
Kevin Kolb and John Skelton put up nearly identical numbers in identical playing time last season for the Arizona Cardinals. Kolb had more yards, 1,955 to 1,913, while Skelton had more touchdowns, 11 to nine. Kolb's passer rating was much better, 81.1 to 68.9, and he also had a better completion percentage, 57.7 to 54.9.
But Skelton was 5-2 as a starter for the Cardinals while Kolb was just 3-6 leading many to believe that the Fordham product Skelton is actually a better fit for Arizona than the high-priced Kolb. The Cardinals made a run at Peyton Manning that ultimately failed. They will now have to pick between two similar quarterbacks in what will be a heated battle.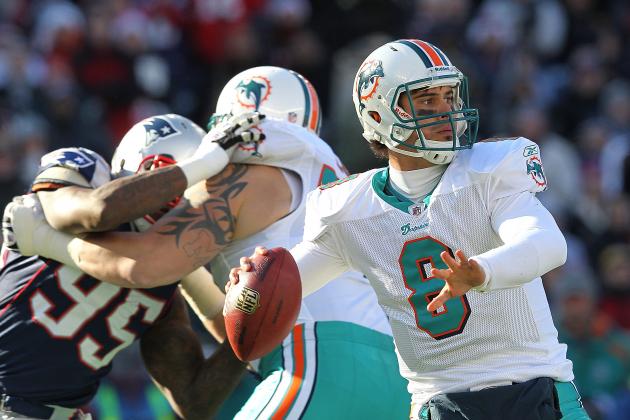 Jim Rogash/Getty Images
Dolphins QB Matt Moore
The Miami Dolphins are like the Seattle Seahawks, only the Dolphins haven't spent nearly as much money on the quarterback position as their friends from the Pacific Northwest.
Matt Moore is the poster boy for the solid, unassuming NFL quarterback. He threw for nearly 2,500 yards last season with 16 touchdowns and nine interceptions while leading the Dolphins to a 6-6 record. There are some that believe Moore can be a starter in the league. Most others feel he is just an above-average quarterback,
Because of that, the Dolphins took steps to upgrade the position in the offseason. First, they drafted the Ryan Tannehill out of Texas A&M with the eighth-overall pick. They then signed David Garrard, who hasn't played in nearly two years. Because of draft position, Tannehill will have the inside track, but it is a battle worth watching.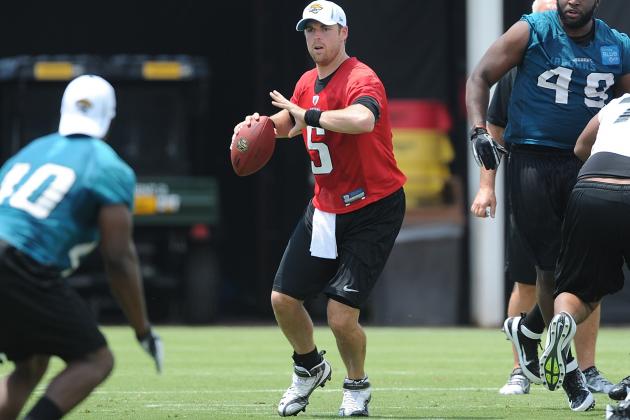 Rick Dole/Getty Images
Jaguars QB Blaine Gabbert
Blaine Gabbert was drafted as the quarterback of the future only to struggle mightily in his first season. So the Jacksonville Jaguars bring in a free agent quarterback who is known for his solid play, but isn't exactly a superstar. Sound familiar? It should, because it seems like half the teams in the league have taken this approach in recent years, including many on this list.
Gabbert didn't tear it up in his first season, getting sacked 40 times, losing 14 fumbles and completing just 50 percent of his passes. Henne, on the other hand, threw for over 3,000 yards and 15 touchdowns just two years ago, but the former Miami starter isn't exactly Tom Brady. Will Henne be an insurance policy for Gabbert or will he steal the starting spot? It's a battle worth watching.
Joe Robbins/Getty Images
Bengals CB Dre Kirkpatrick
If draft position meant anything then the Cincinnati Bengals would have the most talented defensive backfield in league history. Six former first-round draft picks will line up at cornerback this year for the Bengals, each either trying to live up to that position or recapturing past glory.
Leon Hall will be the starter at one corner if he's healthy meaning that five will battle for the other starting spot, led by the latest first-rounder Dre Kirkpatrick. A member of Alabama's outstanding defensive unit, Kirkpatrick is considered an A-plus defender and could have a leg up on the positions.
But Nate Clements was solid in his first year in Cincinnati and much was expected of Adam "Pacman" Jones until he got injured. Jason Allen and Terrence Newman were both signed in the offseason and Newman in particular could be a dark horse for the position. A former Pro Bowler, Newman is also familiar with defensive coordinator Mike Zimmer's system. Not too many teams will have five first-rounders vying for one starting spot.