St Louis Rams: Will STL Fans Face L.A. Threats Like Minnesota Vikings Fans Do?
April 23, 2012

Enjoy the 2012 NFL Draft while you can, St. Louis fans, and the speculation regarding the possibility of adding Justin Blackmon, Trent Richardson, Matt Kalil or Morris Claiborne at No. 6.
Enjoy the moment, because, in less than 10 days, you are likely to be bombarded by Chicken Littles and doomsday predictions, suggesting that the end is near and that the Rams are as good as gone following the Rams' soon-coming counteroffer. 
Even though NFL Vice President Jeff Pash took time to confirm the obvious last week in stating that St. Louis is far from being in the type of situation Minneapolis finds itself in, it will nonetheless fail to register with the aforementioned who will blindlessly spew almost any rumor imaginable and every far-fetched theory under the sun.
As most of you probably know, the state of Minnesota and the city of Minneapolis are up against the clock and could theoretically see the Vikings leave if a deal is not struck by the end of April. 
The Vikings, however, have been trying to get a new stadium, not merely an enhanced one (as is the case in St. Louis), for years.  
The Rams, by stark contrast, just entered that process in February of this year.  That is a significant, important difference.
As for St. Louis, the Rams will be presenting their counteroffer to the St. Louis Convention and Visitors Commission on May 1 after rejecting (as even expected by the CVC) the initial proposal to upgrade the Edward Jones Dome that came on February 1 via the above referenced CVC.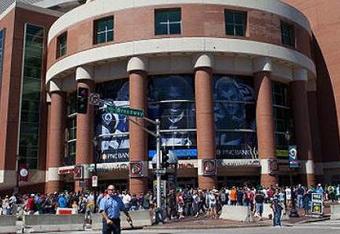 As you probably know, the EJD has been the Rams home venue since the move to the Gateway City in 1995.   
If you are not prepared to hear outrageous rumors floated, imaginary dots connected, conspiracy theories expounded and doomsday scenarios expressed, now is the time to get ready for it.  
Batten down the hatches, because a lot of empty noise is on the way.
Expect to hear things like this: St. Louis cannot afford to match the offer, the Vikings will stay in Minnesota so the Rams can move, Kroenke wants to be in the second biggest market and Jeff Fisher is from California. 
In short, expect to hear the typical, uninformed speculation and sometimes ignorant rhetoric coming from the often intentionally uninformed straw graspers. 
Yes, expect to hear the type of talk mentioned above coming loud and aggressively from some of the exact same people that said the movie was always scripted and that Kroenke was a lock to win the bid for the Dodgers because it was all part of one big sinister plan to move the Rams back to Los Angeles.  
Well, those same people will be bringing more, much more, in a little over a week. 
Many of those people fail to recognize a plethora of things, including just a few items of note that I will share here: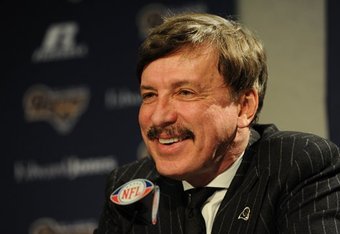 - Kroenke was the lead investor for the St. Louis Stallions in 1993 (which would have brought the NFL to his home state.) 
- Kroenke only bought 30 percent of the Rams in 1994 on the predetermined condition that the Rams move to St. Louis.
So Kroenke, who was willing to put up his own money for the St. Louis Stallions expansion efforts and then only bought the Rams on the precondition that they move to the Gateway City, is now going to be the guy to make sure they move back?  Sorry, but I do not buy it for a second.  
- Since Kroenke took over, the Rams have greatly expanded their preseason network right here in the Midwest and Southern Plains. That really makes little sense if the plan is to move the franchise elsewhere.
Why not stick with the status quo regarding the preseason telecasts if one were planning a soon relocation? Why essentially throw dollars down the drain for a market that you soon plan to abandon? 
- The Rams won the St. Louis Philanthropic Award for their extensive (and continually expanding community service work) in 2010.  
They have also began working more and more all over the state in places like tornado ravaged Joplin in addition to their ongoing monthly day of service and community programs.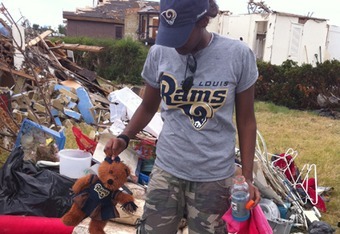 - The Rams television ratings, amidst the worst five year winning percentage in NFL history (based off of their 15-65 record), have been extraordinarily high considering their aforementioned performance in recent years.  
The highest rated 2011 regular season St. Louis Cardinals game drew an 18.  The 2-14 Rams averaged a higher rating than that single highest rated Cards game.
Even with a low-rated home opener last season, the Rams outdrew the pennant-chasing Cardinals by more than a 4 to 1 margin.   
Even the Rams' 2011 preseason games drew some very impressive TV numbers, according to Rams Chief Operating Officer Kevin Demoff: 
This city has a great passion for football.  You only have to look back to August and September when we were doubling the Cardinals ratings on television for preseason games and the Edward Jones Dome was electric against Philadelphia. These fans are starving for a winner and we haven't given it to them.  That's our fault and we'll do our job and get that fixed.
In fact, last year's preseason slate was the highest rated programming in St. Louis during the month of August. 
- Whereas other teams have not always gone the extra mile to ensure that home games would not be blacked out (see the Tampa Bay Buccaneers, Buffalo Bills, Cincinnati Bengals, San Diego Chargers and Oakland Raiders, among others), the Rams have done so several times since Kroenke took over in 2010, making sure that no games were blacked out.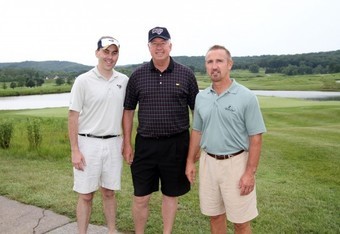 I again would ask, why use local sponsors like Budweiser to ensure that the games are televised if you are planning to abandon the market soon?  Why bother with the investment in the local market? 
- Kroenke is working hand in hand on a project adjacent to the Edward Jones Dome currently with the Chairman of the St. Louis Convention and Visitors Commission, Bob O' Loughlin.  
O' Loughlin is a hotel guy, and several of the other CVC members have lesser roles in the St. Louis Hospitality field, too, in addition to the aforementioned O' Loughlin. 
It does not necessarily directly impact the lease negotiations in any way, but it does show a spirit of cooperation.  
If nothing else, it provides supporting evidence of what is generally accepted in and around St. Louis: the CVC and the Rams have a very strong, ongoing working relationship. 
- The Rams have one of the best (if not the best) lease in the entirety of the NFL (even according to another NFL owner), paying a grand total of $500,000 dollars a year for use of the EJD and Rams Park in Earth City.
- The CVC is only required to make certain aspects of the EJD top-tier, not the building as a whole, as spelled out plainly in the lease.  This is far too often misunderstood.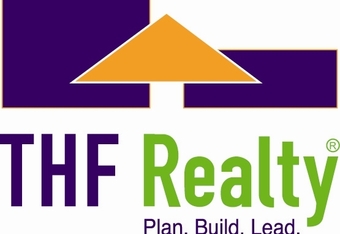 - Kroenke has a multitude of strong political allies in St. Louis and across the state, including governor Jay Nixon, among many others. 
- Kroenke's realty development company, THF Realty, is headquartered in St. Louis—he has done more development here than in any other place in the nation, according to all available reports and the company website itself. 
- Kroenke has served long-term and continues to serve on several major St. Louis boards and has great civic connections here. 
- At last check, the Rams have not even mentioned moving to L.A. in regard to discussions with the CVC, according to this column from Brian Burwell of stltoday.com. 
- Rams Chief Operating Officer Kevin Demoff has been unwavering in stating that the Rams want to build a winning tradition in and for St. Louis repetitively and that they want a global solution that works for the city, for the citizens and for the Rams.  
- Kroenke was appointed to the L.A. Stadium Committee (which has been abandoned) and was not a volunteer for it, another widely misunderstood and often misrepresented point.
- Bills are in the works in Missouri that could be more beneficial and highly advantageous to St. Louis sports, the EJD, and thus, the Rams and Kroenke. 
- The city and region of St. Louis has a wide array of unused chunks of land (such as that in Fenton) that could later be given or sold cheaply to Kroenke to let him do what he does best: develop land, land and property that could be owned around a future new Rams home in the city or metro area.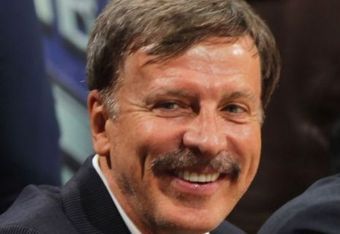 - Former Rams owner Georgia Frontiere's son Chip Rosenbloom, who briefly owned the Rams after his mother's passing, seemed extremely confident in 2010 that Kroenke would honor his late mother's wishes and keep the Rams in St. Louis:
There's no reason to believe that Stan would be anything less than committed to St. Louis. He was instrumental in securing the Rams franchise for St. Louis. All of it points to a good relationship with St. Louis. I don't know why anyone would believe otherwise.
Prior to entering the lease negotiations before Stan went into typical "silent" mode, Kroenke stated this in 2010, via ramsrule.com:
There's a track record. I've always stepped up for pro football in St. Louis. And I'm stepping up one more time. I'm born and raised in Missouri. I've been a Missourian for 60 years. People in our state know me. People know I can be trusted. People know I am an honorable guy.
- Although Rams COO Demoff has said a ton since the following quotes in February 2010 during the sale, these words were also interesting, via this at clanram.com from the St. Louis Post-Dispatch.
In the above-linked column, Demoff talked extensively about the commitment to St. Louis from the Rams as well as more regarding Chip and Lucia Rodriquez. 
- Bernie Miklasz, a long-time writer in St. Louis and one who is not afraid to share his honest beliefs whether they are popular or unpopular, stated his firm belief earlier this year, after digging deep, that he now believes the Rams will stay in St. Louis, after showing some scepticism in the past.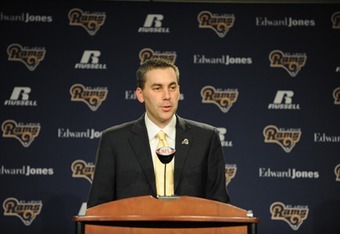 Miklasz, as shared in the aforementioned link, said powerful people are at work behind the scenes to help ensure a pro St. Louis resolution here.
- Other NFL cities, like the previously mentioned Minneapolis (no lease), San Diego (year to year) and Oakland (out of lease after 2013 season) are in all much more immediate peril than St. Louis. 
Besides longer term stadium issues and more pressing lease statuses', all of those teams owners have at least mentioned a possible move at some point.  
By 2025 (the end of the complete EJD lease), the Rams, city and state would likely be willing to work together to some extent to build a new state of the art venue in the city or metro area after settling for dome enhancements now. At the time, the EJD would be 30 years old and that seems to have become the standard for people feeling that it is acceptable to pursue a new venue.
- Thus far, the L.A. stadium projects have not been satisfactory to the NFL, according to this from Jason Cole of yahoo.com.  Of course, that is subject to change if the plans are ultimately altered.
With the financial setup of the NFL, it is not necessarily about market size, but much more about how friendly the stadium lease is, among other things, as discussed in this from ESPN.  
Even though St. Louis is the 18th-largest metropolitan area in the United States according to 2010 figures, it is bigger than NFL markets Tampa Bay, Baltimore, Denver, Pittsburgh, Kansas City, Cincinnati, Cleveland, Indianapolis, Nashville, Jacksonville, New Orleans, Buffalo and Green Bay and just slightly smaller than San Diego and Minneapolis.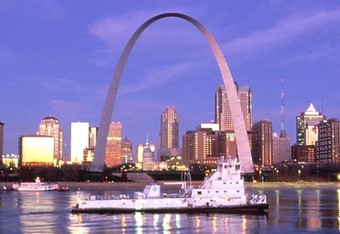 According to a new 2012 estimate reported in this column, St. Louis has reached 2.83 million metro area residents (up from 2.81 million in 2010), indicating a continued metro-area population growth.
No, it is not the size of L.A., but, as evidenced above, it is has a bigger population base than nearly half of all other NFL cities. 
As for the combined statistical area population (CSA), St. Louis checks in as the 16th-largest with a total of 2.878 million residents. 
- Contrary to some beliefs, the city of St. Louis is in far better economic condition than many suppose.  
In 2011, St. Louis tied for 5th most Fortune 500 headquarters in the U.S.  St. Louis has 21 Fortune 1000 companies, more than L.A. 
In terms of tourism, St. Louis raked in well over $4 billion in tourism dollars in 2010 and had over 21 million visitors according to this.
I could go on with more, but that is a decent start.  
I could tell you how Kroenke has never sold any portions of any of his franchise's, even though a move to L.A. would likely require a sale of a significant portion of the franchise.
I could tell people how having a higher overall franchise value does not necessarily equate to higher net profits, but that too would probably fall on many deaf ears.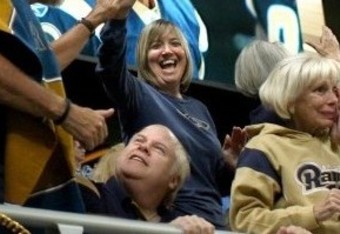 I could suggest that Stan, born and raised in Columbia, Missouri, probably does not relish the idea of living out the rest of his years as a villain in Missouri and continues to support tremendously (the University of Missouri.) 
Regardless of what I say or present, those that continue to look down their noses at St. Louis and Missouri are going to grasp at every rumor and straw that comes along, just as they did with the Dodgers, regardless of what was or will be presented.
By the way, that L.A. Dodgers deal was supposedly a slam dunk for Kroenke, who was going to build an NFL stadium next to Dodgers Stadium.
I must be dreaming, right?  Did I not hear that the Magic Johnson group won the bidding war for the L.A. Dodgers? 
Or maybe, just maybe, some people got their first of two reality checks. 
There may be some anxious moments, but expect "Silent Stan" to eventually become "King Kroenke" in the Show-Me State and the Gateway City by doing what he has done for nearly 20 years: ensure that professional football remains alive and well in St. Louis, Missouri. 
This year marks a great opportunity for the city of St. Louis to make a great mark, as expressed by Randy Karraker for 101sports.com. 
Sometime between now and 2025, I expect to see a new state of the art retractable roof venue in metro St. Louis, one perhaps known as Sam's Club Stadium or Wal Mart Field.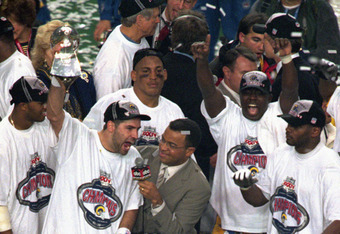 In the meantime, there are no guarantees, but all indications point to an eventual agreement regarding the current lease negotiations that would see the EJD brought up to speed in the interim.  
Anything could happen, but things look much better for the future of the Rams in St. Louis than many have realized (or been willing to admit.) 
For even more on the lease from my archive, check here. 
Shane Gray covers the St. Louis Rams daily as a Featured Columnist for Bleacher Report. You are encouraged to check out the rest of his work here. Gray also owns and operates stlramscentral.com.