St. Louis Rams: Major STL Media Member Says 'Kroenke's Not Going to Move' Rams
February 19, 2012

As most of you know, the St. Louis Rams and the St. Louis Convention and Visitors Commission are in the midst of negotiations centered around the Edward Jones Dome, the Rams home venue since the move to the Gateway City in 1995.  
To briefly recap, the CVC presented its proposal to upgrade the EJD on Feb. 1.  The proposed renovations (including a huge Dallas Cowboys like center-screen, the addition of natural light, enhanced club seating and more) would incur an estimated cost of $124 million, with 52 percent of those expenses being billed to the Rams.  
The Rams have until March 1 to accept or reject that offer, and almost everyone expects the initial offer to be rejected.  In negotiations of this sort, that is commonplace.  It is rare that a first offer is accepted, regardless of how good it might or might not be.
If the CVC's initial offer is indeed denied, the Rams will counter-offer by May 1.  The CVC would then have until June to show how they would pay for the Rams requests/demands.  If a deal was still not reached, the negotiations would then enter arbitration on June 15 in an effort to assist both parties in coming to an amicable agreement.  
If no agreement were reached between the Rams and CVC by the end of the year, the arbitrator could then make a ruling.  
If the arbitrator were to side with the CVC, the Rams would most likely be required to fulfill the totality of their lease (through 2025). 
If not, the Rams would have the options of leaving St. Louis after the 2014 season or potentially entering a year-to-year lease with the aforementioned EJD, a la the San Diego Chargers.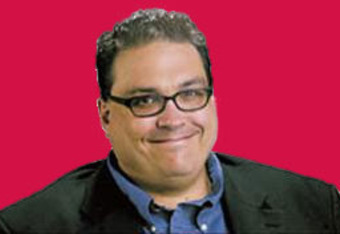 I have been on record both in print (here is one example) and over the air (here from 15:50 to 34:05) that I believe the Rams will remain in St. Louis long-term.
This past week, however, someone of much greater prominence than I echoed similar sentiments. 
Bernie Miklasz (who has been covering St. Louis sports as a lead writer for the St. Louis Post-Dispatch since 1989) is one of the more highly regarded sports journalists around (both on a local and a national level.)
Miklasz, probably as much or more than anyone else in St. Louis, has the pulse of professional sports teams here.  More relevant to our discussion, he typically has a very good reading on the inner issues of the Rams. 
Miklasz is generally regarded by most as a go-to guy regarding the major happenings and developments within and around the organization.  
His contacts run deep, and his opinions and analysis carry a great deal of clout.  Of course, like just about anyone else I could mention, there are exceptions.  Not everyone likes Miklasz nor regards his highly esteemed work favorably.
Last Monday on 101sports.com, Miklasz shared some new insight on his radio show regarding the previously mentioned lease negotiations strongly asserting that:
(Stan) Kroenke's not going to move...it's all going to get worked out.  The big fella here has been doing a lot of reconnaissance on this issue and I am feeling better about it all the time.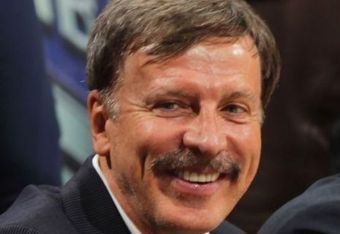 Later in the week, Miklasz shared more in that regard in Bernie's Pressbox at stltoday.com: 
When there's a new stadium, it is unlikely to be downtown...though nothing is certain. But a long-term plan is targeting suburban locations...a new stadium, however, is a bit down the road...there will be a lease extension at The Ed to cover the years until a more long-range plan is set.

No, nothing (is) imminent.  No guarantees, either. But this situation isn't as nearly as bad as feared.  And it's more favorable than most people believe. Important people are at work.  Let's just stay calm as it plays out. 
Coming from Miklasz, these are very encouraging words for St. Louis fans.  It is encouraging to read that "important people are at work" on the issue, perhaps some listed here. 
Miklasz spent time with both NFL commissioner Roger Goodell and Rams Chief Operating Officer Kevin Demoff at the Super Bowl in Indianapolis. 
Perhaps it was during these conversations and other apparent investigation and research that Miklasz' beliefs were apparently swayed somewhat. 
It was just a month ago that Miklasz seemed more pessimistic in his assessment of the Rams long-term prognosis in St. Louis, making his newfound optimistic stance regarding the long-term outlook of the Rams in the STL all the more interesting.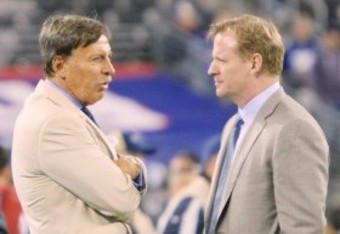 Miklasz shared tidbits from his conversation in Indy with the previously mentioned Goodell.  He also shared further analysis regarding the NFL Commissioner's view of football in St. Louis here. 
Again, there is no individual's opinion that I value more who is affiliated with the Rams on a regular basis than Miklasz.  He is not a "shock jock" and does not typically make bold statements such as this just to be heard, even though some others around the nation sadly do.
In short, Miklasz is solid and reputable and for him to make such significant statements tells me that he is hearing, gleaning and gathering some credible information. 
It should be pointed out, in fairness to Miklasz, that he clearly stated that that there are "no guarantees." He has simply shared his beliefs based upon the knowledge, information and feel that he possesses regarding the aforementioned situation.
I personally believe that a deal will ultimately be struck that sees the Rams fulfilling the totality of the lease (through 2025) in exchange for some significant upgrades to the EJD that also implements a general plan going forward regarding a new stadium set to open in or around 2026.  
By 2025, the much-discussed EJD will be 30 years old.  That time-frame has essentially become a general watermark of when cities, teams and states feel it more appropriate to begin working cooperatively towards a new stadium.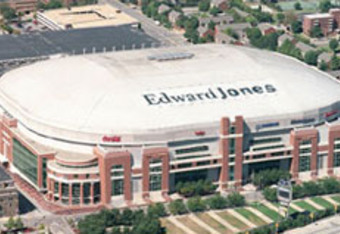 I feel that will be the case in St. Louis.  
Not only will the timetable be better for the construction of a new state-of-the-art stadium a decade-plus down the road, but the state of the franchise on and off the field is expected to be considerably enhanced.
Predicting a better on-field performance is rather easy.  After a 15-65 stretch (the worst in NFL history over a five-season span), there is nowhere to go but up. 
With the hiring of Jeff Fisher at head coach and Les Snead at general manager, I believe the team is heading towards a period of sustained success and competitiveness, possibly in the mold of the Pittsburgh Steelers, who are perennial playoff contenders.  
With the well-able Kevin Demoff in place as COO and Vice President of Football Operations, the Rams have a terrific trio in place (Demoff, Fisher and Snead) to lead this organization onward.  
Demoff is not only working hard to improve the football team, but he works diligently to improve the Rams off the field, leading the Rams on the way to being named the 2010 philanthropic organization of the year in St. Louis, the first time a sports team has ever won that award in the Gateway City.
The Rams have a monthly day of service where they close up shop at Rams Park and assist in the city. They have not only assisted in St. Louis, but have also helped out statewide in tornado-ravished Joplin, for example.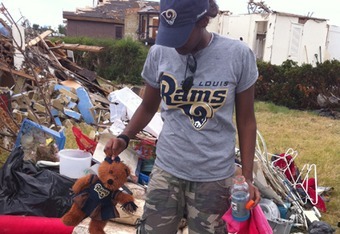 Speaking of Joplin, that was one of several new markets that the Rams expanded their preseason network to since Missouri's own Stan Kroenke took over full ownership of the franchise in 2010.
The Rams' preseason network now extends into parts of five states (Missouri, Oklahoma, Illinois, Indiana and Arkansas), making it one of the most far-reaching preseason networks in the league. 
I have often asked this question: why make the effort to serve St. Louis and the state so strongly if eyes are elsewhere?  Why expand the preseason network now if the hope is a new far away home? Neither would make much sense (in my estimation) if seeking out a new city. 
Comprehensively, things are looking up for NFL football in St. Louis.  I steadfastly believe we will look back on 2012 as the year that cemented the legacy of the Rams in this town and the turning point of a revitalization of this team in this city.  
And a revitalization of the Rams is a good boost towards the continued revitalization of the city.  
Does anyone else recall the civic pride, buzz and optimism that overflowed throughout the St. Louis region and the state during the "greatest show on turf" years?  That was a brief run.  Imagine what could happen if and when the Rams field a consistent winner here? 
A creative stadium solution with the EJD coupled with the simultaneous work of the Rams and CVC towards an agreement in principle for a future new stadium could help grow the city like the Indianapolis Colts stadium has there, as Bryan Burwell explains in this interesting article.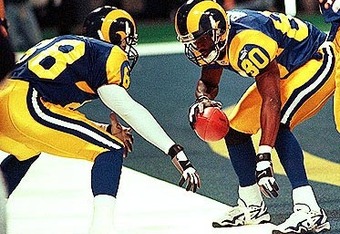 It will be wonderful to eventually get this monkey off of our collective backs and return to focusing solely on the regular season, the NFL Draft, free agency and simple football stuff.  
Kroenke, as he himself has said, has "always stepped up for pro football in St. Louis."  
He was the lead investor for the group who attempted to land an NFL expansion team (to have been called the St. Louis Stallions) in 1993.  Furthermore, he only bought the Rams on the predetermined condition that they move to St. Louis. 
I believe "Silent Stan" will one day be known as "King Kroenke" around these parts.  His actions will ultimately say more than his words ever could.
How does Walmart Field or Sam's Club Stadium sound to you?  I can say without hesitation that it sounds mighty fine to me.  
Shane Gray covers the St. Louis Rams year-round. You are encouraged to check out the rest of his work here and to follow him on Twitter.