2012 NFL Mock Draft: Players Who Will Make Monster Impacts as Rookies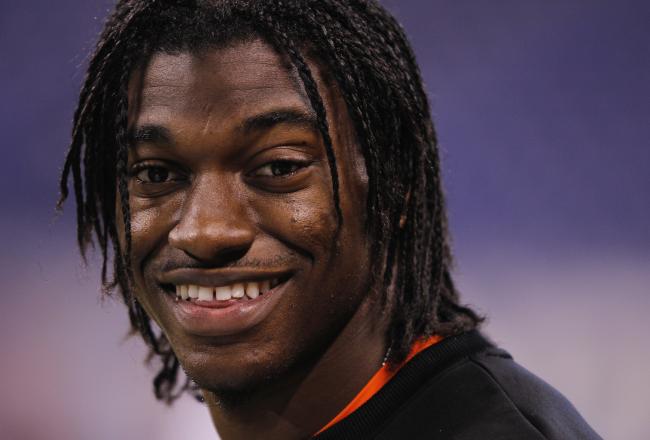 Joe Robbins/Getty Images
With one week to go until the NFL draft, the projections continue to shuffle around.
Outside of the top two spots in the order, everything seems to be up in the air. Will Trent Richardson or Justin Blackmon go to Cleveland if the Browns don't take Ryan Tannehill? And if the Dolphins are concerned about the Browns stealing away Tannehill, will Miami trade up to get him?
One thing is for sure: All of those offensive studs will offer their future teams serious upgrades and will make big impacts during their rookie campaigns. Here is a complete mock with special emphasis on those players.
1. Indianapolis Colts (2-14): Andrew Luck, QB, Stanford
By all indications, he's a lock at the top spot, and rightly so. He's the best quarterback prospect maybe since Peyton Manning himself was on the board, and he's bound to help Indy rebound fully from last year's catastrophe.
2. Washington Redskins (from Rams) (5-11): Robert Griffin III, QB, Baylor
Though he's the riskier pick as a mobile quarterback, Griffin has the potential to make just as big of an impact as Luck during his rookie campaign—and he could be even better.
Robert Griffin III talks to the crew at 'The NFL Today.'
The reigning Heisman Trophy winner fits perfectly into Mike Shanahan's scheme in Washington. The coach, who has groomed some of the NFL's most prolific mobile quarterbacks, would love to have him in the mix.
Jon Gruden told the Washington Posts's Mike Jones:
I think it's real exciting for the Redskins because of Mike Shanahan's expertise with mobile quarterbacks. Some of the best tape that I've ever studied was Mike Shanahan and John Elway in Denver, back-to-back Super Bowl win teams. They took advantage of Elway's mobility. A lot of people forget how extraordinary Elway was handing the ball off to Terrell Davis, and those bootlegs, those naked bootlegs off of those stretch plays was devastating.
As one of the fastest, most athletic and most promising prospects on the board in years, RGIII is bound to pay off long-term for the Redskins.
3. Miami Dolphins (mock trade from Vikings) (6-10): Ryan Tannehill, QB, Texas A&M
It's looking even more likely that the Browns will take Tannehill if he falls to them at No. 4, making it imperative for the Dolphins to trade up in order to select him if they want a capable quarterback in 2012.
Tannehill has switched off and on between quarterback and wide receiver, but his football IQ and his will to win were impressive in his 2011 campaign. Sure, there are still questions about his ability to transition into an NFL offense since he didn't even play quarterback for the extent of his time at A&M, but he has the intangibles that make him a solid projection.
He's certainly the third-rated quarterback in this draft, and despite a lack of experience, he has the arm strength, mechanics and field vision to be Miami's answer for many years to come.
4. Cleveland Browns (4-12): Trent Richardson, RB, Alabama
It will probably be down to Richardson and Justin Blackmon here, but the Browns opt for the best running back in the draft and will hold off on a wide receiver until their second pick, when there will be plenty available.
5. Tampa Bay Buccaneers (5-11): Morris Claiborne, CB, LSU
With Ronde Barber on the way out, the Bucs need a long-term replacement. Claiborne—who has the chance to reunite with LSU secondary coach Ron Cooper, now the defensive backs coach in Tampa—just makes sense here.
6. St. Louis Rams (from Washington) (2-14): Justin Blackmon, WR, Oklahoma State
Blackmon will be a stud in the NFL and will be a huge boon for the Rams offense if he falls past the fourth selection.
Will Justin Blackmon or Trent Richardson be off the board first in this year's draft?
The wideout measures at 6'1", but plays bigger and has the kind of speed that doesn't come around all too often. He's also a strong receiver who is great at breaking tackles and is capable of beating double-teams.
Many are harping on his DUI arrest from 2010, but two years is enough time to mature, and the Rams simply cannot pass on him because of that. He was the best receiver in the college ranks in 2011, racking up 1,522 yards and 18 touchdowns, and his production will make a huge impact on St. Louis' offense, which needs a superstar wideout.
7. Jacksonville Jaguars (5-11): Melvin Ingram, DE/OLB, South Carolina
If the Jaguars go for Ingram here instead of Matt Kalil, it will be a huge break for the Vikings. Ingram gives the Jags a versatile playmaker who can fit in anywhere.
8. Minnesota Vikings (mock trade from Miami) (3-13): Matt Kalil, OT, USC
The Vikings still get their guy despite trading down. The USC product is the best left tackle available and could develop into one of the best in the NFL before long.
9. Carolina Panthers (6-10): Fletcher Cox, DT, Mississippi State
He has surged all the way up from the bottom of the first round to the top 10, quickly becoming the best option available for an interior playmaker.
10. Buffalo Bills (6-10): Riley Reiff, OT, Iowa
The Bills were also in the hunt for a wide receiver, but with Reiff still on the board, they can't pass him up. His above-average athleticism and strength could make him into a franchise left tackle.
11. Kansas City Chiefs (7-9): Luke Kuechly, LB, Boston College
After a great combine, the questions about Kuechly's athleticism dwindled. He's the best option at linebacker and fills a big hole for Kansas City.
12. Seattle Seahawks (7-9): Quinton Coples, DE, North Carolina
He has the most to lose from Cox's quick ascent in the draft order, but he's still a great steal for the Seahawks here. Despite concerns about his effort levels, he has a high ceiling...when he does try.
Highlights from Michael Floyd's career at Notre Dame.
13. Arizona Cardinals (8-8): Michael Floyd, WR, Notre Dame
As the best available player left on the board at this point, the Cardinals have to take Floyd. He gives them a standout playmaker who could nicely complement Larry Fitzgerald.
14. Dallas Cowboys (8-8): Dontari Poe, DT, Memphis
It seems like the Cowboys are sold on Poe because of his versatility and his work ethic, which will allow him to develop into a top-tier tackle.
15. Philadelphia Eagles (8-8): Mark Barron, S, Alabama
The Eagles have a need at safety, and with Reiff and Kuechly both off the board, he gives them an NFL-ready presence who can make an impact immediately.
16. New York Jets (8-8): Chandler Jones, DE, Syracuse
Solid pass-rushers are always hot commodities in the draft, and in Jones, the Jets get someone who is relatively underrated and will be a serious threat on the line.
17. Cincinnati Bengals (from Oakland) (8-8): David DeCastro, OG, Stanford
He possesses the versatility to fit seamlessly into the Bengals' scheme and will transition easily because of the pro-style scheme at Stanford.
18. San Diego Chargers (8-8): Cordy Glenn, OG, Georgia
Glenn increased his stock with a solid performance at the combine and has made starts all over the place, including at left tackle, right guard and left guard.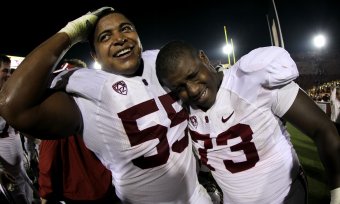 Stephen Dunn/Getty Images
19. Chicago Bears (8-8): Jonathan Martin, OT, Stanford
The Bears have a need to address at left tackle, and Martin is the best option left on the board. He's durable, having gone through two seasons without missing a game due to injury, and could be a solid member of the Chicago line for years to come.
20. Tennessee Titans (9-7): Dre Kirkpatrick, CB, Alabama
His instincts and size (6'2", 185 pounds) make him an exceedingly appealing prospect for the Titans.
21. Cincinnati Bengals (9-7): Stephon Gilmore, CB, South Carolina
If Gilmore falls past the Bears, the Bengals have to take him. He's a top-five corner that fills a need for Cincinnati and helps them improve upon an already-solid secondary.
22. Cleveland Browns (from Atlanta) (4-12): Kendall Wright, WR, Baylor
Robert Griffin's prime target will become Colt McCoy's prime target and, combined with Trent Richardson, gives Cleveland the beginnings of a formidable offense.
23. Detroit Lions (10-6): Courtney Upshaw, DE, Alabama
He's fallen all the way out of the top 10, but he's still a very durable pass-rusher and is solid against the run.
24. Pittsburgh Steelers (12-4): Dont'a Hightower, ILB, Alabama
He fits in seamlessly in Pittsburgh's scheme and will immediately offer a physical inside presence.
25. Denver Broncos (8-8): Michael Brockers, DT, LSU
Denver, first and foremost, must address its need at defensive tackle, and Brockers can slide right in to give them a durable presence who played in all 27 games in his LSU career.
26. Houston Texans (10-6): Stephen Hill, WR, Georgia Tech
He has the kind of speed that makes him a home-run threat, and he's the ideal size (6'4", 215 pounds) for an NFL receiver.
27. New England Patriots (from New Orleans) (13-3): Nick Perry, DE/LB, USC
If Perry is still available, the Patriots would love to get USC's top defensive player, who led the Pac-12 with 9.5 sacks in 2011.
28. Green Bay Packers (15-1): Whitney Mercilus, DE/OLB, Illinois
He was once projected to go much higher, but concerns about his seemingly out-of-nowhere rise to dominance have resulted in too much skepticism. Still, this late bloomer can pay off in Green Bay.
Highlights from Harrison Smith's performance against Stanford this season.
29. Baltimore Ravens (12-4): Harrison Smith, S, Notre Dame
The safety has inserted himself into the conversation in recent weeks and is NFL-ready, given his speed and his intelligence.
30. San Francisco 49ers (13-3): Andre Branch, DE, Clemson
The 49ers have a hole to fill at defensive end, and Branch gives them a solid presence who has never missed a game at Clemson.
31. New England Patriots (13-3): Kendall Reyes, DT, Connecticut
He gives Bill Belichick the type of player he loves: someone who is smart and willing to work hard in order to develop into a top-tier talent.
32. New York Giants (9-7): Coby Fleener, TE, Stanford
As the only NFL-ready tight end prospect on the board, he fills a big need for the Giants.
This article is
What is the duplicate article?
Why is this article offensive?
Where is this article plagiarized from?
Why is this article poorly edited?