Detroit Lions 2012 NFL Schedule: Game-by-Game Predictions, Info and Analysis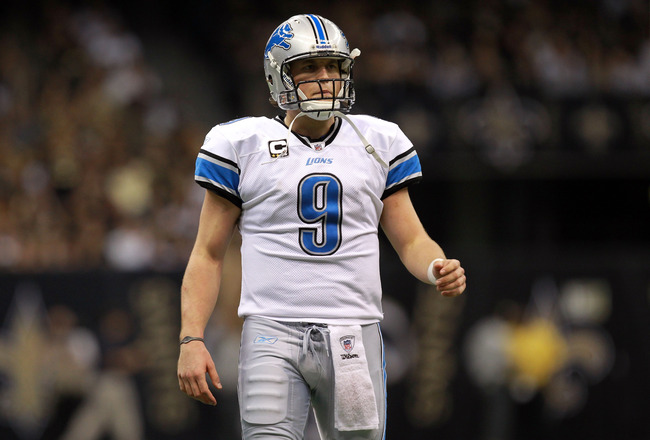 Ronald Martinez/Getty Images
The 2012 NFL schedule is out, and with it comes another wave in the NFL news cycle.
Though the season itself is far off, we now have a pretty good idea of what it will look like.
And what it looks like is the Lions have five nationally televised prime-time games this season: two on Sunday night, a Monday night, Saturday night and then of course the Thanksgiving game.
Think somebody in the league office has woken up to the Lions' star power? That's a good sign.
Like the 2011 schedule, this schedule closes a lot tougher than it opens, but there don't appear to be any stretches that are either murderous or devoid of threats. All in all, it's a pretty even schedule, with lots of opportunity for statement games.
Of course, the schedule (and the teams on it) will look very different once the games have been played (who knows what the Eagles will look like this year?).
But at least as a preliminary look, I've provided a game-by-game preview of the Detroit Lions' 2012 schedule, complete with one prediction per game. Not a score prediction, mind you. As I always say, any season predictions made before (or even during) training camp are meaningless. How do you predict the team's success before you even know who's on it?
Instead, I will make a random stat projection for each game. These will likely affect the game, but they aren't a final score projection—just something to look for.
Week 1: Rams vs. Lions
Leon Halip/Getty Images
Kickoff: 1:00 pm EST
Network: FOX
The season opens with what should, frankly, be a walkover tune-up game at Ford Field.
Of course, if the Lions head into the game with that mindset, they'll be destroyed. This is the NFL, there are no guaranteed wins. And the Rams should get a boost from Sam Bradford returning from injury.
But that being said, the Rams are a team on the rebuild, and they should not be a match for the Lions if both teams play to their full potential. And in week one, the chances of the Lions being taken by surprise are effectively zero. They'll be looking to come out and make a statement to start the season.
On a side note, this will be the first time Jim Schwartz coaches against his old boss, new Rams head coach Jeff Fisher. And since Gregg Williams is suspended, the Lions won't have to worry about bounties.
Prediction: Matthew Stafford opens the season with over 400 yards. Calvin Johnson has less than 125 of them.
Week 2: Lions vs. 49ers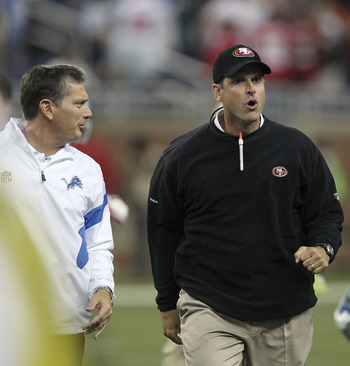 Leon Halip/Getty Images
Kickoff: 8:20 PM EST
Network: NBC
I can't imagine why the network execs would want to put this one on national television, can you?
I mean, it's not like anything happened the last time these teams squared off. I feel bad for the guys who have to come up with a storyline previewing this game. I mean, what film footage will they use? Probably not the same clip, 50 times a day from Tuesday to Saturday that week.
Facetiousness aside, this is a huge early test for the Lions. There are bound to be doubts that the Lions overachieved last year (probably the same for the 49ers), and this will be a chance to lay those concerns to rest on the national stage.
Prediction: Alex Smith throws for over 250 yards, but has a QB rating under 80.
Week 3: Lions vs. Titans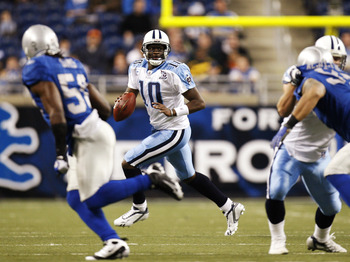 Gregory Shamus/Getty Images
Kickoff: 1:00 pm EST
Network: FOX
The opening week of the season is a chance for Jim Schwartz to face off against his old boss.
This is a chance for him to face his old team, and it should be a pleasant homecoming for him. The Titans aren't a bad team by any means, but they struggled to finish second last year in an absolutely atrocious AFC South.
The Lions finished second in their division, too, but it was the toughest division in football and it earned them a playoff spot.
The Titans are still searching for an identity and wondering when is the right time to transition from Matt Hasselbeck to Jake Locker, and the Lions are catching them at a good time before they really have their team concept figured out.
Prediction: Calvin Johnson has more touches than Chris Johnson. Barring that, at least more yards and scores.
Week 4: Vikings vs. Lions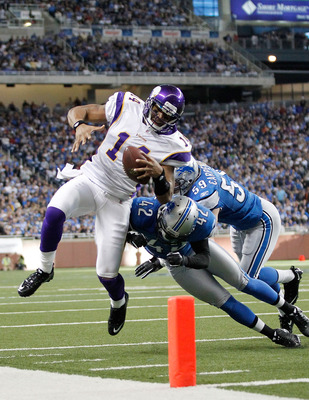 Leon Halip/Getty Images
Kickoff: 1:00 pm EST
Network: FOX
The divisional schedule kicks off with easily the most winnable game of the six: at home against the Vikings.
Now, I call this game the most winnable, and for good reason, but let's not forget that the Lions were a no-call facemask away from losing to the Vikings at home last year.
The Vikings aren't likely to be good yet at this point next year, but they're likely to be better than last year, and that was almost good enough to beat the Lions.
Heading into an early bye week, it's important for the Lions to finish out the first quarter of the season strong. A letdown against the Vikings will make for a very unpleasant week off.
Prediction: There are at least seven turnovers in this game combined.
Week 6: Lions vs. Eagles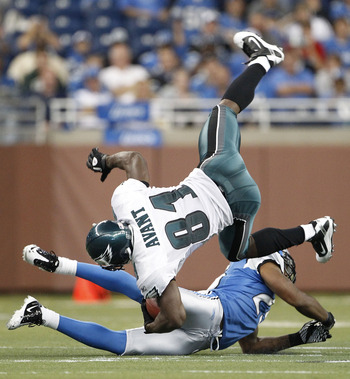 Leon Halip/Getty Images
Kickoff: 1:00 pm EST
Network: FOX
Easily the hardest matchup to predict all year.
What team will the Eagles be this year? Will they be the "dream team" everybody talked about in 2011? Or will they be the walking nightmare that actually showed up?
It's impossible to say what will happen with this team. They have the pieces to be incredibly, dangerously good in 2012. And they also have the pieces to complete a total meltdown.
No matter which team shows up, the Lions have a good chance to win. But I don't think anybody would complain if the Lions faced an Eagles team in meltdown mode.
Prediction: These teams combine for over 1,000 yards of total offense.
Week 7: Lions vs. Bears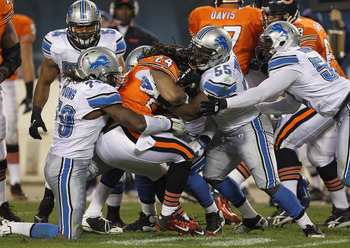 Jonathan Daniel/Getty Images
Kickoff: 8:30 pm EST Monday
Network: ESPN
Last season, the Lions demolished the Chicago Bears at home, on Monday night, on national television.
This year, the Bears get to try returning the favor.
Soldier Field has been a dangerous place for Matthew Stafford in his career. The first two times he went, he finished the game surrounded by trainers on the sideline.
Last season, Stafford had maybe the worst game of his career, and traded cheap shots with DJ Moore.
This year, he will lead the Lions in primetime against their most evenly-matched NFC North opponent. This is a game that could have serious playoff implications by the end of the season.
Prediction: At least one player from either team gets ejected from this game. These teams don't like each other.
Week 8: Seahawks vs. Lions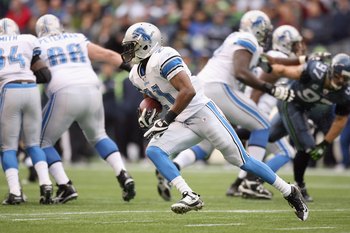 Otto Greule Jr/Getty Images
Kickoff: 1:00 pm EST
Network: FOX
Right now, this looks like an easy win.
But the Seahawks are a breakout candidate for 2012, and Matt Flynn could be leading that revolution. They're better than they look, and quarterback was the biggest weakness.
Meanwhile, the Lions will be extra motivated to hit Flynn in the mouth and beat down the Seahawks' offense after he embarrassed them in the regular-season finale last year.
Effectively, the Lions are the team that made Flynn such an attractive free agent. And it will be the same team that looks to make him look human while he's not surrounded by the Packers' offense.
And they'll get to do it as their only home game surrounded by two road games on both sides.
Prediction: Flynn has less than half the passing yards he had last time against the Lions (that's 240).
Week 9: Lions vs. Jaguars
Jim McIsaac/Getty Images
Kickoff: 1:00 pm EST
Network: FOX
The Jaguars are a mess, but at least they didn't trade for Tim Tebow.
That means when the Lions travel to Jacksonville, there will be about 700 people in the stadium. It also means the Jaguars have a much better chance to win.
But in either case, that chance isn't great.
Blaine Gabbert was a victim of the rookie QB revolution that occurred last season. With Cam Newton and Andy Dalton blowing up in their rookie year, Gabbert's struggles seemed like a much bigger deal than they would have normally.
Nevermind the fact that the poor kid had nobody to throw to on that team, but it seems we've all forgotten that rookie QBs are supposed to struggle. Gabbert should be better this year by a wide margin.
That said, unless Maurice Jones-Drew has about 350 all-purpose yards, it's the Lions' game to lose.
Prediction: Jones-Drew accounts for more than two-thirds of the Jaguars' offensive yardage, but doesn't score.
Week 10: Lions vs. Vikings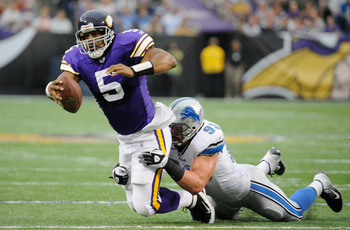 Hannah Foslien/Getty Images
Kickoff: 1:00 pm EST
Network: FOX
Now that the Lions have exorcised the Metrodome demons that haunted the team for over a decade, this game doesn't really seem like a big deal.
That's not to say it isn't important, but we won't be talking about decades-long losing streaks heading into it.
Unless they shock everybody, the VIkings should be thinking about 2013 by this point in the season, but that doesn't mean the Lions can fall asleep on them. This is still the home of Adrian Peterson and Jared Allen.
Prediction: Titus Young has his best game of the season with at least 150 receiving yards and one touchdown.
Week 11: Packers vs. Lions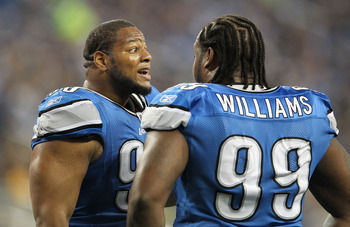 Leon Halip/Getty Images
Kickoff: 1:00 pm EST
Network: FOX
Once again, the Lions will go more than half their schedule without seeing the Green Bay Packers.
Only this one won't be on Thanksgiving, it'll be four days before.
There's a part of every Lions fan that just wants the Lions to not melt down completely against the Pack, like they did last year in an ugly display.
But realistically, the Lions should be in a position to win this game. Moral victories are a thing of the past. This is not a team that will be satisfied with simply not being humiliated. This is a winnable football game, because they all are now winnable football games.
To take it a step further, this is a measuring stick for the Lions. They are certainly a good football team, but can they go toe-to-toe with the elite and win? The Packers figure to be in that elite class again this year, so this is where we'll find out.
Prediction: Over 70 points are scored in this game, and the outcome is decided by three.
Week 12: Texans vs. Lions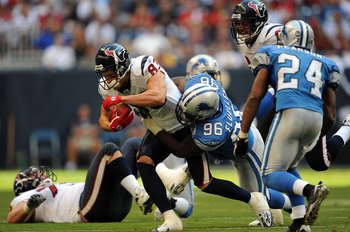 Ronald Martinez/Getty Images
Kickoff: 12:30 pm EST Thursday (Thanksgiving)
Network: CBS
The Houston Texans get their first Thanksgiving Day game in franchise history, and it should be a good one.
The Texans and Lions are both fun teams to watch with dynamic offenses and dominant QB-WR connections involving a player named Johnson.
This is truly anyone's game, and if this happens to be the game in which the Lions snap their Thanksgiving Day losing streak, it will undoubtedly be well-earned.
Prediction: Andre Johnson has a better statistical day than Calvin Johnson, but Matthew Stafford has a better day than Matt Schaub.
Week 13: Colts vs. Lions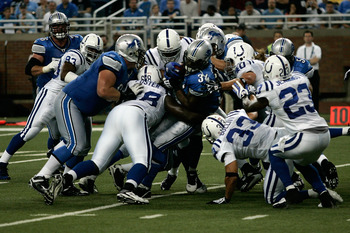 Scott Boehm/Getty Images
Kickoff: 1:00 pm EST
Network: CBS
The Detroit Lions will take an extra half-week to prepare for the 2012 version of the 2009 Detroit Lions.
Think about it. New coach, new front office, new No. 1 overall quarterback. Rebuilding from one of the worst seasons in NFL history. Major deficiencies in overall talent at every area, massive roster turnover, and basically zero expectations for the season.
Now, which team did I describe, the 2009 Lions or the 2012 Colts?
They'll be up against a team that has some trouble running the ball and stopping the run, but sports an elite quarterback, dominant passing game, and one of the best pass rushes in football.
Now, did I just describe the 2009 Colts or the 2012 Lions?
Welcome to the NFL, where your fortunes can change that fast.
Prediction: Pain.
Week 14: Lions vs. Packers
Jonathan Daniel/Getty Images
Kickoff: 8:20 pm EST
Network: NBC
For the second straight season, the Lions and Packers will play on national television (as it should be).
Only instead of Thursday afternoon, it'll be Sunday night. And unlike the last time the Lions played at Lambeau Field, Matt Flynn will be thousands of miles away instead of throwing for thousands of miles of passing yards.
If the Lions are even going to break their accursed Lambeau Field losing streak... well, it would have been most poetic to close the season last year,honestly. But a Sunday Night primetime game isn't a bad place to do it, either.
Only problem is the Lions have to play at 8:20 pm at Lambeau Field on Dec. 9. Is it too much to ask to get a Green Bay game in September one of these years?
Prediction: The Lions produce not one, but two running backs with over 100 total yards (rushing and receiving) in this game. One will have over 100 yards on the ground alone.
Week 15: Lions vs. Cardinals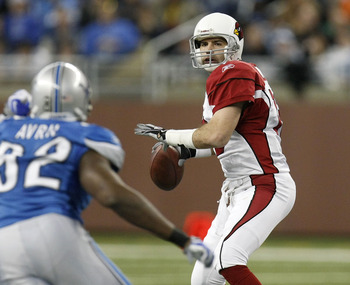 Gregory Shamus/Getty Images
Kickoff: 4:05 pm EST
Network: FOX
The last road game the Lions have this season comes at Arizona, which should be on its seventh quarterback by about this point.
And this is probably going to be the last soft game the Lions get this season before closing things out with a murderous two-game home stand.
I can't believe that Kevin Kolb is as bad as he looked last year, but the Cardinals are a difficult team to take seriously until he shows something. There simply aren't enough other effective parts on the team to make up for a lack of solid quarterback play.
Whether the Cardinals are getting solid quarterback play or not basically determines the degree of difficulty on this one, but it's still a game the Lions can and should win before coming home to...
Prediction: The Cardinals' passing attack has less yards than Calvin Johnson.
Week 16: Falcons vs. Lions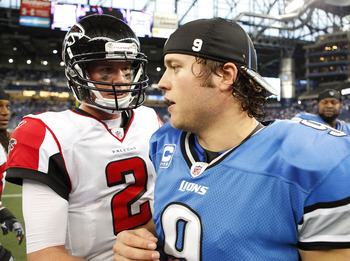 Leon Halip/Getty Images
Kickoff: 8:30 pm EST
Network: ESPN
The Atlanta Falcons may only be dangerous in the regular season, but that doesn't do anything to help the team they have to play in the regular season.
At this point in the season, it is very likely that both these teams are vying for (and have yet to lock up) a playoff spot. And that's why they get the Saturday night slot. This should be excellent football.
It's also worth noting that of the four night games the Lions have this season, this is the only one they get at Ford Field. So chances are this is another one that sells out on opening day, and provided the Lions haven't massively disappointed by this point, the atmosphere should be electric.
Maybe that will get them over the hump against the team that put them on their first losing streak of 2011.
Prediction: Stephen Tulloch piles up more than 15 tackles against the Falcons' rush-happy attack.
Week 17: Bears vs. Lions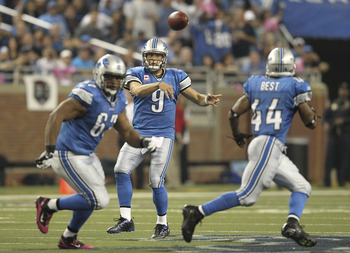 Leon Halip/Getty Images
Kickoff: 1:00 PM EST
Network: FOX
When week 17 rolled around last season, the Lions and Packers played a game that meant relatively little between two teams that had already punched their playoff ticket.
Oddly enough, the same could be true here. I normally do a lot of hating on the Bears, but it's hard to dismiss them as anything less than dangerous this year. I still think they're set for an implosion on account of the ticking time bombs that are their offensive line and aging defensive leaders, but it might not be 2012.
In fact, the Lions and Bears could be the two NFC wildcard teams coming into this game. Even more intrguing (and very possible), however, would be if these two are battling it out for a wildcard spot, or even (less likely) the NFC North crown.
Either way, this should be an interesting matchup, and even if the stakes aren't as high as they could be, I'm sure a Ford Field crowd will be more than willing to show up in the regular season finale and boo the Chicago Bears.
Prediction: The Lions' offensive line allows one sack all game, but it turns into a fumble returned for a touchdown.
Final Thoughts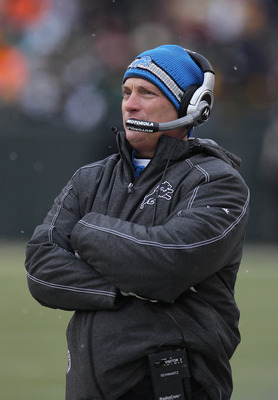 Jonathan Daniel/Getty Images
The Lions caught the AFC South at the right time.
A division that was just two years ago a dominant team (Indianapolis) and three scrappy ones is now one good-but-unproven team (Houston) and three others at various points in rebuilding.
As for the NFC West, the 49ers are likely to be dangerous, and the other three are on the cusp of either breaking through or breaking down.
The Lions schedule as a whole looks easier than what they faced last year, but there is too much uncertainty to be sure. At the beginning of last season, the 49ers seemed like a walkover, and the Bucs and Chiefs were supposed to be early tests.
So if I say the Rams and Seahawks should lay down, but the 49ers are a stiff early test, maybe the opposite will be true. And who knows what to expect from the Eagles? Even they don't know whether they're any good.
Still, with a seemingly lighter schedule and a lot of young players that should get better, it's hard not to predict the Lions to take another step forward.
The Lions should be a favorite to make the playoffs, and possibly even challenge the Packers for control of the division. They're a team that can beat anyone now, but they have to prove it by showing up and beating the elite teams on their schedule.
They can't afford to just stroll in by taking down the weaker teams on the schedule. They did that last year, now it's time for them to take the next step. They need to keep themselves in double-digits in the win column, and put games against good teams in that category.
They have the pieces to do it, now it's time to pull everything together and make a deep playoff run for only the second time in franchise history.
Keep Reading

Detroit Lions: Like this team?