Pre-Draft Look at the New England Patriots' 2012 Roster: Part 4, Secondary
April 5, 2012

Jamie Squire/Getty Images
The New England Patriots' 2011 secondary was much maligned and also much injured: the Patriots used 16 different players in the secondary, and lost several to injuries.
Thousands of articles have been written on the problems with the secondary in 2011, and the need to draft secondary help. But the purpose of this series is to look at who's already on the roster, not who might be.
So, without further ado, let's look at the current candidates for the Patriots' secondary in 2012.
Candidates (13)
Will Allen, Kyle Arrington, Josh Barrett, Sergio Brown, Patrick Chung, Marquice Cole, Ras-I Dowling, Steve Gregory, Bret Lockett (restricted free agent), Devin McCourty, Sterling Moore, Ross Ventrone, Malcolm Williams
This list doesn't include Julian Edelman and Matthew Slater, who each played about eight percent of the Patriots' defensive snaps in 2011, according to Mike Reiss of ESPNBoston.com, as both are listed as wide receivers.
It also doesn't include safety James Ihedigbo, who is currently an unsigned free agent.
At the moment, the pickings are clearly fairly slim—out of this group of 13, to keep with recent trends, the Patriots would be keeping 10.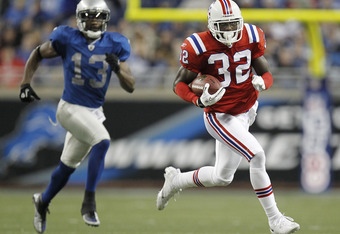 Gregory Shamus/Getty Images
Cornerback
The biggest question, at the moment, is where Devin McCourty will play: he was a Pro Bowler as a rookie at cornerback in 2010, but regressed badly in 2011, to the point that the Patriots started playing him at safety, where his play improved to some degree. If the Patriots plan to keep McCourty at safety, then their need at safety becomes a lot lower than before. If they plan to move him back to CB, then safety becomes a glaring issue. Bill Belichick has noted that one of the linebackers in the 4-3 or 3-4 is often replaced by a safety in nickel/dime packages. But given their investment in McCourty, and his play in 2010, he'll certainly be around in 2012.
Ras-I Dowling was drafted with the No. 33 pick in 2011. If healthy, he'll likely also be a starter; he showed he could be a playmaker in the Patriots' season opener against Miami, but barely played the rest of the season (he ended up on IR in midseason). On the other hand, Kyle Arrington, an undrafted free agent, tied for the league lead in 2011 with seven interceptions. At a minimum, he'll be a good slot corner.
One of the heroes of this year's AFC Championship Game, Sterling Moore, yet another undrafted free agent, will also compete for playing time. That said, it's worth noting that the Patriots actually did release him in midseason, only to bring him back a couple of games later, so he'll still have to earn his spot.
The Patriots also signed former Miami Dolphin Will Allen to a one-year "prove-it" deal, and are also bringing back Malcolm Williams, who they drafted in the seventh round of the 2011 draft. My gut suggests that experience will win out here, and Allen will make the roster.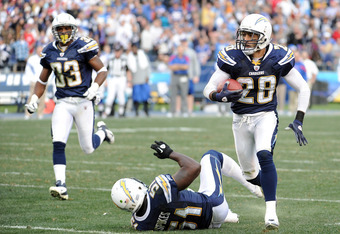 Harry How/Getty Images
Projection (5): Allen, Arrington, Dowling, McCourty, Moore 
Safety (5)
We can start off by saying that Patrick Chung should make the team, as should Steve Gregory, a former Chargers safety who signed with the Patriots for three years at about $8.5 million.
Beyond that, though, it's basically a stomach-churning toss-up. The main candidates are Josh Barrett, an undrafted free agent, who's been on injured reserve for most of the last two seasons; Sergio Brown, yet another undrafted free agent, who did play in 15 games, but was roundly criticized by fans; Bret Lockett, a third undrafted free agent, who hasn't played in a regular-season game since 2009; and Ross Ventrone, the human yo-yo who's played primarily special teams.
It's clear that the Patriots will be adding some more bodies at this position. If James Ihedigbo doesn't sign elsewhere, he'll likely return to New England. For now, though, it is what it is, and special teams contributions should earn Sergio Brown and Ross Ventrone spots on the roster. I'll go with Josh Barrett for the last spot, since he at least managed to play in 2011. (Update: The Patriots did not tender Lockett, meaning that he is now an unrestricted free agent. Obviously, though, this doesn't change my projection.)
Projection (5): Barrett, Brown, Chung, Gregory, Ventrone
Summary
Projected Offensive Skill Positions Total: 16 (see Part 1 of this series)
Projected Offensive Linemen: 9 (see Part 2 of this series)
Projected Defensive LinemenlLinebackers: 15 (see Part 3 of this series)

CB (5): Allen, Arrington, Dowling, McCourty, Moore 

S (5): Barrett, Brown, Chung, Gregory, Ventrone
Total Secondary: 10
Specialists: 3
Total: 53